When it comes to Walla Walla Wineries, L'Ecole is one-of-a-kind. Housed in an old schoolhouse, L'Ecole winery continues a 30-year tradition in producing award-winning wines in this eastern Washington region.
Founded in 1983, L'Ecole No 41 winery is the third oldest winery in Walla Walla wine country. During our recent visit to several Walla Walla Wineries, my husband and I enjoyed a wine tasting and tour of this long standing winery. I've enjoyed their wines in the past, and looked forward to finally visiting their famed tasting room!
L'Ecole No 41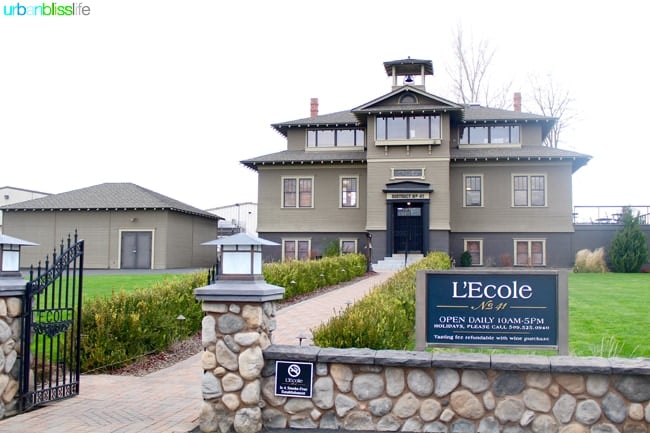 The winery is located in an old schoolhouse in the historic Frenchtown area, on the edge of Walla Walla. L'Ecole stands for "the school" in French, and the schoolhouse was part of School District #41.
While much of the schoolhouse building has been renovated, some of the original parts of the schoolhouse remain. And, L'Ecole incorporates schoolhouse details throughout the winery, from chalkboards to school desks to the playground.
Tour and tasting
You can visit the schoolhouse tasting room daily between 10:00 am and 5:00 pm. Tastings are $10 per person.
If you are visiting Walla Walla from out of town, I highly recommend making reservations in advance to do the walking tour and tasting. Lasting approximately one hour, and at a cost of $20 per person, you get a tour of the full schoolhouse and winery. The walking tour and tasting also includes a tasting of six current release wines.
During the walking tour and tasting, you'll visit the downstairs area where one of the original schoolhouse murals was brought back to life.
We visited the barrel room, where we also got a special barrel tasting of a new rosé.
L'Ecole Wines
What I enjoy most about L'Ecole No 41 wines is how they truly reflect the region. L'Ecole is dedicated to growing and making 100% of their wines. Their grapes are sourced from vineyards that are certified sustainable and salmon safe.
Here's a look at some of my favorite L'Ecole wines from our tour and tasting.
The 2014 L'Ecole Grenache ($36) is everything I love about Grenache from Washington state. You'll find it to be a smooth, complex red wine. It goes through an almost magical transition on your tongue within seconds, of sweet to slightly spicy to savory. This is a fantastic wine for dinner parties, to give as birthday or hostess gifts.
The L'Ecole Perigree ($54) is as elegant and distinguished as the history of the winery. It's a rich red wine, full of jammy blueberry and black cherry flavors. This flagship wine is made with some of the oldest blocks of vines from the Seven Hills Vineyard.
Visit
41 Lowden School Road
Lowden, WA 99360
509-525-0940
ben@lecole.com
http://www.lecole.com/
HOURS: open daily from 10am - 5pm
More Walla Walla wineries
Browne Family Vineyards Tasting Room
Where to Eat and Drink in Walla Walla
Our wine tour and tasting was compliments of Visit Walla Walla and L'Ecole No 41 winery. As always, all opinions and photos are my own. In my opinion, this is a must-visit winery when in Walla Walla wine country!