With sultry Tempranillo, crisp Albarino, and elegant Tannat wines, Abacela Winery showcases the breadth of typical European varietals that can be cultivated into fine Oregon wines.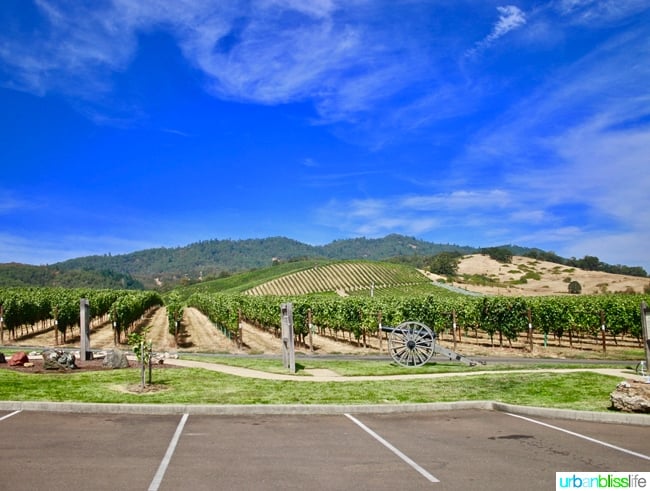 No matter what generational titles come and go through the decades - be it hippies, yuppies, or hipsters - Oregon has and likely always will attract and retain those who have within them a bit of the Wild Wild West pioneering spirit.
Oregon is the land of dreamers and doers. Those who move here to pursue their passions and live life to the fullest on their own terms.
It is with that passionate curiosity that Earl and Hilda Jones left their scientific careers in the Gulf Coast, uprooted themselves and their two children, and headed for the Wild Wild West.
The Joneses wanted to know: why doesn't the United States produce any fine varietal Tempranillo wine?
Tempranillo is traditionally grown in Spain's Rioja region. To grow Tempranillo grapes, you need a short growing season. You also need a cool spring and hot, dry summer cut short by autumn. After studying and researching in Spain, then scouting locations in the US, the Joneses landed upon the growing wine region of Southern Oregon.
Jump to:
The vineyard
The Jones family planted the first Abacela vines on Memorial Day of 1995: 12 acres of the initial 500-acre land the Jones family purchased.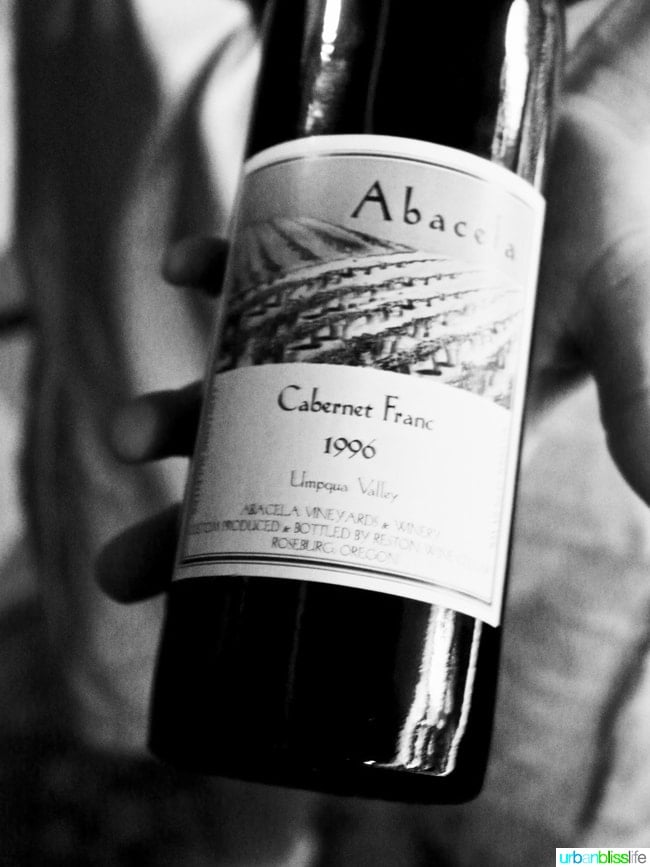 This is a photo of one of the last remaining bottles of the very first wine produced by Abacela: 36 cases of Cabernet Franc.
In 1997, Abacela finally had enough fruit to produce its first Tempranillo. The initial batch produced 243 cases.
Abacela Tempranillo won its first medal - a double gold in the San Francisco International Wine Competition - in 2001.
With that validation to fuel their winemaking pursuits, a new star in the American wine industry was born.
The wines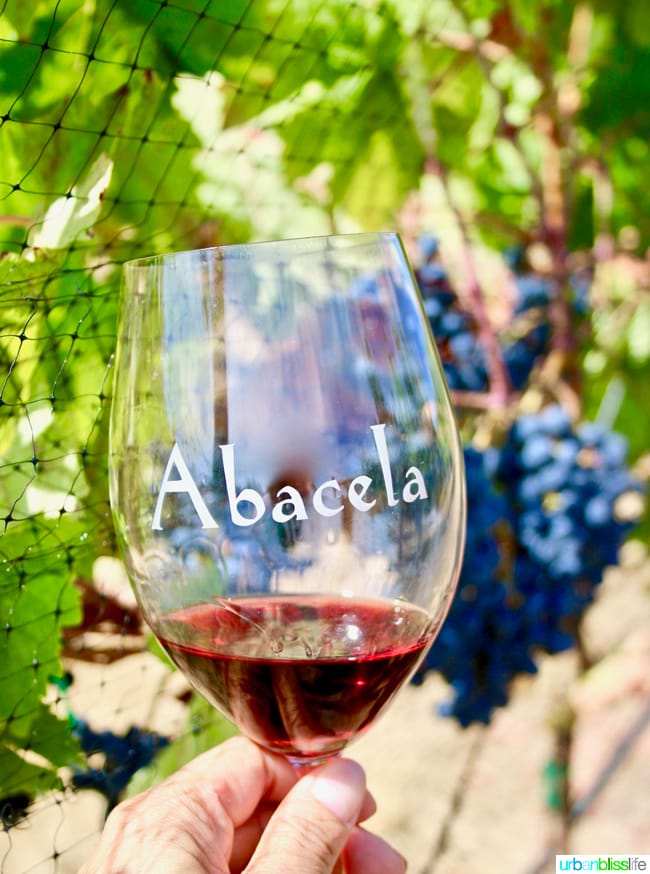 Today, Abacela produces a diverse variety of wines, including award-winning Tempranillo wines.
I had the opportunity to try several of their wines during our wine tasting and tour. I fell in love with the range Abacela is able to produce, thanks in part to its diverse growing climate.
One of my favorites included the 2013 Barrel Select Tempranillo ($33/bottle), which was awarded 90 points by Wine Enthusiast. This flagship Tempranillo exudes all of the classic qualities you love in the varietal. It's a big, full-bodied red with high tannins, slightly smoky with rich blackberry and fig layers. It would pair amazingly with hearty meat dishes and barbecue dishes.
I also enjoyed the bright, crisp 2016 Albariño ($21/bottle). Albariño is also a varietal that Abacela pioneered in the country. To this day, Abacela is the longest, continuous producer of Albariño wine in the United States.
Another wine that Abacela produces which is unusual for the United States is the Tannat. This is a big red wine that is usually found in Southwest France and Uruguay.
Finally, on this sunny September wine tasting and tour, I thoroughly enjoyed the 2016 Grenache Rosé ($18/bottle). Every sip sang the lingering summer song of strawberry, watermelon, and citrusy sunshine.
I wanted to buy a whole case of the Grenache Rosé. Alas, it was the beginning of our travels, so I tempered my impulses and just purchased one bottle. While the 2016 vintage is already sold out, I've already vowed to make a return visit. Next time, I'm getting a case of their 2017 Grenache Rosé to enjoy throughout the summer with good friends!
Tasting and tour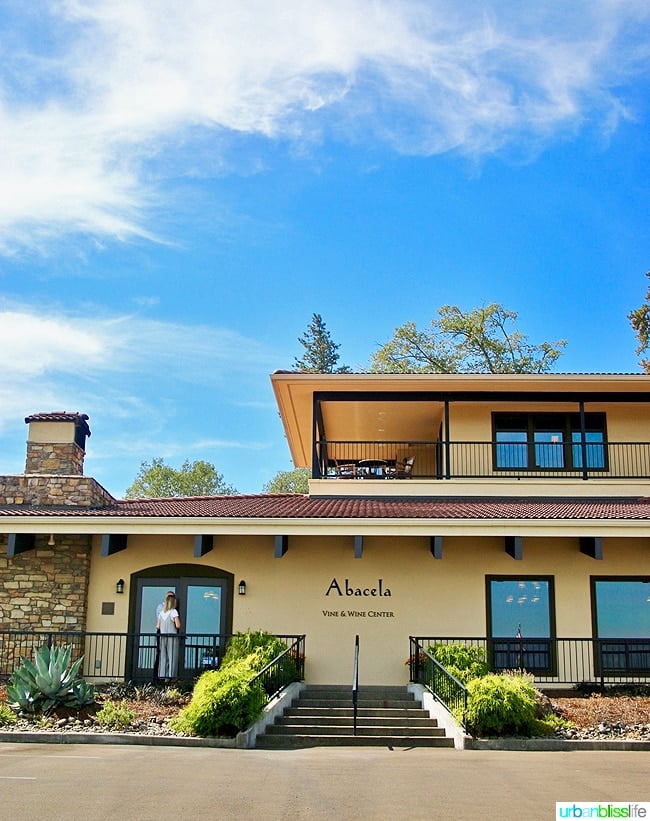 The Abacela Vine & Wine Center is located not too far off of I-5 in Roseburg, Oregon, close to the Wildlife Safari.
It's a gorgeous tasting room with a kitchen and private rooms for meetings and events. The surrounding vineyard grounds are stunning.
I recommend setting aside at least an hour - preferably more - to enjoy your time at Abacela. Start with an Albariño and end with their Port (yes, they make a Port wine!). Have a designated driver and take one of their complimentary tours. Then soak up the beautiful views both inside and out of the tasting room.
Then, come back here and let me know which wine you fell in love with from Abacela!
Visit
12500 Lookingglass Road
Roseburg, OR 97471
DAILY TASTING ROOM HOURS:
11 am - 5 pm, November - April
11 am - 6pm, May - October
For more information, visit the Abacela Winery website.
My wine tasting and tour were complimentary as part of a Travel Oregon press trip. All opinions and photos, as always, are my own. And as always, I also purchased bottles on my own dime. You try leaving here without buying at least one bottle - it's a tough task, my friends! Their wines are that good!