Basel, Switzerland is one of the country's many storybook towns, where old and new meet in this picturesque center of banking and art.
Jump to:
When traveling to Zurich, Switzerland, there are so many surrounding cities that you can easily explore within a day. The Swiss trains make it simple for families to make day trips that will transport you all to such different experiences within hours of each other.
Whether you feel like exploring a city, the mountains, the lakes, or farming villages, they're all just a short train ride away!
One city that's worth a visit is Basel, Switzerland.
Day trip to Basel, Switzerland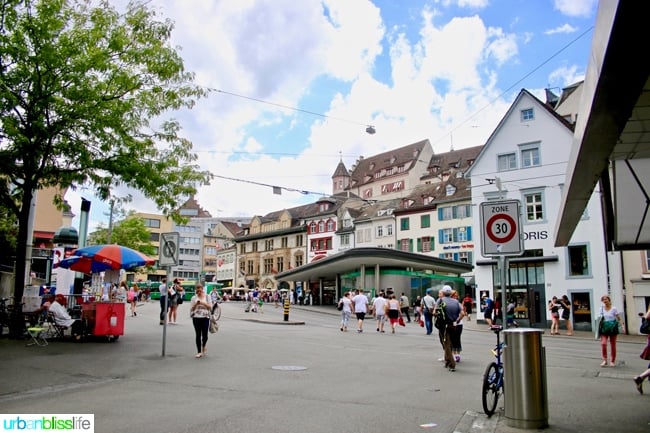 Just about an hour's train ride north of Zurich, sitting pretty on the edge of the Rhine River, is Basel, Switzerland.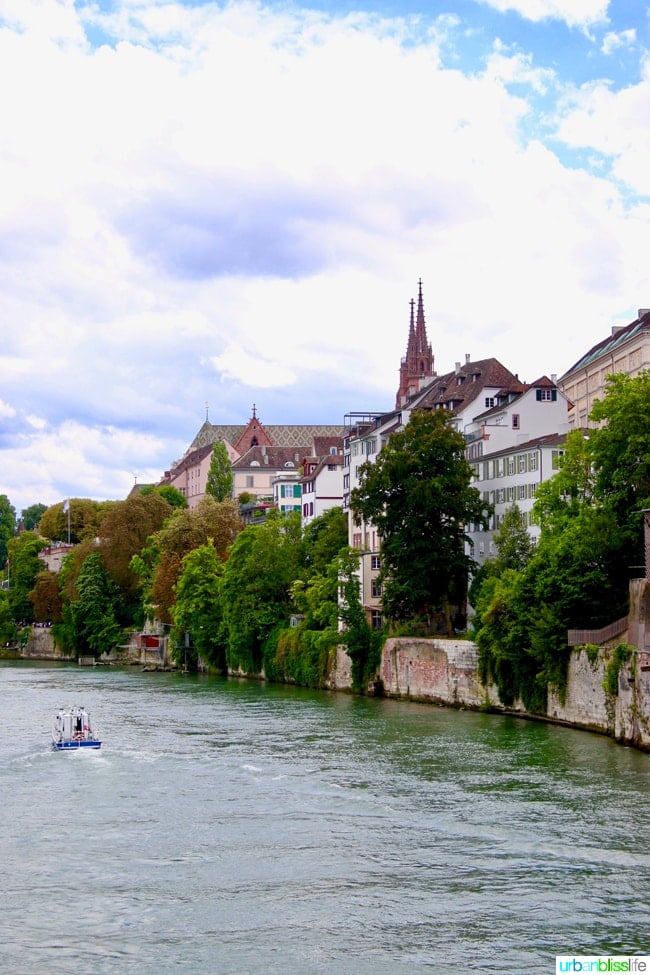 The city is in the northeastern corner of the country, bordering both France and Germany.
Like most city train stations in Switzerland, the Basel station is located in the center of town, making getting to most places on your travel agenda here just one or two quick hops on one of the local buses.
But I'll be honest: we didn't have much of a travel agenda the last time we visited Basel... and I consider that a good thing! Flexibility is the key to family travel, and when we go places with some general ideas in mind but no hard set by-the-minute schedule, I've found we all have a much more enjoyable trip.
Most of our time was spent exploring the grand, glorious structure of Basel Minster.
Basel town hall
At the heart of the city is a square with an open-air marketplace, and facing the market is the Basel's Rathaus, otherwise known as the Town Hall or City Hall.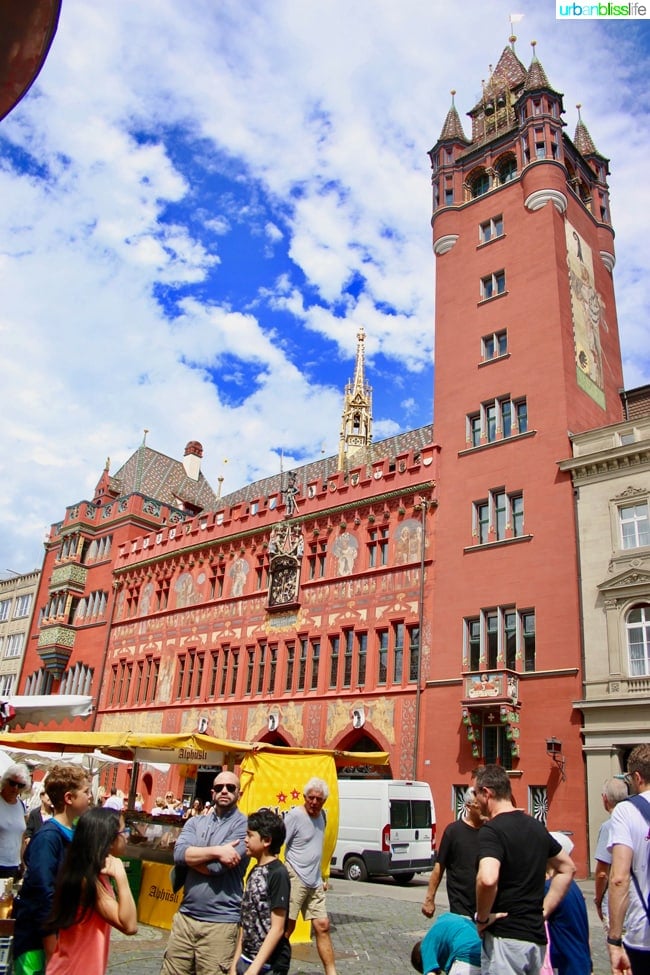 You can't miss this historic building, thanks to its bold red architecture, gold spires, and multi-colored roof tiles.
The Basel Rathaus is just over 500 years old. It was built after a large earthquake to replace the former seat of government.
Then when Basel joined the Swiss Confederation in 1501, the front of the building was replaced with an imposing new structure, as a show of the city's new political importance.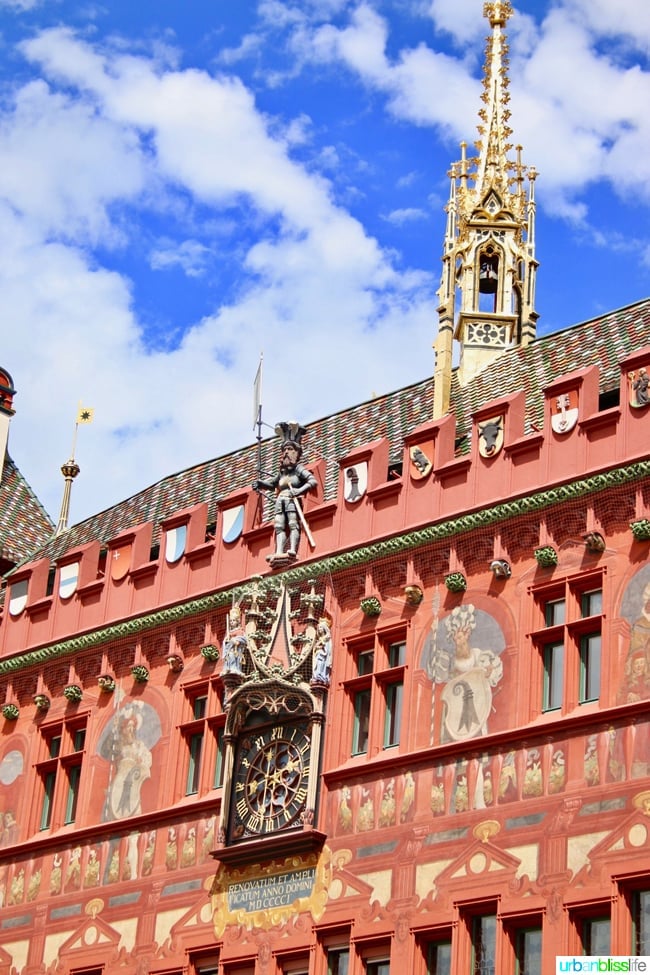 On the front of the building, you'll see Basel's coat of arms and the coat of arms of the 11 other members of the past Swiss Confederation.
The Rathaus has undergone several updates over the centuries. It was extended at the beginning of the 17th century, which is when artist Hans Bock also decorated the facade with painted trompe l'oeil.
Then in 1900 the building was extended again to include the left-hand wing and the tower at the right.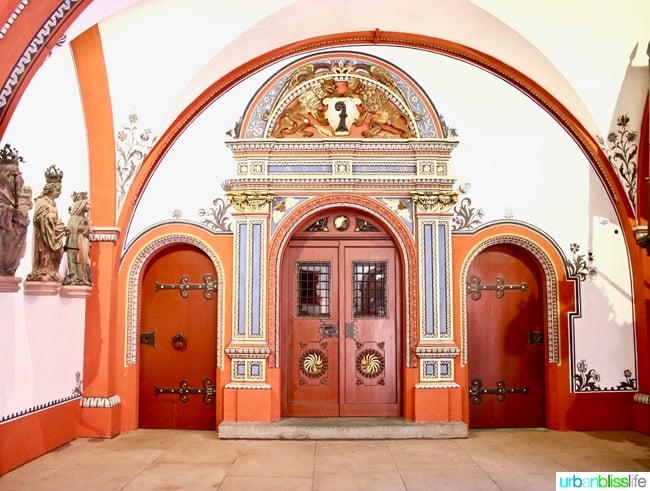 As the city hall, all meetings of the Cantonal Parliament are held here. It's worth a visit to explore at least the main interior courtyard.
You are free to walk around the main areas and explore at your own pace; since it's a public space, there's no charge for admission.
However, you can opt to take one of the guided tours for a small fee. The tours are an excellent option if you have a little more time and are interested in learning more about the political landscape and workings of Swiss government.
Our family spent a lot of time looking around, looking up, looking down, and exclaiming "whoa, look at that gold sculpture!" and "what do you think the story is behind that painting?"
This was a great building to explore for about an hour with the kids. Toddlers and young children may not appreciate the history and architecture, as older school-age children would. If you have kids older than 6, I think they'd enjoy it.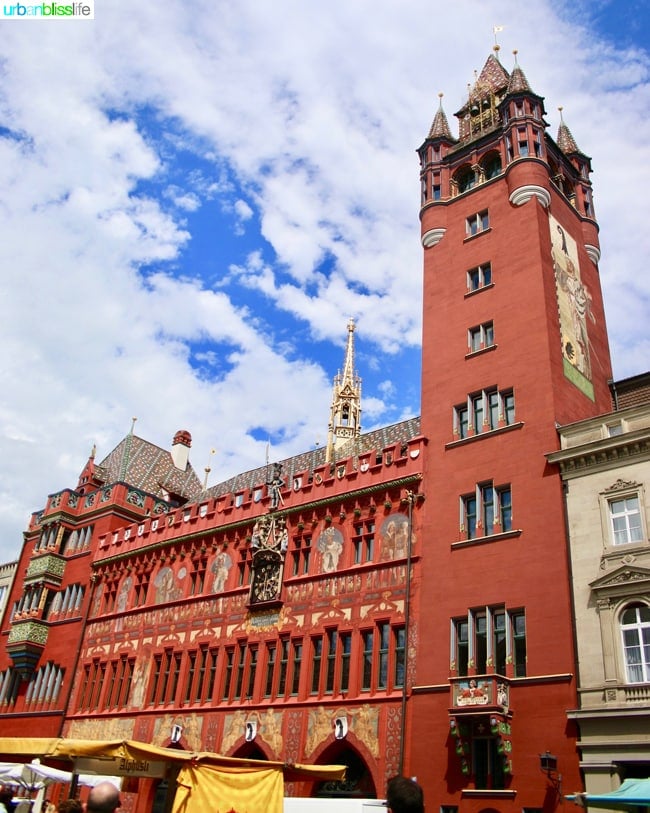 Once you're done, you can head back outside and enjoy some lunch from the fresh central city market!
Museums
Basel is a popular destination for art lovers, and you should definitely check out some museums while you are here.
With more than 40 museums, Basel has the highest number of museums compared to any other Swiss city.
The largest is the Kunstmuseum, which houses the largest collection of art in Switzerland. The Beyler Foundation hosts an impressive collection of modern art. I also suggest visiting the Tingley Museum, which houses the permanent exhibition of Swiss painter and sculpture, Jean Tingley.
No matter what type of art you enjoy, you're sure to find a museum in Basel that is worth a visit. There's even a Dollhouse Museum and a Music Museum!
Shopping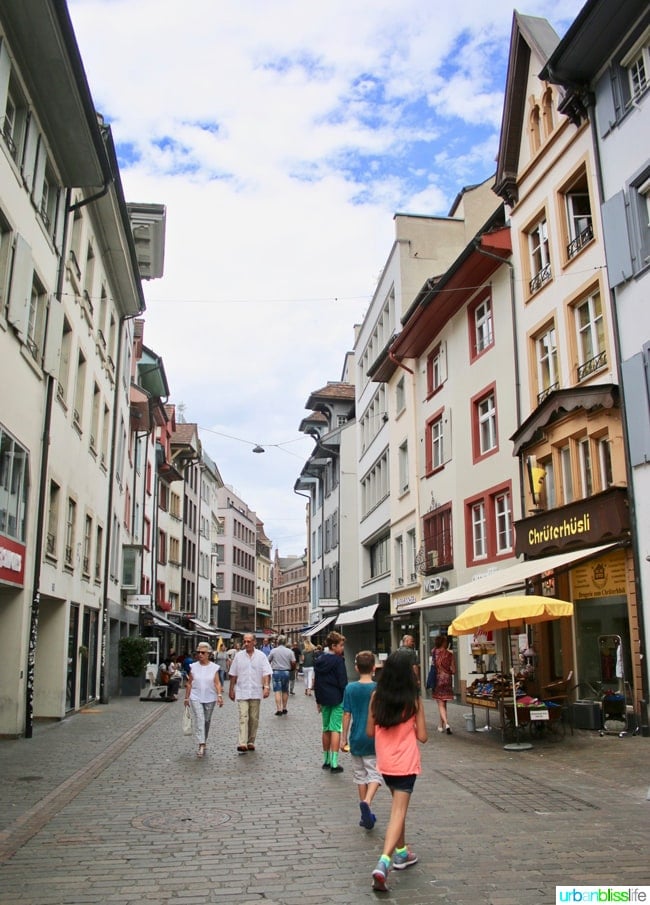 We spent a large part of our time in Basel doing what I always suggest you do when you visit any smaller European town: simply walking around, exploring on our own.
The city of Basel is a hub for international banking, so you'll find plenty of high-end shops in the city. We also found some fun gaming shops, bookstores, and toy stores here for the kids.
If you're hungry, there are a large number of restaurants along the banks of the Rhine River, as well as close to the main train station. We visited Basel in-between meals, so unfortunately, I don't have any first-hand restaurants to recommend in this city. However, there are quite a number of restaurants listed in the Michelin Guide that are appealing!
Visit Basel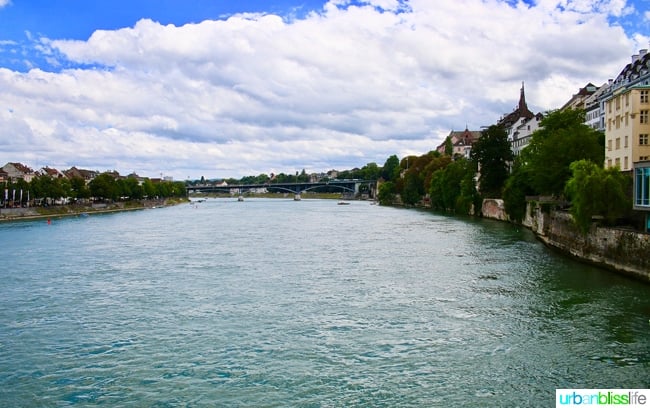 Getting here from Zurich: There are a number of Swiss trains that travel between Basel and Zurich, Switzerland throughout the day. The train ride itself takes about an hour, with the fastest train taking only about 50 minutes one way.
Transportation: Once in Basel, you really don't need to rent a car, as the buses and trains will take you almost anywhere you need to go. Some hotels also have bike rentals. It's also fairly easy to get from one side of the city to the other by walking.
Language: Basel is in the German part of Switzerland, where they speak German, Swiss-German, and most Swiss also speak English. Don't be surprised if you are also able to speak French with the locals as well, since Basel is close to the border of France.
Money: Like everywhere else in Switzerland, you'll use Swiss Francs here, and most places take credit cards.
More travel ideas
5 Family-Friendly Activities in Victoria BC Canada
Family Travel to Lucerne, Switzerland