Traveling with kids to this beautiful Swiss city? Here's a list of the best things to do in Lucerne!
Beautiful Lucerne, Switzerland is one of those cities my family enjoys visiting time and time again.
This bustling city in central Switzerland features a gorgeous historic wooden walking bridge. There are also numerous shops and restaurants, a scenic riverfront, and stunning wall murals. If you are traveling to Switzerland with kids, you'll find there are so many things to do in Lucerne!
Things To Do in Lucerne
During our summer family trip to Switzerland last month, we did a day trip from Zurich to Lucerne. Be sure to read about our Swiss Alps vacation day trip!
The train ride from Zurich to Lucerne is just about an hour long, and the train station is located right in the heart of town, near the river.

This was my fifth time visiting Lucerne, my son's third time, and my daughter's second time. It's one of those cities that you can honestly visit over and over and never tire of.
This time, we went with my husband's brothers and their kids - so there were four adults and six kids total, ages 6 through 13. It's definitely a great city to visit with family!
While there are a lot of things to do in Lucerne, there are also wonderful opportunities to simply sit back and soak up Swiss culture and the amazing scenery.
Kapellbrücke: The Chapen Bridge
The Chapel Bridge - or Kapellbrücke, as it's pronounced in German - is Lucerne's most famous and most visited tourist attraction. It goes across the main river, the Reuss river, that divides the city.
It's the oldest surviving truss bridge in the world, and one of the oldest wooden footbridges in Europe.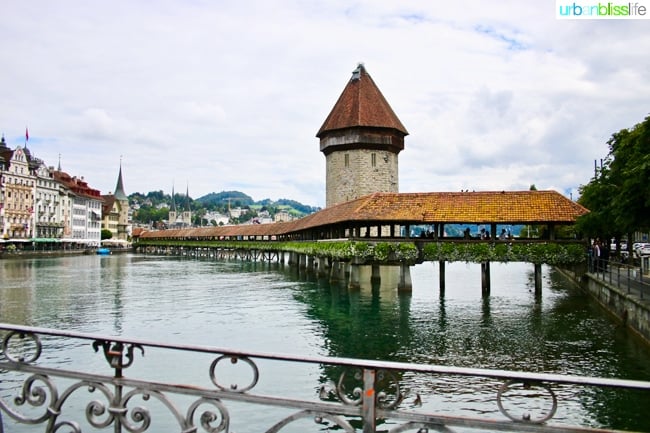 You can't visit Lucerne without walking on the Chapel Bridge. It is unique in that it has interior triangle paintings that span the bridge. As you walk across, you'll notice that many of the triangles of artwork underneath the rafters are either blackened or completely removed.
There was a fire in 1993 that unfortunately destroyed part of the bridge. Luckily, most of the bridge was able to be saved and restored.
The paintings that survived the fire and remain, tell various stories of the town.
Churches of Lucerne
Lucerne has historically been a predominantly Roman Catholic city. Filled with stunning ornate churches, you can still visit many of these structures today, like the Church of St. Leodegar.
Lucerne today has quite a diverse population in terms of religion. Now you'll find Protestant churches, Muslim, and Jewish temples throughout the city.
Riverfront Walks and Boat Tours in Lucerne
Down from the Chapel Bridge is a lovely, quieter riverwalk. Here you'll find wider paths, farther away from the noise of shops and restaurants.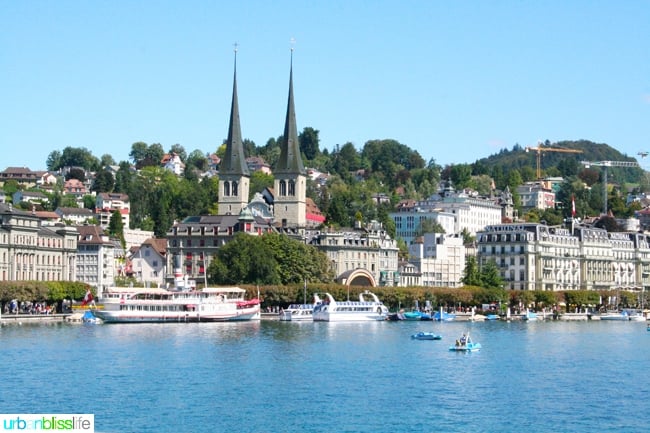 You'll also find the main marinas on the Reuss River, where locals dock their boats. It's a beautiful walk, and the kids love feeding the ducks, swans, and geese along the way.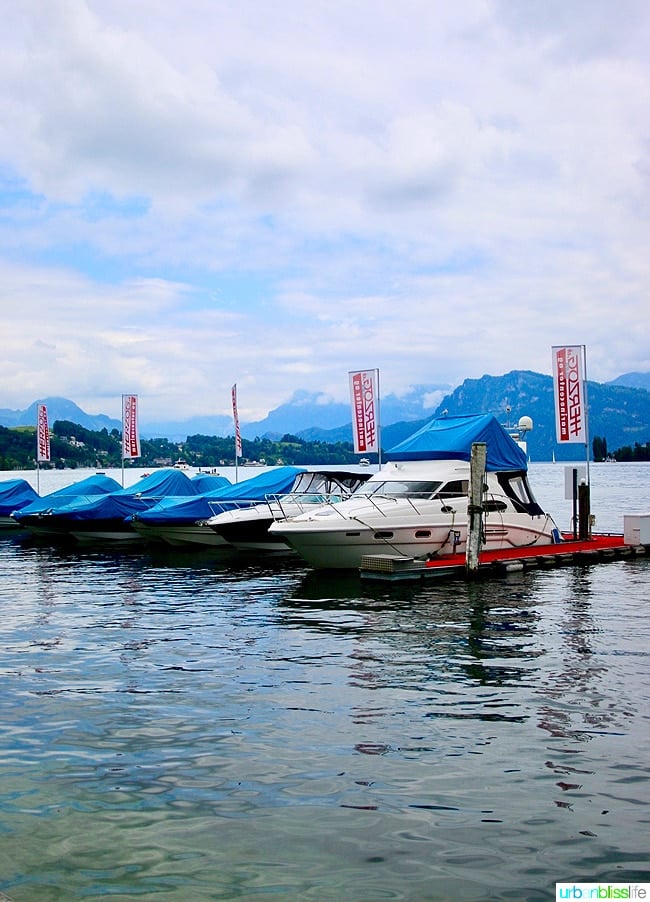 You can also take one of several boat tours around the river from here.
We did a boat tour in Lucerne when the kids were younger, and they loved it! It's a great way to see Lucerne from a different view.
Lucerne Day Trip: Mount Pilatus
From Lucerne, you can take a trip up to Mount Pilatus. This is an excellent longer day trip for those looking for some outdoor adventure. There are numerous hiking trails on the mountain, in addition to your classic sightseeing fun.
Legend has it that Mount Pilatus was formed when dragon rock fell from the sky in the year 1420. With a summit of 7,000 feet, you get incredible, breathtaking views from the top.
The mountain can be reached from Lucerne by gondola lift and aerial cable car and from Alpnachstad with the world's steepest rack-railroad. You need to plan in advance if you want to visit Mount Pilatus, as it will take a few hours of your day to visit here from Lucerne.
What to See in Lucerne
Lucerne is a gorgeous city. Everywhere you look, the building facades are adorned with intricate murals and ornate decorations. Here are just a few of the beautiful works of art that you can admire.
Lucerne Restaurants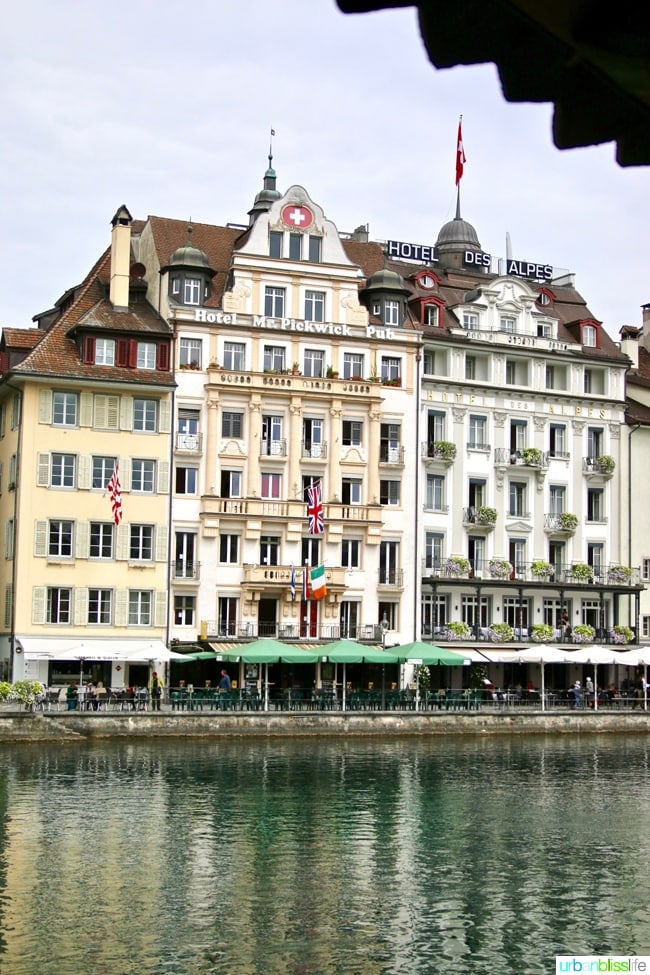 Lucerne has a large number of cafes and restaurants, offering everything from traditional Swiss cuisine to vegetarian & vegan menus to British pub food. Because this is a tourist town (and because it's Switzerland), prices can range higher than your average meals in the US or the UK.
In the past, we've mostly eaten at any one of the riverfront restaurants located right across from the Chapel Bridge.
These cater to tourists, but you can't beat the view, and the food and beverages are usually fantastic at any of these establishments.
On our recent trip, since we had four adults and six kids, we opted for lunch at Mr. Pickwicks Pub. It's a classic British Pub just steps from the bridge. There is indoor seating with a distinct British pub vibe, and outdoor seating along the river.
This is a great place to stop for a bite to eat if your little travelers are in need of something familiar. Classic pub food fare here includes fish & chips, large salads, burgers, and sandwiches.
Being a classic British pub, there is also, of course, lots of beer options for adults.
Visit Lucerne, Switzerland with Kids
There are numerous other attractions and things to do in Lucerne.
You can visit the famous carving of a dying lion (the Lion Monument, or Löwendenkmal), located in a small park just off the Löwenplatz. The carving commemorates the hundreds of Swiss Guards who were massacred in 1792 during the French Revolution, when an armed mob stormed the Tuileries Palace in Paris.
There is also the Swiss Museum of Transport - which is interesting to young kids and transportation enthusiasts.
If you're visiting Switzerland, I highly recommend a day trip to Lucerne. Visit the Lucerne city website for more information about where to stay, where to eat, and what to do in this bustling, beautiful Swiss city.
What aspect of Lucerne would you like to visit the most?
Travel to Switzerland With Kids
PIN IT