Feast Portland 2017 was a whirlwind of nonstop food, libations, and fun.
This was my fifth year attending the 6-year-old, four-day food & beverage festival, and I can honestly say it was one of my favorites yet!
---
Be sure to read my past Feast Portland posts in the Urban Bliss Life Feast Portland Guide.
---
Best bites and sips
There is SO much to eat and drink during the four days of Feast Portland. Unlike past years, I paced myself a little better for this year's Feast festivities.
Here's a look at some of my favorites from Feast Portland 2017!
Media breakfast
Before the first public Feast Portland events happen, the media gather at Gracie's Restaurant in Hotel DeLuxe for the Media Breakfast. This year's breakfast buffet was incredible!
My fave of all of the amazing array of food: the shrimp and grits (maybe it was polenta?). SO good! And Hendrick's Gin was slinging some delicious breakfast cocktails, including a refreshing cucumber cocktail and tasty bloody mary's.
DIY Kombucha class
Confession: I don't like the taste of most kombucha on the market. But I LOVE the taste of Health-Ade kombucha! It's so fresh and I enjoyed learning more about Health-Ade's process from owner Daina Trout during the Health-Ade DIY Kombucha making class. It was informative and a lot of fun! We all went home with our own DIY Kombucha Making kits and I can't wait to finally try my hand at making my own kombucha!
Grand Tasting
All of the birds in the city knew something delicious was cooking up in Portland's Pioneer Courthouse Square at Feast...
The Grand Tasting event on both Friday and Saturday was a wonderful way to taste the latest and greatest food and beverage products and creative bites from some of the country's hottest chefs.
Some of the vendors offered different dishes or sips from one day to the next, so if you could swing going to both, I think it was worth it this year.
Here's a rundown of my faves from the Grand Tasting.
NOLA Doughnuts brought their A-game to Grand Tasting with a trio of buttery doughnut perfection.
The Salted Double Chocolate is INSANE and I want to eat one every day.
From Imperial Stock Ranch: a stunning seared lamb loin wrapped in prosciutto, Casttelvetrano Olive, sponge cake, sauce vert. Beautiful dish, and a hearty little bite, too!
The Oregon Cheese Guild served beautiful little cheese trays with a trio of cheeses.
Petunia's Pastries always brings a nice selection of sweet treats wherever they go, and their presentation is always so colorful and fun!
Their chocolate chipper sandwich cookies were the perfect little dessert bites!
My fave jerky company, Krave, had a crostini bar with a variety of spreads and their jerky.
Oregon Fruit Products had a beautiful display area with several different bites each day of the Grand Tasting. Aren't these Lime Possett with Blackberry Cassis Compotes beautiful?
The Raspberry Habanero Pepper Jelly from New Seasons Market was a hit, too!
Drink Tank: Rosé all day

Drink Tank events allow attendees to learn more about specific beverages from industry experts. The price includes drinks and light bites, which all vary depending on the specific Drink Tank you attend. I LOVED the Rosé All Day Drink Tank. The panelists were a wonderful mix of personalities and wealth of knowledge. We also tasted a nice variety of rosé wines from different regions, including Oregon, California, Spain, and France. The wines ranged in price from $12/bottle to $60/bottle, and though I enjoyed most of them, the wine I was most taken by was the $12 Muga from Rioja!
Eater PDX & Washington Wines After Party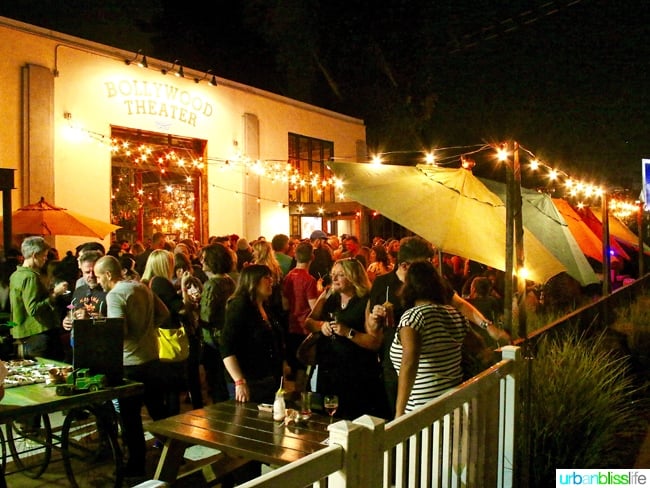 I made a conscious decision to only attend one after party this year -- and no after, after parties. Heading straight into Feast Portland directly off the plane from our #TrailsToFeast press trip with Travel Oregon (more on those travels soon!), and then knowing I had a full week of more events immediately after Feast, I knew I couldn't spend every night out late. Plus: I love my kids and actually enjoy spending time with them, so I was glad to be able to see them on those nights!
The after party I DID attend was the best one yet! Hosted by Eater and Washington Wines, the after party at Bollywood Theatre had dancers, lots of Washington wines, cocktails, yummy bites to eat, and to top it off, a little birthday celebration for owner/chef Troy.
Brunch village
The final Main Event of Feast Portland was Brunch Village. Also held in Pioneer Courthouse Square, this event was packed - with both people, and tons of wonderful food & drink!
Portlanders love them some brunch, and Brunch Village is a true celebration of all that brunch is -- and what it can be.
I really enjoyed most of the food and drinks served at Brunch Village, so it's hard to narrow it down, but here's a look at a few of my faves from this main event.
Gruet Winery was serving delicious mimosas to help Brunch Village goers wash down all of the incredible eats.
Crowd favorite at Brunch Village seemed to be the Coffee-Rubbed Blackberry BBQ Lamb Biscuit with Okra and Smoked Black Pepper Cheddar by Mae.
One of my absolute favorite dishes at Brunch Village was the Corned beef Hash, Swiss, Tomatillo Relish on Brioche with Brown Butter Fried Egg Sauce by Meat, Cheese, Bread.
As a nice contrast to the heavier brunch bites, The Country Cat served up these adorable delicious Breakfast Fruit Crisps with Granola Crumble and Yogurt Clabber Cream.
It was great to meet Nina Compton of Compere Lapin in New Orleans, Louisiana. She served some delicious Coconut Chia Pudding, Puffed Grains, Uni.
More Portland Feast
There you have it: my Feast Portland 2017 Best Bites and Sips. I know there are so many dishes I didn't even get to try!
Be sure to read these posts from my fellow food & beverage bloggers to see their Feast Portland 2017 recaps.
Pechluck's Adventures - My Highlights of Feast 2017
---
Which Feast Portland 2017 Best Bites & Sips looks most tempting to you?
I attended the Feast Portland events in this post courtesy of a blogger pass. As always, all opinions and photos are my own.