Feast Portland is a bit of a beast of an event... in the way that beasts are AWESOME.
Feast is an extensive, indulgent food and beverage extravaganza. You can read my first post about Feast Portland here. The four-day celebration of Oregon's bounty kicked off to the public with the Widmer Brothers Brewing Sandwich Invitational, presented by Lincoln Motors Company.
Sandwich Invitational
Fifteen chefs competed in the 2013 Widmer Bros. Sandwich Invitational, bringing their best, most creative, tastiest sammies to the table. It was an impressive line-up.
Widmer Bros. was on hand to serve up delicious brews, including their refreshing Krystal Pear, which was the official beer of Feast Portland. I LOVED this beer.
So the beer was flowing, the vodka folks had a huge ice sculpture (which we got to watch crash at the end of the event -- that was slightly scary cool), and the wine-in-a-can was a popular Portlandia anti-establishment notion (bonus: the Pinot Noir is actually pretty good).
Tillamook Cheese was serving up three different types of grilled cheese sandwiches and asking people to place their votes for their favorite on twitter using specific hashtags (my fave was #darkginger, which won!). They also were giving out Tillaphones: special phones that allowed Feast Portland attendees to feel like true foodie VIPs, placing Comfort Calls between 11pm and 3am for special grilled cheese deliveries. We were out of the delivery zone, so I happily gave my phones away to two deserving, lucky, hungry fellow Feasties for Friday and Saturday nights of Feast.
In the end, after everyone gorged on mini lamb burgers, bologna sandwiches, pancake sandwiches with pork belly, Paul Qui's (of Top Chef fame) Rabbit 7 Ways sandwich... basically sandwich after sandwich after (deep breath, gut in) sandwich, it was declared that sandwiches from The Country Cat and Laurelhurst Market were the winners. Sadly, my husband and I didn't make our way to either winning booths before they were all gone. However, from the sandwiches we did try, my personal fave was the duck confit sandwich from Ox.
Oh goodness, this was an amazing sandwich. We also noticed that waffles seem to be the new sandwich bread.
Oregon Bounty Grand Tasting
I woke up hungry Saturday morning, which was a sign that Feast Portland, after two days, was working its magic: my appetite was expanding to accommodate the glory of the weekend's events.
Enter yet another gorgefest of yummy delights: the Oregon Bounty Grand Tasting.
On both Friday and Saturday, food & beverage artisans from around the state converged on Pioneer Courthouse Square to share their delicious delights with Feast attendees.
From Salt & Straw ice cream...
to oysters...
and more oysters (because you need to see these babies from two angles)...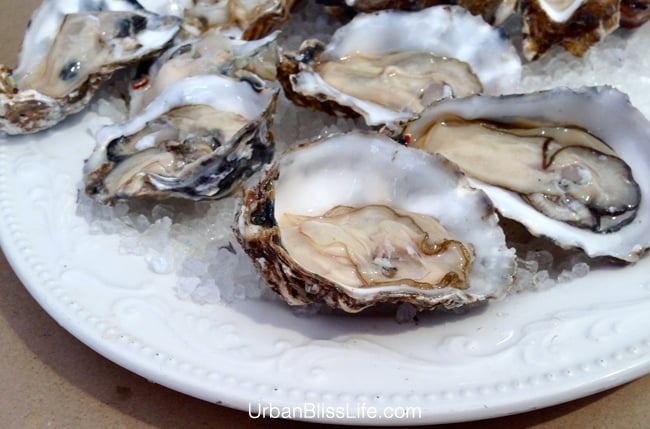 and finally, to my favorite finishing salts (Jacobsen Salt Co.) ...
to the freshest, best meats from Nicky USA; to my personal favorite: the amazing buckwheat chocolate chip cookies by Tabor Bread...
Plus, the Grand Tasting included a wine pavilion with faves Archery Summit, Erath, Soter Vineyards, Hawks View Cellars and more; and the Kitchen Aid demo stage with demos by national celeb chefs like Duff Goldman and local darlings like Chef Naomi Pomeroy.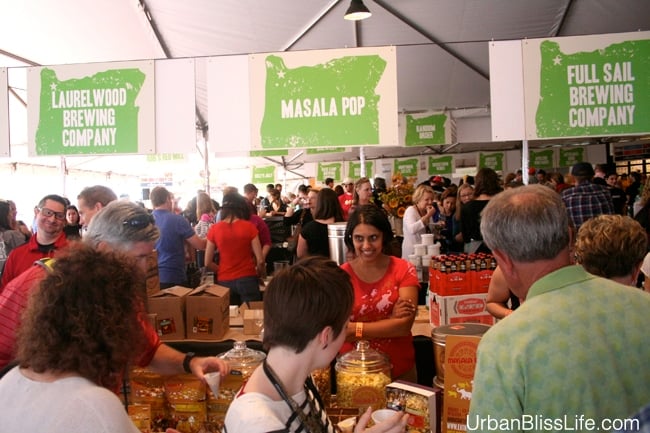 Best Butcher Contest and Fishmonger Face-Off
One fun FREE event that was part of Feast Portland was the Whole Foods Market Best Butcher Contest and Fishmonger Face-off. After months of regional competition, the top 11 butchers and 11 fishmongers competed for the coveted titles. In the end, Hector "El Jefe" Yedra was crowned "Best Butcher," and Frank "The Italian Slayer" Ficarra went home the "Finest Fishmonger" title.
So here's my bad blogger confession: as hard as I tried, I couldn't get any fabulous shots of the actual competition. I couldn't get the right angle, catch the right moment, the rain didn't help... However, I did get some foodie photos of the amazing spread that Whole Foods Market had going on. These were some of my favorite bites of Feast Portland:
Read more about Feast Portland: The Kick-Off & The Details.