Zurich, Switzerland is an international hub for business travelers but also a great place for the whole family! Check out what to do in Zurich with kids.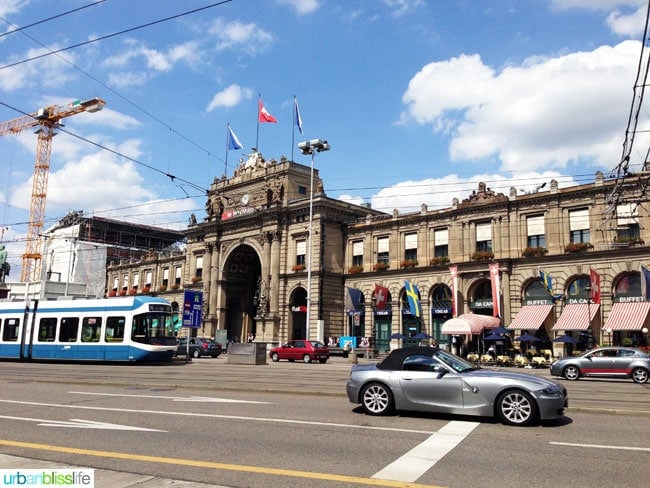 Zurich, Switzerland is such a fun place to visit for the entire family. This largest city in Switzerland is full of family-friendly shops, restaurants, museums, and other main attractions.
My in-laws live in a little town just outside of Zurich, so I've been traveling here with my husband since 1997. We've been taking the kids overseas to Switzerland since they were babies.
If you've never been to Zurich before, we've got everything you need to know to travel to Zurich for your next family vacation.
Jump to:
🇨🇭 Zurich with Kids
While the capitol of Switzerland is a huge international hub for business travelers, it's also a fun place for families.
Zurich is more of a milder, gentler, quieter embrace by the locals that you'll feel here. We always felt welcome with our children wherever we went in Zurich.
Here are some of my top picks for where to go and what to do if you're traveling to Zurich, Switzerland with kids.
🚇 Swiss Trains: The Best Way to Travel Around Zurich
In Zurich, public transportation is well organized and fairly easy to navigate even for first time visitors. It's easy to take a train, bus or boat (or gondola!) to almost anywhere you need to go.
If you'll be in the area for a few days or a week, I suggest getting the Swiss Travel Pass or the Swiss Travel Flex Pass. The best part for families: children under the age of 16 travel for free when accompanied by a parent who has a Swiss Family Card; children under the age of 6 travel free with an accompanying adult (no Swiss Family Card needed).
The Swiss trains are the cleanest trains I have ever taken, anywhere. They are almost always on time (that famous Swiss precision!). Stations are well-organized, and transfers are fairly easy to navigate for first-time visitors. Especially from the main station in the heart of the city.

Traveling by train is a great way to see the diverse and stunning Swiss countryside. You get an incredible view watching the landscape change from picturesque cities to small towns, mountains, lakes, and rivers.
Walk and play along Lake Zurich
The large, windy lake connects Lake Zurich on the Western end, and the cantons of Zurich, St. Gallen, and Schwyz. At the Zurich end, as well as from several smaller towns along the lake, you have many options. You can rent pedal boats or go swimming. Rent bikes and bike along the scenic paths that follow the river. Watch the sailboats.
Or partake in our favorite activity: take one of the boat trips from Zurich to one of the other nearby towns. On hot summer days, visit the largest covered waterpark in Europe – the Alpamare – in Pfäffikon.
Walk around the Niederdorf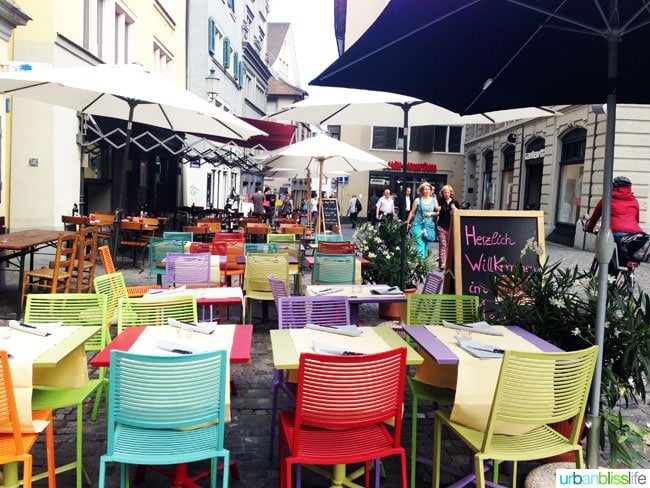 Simply walking around town is one of the best ways to explore Zurich. Make sure you take a stroll to the Niederdorf. Located in the Old Town Zurich city centre, the Niederdorf is like a small European village within the big city.
Wear comfortable shoes here. You'll need to traverse uneven cobblestone streets and hills. But nestled within the Niederdorf's narrow alleyways, you'll find an incredible array of good food options. From ice cream and donuts to Italian dinners to German and Swiss meals -- and everything in between!
Plus, you'll find a different vibe and varied space options at each restaurant. I suggest you go with an open mind and choose according to what you and your family are feeling like that day.
Every restaurant we've ever taken our kids to in the Niederdorf of Zurich has been kid-friendly.

It should go without saying, but that beer pictured above is mine and not my daughter's.

There are also lots of great travel photo opps in the Niederdorf. Whether it's classic Swiss architecture, signature red geraniums hanging in containers from terraces, or painted cow fixtures on corners. The Niederdorf is a great place to explore.
Visit the Lindt Chocolate Factory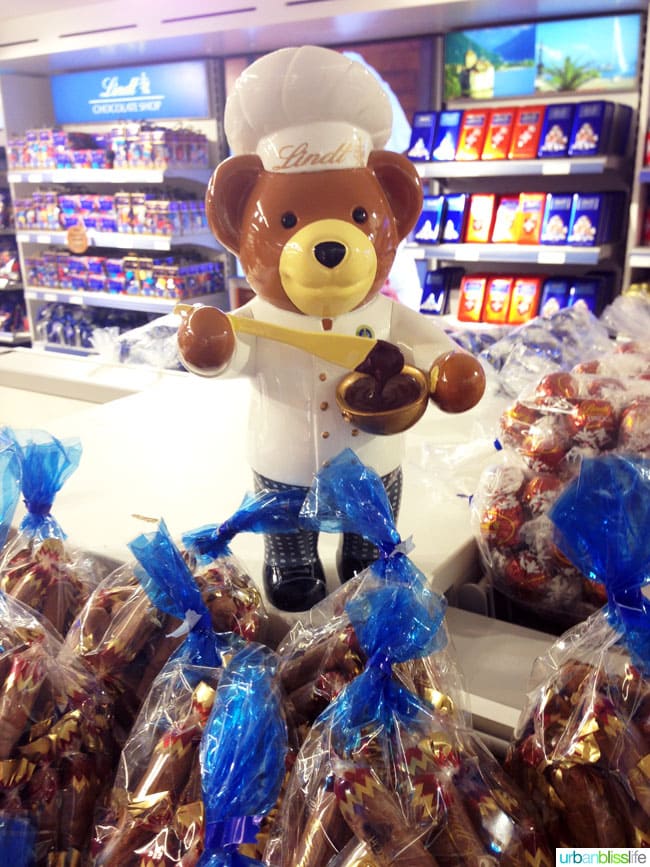 Amazing chocolate shops are, of course, some of the best things about traveling to Switzerland. But a tour of a chocolate factory is even better!
Located in Kilchberg, Switzerland is the magical place known as the Lindt chocolate factory. This is a fun place for a quick day trip just outside of Zurich and a short railway ride from the city center.
This is real chocolate, folks. Lindt chocolate is not the watered down stuff the large candy makers in the US try to feed us. You can make reservations to take a tour. However, the must-stop if you are short on time is the Lindt chocolate outlet store on the first floor. We always stock up on amazing chocolate here to bring back home.
Bürkliplatz Market
There are many outdoor markets throughout Zurich on different days. One of my favorites is the Bürkliplatz open air market by the Lake Zurich waterfront.
Bürkliplatz is part flea market, part farmers market. There are also food trucks and other vendors there. It's a great stroll along the lake, where you can get fresh fruits and vegetables for your trip. There's a beautiful selection of fresh flowers here as well.
Meanwhile, the food trucks offer kids a fun, quick bite while you are out and about exploring the city. It's a lot of fun right in the historical center of the city.
Franz Carl Weber Toy Store
No trip to Zurich is complete without a walk down to check out the shops and restaurants along the Bahnhofstrasse. One of our must-stops on every trip, even as our kids get older, is the Franz Carl Weber toy store. This megastore is three floors of kid fun! Your children will find their favorite fun things and more here.
Plus, they'll find fabulous European toys that you can't get in most places in the States. It's the best place to go to perk the kids up after walking for a while in the city, too.
Bonus: there's a Starbucks across the street! This is a great stop to fuel up on snacks before heading back out for to explore Zurich with kids.
More things to do in Zurich with kids
There are so many great kids activities in Zurich, Switzerland! Here are more popular attractions for families:
Zurich Zoo (Zurich Zoological Garden) - discover ore than 380 animal species plus lots of fun activities for all age groups at this zoo!
Zoological Museum
FIFA World Football Museum - for the sports lovers in your family, there are plenty of interactive exhibits. A great spot especially for older kids/young adults!
Swiss National Museum - the perfect place to learn more about Swiss history
Swiss Science Center - a great place with tons of interactive indoor activities
Limmat River Cruise - there are plenty of scenic river cruises that can take you along both sides of the River Limmat.
Want to see as much of Zurich as possible in a short amount of time? Tours are a great way to see the best sights! Check out some of the most popular Zurich city tours below:
Find the best flights to Zurich
Ready to book your flight to this amazing Swiss city? Use the search form below to find flights. Simply type in your current location as the Origin and select your travel dates.
More Travel in Switzerland with Kids
More Travel Tips