Go Big or Go Home.
That's how I like to live my life when possible, and when relevant.
Take birthdays, for example.
Last month, I had a fabulous week-long birthday celebration filled with lots of delicious food and wine moments with amazing friends and family. While we go wine tasting often, considering that we live on the edge of Oregon Wine Country and I write about food and wine for a living, going wine tasting for a special occasion is still truly a treat.
Here's a quick look at one of my birthday weekend activities!
The wineries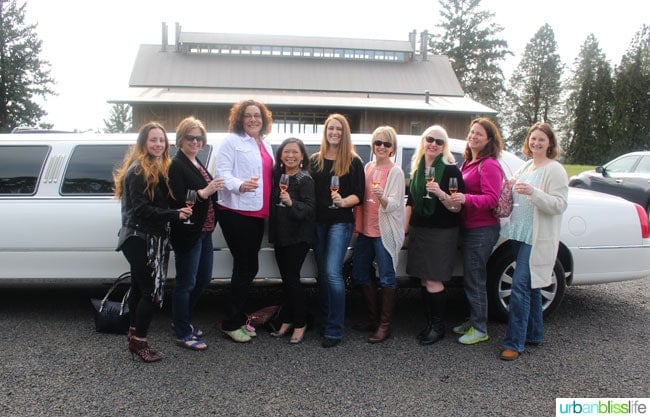 On the Saturday after my birthday, I had made reservations for a group of friends to go wine tasting at two of my favorite local wineries: Hawks View Cellars and Soter Vineyards.
I am a member at both wineries, and visit both as often as possible. You might think that I would want to try something new for my birthday. But this is a time when I want to visit a place I know I can rely on high quality. High quality wine, winery staff, and enough space for my rambunctious friends to chat, laugh loudly, and fully enjoy the wines.
Hawks View Cellars and Soter Vineyards always deliver when it comes to accommodating larger groups and having a consistent offering of amazing wines. Plus: they are just awesome people.
Hawks View Cellars
We kicked off my birthday wine tasting just a few miles away from my house, at Hawks View Cellars in Sherwood, Oregon.
You can read more about Hawks View Cellars in several posts on this blog: learn more about their history & wines, tasting room, La Baleine wine release party, a special dinner with Irving Street Kitchen, and more.
One of the things I love most about wine tasting at Hawks View, besides the fabulous wine and the wonderful people, is that you can call ahead if you have a large group (which you should always do at any winery if you have a group of six or more anyway, out of courtesy to the tasting room staff) and reserve the fireside table.
Also, I love that you can bring in your own food.
This is what happens when you ask a group of moms to bring some light snacks! And, I took this photo before more food was set out. Related: I have the best food-loving friends!
My friend Heather brought these beautiful and divine birthday cupcakes from Kyra's Bake Shop. I love Kyra's because they make a variety of gluten-free baked goods, including some cupcakes that are also dairy-free/vegan that actually taste amazing.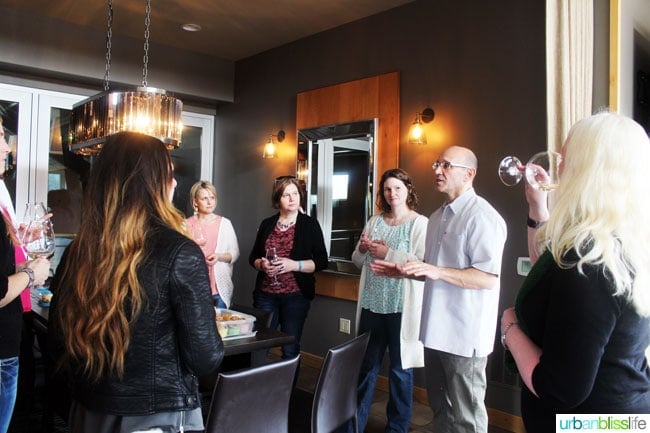 We tasted through Hawks View's current wine tasting menu, which includes my favorite 2014 Oregon Pinot Noir, and then Manager Dan Mages was gracious enough to give us a tour.
Dan made the tour a lot of fun, gave everyone a great glimpse of their wine making process and the wines, and was gracious enough to take a photo of us in the barrel room.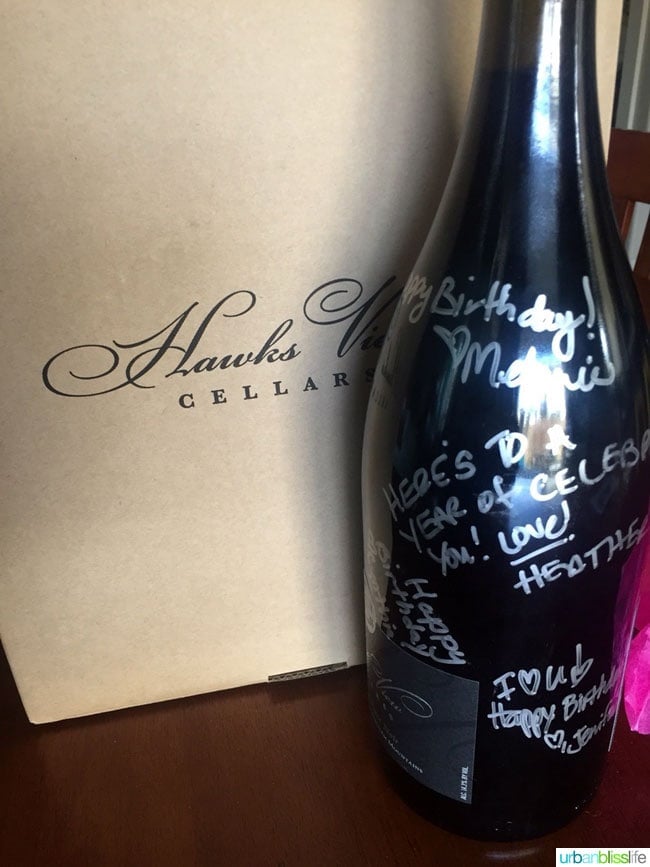 Dan also had the brilliant idea to have my friends sign a large bottle of my favorite 2014 Oregon Pinot Noir. What an awesome keepsake!
Hawks View Cellars is one of the few wineries I've visited in which I would highly recommend almost all of their wines. From sultry Syrahs to crisp Chardonnays to luscious Pinot Noirs, I've loved pretty much everything I've ever tasted here. Before we left, I purchased a few Pinot Noirs, a Syrah, and the large 750ml 2014 Oregon Pinot Noir pictured above.
Thanks for helping make my birthday so special, Hawks View!
Soter Vineyards
After Hawks View Cellars, we moved on to our appointment at Soter Vineyards.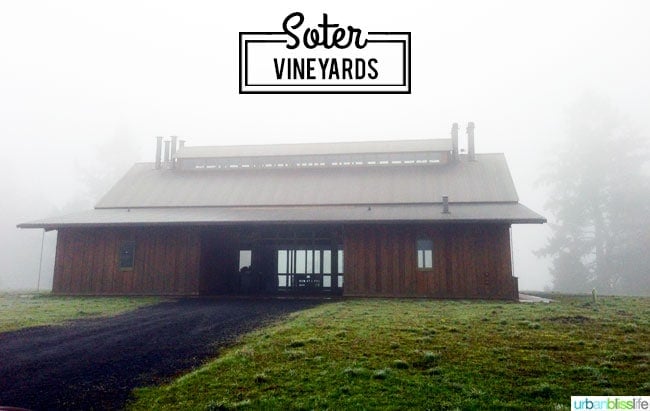 Note: the photo above was taken on a different day, but I wanted you to see the beautiful main tasting room building.
Soter Vineyards is located in Carlton, Oregon, and is open to the public by appointment only. You can reserve tasting times at 11am, 1pm, and 3pm.
What I love most about wine tasting at Soter Vineyards is not just their amazing wines and gorgeous views, but that they truly make wine tasting here a full experience. Your group gets a private tasting with one of the tasting room staff, either in the main building or in one of the private cabins.
It is an incredible experience in which both experienced wine professionals and those brand new to wine tasting can appreciate. The intimate setting allows you to feel comfortable asking any questions you can think of, and you don't feel rushed because you're not lined up at a tasting room bar elbowing for the tasting room staff's attention to keep the tasting moving. This is how wine tasting should be, in my opinion: intimate, at a relaxed pace, where you are allowed to fully appreciate the wine in a gorgeous setting with good friends - and a wine expert to help guide you.
Soter Vineyards is where I tasted my first $150 bottle of wine three years ago, and where I fell crazy in love with the 2007 Proprietary Red Napa Valley Pinot Noir of equal pricing on this birthday celebration. Go big or go home, right?
Thank you, Soter Vineyards, for providing my friends and I with an incredible birthday wine tasting experience!
Bridge City Limos
Special occasions call for special ride. Nobody should have to worry about making it to & from wineries or back home safely after a big day of wine tasting.
In full Go Big or Go Home style, I arranged for Bridge City Limos to take our group wine tasting.
If you are in Oregon's Willamette Valley and you have a special occasion of any kind - birthday, wedding, prom, anniversary, bridal shower, you name it - I highly recommend Bridge City Limos. They came at the recommendation of my friend Cynthia, and I loved working with them for this special day.
We took their White Lincoln Town Car, which seats up to 10 people and normally goes for $100 per hour.
My friends commented on how well-kept and clean the limo was. It was super comfortable, and came equipped with glasses, ice coolers, bottle chillers, and a sunroof.
We popped open a bottle of J Winery's Brut, which I picked up on my recent trip to Sonoma, and enjoyed that on our way to Hawks View Cellars. PS: if you're waiting for the info on the Rodney Strong Vineyards sweepstakes I hinted at in my most recent Sonoma post, I'll have all the details starting in April!
Nick was our driver, and he was great to work with before and during the wine tasting tour. He and I made arrangements over email and over the phone a couple of weeks ahead of time and he was great about suggesting locations, timing, and going over what was included. The day of wine tasting, he called to let me know he was on his way. When we were at our first location, he was great about coming in to give us a heads up that it was time to get going to the next location so we wouldn't be late for that appointment.
Best of all, Nick was accommodating, cordial, and ensured our rowdy group (I may or may not have been the rowdiest of the bunch... but hey, it was my birthday!) got to each place safely and on time.
Bridge City Limos also has available:
a six-seater black Mercedes limousine ($110/hour)
a 12 passenger stretch white limo ($125/hour)
and a 24-person party bus ($250/hour).
Give Bridge City Limos a call at 503-765-9367 or email info@bridgecitylimos.com, and tell him Marlynn from Urban Bliss Life sent you!
Wine Tasting Birthday Weekend
All in all, this beautiful wine tasting weekend was one of a few fantastic birthday celebrations that spoiled me with good food and great wine. And, most importantly, amazing friends and family. I feel very blessed to have these people in my life, and I embrace every opportunity possible to celebrate with them. Go Big or Go Home!
If you've never gone wine tasting before, you can check out my beginner's wine tasting tips.
You can also check out my recommendations for top wine tasting spots in Oregon in my Girls' Weekend Wine Tasting Guide and my Memorial Day Weekend Wine Tasting Guide, and then check out my features on wineries and restaurants in Oregon, Washington, and California Wine Countries.
Have you ever gone wine tasting and/or rented a limo for your birthday? What's your favorite Go Big or Go Home moment in your life?
Many thanks to Bridge City Limos for the complimentary limo featured in this post. As always, all opinions and photos are my own. I only write about products, places, experiences, and services I personally enjoy and believe you all will too!