A warm Spring eve, with sunshine beaming down on the valley. Hot date of a hubby. The chance to wear my fave LBD, heels, and jewels. Sexy wines. Luscious nibbles.
Sometimes, a fancy night out is just what the doctor ordered.
For my husband and I, that fancy night out came in the form of the annual Hawks View Cellars Black and White Affair. Traditionally only open to the vineyard's La Baleine Club members, the black tie event celebrates the release of a new vintage of its most daring wine: the La Baleine. We were truly honored to be invited guests this year, and loved the opportunity to enjoy some of our favorite Oregon wines paired with an expertly executed three-course meal in a gorgeous setting.
La Baleine Wine Release Event
After we handed our keys over to the valet and walked the red carpet entrance (posh!), we were immediately greeted by the smiling Hawks View Cellars team. The Hawks View Cellars property is stunning, and so are the views.
With the latest release of the Hawks View Cellars White Pinot Noir in hand (AKA The Unicorn; it's one of my FAVORITE wines!), we were treated to savory appetizers such as these gorgeous spring pea shoots crostini.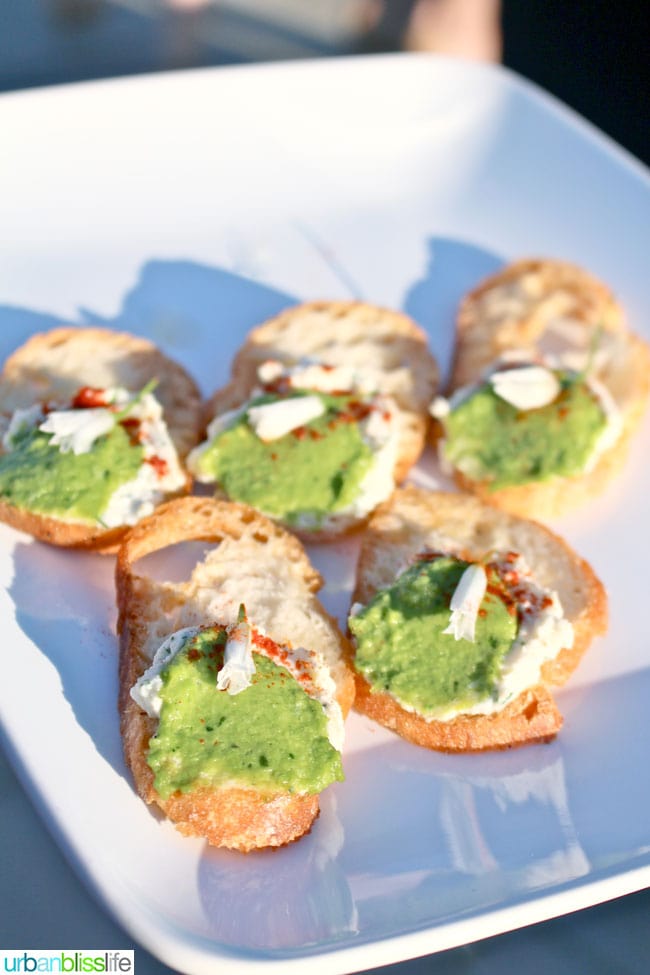 Dinner was served where the magic happens.
And lest you forget why you were there, on both levels you were reminded thanks to two impressive ice sculptures in the shape of whale tales and carved with the Hawks View logo.
La Baleine wine
You see, La Baleine translates into The Whale, which was an affectionate nickname for the vineyard's late founder, Jack Kemp. It could also be used to describe the wine itself: larger than life, or at least, larger and braver than most wines dare.
Hawks View Cellars La Baleine wine is one of my favorite examples of why I love this family-owned vineyard. Winemaker Adam Lee took Merlot, Petite Verdot, Malbec and Cabernet Sauvignon grapes from Washington (from Double Canyon Vineyard in the Horse Heaven Hills), Syrah from Garys' Vineyard in California, and Oregon Pinot Gris from the Hawks View Cellars Estate Vineyard -- and artfully blended them together to create this beautiful, harmonious, bold red wine. While La Baleine wines usually include an adventurous variety of grapes, this vintage contains the largest mix to date.
And it works. It works deliciously.
Food and Wine Pairings
Speaking of delicious, Chef Matt Howard prepared a lovely three course meal. It included my favorite food and wine pairing of the evening. This was a delightful spring salad with Oregon walnus, spring greens, feta, and English pea vinaigrette.
Our main dish was an upscale surf and turf consisting of Pacific NW halibut and La Baleine-braised beef.
Finally, as if a trio of desserts wasn't satisfying enough, Hawks View Cellars Co-Founder Willie Kemp (the matriarch of the Kemp family) came around at the end offering guests additional nibbles from the fresh tray full of buttermilk caramel truffles still sitting in their cocoa powder covering.
The gesture says it all about Hawks View Cellars: this space is not just their home, but it's our home, and Willie, her son & Co-Founder A.J., and his wife and daughter, all truly want every guest to feel comfortable and have fun enjoying their wines.
Speaking of fun, do you know how hard it was to try to take a photo of winemaker Adam Lee and my husband while they were chatting? They were laughing almost nonstop. Adam is not just a talented winemaker, he is also HILARIOUS.
It was a night of much laughter and celebration, indeed. The 2012 La Baleine is a magnificent wine worth celebrating with good friends and family.
Visit Hawks View Cellars
20210 SW Conzelmann Road
Sherwood, OR 97304
(503) 625-1591
www.hawksviewcellars.com
If you're in the Portland area visiting this summer, I highly recommend stopping by Hawks View Cellars to try their wines. In addition to the La Baleine wine, my favorites are the White Pinot Noir and the Syrah.
They are open to the public Saturdays and Sundays, and during the week by appointment. Tastings are $15.
Learn More About Oregon Wine