NOTE: as of 2021, Acadia Portland is closed.
Craving yummy Cajun/Creole cuisine in the Pacific Northwest? Check out Acadia Portland restaurant.
Jump to:
Cajun food and I have had a rough relationship over the years. When I was in New Orleans to sample authentic Cajon/Creole fare, I was pregnant, and not having anything positive to say about the food.
Plus, I'm a spice wimp, and almost every Cajun dish I had tried up until this point has been way too spicy. Contrary to false public perception that all Asians love spicy food (seriously. PEOPLE.), spicy food is not a regular part of Filipino cuisine. Salty? Yum! Sweet? Delicious! Spicy? No.
Acadia Portland
So it was with great excitement and slight apprehension that I walked into Acadia restaurant in Northeast Portland for a blogger dinner.
And then the servers kept placing these amazing dishes in front of me. It's as if the Cajun chefs of the world wanted me to know: this is the night you will fall in love with authentic Cajun/Creole cuisine. Trust us.
Acadia restaurant (1303 NE Fremont, Portland, OR) serves authentic Cajon/Creole cuisine, crafted by Chef Adam Higgs.

Chef Higgs ensures all of his dishes hold true to the cuisine by air shipping indigenous Southern ingredients that aren't local, such as Gulf shrimp, blue crab, gulf oysters, and Louisiana crawfish.
And with a sip of the traditional julep, I settled in comfortably for one delightful evening full of heavenly food that I ADORED and will surely be back for more in the near future.
Fresh, Authentic Cajun/Creole Cuisine
Acadia's signature dish is this gorgeous, decadent Louisiana Barbecue Shrimp with lemon, black pepper, white wine and butter.
Being a huge lover of prawns, this dish did not disappoint. Not only were the prawns perfectly cooked, but the sauce was amazing! It had just the right balance of spices to allow the magnificence of the prawns shine through. I could have tipped that bowl back and drank the sauce straight, but to be polite I stuck with soaking up the sauce with the bread we were offered.
Starters and Salads
The Chicken-Fried Chicken Skins with cayenne-cane syrup mustard were incredible as well. It's as if my childhood food fantasies of a plate full of fried chicken skins came to life on a artfully presented platter. (Am I the only one who had a fried chicken skin obsession as a child?)
We also sampled the Cornmeal-Fried Louisiana Soft Shell Blue Crab with jalapeño tartar, English Pea & mint salad, and fresh lemon. As someone who is used to Pacific NW crab, I found that I really liked blue crab. It's slightly tougher than Pacific NW crabs, but the pea and mint salad accompaniment softened the dish.
The Radicchio Treviso & Rhubarb Salad with Portland Creamery Chévre, spicy candied pecans, honey-cured kumquats and poppy seed dressing was a nice blend of complementary textures and flavors. I thought the kumquats added a sweetness that balanced the bitterness of the radicchio. Delicious.
My favorite salad of the evening was this beautiful Crawfish Boil & Collard Greens Salad with crawfish tails, red remoulade dressing, boiled fingerlings, corn, andouille, shaved Parmesan and a crispy poached egg.
While not formerly a fan of spicy Cajun food or collard greens, I have always been a fan of crawfish and corn, and this dish was a fantastic fusion. I've never had collard greens served like this before, and I really enjoyed them.
Main Entrées
For entrees, we enjoyed a Bronzed, Wild-Caught Louisiana Sheepshead with Spinach Madeline pie and blue crab meuniére. Sheepshead is not actually a sheep's head: it's a fish that is caught from rocky waters.
Next up: Portland Creamery Goat Cheese Gnocchi with foraged stinging nettle purée, early morels, asparagus, spinach, toasted almonds and shaved Grana Padano Parmesan. The asparagus was cooked perfectly and I love the texture and crunch the almonds added to the dish.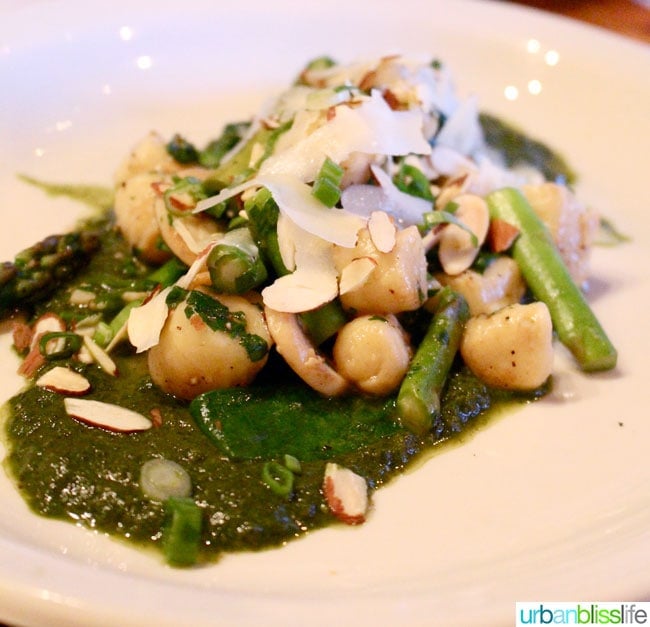 Finally, the piece de resistance and my favorite entree: pork tenderloin with a cornbread puree and rhubarb chutney. The pork was absolutely tender and paired so well with the polenta-like puree and nicely textured chutney. The bright colors of the chutney and radishes just begged for multiple photos, but I'll share just one ;)
Acadia always offers some sort of pork entree on the menu, but the menu does change regularly.
Delicious Cocktails in Portland
Throughout the meal, we were also treated to samples of cocktails prepared by Acadia Bar Director Beau Burtnick.
The crown jewel in terms of beautiful drinks to gaze at longingly was the Julep, made with bourbon, mint, and topped with sugared mint leaves.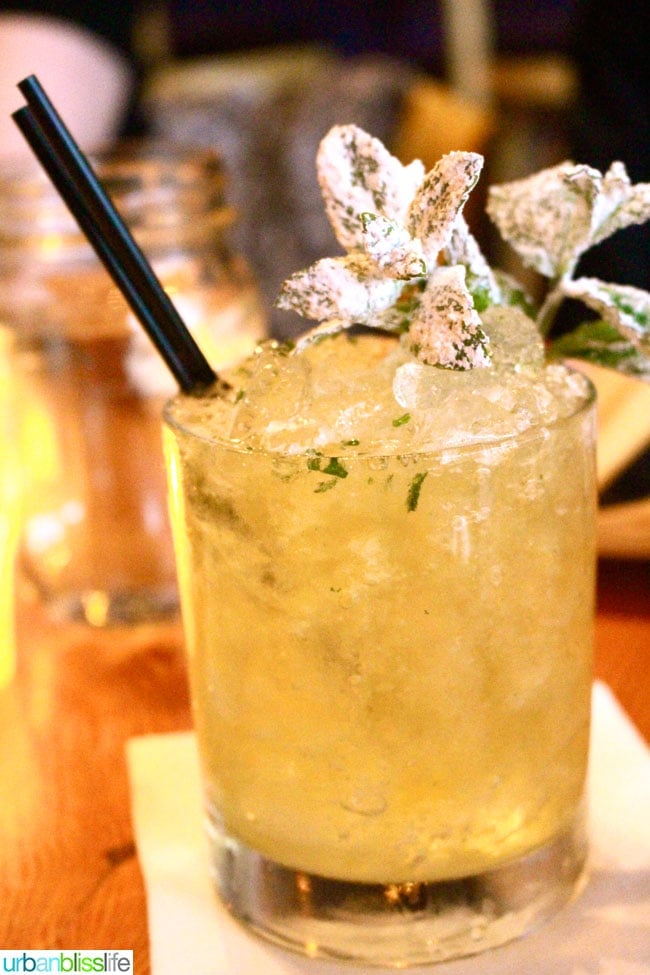 We tried many inventive drinks, including:
Commander La Croix

- tequila, lemon, honey, apple cider vinegar, ginger beer.
a

Portland Caprese

(caprese salad in a glass!)

Study Retreat

- cucumber vodka, blood orange, byrrh, port wine, salt

Young Sarandon

- Union gin, fresh rhubarb, suze, housemade rhubarb sorbet.

Amazing Desserts in Portland
And then, there were the desserts. Below you see the ceremonial topping of the Vanilla Bean Bread Pudding with white chocolate-brandy ganache, toasted pecans, and thickened sweet cream.

We also enjoyed a Chocolate Espresso Layer Cake, but the biggest surprise of my Cajon/Creole dining experience at Acadia was falling head over heals, stupidly, ridiculously, almost embarrassingly in LOVE with the Tropic Thunder: banana cake with maraschino drizzle, coconut frosting, passion fruit cheesecake, and Golden Graham-macadamia crunch.
OH. MY.
To be honest, I don't like bananas in desserts. At least, I didn't before this lovely morsel came into my life. It is, in my humble opinion, one of THE best desserts in all of Portland. It had the best combination of sweet and cake and crunch. I almost took an extra piece home with me, but thought it best to come back another time, since even my tent of a dress started to fit a little snugly.
Bottom line: I was very impressed by Acadia. It made me look at Cajun/Creole food in a totally different light. Chef Adam does a masterful job of bringing the slight spice of the South to each dish, while letting the true flavors of the indigenous ingredients shine through. I have great respect for that, as it's a true art. Delicious, tasty art. I can't wait to go back!
Dine at Acadia Portland
Acadia Portland
1303 NE Fremont
Portland, OR
503-249-5001