Fullerton Wines is a family owned and operated winery, producing terroir-driven Oregon Pinot Noir, Chardonnay, and other small production wines since 2012. Stop by their lively neighborhood wine bar and tasting room in Northwest Portland for a flight, some delightful bites, and cozy hospitality.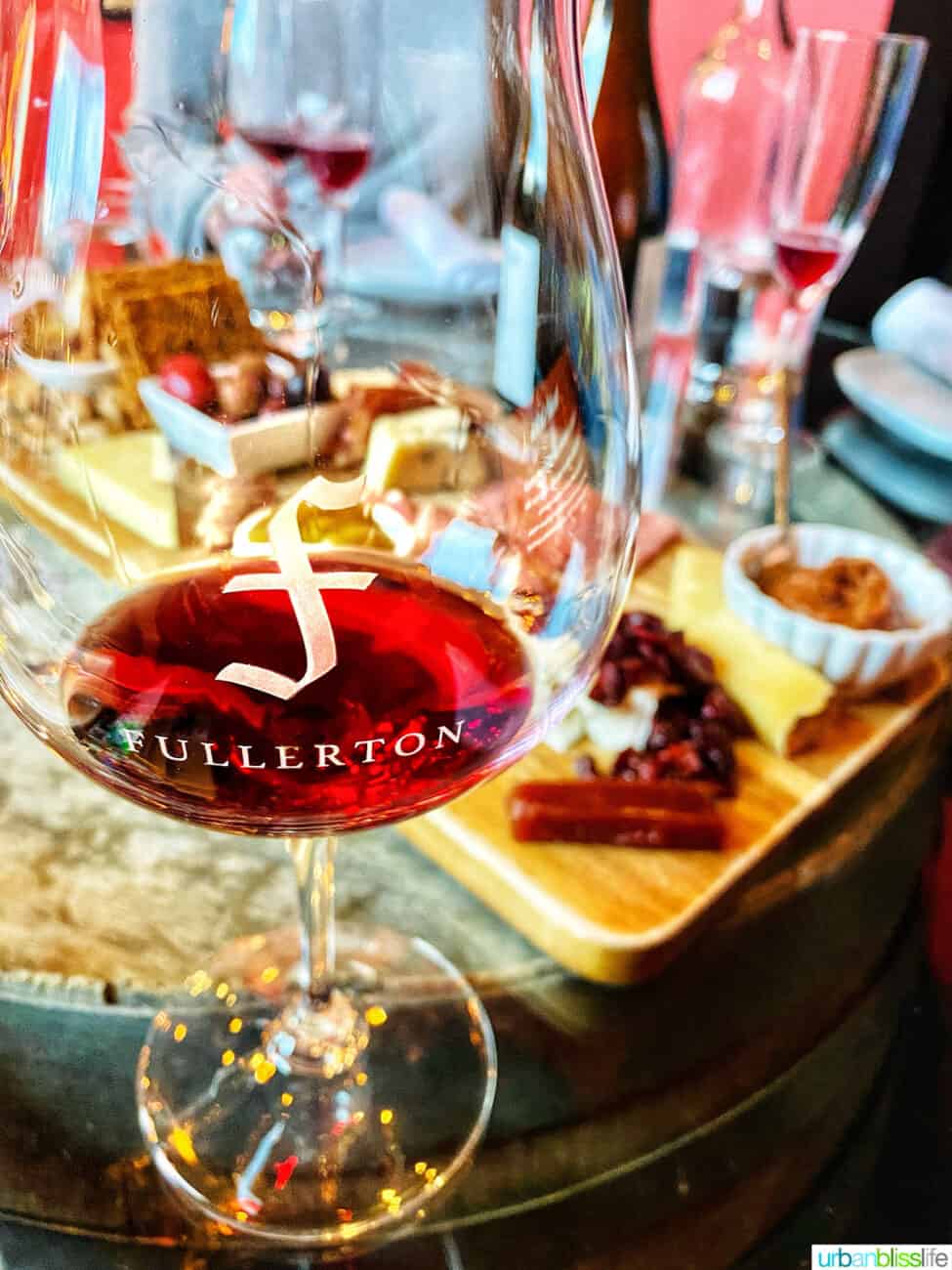 While there are quite a few multi-generational wineries in Oregon, few go all in as the Fullerton family. Fullerton Wines is an all-hands-on-deck family business, blending their Scandinavian roots with Pacific Northwest hospitality to provide wine enthusiasts with experiences and wines that tell the story of place and nature with each sip.
About Fullerton Wines
Fullerton Wines is a family winery that started officially in 2012. It's owned and operated by Eric and Susanne Fullerton; their son Alex Fullerton is the Winemaker; son Filip is a Vineyard Assistant; daughter Caroline is the Designer. Together, they are the Five Faces of Fullerton, and their flagship wines are under the Five Faces series.
Fullerton sources grapes from every single existing AVA in the state of Oregon to include in their wines. Currently, the family makes about 7,500 total cases per year, with a primary focus on Pinot Noir and Chardonnay.
Oregon wines
The AVA Series is especially intriguing, and my personal favorite Fullerton wines are from this series.
It's by tasting the wines in the AVA Series side by side that you get a clearer picture of what makes Oregon wines so special, as each AVA's unique climate and soils shape the grapes.
Two particular AVA Series wines of note:
The 2018 Arborbrook Vineyard Pinot Noir ($60) is 100% whole cluster fermented. The nose opens with jammy blackberries and the palate simmers with undertones of earthy herbs and rich spices.
The 2017 Momtazi Vineyard Pinot Noir ($70) is a beautifully refined Pinot Noir that is drinking beautifully right now. With rich tannins and deep color for an Oregon Pinot Noir, this lovely wine swoons with dark berries, black cherry, tobacco.
With a focus on Pinot Noir and Chardonnay - Oregon's two main varietals - Alex Fullerton is also known to experiment with small batch wines.
He's made two vintages so far of the Three Otters Skin Contact "Orange" Viognier (pictured above, left). This is the only 100% all natural wine that Fullerton makes - no additions and no subtractions. It's a delicious hazy mist of peach, quince, and citrus.
This year, he made a small amount of Piquette (pictured above, right) using Cabernet Sauvignon skins and Sauvignon Blanc juice. Piquette translates to "prickle," and is named after the fizz of this wine beverage. Fullerton made just enough to enjoy in kegs in the Northest Portland tasting room.
Northwest Portland Neighborhood Wine Bar
The Fullertons opened up a tasting room and wine bar in Northwest Portland in 2017. Guests have the option to sit indoors or outdoors under the heated, covered dining areas.
If you're ordering wines, you can opt for curbside pickup or local delivery.
A vibrant, bustling neighborhood wine bar, this is a great place to taste through Fullerton wines and enjoy some light bites.
Wine Flights
Currently, you can choose from three different wine flights at the Fullerton Wine Bar and Tasting Room.
Signature Flight - $25 per person for a flight of five wines, waived with a wine purchase of $100.
AVA Flight - $40 per person, waived with the purchase of $150 of wine. Taste through six single vineyard designate Pinot Noirs, all from separate nested AVAs (American Viticultural Areas) within the Willamette Valley.
Reserve Flight - $50 per person, waived with the purchase of $150 of wine. Taste a series of reserve wines from Pinot Noir, Chardonnay, and Syrah, as well as a selection of single vineyard library wines.
Food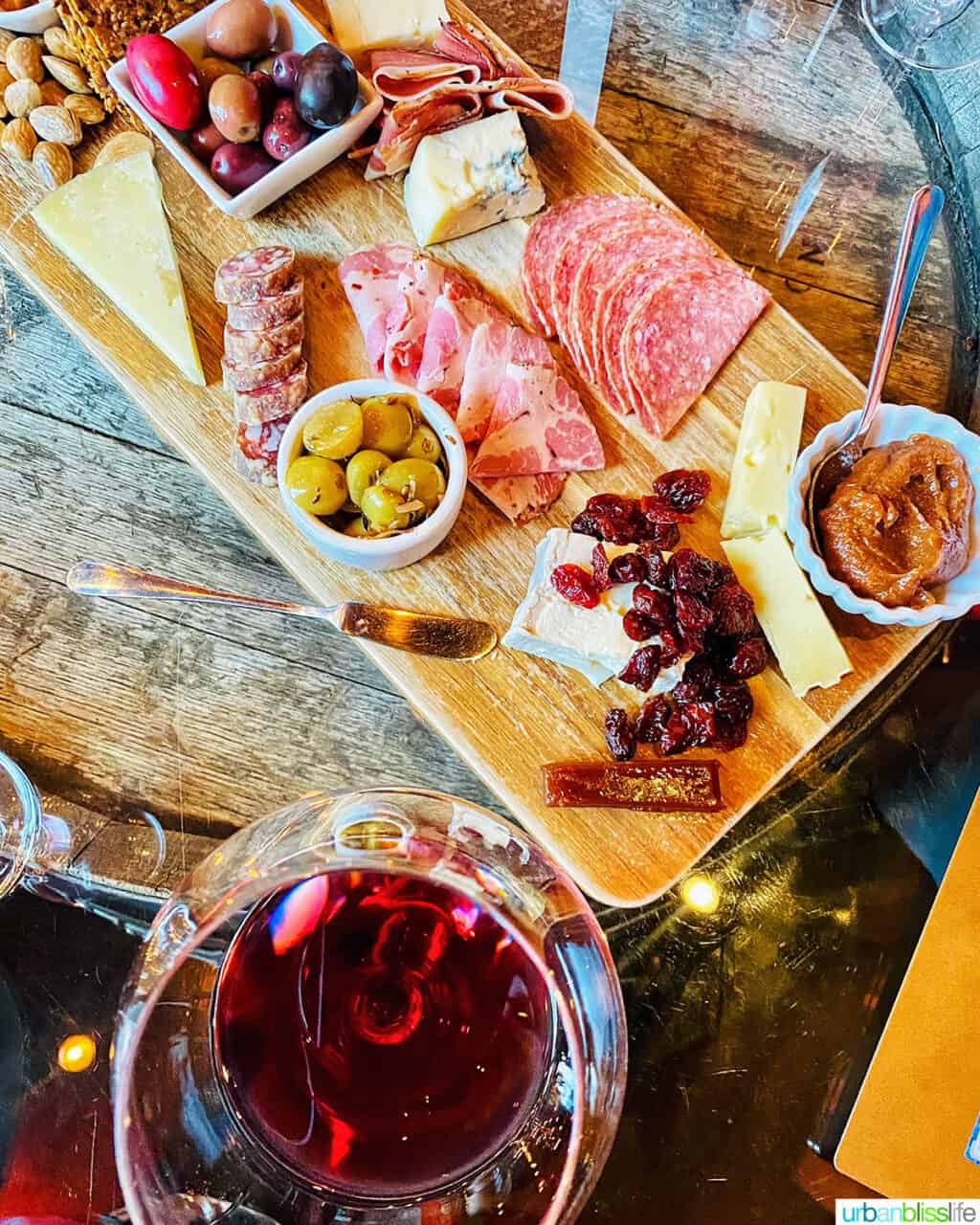 At Fullerton Wine Bar, you'll find classic wine bar dishes like Hummus ($15), Cheese Board or Charcuterie Board ($29 each), and a Cheese and Charcuterie Board ($49 for combo).
The menu changes from time to time, but there's also usually a salad, a soup, a burger option, and dessert.
And, you can never go wrong with ordering Oysters on the Half Shell ($24 for 6 or $42 for 12) to go along with your wine tasting!
Classes & Events
Fullerton offers a variety of tours, classes, and events throughout the year which are educational and inspirational.
I recently attended the AVA Deep Dive class, which I highly recommend to anyone who has an appreciation for Oregon wine and wants to delve deeper into how the different soil types affect the wines. Alex is an engaging and passionate instructor, so it's a fun class where you are bound to walk away with an even greater appreciation for the nuances of Oregon wine.
Wine Bar & Tasting Room FAQs
Are reservations required?
While not required, they are recommended. At the Portland wine bar, you can reserve tables for 2-6 people on the Fullerton Wines website. If you need to book for 7+, please call 503-477-7848 or email info@fullertonwines.com.
Is there parking nearby?
There is metered street parking all around the Fullerton Wine Bar and Tasting Room. I have always been able to find a parking spot within a couple of blocks of the wine bar.
Is it a dog friendly wine bar?
At last check, friendly dogs are allowed in the outdoor seating space.
Is this a kid-friendly spot?
Our suggestion: leave the kiddos at home and make it a date night here. There's not a lot of room for kids to move around either inside or outside. I've never seen kids at this particular wine bar, but being a mom, I would only go here for a girls' night out, date night, or with a group of adult friends.
Visit Fullerton Wine Bar
Fullerton Wine Bar & Tasting Room is a lively, unpretentious place where you can meet with friends, make new friends, and enjoy Oregon wines. Much like their wines, the space itself is a reflection of the location and neighborhood: cozy, casual, and welcoming.
1966 NW Pettygrove
Portland, Oregon 97209
Tasting Room: 503-477-7848
After Hours: 503-544-1378
HOURS:
Mon – Tue: closed
Wed – Thur: 4:00-9:00pm
Fri – Sat: 12:00-9:00pm
Sunday: 12:00-7:30pm
For more information, visit the Fullerton Wines website.
More Oregon Wine
For more Oregon wineries, wine bars, wines, and winemakers, visit our Oregon Wine Guide.
Read our past article about Fullerton Wine Classes.
Find more Oregon wineries in our Chehalem AVA Oregon Wine Guide, Yamhill-Carlton AVA Oregon Wine Guide, and Dundee Hills AVA Oregon Wine Guide.