Home to Europe's highest suspension bridge, an ice cave, and a 360-degree rotating gondola, Mount Titlis makes for an unforgettable trip to the Swiss Alps.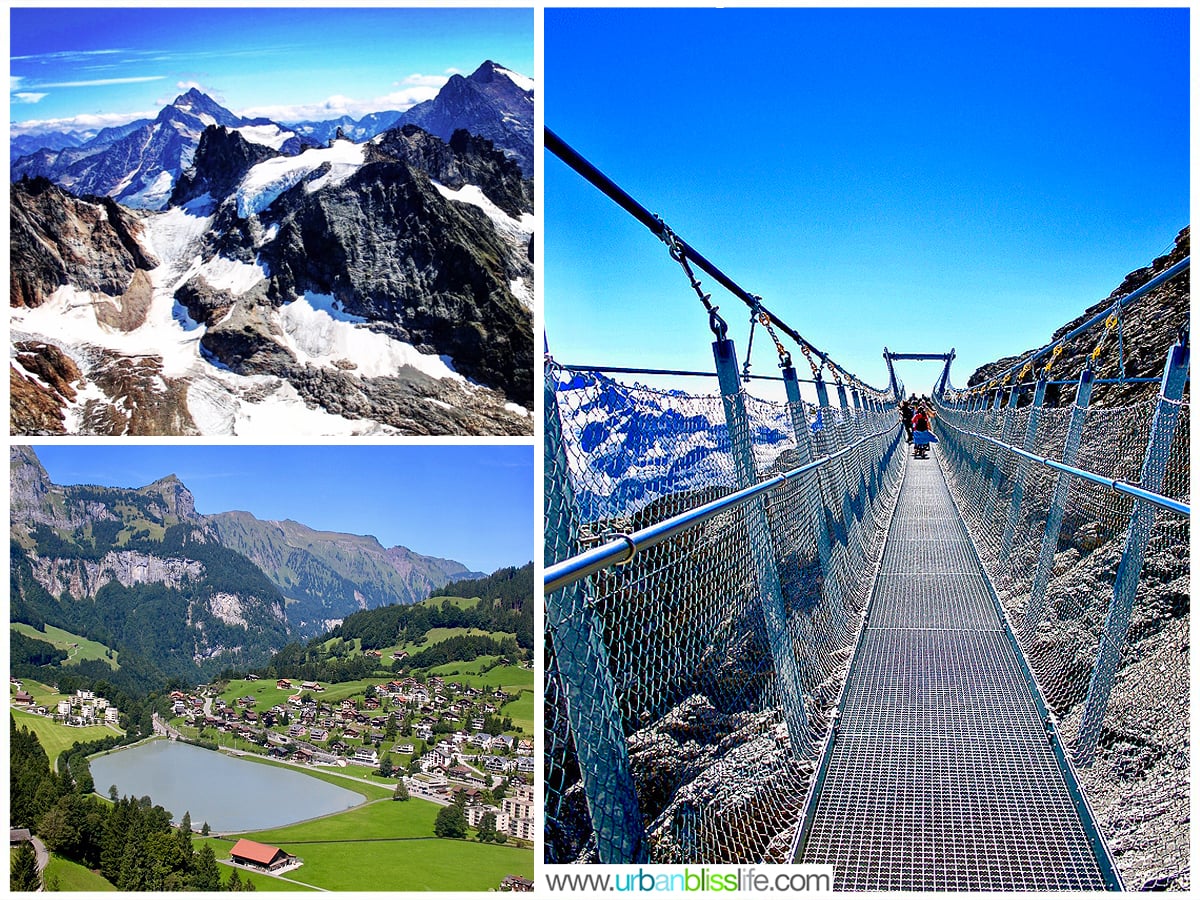 Last month, my husband, kids, and I spent a little over a week in Switzerland. My husband grew up there from the time he was 10, and his parents still live there. While he travels to Switzerland every year, it can get quite expensive traveling there with our entire family, so the kids and I try to go back with him every other year or so.
This summer we had an incredible, unforgettable adventure. My husband's brothers and each of their kids were there at the same time. Cousin time! Our kids had the BEST week spending time with their cousins from New York and Kansas!
On one of the sunniest days, we all went to Mount Titlis in the Swiss Alps.
This was our favorite Swiss adventure from this trip.
From Zurich to Mount Titlis
We took the train from our town's stop just outside of Zurich to Lucerne. Once in Lucerne, we transferred trains to Engelberg.
From the town of Engelberg, the Mount Titlis valley station can be reached by bus, or you can walk there in about 5-10 minutes from the Engelberg train station.
Swiss Alps at Mount Titlis
If you have a railpass, you'll want to show it so that you get a 25% railpass discount on your tickets. The tickets are basically to get you to different parts of Mount Titlis.
We purchased full tickets to the top, which currently cost 92 Euros. Children ages 18 and younger are free.
Once you get to the top, most of the activities are free. All of the activities you see pictured in this post (aside from lunch at the panorama restaurant) were included in the ticket price.
A Gorgeous Ride to the Top of the Alps
Like most of the mountains throughout the Alps, you take a series of gondolas to the top. It's breathtaking watching the views change from the adorable Swiss town of Engelberg to the mountains.
It's like a classic Swiss storybook picture, isn't it? Truly breathtaking!
And, it only gets more and more amazing as you ride up the mountain.
Titlis Rotair
After the first set of gondolas, you then take the world's first 360-degree panoramic gondola: the Titlis Rotair.
The gondola revolves 360-degrees during the five-minute trip, treating you to idyllic panoramic views of steep rock faces, deep crevasses, and distant snow-covered mountain peaks.
At the very top of the Swiss Alps at Mount Titlis, there's a large main building with access to several mountain activities.
Even just playing on the snow at the top is always fun for families!
TIP: wear closed-toe shoes like sneakers or snow boots because your feet WILL get wet. It's a mountain, after all. And what kid can resist jumping in snow puddles? No kid. Our kids' sneakers were soaked... but totally worth it!
Mount Titlis Cliff Walk
Here, you can also traverse Europe's highest suspension bridge.
3,041 metres above sea-level.
500 metres off the ground.
150 heart-pounding steps (or more, if you have short legs like I do).
This is what awaits you on the Cliff Walk, the spectacular suspension bridge high up on the summit.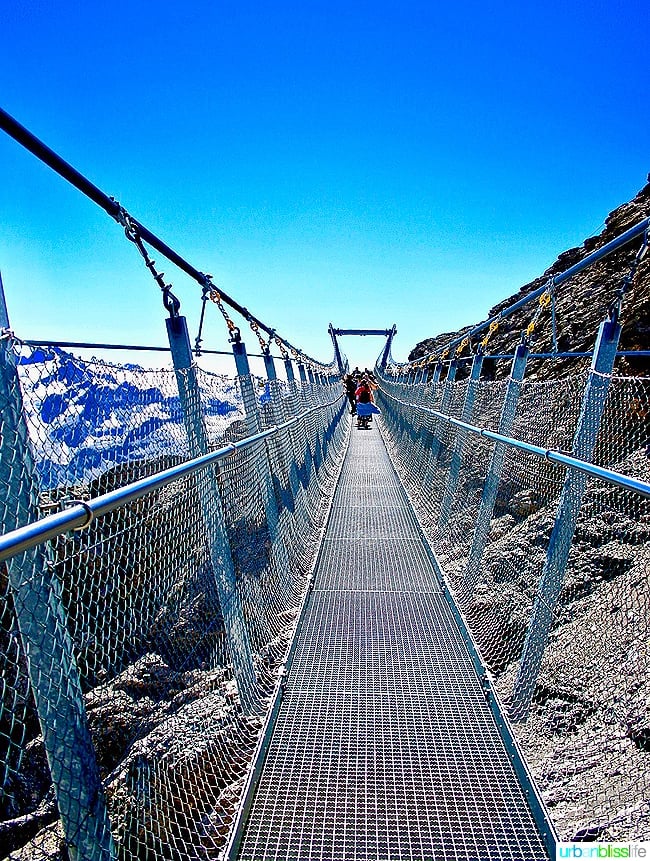 I loved this so much!
First: the view is GORGEOUS from the bridge (look across, don't look down!).
It is a lot more wobbly than I imagined it would be but then again, it's a bridge suspended by mere cables. Kind of crazy when you really think about it, but also: an engineering wonder that you have to admire.
I'm not big on selfies, but a Swiss Alps suspension bridge selfie was a must.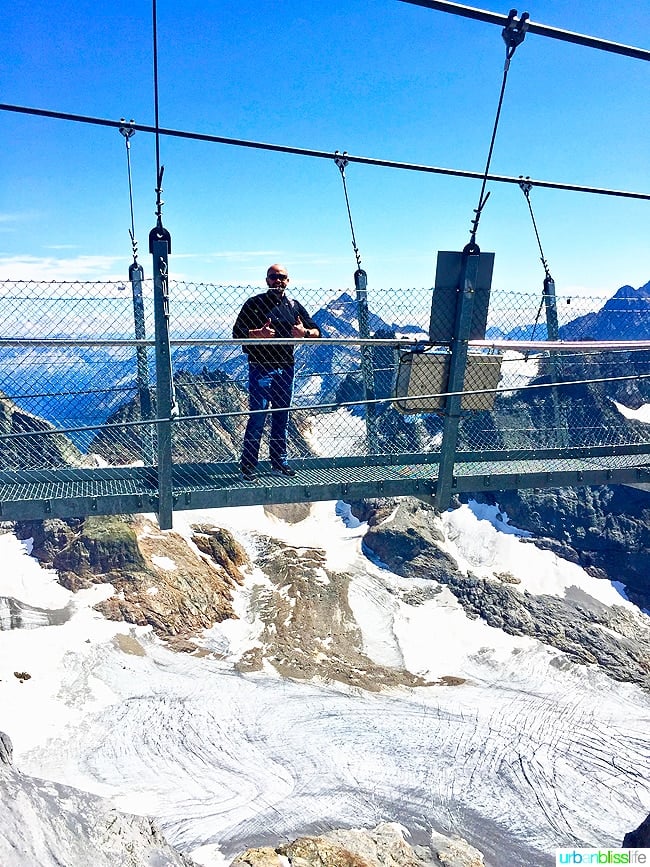 Here's a pic of my husband that my brother in law took. I love it because you can really see the bridge from the side and the Alps all around.
The walk across went by faster than I imagined it would, but I also didn't look down because I was trying to make sure my kids weren't racing through there.
At the end of the Cliff Walk suspension bridge, you have the option to linger a bit and enjoy the view from viewing stations they built inside the mountain, you can exit to go back into the building, or - you can continue on to the Glacier Cave.
Of course we went on to the Glacier Cave!!
Glacier Cave
The Glacier Cave was AMAZING!!
You literally are walking -or, rather, skating/shuffling - through tunnels carved inside the glacier.
The walls are ice, the floor is ice - it's awesome beyond imagination!
The kids all had a great time skating their way through the cave tunnels when there weren't any other tourists around.
There were little cave cutouts that you could use for photo opps, and also pretty frozen bouquet sculptures of plants and flowers throughout.
We all had SO much fun in the Glacier Caves!
Restaurants
All of this adventuring will make you hungry, and on Mount Titlis you have five restaurant options. We ate at the Panorama restaurant. This is a sit-down restaurant with an absolutely amazing view.
Best restaurant view ever!
I enjoyed the spaghetti carbonara, with a glass of rosé. Carbs were in order for this mountain adventure!
The guys all ordered different pizzas. They were delicious. And Swiss beer, of course!
The kids' menu included traditional kids' dishes like chicken and fries, sandwiches, and a variety of pizzas.
The kids' pizzas come with veggies shaped in happy faces. So cute! And tasty :)
Visit the Swiss Alps at Mount Titlis
We had an amazingly fun time during our adventures in this part of the Swiss Alps at Mount Titlis. If you are staying in or near Zurich or Lucerne during your trip to Switzerland, I highly recommend setting aside a day to visit.
Some tips for visiting Mount Titlis:
Go on a sunny day when skies are clear. If it's cloudy and rainy, you may not actually get to see a lot of the mountain.
Check the weather forecast the day before you go, and wear layers. During the summer, t-shirts and shorts are fine, but it IS a mountain and you will be going through a glacier cave that is cold, so bring a sweatshirt or light jacket.
Take your time to enjoy the view. As a popular tourist spot, it can get crowded and busy, and you may feel tempted to go quickly through the activities. Take your time. Soak it up. These views and experiences are worth it!
Gerschnistrasse 12
6390 Engelberg
Visit the Mount Titlis website for current mountain weather, transportation, and ticket pricing.
Have you ever visited the Swiss Alps? Which activity shown here would you look forward to the most?
More Travel Bliss