Enjoy French-inspired Pacific Northwest cuisine at Marche restaurant in Eugene, Oregon.

When I travel, I love trying new restaurants. Yet I also always try to set aside time to revisit some of my old favorites.
These are the restaurants I will go back to time and time again – and also the ones I regularly recommend to others if they are traveling to that city.
In Eugene, Oregon, Marché restaurant is that place.
Marché Restaurant
Marché restaurant is a French-inspired restaurant that focuses on fresh, local, in-season Pacific Northwest cuisine.
Located across from its sister hotel, the Inn at the 5th, and its sister marketplace, Provisions Market Hall, the restaurant's warm tones and intimate seating will make you feel welcome from the moment you walk in.
The restaurant is open for breakfast, brunch, lunch, and dinner. If you're in town and meeting friends for a drink, you can also check out their swanky bar area - appropriately called, Le Bar.
Here's a look at what some Travel Oregon press trip companions and I enjoyed on a recent visit to Marche restaurant.
Drinks
Marché has an excellent wine list that lists wines by type, so it's easy to find the kind of wine you are in the mood for. I love the way they've designed their wine list (see it online here): it's casual and fun, yet full of elegant wines from around the Pacific Northwest and California, as well as a significant number of French wines.
During my last visit, I enjoyed a glass of Domaine d'Oupia Rosé ($9/glass or #35/bottle). Additional wine suggestions: try the Ilahe Pinot Gris (Oregon), Omero Cellars Pinot Noir (Oregon), Ridge Vineyards Zinfandel (California), or the Gilbert Cellars Left Bank red blend (Washington).
Appetizers
At Marché, you'll find a nice variety of food on the menu. Everything is fresh, seasonal, local, and beautifully presented.
We enjoyed the Tartine Trio to start our meal. The specific ingredients change depending on what's in season and available. On our visit, we had a white bean and sage topping, a ricotta and tomato topping, and a smoked salmon and capers topping. All three were delicious!
Entrees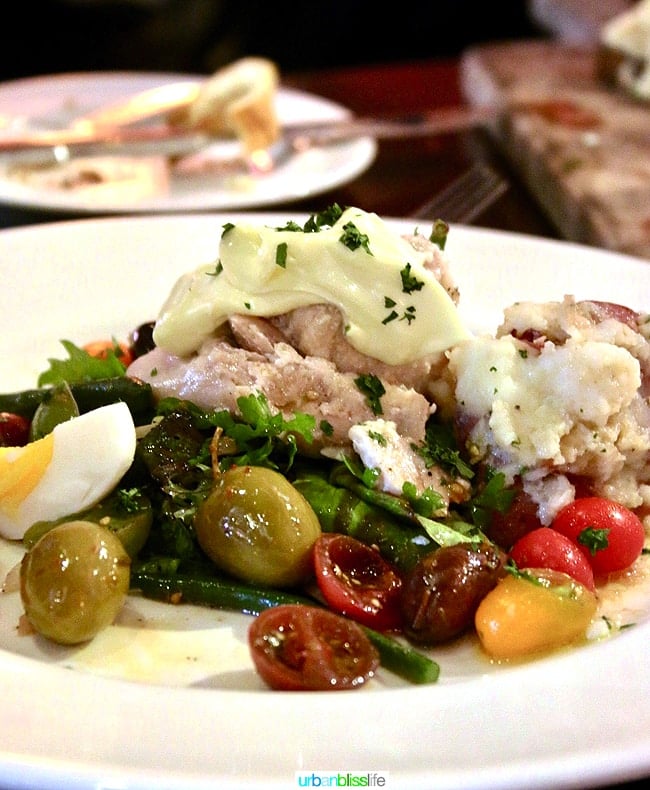 A couple of my dining companions ordered the Niçoise salad, which had the rest of us drooling. Cherry tomatoes, olives, hard boiled egg quarters, mixed greens, green beans, topped with fresh tuna... it looked and smelled amazing!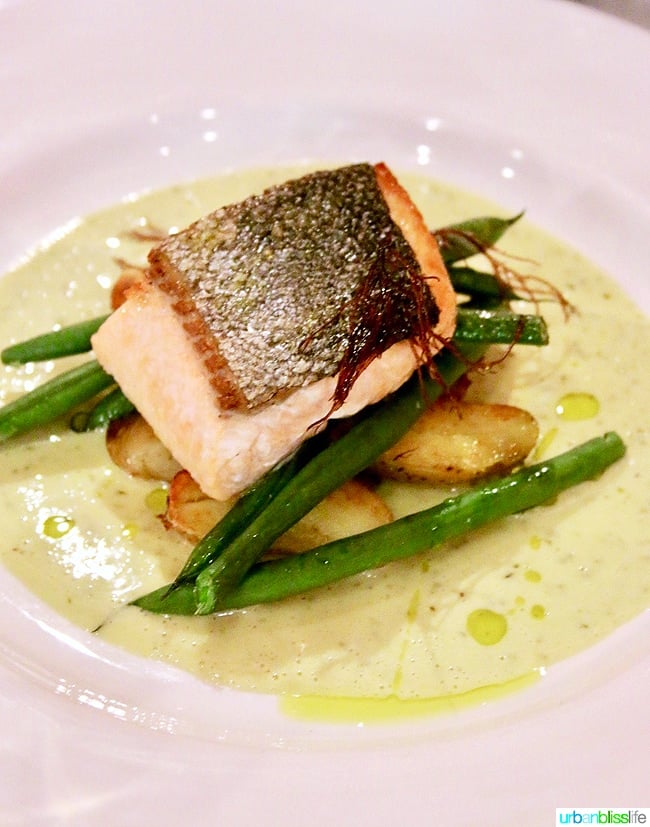 One of the specials was salmon with fingerling potatoes and green beans. Such a beautiful and truly Pacific Northwest dish!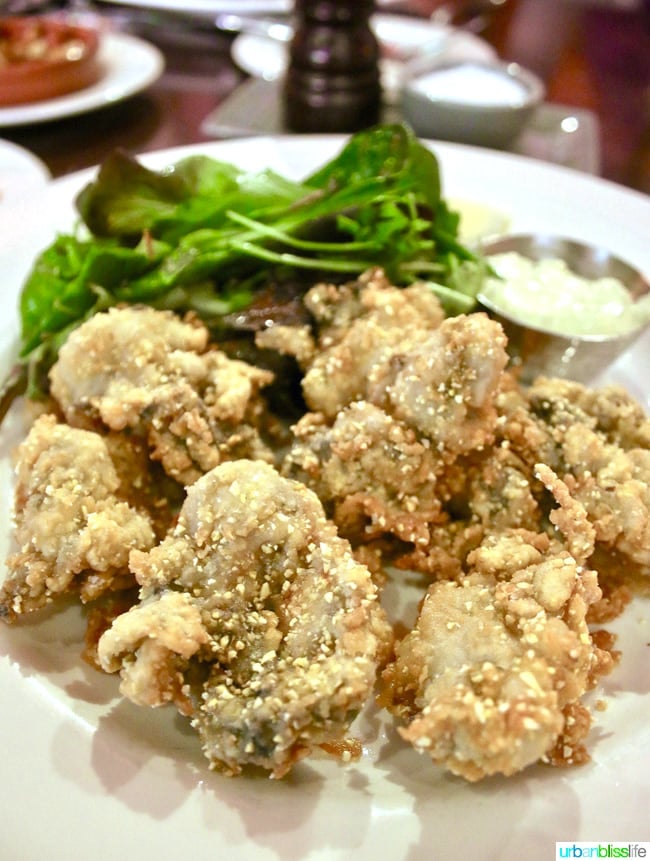 When I dine out, I try to order food that I wouldn't normally make at home. While I adore oysters, I prefer to leave the cooking of these succulent bivalve mollusks to restaurant chefs!
At Marché, the Cornmeal Fried Willapa Bay Oysters ($15) did not dissappoint. Served with a rémoulade sauce and mesclun salad, this is a wonderful lunch option if you're wanting something filling and slightly fancy.
Inn at the 5th room service
As a bonus: if you stay at the Inn at the 5th and order room service, your meal comes from Marche restaurant.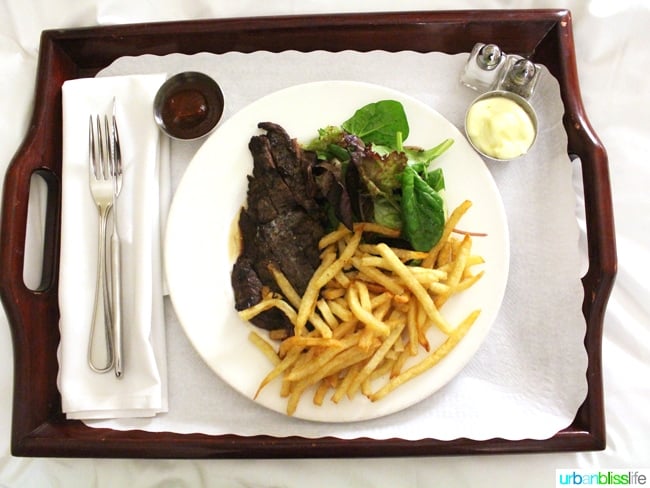 During my last road trip with the kids to Eugene, we stayed at the Inn at the 5th. We ordered a Pizza Margherita ($11) and Steak Frites ($19) to split. Both were SO delicious! My kids gave the fries double thumbs up, I thought the steak was cooked perfectly, and we all devoured the pizza.
Visit
I love recommending Marche restaurant to those traveling through Eugene, Oregon because the food and drinks here offer a well rounded representation of the Pacific Northwest bounty. You'll always find some fresh ingredients from surrounding farms on the menu, as well as delicious Oregon wines and craft beers.
Give it a try! You might just see me and my family hanging out here during one of our road trips through central and southern Oregon ;)
296 East Fifth Avenue
Eugene, Oregon
(541) 342-3612
HOURS:
Monday - Thursday 8am - 11pm
Friday - Saturday 8am - Midnight
Sunday 8am - 11pm
For more information, visit the Marché restaurant website.
More Oregon Travel Guides
My meal was complimentary as part of a Travel Oregon press trip. All opinions and photos are, as always, my own. This is a must-stop when visiting Eugene!
This post was originally published October 12, 2017. It was updated February 1, 2020 with new content and photos.