Bend, Oregon is an ideal vacation spot for families and groups of all sizes. With a large variety of lodging, dining, and outdoor activity options in a gorgeous setting, our favorite family vacation spot in Bend is Sunriver Resort!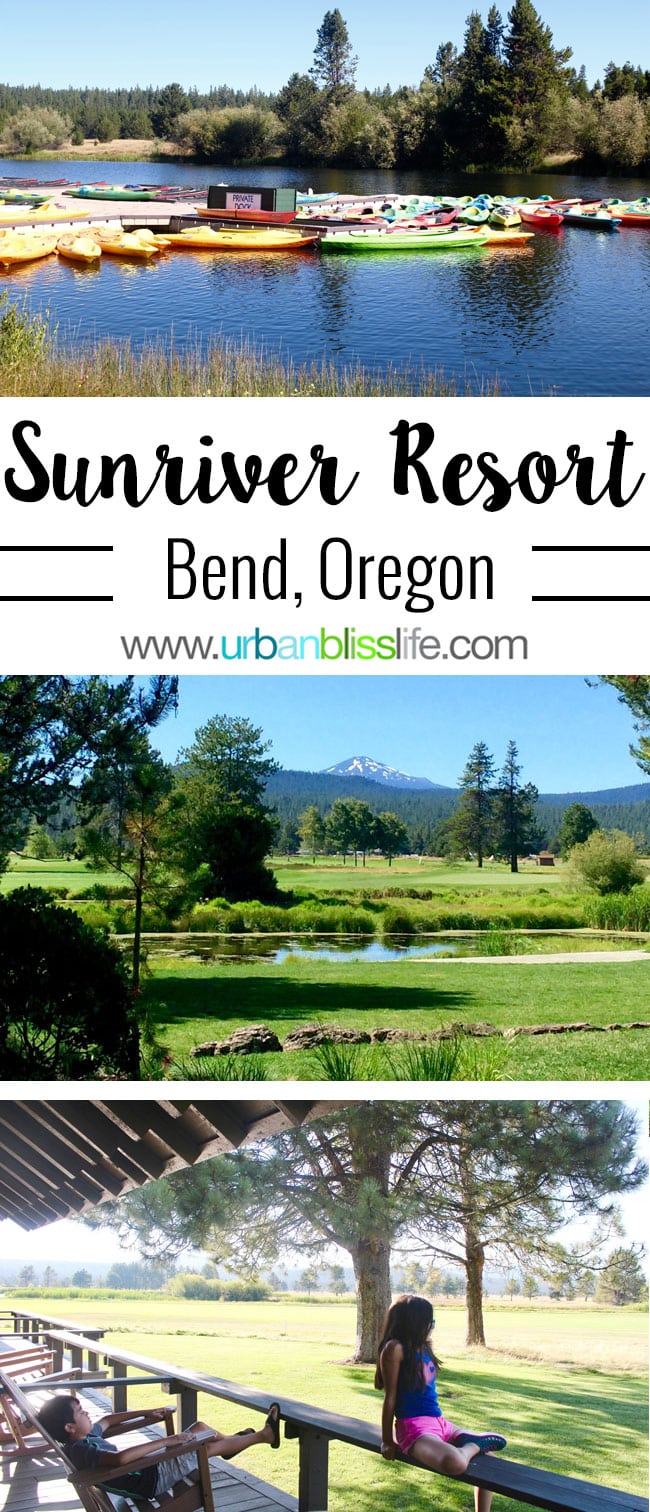 Each summer since I was a young girl, my family has been vacationing in Sunriver Resort in Bend, Oregon. It's a tradition that many, MANY Oregon families have, as Sunriver Resort has long been one of the largest, family-friendly resorts in the state of Oregon.
Now, we love taking our own little family there, even when we don't have our larger family reunions in Bend. It's where we can relax and recharge, while taking in Oregon's gorgeous natural beauty. Where we can choose from several dining options, outdoor and indoor activity options, and enjoy hundreds of miles of walkable/bikeable trails that connect the resort's main areas.
Sunriver Resort is a place I highly recommend for group vacations.
Bend, Oregon
Located approximately three and a half hours southeast of Portland, Oregon, Bend is one of the state's fastest growing cities. While known to be in the desert section of Oregon, its proximity to Mount Bachelor, Smith Rock, Tumalo Falls, Lava Caves, and dozens of other gorgeous natural spots makes it a popular travel destination. Bend is a hotbed for attracting visitors who enjoy outdoor adventures like hiking, skiing, kayaking, rafting, horseback riding, and mountain biking. It's serene beauty also makes it an ideal location because you can squeeze in relaxing vacation moments between activities.
Sunriver Resort Lodge Village
Sunriver Resort offers many different types of lodging to suit vacationing couples, families, and conference groups of all sizes. You can choose from several different types of Sunriver Vacation Rental Homes, which we've done in the past and loved! You can also stay in one of the Caldera Springs luxury cabins and homes, or stay at Sunriver Lodge Villages. Prices vary greatly, depending on your accommodations.
While we normally rent a house or use my family's time share Sunriver 2-level condo, we were fortunate to have the opportunity to stay at one of the Sunriver Lodge Villages family suites, compliments of Sunriver Resort. The suite was a two-level condo, with a fully stocked kitchen, dining area, fireplace, 1.5 bath, outdoor terrace, and loft with two queen beds.
The family suite is spacious enough for a family of four. We love that we can cook full meals in the kitchen and enjoy family time around a warm fire.
Our favorite spot of our Sunriver Resort family suite was definitely the outdoor deck. It overlooks the golf course and has a beautiful view of Mount Hood. It's a great space to sit back, read, enjoy the view, and soak in the near-silence amid a gorgeous setting.

Sunriver Resort: The Cove Pool
One of the main criteria that my children have for any lodging option when we travel: there MUST be a pool onsite.
Sunriver Resort has several smaller pools located within some of the condo/rental house areas. However, the main pool is known as The Cove. It contains the largest pool at the resort, as well as a waterslide and plenty of lounge chairs. There's also a cafe that offers poolside food & beverage service.

Note the fun names for their cocktails. A glass of Mommy's Little Helper is light and refreshing on a hot summer day!
Outdoor Exploring Adventures
One of our favorite things to do at Sunriver Resort is simply to explore the trails that run throughout the massive resort property.
I have a TON of family photos from family reunions and multi-generational family vacations at Sunriver Resort from past years. The above photo is one of my kids and their second cousins from two years ago.
You can choose to walk, jog, scooter, or bike the trails here. You'll be immersed among the quiet and peacefulness of the tall trees, spot wildlife like deer and rabbits, and some trails take you along lakes and rivers. It's easy to walk from lodging to restaurants to shops to other resort activities simply by following the trails here.

Many lodging options include 1-2 bikes, but you can also rent bikes and gear in the main Sunriver Village.
Water Activities
Sunriver Resort surrounds a part of the Deschutes River, giving guests easy access to a multitude of fun, family-friendly water activities. You can rent kayaks, canoes, and sign up for rafting and fishing excursions as well.
Horseback Riding
Located near the marina is the horse center where you can sign up for horseback riding lessons and also horseback riding guided tours around the resort.
Pokémon Go Fun
INSIDER TIP: Sunriver Resort has been known to be an awesome spot for Pokémon hunting! We caught more than 20 Pikachus while we were here, as well as Diglets, Mankeys, and other Pokémon that are not as common where we live. I can't vouch that it will be this way when you visit, because the game is always changing and Pokémon nests are constantly moving, but if you've got Pokémon Go players in your family, you might want to check it out!
Sunriver Village and Dining
At the heart of Sunriver Resort near the entrance is Sunriver Village. Here, you'll find the resort's main grocery store, as well as Starbucks Coffee and other local cafes. This is where you'll also find bike rentals, clothing and gift shops, a fabulous ice cream shop. You'll also find either an ice skating rink or bumper cars depending on when you travel here. There's also mini-golf!
As for dining, from fine dining restaurants at the Lodge to casual cafes, you can find just the right spot for breakfast, lunch, and dinner here. I'll be featuring a few of our family favorites in future blog posts!
Visit Sunriver Resort
17600 Center Drive
Sunriver, OR 97707
http://sunriverresort.com/
Open year-round
Prices vary greatly, depending on whether you choose to stay at Sunriver Lodge Villages, Caldera Springs, or one of their many other Vacation Rental properties.
Have you been to Sunriver Resort? What looks most appealing to you about this vacation spot?
Many thanks to Sunriver Resort for the complimentary lodging. As always, all opinions and photos are my own.