Friendly staff, complimentary shuttle in town, beautiful guest suites and delicious room service make the Inn at the 5th my pick for where to stay when traveling to Eugene, Oregon.
Eugene, Oregon is home of the University of Oregon, and is approximately 2 hours south of Portland. Recently, I had the opportunity to travel with my kids for an overnight trip to visit Provisions Market Hall. During our trip, we stayed at the Inn at the 5th, and had an absolutely incredible experience.
Inn at the 5th
Inn at the 5th is located right in downtown Eugene, adjacent to the adorable 5th Street Public Market. This boutique hotel has a wonderfully designed lobby where guests are greeted by the friendly front desk staff immediately upon entering, and check in is a breeze. The lobby has a modern, eclectic feel, with great art throughout (and actually throughout the entire hotel), and lots of comfortable seating.
We visited during the holidays, so the outdoor and indoor space was decked out in beautiful, tasteful holiday decorations.
As you check in, you're offered a glass of wine, beer, water, or variety of other non-alcoholic beverages. After driving through a crazy, unusually strong wind storm for two hours from Portland, you bet I accepted the glass of wine.
Guest rooms and suites
After our extremely warm welcome and quick check in, we went to our Superior Double Queen room with balcony on the third floor. I wish you could have heard my kids' declarations of approval after entering our guest room.
Our room had two queen beds, which turned out to be SO very comfortable, a gas fireplace, large flat screen TV, small seating/eating area, and lots of outlets throughout the room.
All of the guest rooms and suites at Inn at the 5th are rather spacious compared to other in-city hotels we've stayed in. In addition to the King bed guestrooms and the superior queen bed guestrooms, you can also choose from a variety of guest suites which are even more spacious with additional seating/living areas.
My daughter loved the little balcony that our room had, with bistro chairs and table, overlooking the 5th Street Public Market lot and downtown Eugene. I should mention that even though the hotel is located downtown, it was extremely quiet during out stay. Granted, many of the University of Oregon students were out of town for holiday break, but the hotel is still set off of the main street so I can't imagine it gets too noisy even during busy school times.
Our bathroom was large and modern, with a spacious shower, double sink vanity, and lots of space for a whole family to get ready in one bathroom at the same time.
Our room had plenty of storage and closet space as well.
Each room also has a coffee maker, fridge, and side counterspace.
Complimentary hotel shuttle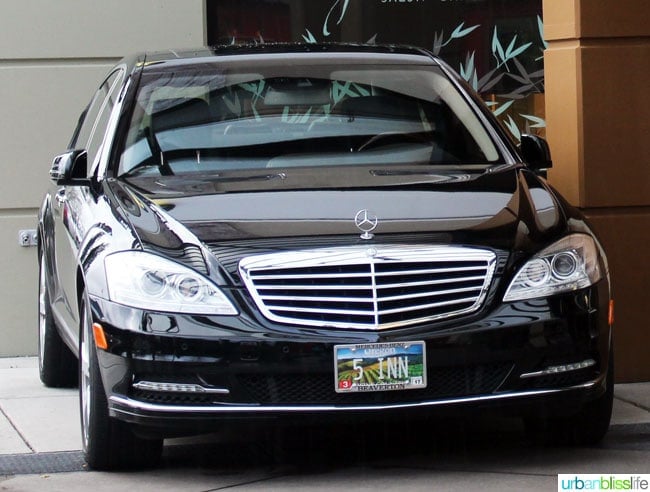 The beautiful Benz above? That's the Inn at the 5th hotel shuttle. If you have two or three people in your party, you can reserve the Mercedes Benz town car to take you to and from anywhere in Eugene within a four mile radius, including the Eugene airport.
We had a few places to go in addition to Provisions Market Hall, so I decided to leave our own car parked via Valet parking in the hotel lot, and then the kids and I took advantage of the complimentary Mercedes Benz shuttle to and from breakfast on our last morning.
---
HOTEL TRAVEL TIP: When possible, take advantage of complimentary hotel shuttles. In addition to the convenience, it's a great time to talk with locals (the shuttle drivers) about their favorite spots to eat and drink. Sure, they'll likely mention some of the familiar tourist hot spots, but when you talk with them a little more, you'll probably get them to share more hidden gems, like the diner breakfast spot we ended up at because our first spot was closed for renovations. More on that spot soon!
---
Room service
Room service is a must have amenity for me, whether I am traveling with children or traveling solo. I love room service. It just feels so luxurious and so cozy and homey at the same time.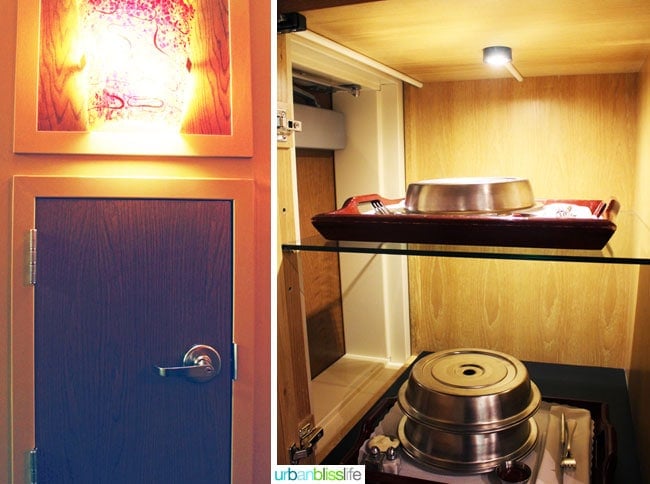 My son's absolute favorite feature of our guest suite at Inn at the 5th is the official Butler's Pantry. This is a panel to the side of each guest suite front door which has an opening from the hallway for the hotel staff to access. They slide the food and drinks through this panel opening into an area that you can access from inside your room (and which does lock from the inside, for security). My son just thought this was the coolest thing ever, so you get major bonus points for this feature, Inn at the 5th!
The room service offerings are from a limited menu off of the adjacent Marché restaurant menu.
I ordered the steak frites, which was amazing. The steak was expertly cooked and seasoned, the pomme frites were nicely cut and seasoned, and it was served with a small side salad.
My kids totally stole a bunch of my fries. They were delicious and we clearly all loved them.
My kids' main order was the pizza margherita, which they split and was well received by my picky eaters. It was a large portion for them considering they were only mildly hungry after eating their way through Eugene all day (plus they filled up on my fries...), but it was definitely an excellent pizza margherita. The fresh, thinly sliced basil topped a wonderful house made tomato sauce and fresh mozarella, on crust that was just the right depth and had a nice little crunch.
Hotel bliss
I honestly have nothing but positive things to say about the Inn at the 5th hotel. Not only is the hotel a wonderful place to stay on a romantic getaway (be sure to check out their special packages) or a family weekend, it's also pet-friendly! The hotel is beautifully designed and decorated, with guest rooms that are well planned out and spacious, and amenities such as the first floor Gervais Aveda Salon & Day Spa, in-room spa services, on-site fitness room, and of course, free (and reliable!) WiFi.
Both kids enjoyed our stay here, and I have to credit all of the staff we encountered at Inn at the 5th for giving my kids the proper attention and respect all hotel guests should receive. They made my kids feel just as important as every other adult guest in the hotel, which goes a long way with this mom.
I definitely recommend checking out this hotel if you are traveling to or through Eugene, Oregon!
Stay at the hotel
205 East 6th Avenue
Have you ever been to Eugene, Oregon? What is your favorite feature of the Inn at the 5th hotel mentioned above?
Thanks to the Inn at the 5th hotel and the Marché Restaurant Group for extending a complimentary stay at the hotel during our visit in Eugene. All opinions and photos are, as always, my own. I only write about places, events, products, and experiences I personally love and believe you will enjoy, too!