We continue Part 3 of our Sonoma Travel Guide with a visit to Jordan Winery, a world-class wine producer in Healdsburg.
About the Winery
1474 Alexander Valley Road
Healdsburg, California 95448
800.654.1213
www.JordanWinery.com
Driving up to Jordan Winery & Vineyard, you pass beautiful farmland and through grand gates up a windy road which plateaus onto a gorgeous, picture perfect grand vineyard and winery. Tom Jordan founded Jordan Vineyard and Winery with his wife Sally in 1976, with a dream of bringing their passion for French food and wine to California. Today, their son John runs the estate, preserving the family legacy of producing world class Cabernet Sauvignon and Chardonnay.
Jordan Winery is perhaps one of the most gorgeous properties I have ever had the pleasure of setting foot upon. The beautiful estate consists of nearly 1,200 acres of rolling hills, oak trees, lakes, streams, vineyards, olive trees, pastures, and gardens, as well as winery, hospitality and operations facilities.
My husband and I had the honor of participating in the last Estate Tour & Tasting of 2013, which runs mid-April through mid-November, weather permitting. If you have the opportunity when visiting Sonoma wine country, I highly recommend this 3-hour tour. I took 150+ photos from this tour alone, and selecting images to include here to show you the magic of Jordan Vineyard & Winery was no easy task.
You will begin the tour at the main entrance, with some fresh fruit from the vineyard gardens and housemade pastries, along with water and orange juice.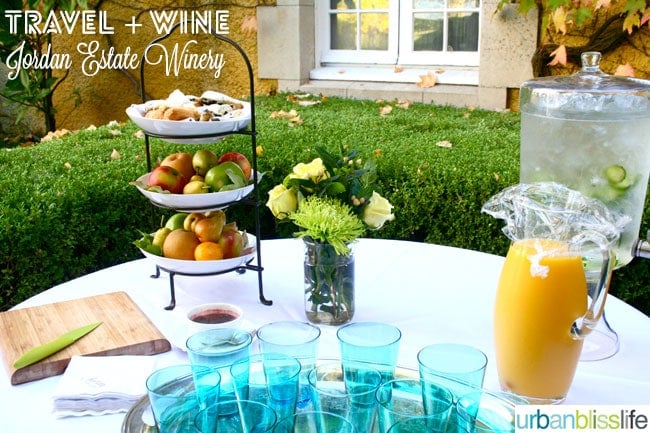 Then you will enter the oak tank room, where you are greeted by the impressive, towering oak barrels. Each large barrel holds 2,500 cases of wine.
Jordan produces about 90,000 cases of wine each year: approximately 30,000 cases of Chardonnay and 60,000 cases of Cabernet Sauvignon. The family stays true to its commitment of producing the finest quality wines by focusing on these two varietals.
From the oak tank room, you will then board the Jordan Vineyard & Winery bus with your tour mates.
Your next stop: the Jordan Winery barn and gardens. The family continues to expand the estate animals, which includes cattle for the Jordan beef program graze (14 acres near the lower lake), adorable donkeys, and several chickens, who provide the Jordan chef with estate-raised eggs used in the meals enjoyed by guests.
The estate includes about 1.5 acres of organically grown vegetables, fruits, and native grasses.
Two years ago, Jordan Vineyard & Winery also completed a large installation of solar panels (located near the gardens) which has reduced their utilities by 99%.
After visiting the gardens and the farm animals, the tour moves to one of the beautiful lakes on the property. Jordan Estate is a Fish Friendly Farming certified property. It's absolutely stunning here.
Across from the lake was a large gorgeous stone and wood table set with wine glasses and place settings for each of us.
The chef prepared a light, delicious serving of lightly pickled vegetables from the garden with rice.
It was the perfect pairing for Jordan Chardonnay. The Jordan Chardonnay is well balanced, light, and fruity but not overwhelmingly so. Fantastic for a warm California afternoon.
As our tour continued throughout the expansive estate, we were treated to a visit by Jordan Vineyard & Winery CEO John Jordan (photo below, left). He was friendly, welcoming, and happy to answer our questions about his family's vineyards.
Then we drove up to the highest elevation of the Jordan estate and were welcomed by gorgeous fall vineyard views . . .
And a modern vista house where we would enjoy our final meal of the tour.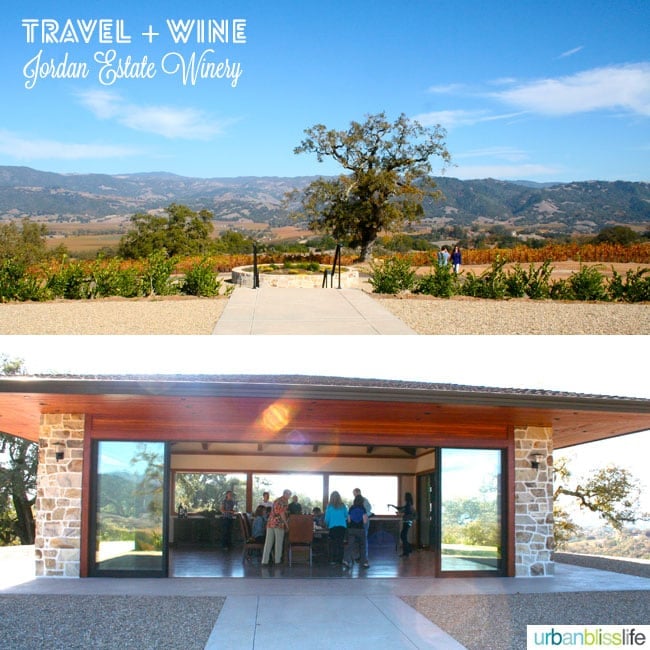 It was like stepping into a retreat house and even though we would only be there for less than an hour, it felt like a luxurious getaway in and of itself.
You are rewarded at the end of the tour with Jordan's world class Cabernet Sauvignon (I am in love - LOVE!! - with this wine!), and meticulously prepared meal of meats, breads, and cheeses. In the small cast iron pot is a delicious beef and vegetables dish that paired lovingly with the Cabernet Sauvignon. They even had my favorite cheese on the menu: Beemster Gouda!
At this point, we were all good friends, chatting away, sharing our lives . . . while also fully enjoying the wine and gourmet lunch.
While a three hour vineyard tour may seem long to some, please trust me when I tell you: it goes by so very quickly and is absolutely worth every single penny and every single minute. This was a wine tour to remember, and I HIGHLY recommend a visit to Jordan Winery and their Estate Tour and Tasting. You MUST. You simply must. It was one of the highlights of our wine country getaway to Sonoma County. Not only is the vineyard and the estate property absolutely stunning, but the wines are world class and the people are amazingly friendly, knowledgeable, and make you feel so at home. I hope if you do visit the Jordan Vineyard and Winery in Healdsburg, California, you'll enjoy it as much as we did.
Cheers, wine travelers!