Farm Spirit in Portland, Oregon is a vegan eatery with inventive small bites served during a multi-course, reservations-only meal with chef's counter seating. Simply put, it's one of the best vegan restaurants in Portland.
From the casual observer's viewpoint, it's very Portland: the all-vegan, almost-all-local menu, the teeny tiny plates of food, the wine pairings, the rebel tatted up chef and crew. But does Farm Spirit deliver on quality and value to be one of the best vegan restaurants in Portland, or is it all style and no substance?
That's the question I set forth to answer when my husband and I dined at Farm Spirit for the first time. I'd heard several mixed reviews from friends, fellow food writers, and random food lovers I'd meet at events, before attending. Phrases such as "mind-blowing dishes," "best dining experience I've ever had in Portland," "way too pretentious," and "a little too Portland even for Portland" were thrown my way.
My dining experience was all of that, and then some. It was a maddening mixture of beautiful, artful presentation with crazy chef skills, soul-filled stories oozing of passion for the food and the restaurant's local farm partners, and a very full, happy belly at the end.
Farm Spirit is the real deal, and worth every penny. Here's why.
The Farm Spirit experience
The more I look back on our dining experience, the more I dig it.
When you first visit the Farm Spirit website, try not to be overwhelmed by all of the "rules." There's a rhyme and a reason for all of them.
Reservations are required in advance. Tickets are $60 to $80 per person, include gratuity, and are non-refundable but they are transferable. Order your beverage pairing - either the wine pairing or the non-alcoholic pairing - in advance as well. The Horticulture Tasting Menu is set and no menu substitutions are allowed; there is a gluten-free version of the menu available, and if you have allergy concerns, contact the chef in advance. Dinner service starts right at 7pm each night, so be sure to get there a few minutes early. Don't you dare run late or you will face the angry wrath of your fellow diners who have been waiting for you to get there so dinner could start; or, if you're late late, you might be SOL on a course or two.
The communal, chef's seating dining experience at Farm Spirit is part of what makes it one the best vegan restaurants in Portland. If you enjoy eating, you should experience this type of meal at least once.
Seating is right at the bar, and there are 14 seats total. You'll see from the food below that exact numbers and timing are key to making the meal a success for everyone. So buck up, precious buttercup: make your reservation like an adult, get there on time, and be prepared to have one of the most interesting dining experiences - if not one of the most delicious - of your lifetime.
Chef Aaron Adams, who has been vegan since 2004, opened Farm Spirit on SE Morrison in the summer of 2015. Along with Chef Ricardo Perez and Chef Tim Dearing, Chef Adams creates a different menu each week that adheres to a strict vegan diet. Dishes are based on availability of seasonal fresh produce, which they source from a wide variety of farmers markets and farms within 100 miles of the restaurant.
The food
The big reason why Farm Spirit is one of the best vegan restaurants in Portland is the food! Each Farm Spirit meal consists of 10 to 15 courses. The food, which Chef Adams describes as "Cascadian cuisine," is other-worldly. I've eaten at plenty of vegetarian and vegan restaurants in my lifetime, and I've never had vegan food that tastes or looks anything like this.
Here's what my hubby (a Kansas City-born, Swiss-bred Carnivore with a capital C) and I enjoyed during our Farm Spirit meal. We had 14 courses that night, and we both opted for the wine pairings, even though we'd heard the non-alcoholic pairings were amazing. Because wine.
Our first glasses of bubbly were paired with a delicate small votive-holder-like bowl of Carrot Textures, which was a light puree of carrots that tasted incredible and truly helped wake up the palate in preparation for the rest of the meal.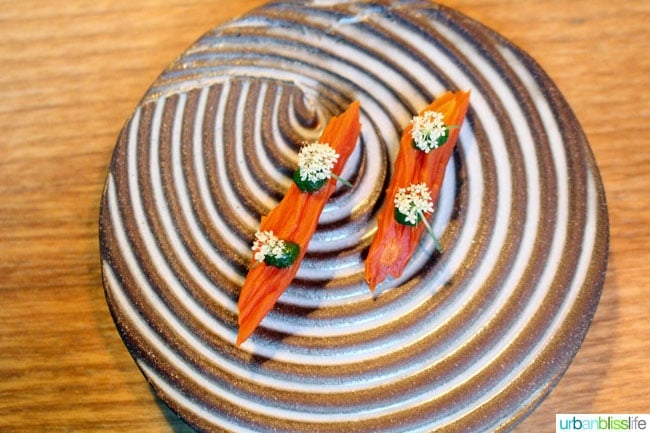 Next was my husband's favorite course: Carrot Jerky, Parsley, Celery. Carrot jerky? YES, carrot jerky.
Third course: Concentrated Tomato and Basil.
Fourth Course: Roast Beet, Fermented Fennel, Marigold.
Fifth course: Quinoa Cracker, Cauliflower, Coriander, Mint.
Sixth Course: Shiro Plum, Lemon Cucumber, Pineapple Weed, Fennel Vinegar
Seventh Course: Tomato Water, Cherries, Sungolds, Herbs and Leaves. This was a slightly sweet, beautiful blend of summer in a bowl. There's a long explanation of the tomato water, but I was honestly too busy eating and slurping every last inch of this dish to recall. The tomato + cherry combo was incredible.
The Restaurant Vibe
I'm going to take a little breather from the food for a bit to talk about the environment, because the atmosphere plays a large role in what makes Farm Spirit one of the best vegan restaurants in Portland.
Many times during the meal, I found myself busy rockin' out in my own little world to the mad beats happening in the background. The playlist at Farm Spirit is spot on and helps create a super fun, light vibe. The chefs are also all SO much fun. While the seating and the dishes might make you feel like this could be a stuffy atmosphere, the chefs make sure it is the exact opposite. They share stories and ask questions and laugh a LOT... they want to make sure that you feel comfortable and that you can sit back and enjoy the whole experience. I truly appreciate that.
Okay, back to the food. Because there's SO much more left...
More food
Eighth Course: Cucumber, Celtuce, Blueberry, Rhubarb, Borage.
Ninth Course: Potato, Sunflower Yogurt, Lemon Balm, Dill, Purslane. The dishes from this point forward start resembling more of what the general population might consider to be more main course dishes: they are "meatier" (without the meat, obviously) with richer flavors and heavier textures.
Tenth Course: Summer Squash, Eggplant, Smoked Tomato, Allium-Fermented Sunflower
Eleventh Course: Smoked Artichoke Stuffed Padron. I am not a fan of padron peppers, so I had a small bite and allowed hubby to eat the rest.
Twelfth Course: Sprouted Grains | Braised Lobster Mushrooms |Pole Beaks, Corn, Black Garlic. Oh yes. I loved this dish so much.
After the main savory courses, we were served these adorable little beakers of palate-cleansing Golden Raspberry Kefir. And that's when it hits me: Farm Spirit is Alice in Wonderland and we've all fallen down the rabbit hole wondering what is this magical place?
Then: time for dessert!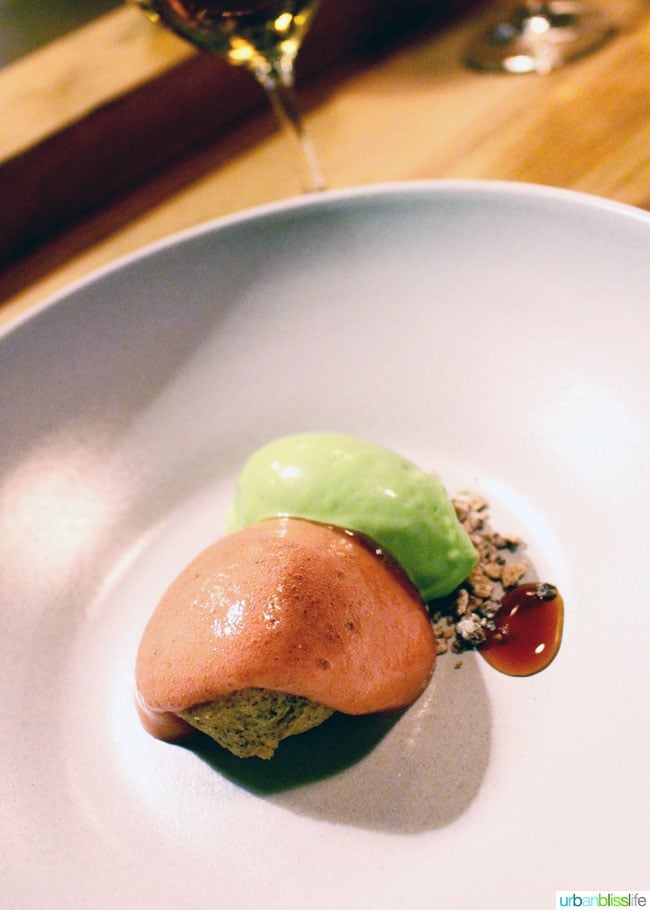 Thirteenth Course: Lovage Ice Cream, Corn Cake, Strawberry, Caramel
Fourteenth Course: Raspberry-Hazelnut Tart, Hazelnut Cream, Marigold
Finally, we all left with goody bags of housemade vegan bread and with that, my heart exploded from food bliss and my belly exploded from the best all-vegan dining experience I've had in my life.
Wrap up
Honestly, I wasn't 100% sure of how I felt about Farm Spirit when we walked out of there. I was mesmerized by the whole Alice in Wonderland feel of it. I loved it, then I thought it was too much, then I liked it, then I rolled my eyes at sometimes over-the-top effort and descriptions, and then I loved it.
The fact that I was still thinking about it long after we left was a big reason why I consider it one of the best vegan restaurants in Portland. It's the kind of dining experience that takes a hold of your every sense, shakes it up, makes you rethink food preparation as you know it, and keeps you wanting more - and that's a very good thing when it comes to restaurants.
Chef Adams and his team do an exceptional job of sourcing the most delicious, fresh, in-season, local produce and then turning them into creative, inventive, artful, and absolutely delicious small plates. Dinner is a well-oiled machine at Farm Spirit, with impeccable timing and darn near-perfect presentation.
Go to Farm Spirit. It is a fun, lively, experimental yet elegant, refined yet rock n' roll, delicate yet hearty experience. Try it for yourself, and let me know how your experience compared.
Visit
1414 SE Morrison Street
Portland, Oregon 97214
hello@farmspiritpdx.com
http://farmspiritpdx.com
Many thanks to Farm Spirit for the complimentary dining experience. As always, all opinions and photos are my own. I am itching to go back as I write this, and I am so grateful to have a vegan restaurant like this in my part of the world!