The Fifth Annual Feast Portland festival is not just about food: there was plenty of wine to help wash down the feast throughout the weekend! Here's a look at the Feast Portland Wines of 2016.
What an incredible experience the Fifth Annual Feast Portland was. It was my fourth year attending, and each year just keeps getting better and better!
This year, I attended the Media Breakfast, Grand Tasting, one of the new Fun Size Events: Peace, Love, and Cocktails, Oregon Media Group SMOKED!, and the Eater after party at Irving Street Kitchen. While I gorged on some of the most delicious bites of food from some of my favorite chefs, I also enjoyed tasting Oregon and Washington wines from some of my favorite wineries and some new ones as well!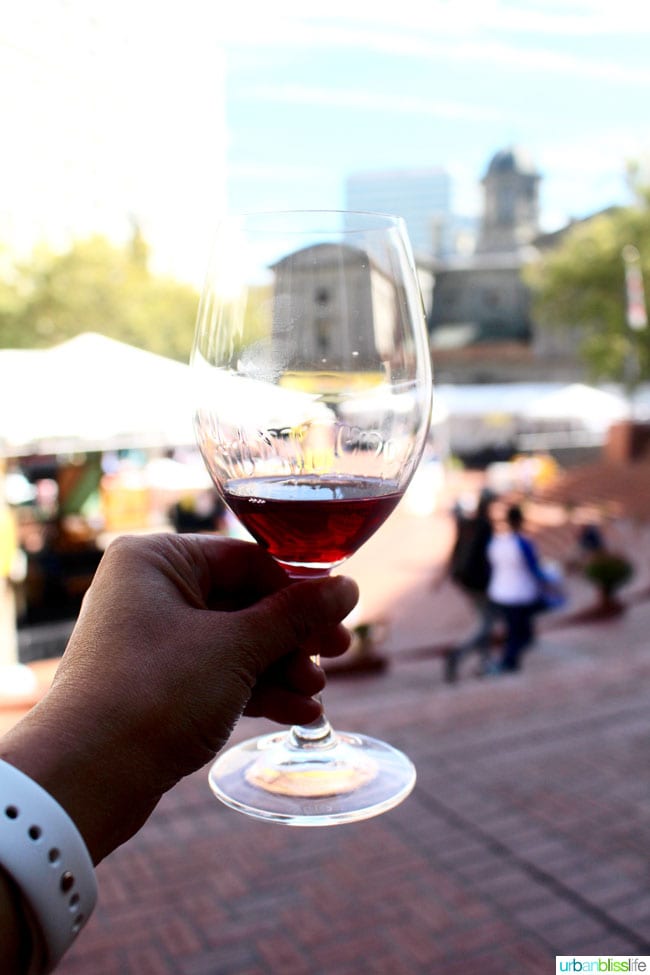 Here's a peek at some of my favorite Feast Portland wines of 2016.
Wines at Feast Portland's Grand Tasting
We'll start with the wines I tried at Feast Portland's Grand Tasting.
As soon as we arrived at the Grand Tasting, we made a beeline for the USA Pears pop up tent, where Chef Doug Adams (Top Chef Boston finalist, chef at Imperial, and he's set to open a new restaurant in 2017) prepared four pairings to go with Chateau Ste. Michelle wines.
Willamette Valley Wines at Feast Portland
This is probably my favorite photo from the Grand Tasting. The 2013 Aubichon Reserve Pinot Noir from the Willamette Valley was a lovely, luscious Pinot, but I also just love this woman's expression. Wish I could remember what we were laughing about, but her joy is pretty much how I felt drinking this wine!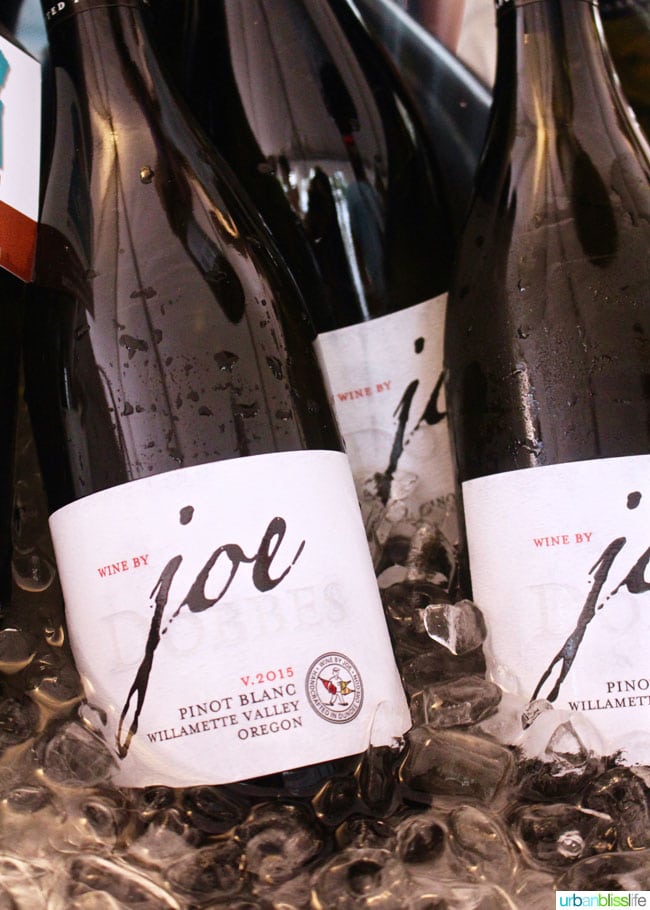 Dobbes Family Estate Winery was there with a few of their signature wines under the Dobbes label, and also their everyday Pinot Blanc and Pinot Noir under the Wines by Joe label. They also had cool temporary tattoos and plenty of smiles as well. I love the folks at Dobbes!
Cristom Vineyards was serving three different Pinot Noirs at the Grand Tasting. I'm going to be honest: by this point, I stopped taking notes and I have totally forgotten which of the three Pinots was my favorite. Know what that means? I guess I have to go out there and visit them to taste them all again! (And you should, too!)
I love Maysara Vineyard Pinot Noirs. You can find their wines on many restaurant wine lists throughout the city, but I really need to make a trip out to their winery in McMinnville for a visit. Their Jamseed Pinot Noir is their flagship Pinot, and the 2012 is AMAZING.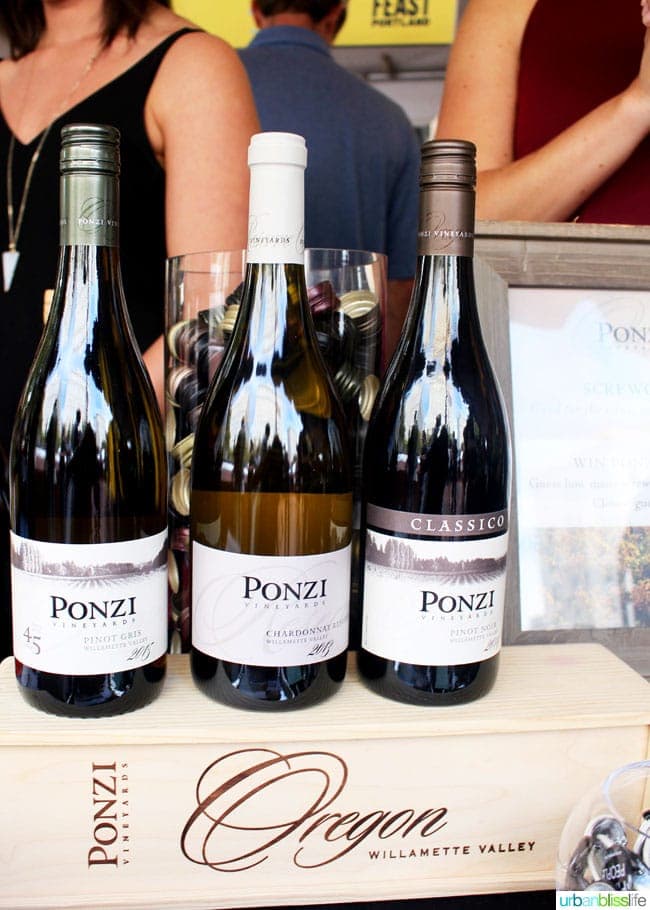 We're longtime club members at Ponzi Vineyards, one of the state's oldest wineries. Their Pinot Noirs are always delicious, and they make a Cin Cin wine that I absolutely adore. They have a fabulous tasting room in Sherwood, Oregon with lots of outdoor and indoor seating, bocce ball, and beautiful vineyard views.
We're also wine club members at Stoller Family Estate, so I knew I already loved their wines, but it never hurts to re-taste, you know. Just in case things have changed ;) Their unoaked Chardonnay is one of my favorite Chardonnays in the Willamette Valley, and I also enjoy their Pinot Noir Rosé.
I was excited to see Omero Cellars at Feast Portland this year. I met winemaker Chad Stock last year and really appreciate his winemaking style. The Gamay Noir is my favorite, but the Pinot Gris is a wonderful wine as well.
My friends at Sokol Blosser were pouring wines from their Evolution Wines line, which I LOVE. The Evolution sparkling is my favorite every-occasion sparkling wine!
The Evolution Pinot Noir is an excellent red wine to serve with pretty much any meal, especially during the fall and winter.
Rex Hill Winery used to be one of the wineries my husband and I would frequent when we first started going wine tasting in Willamette Valley. They have a gorgeous location -- we even did a site visit there for our wedding and it was in the top three locations we considered! Their Pinot Noirs have always been excellent, and I also enjoy the Pinot Gris in the A to Z line owned by Rex Hill.
Feast Portland Wines at the OMG Smoked Event
I'll be sharing photos of OMG SMOKED! soon, but for now, here are a couple of fave wine shots from the fabulous evening event.
We kicked off Oregon Media Group SMOKED! with some bubbly, of course!
Dobbes and Sokol Blosser were not only at the Grand Tasting, but they were also at OMG Smoked!, and I also tried some of Union Wine Company's brand new Wine Cooler, set to be released next year.
Domaine Serene is known for producing beautiful, elegant wines and the Evenstad Reserve Pinot Noir they were pouring at OMG SMOKED! was no exception: it was an indulgent wine to enjoy with some indulgent food.
Why We Feast
With all of the incredible festivities throughout Feast Portland, it's important to remember WHY we Feast: proceeds from Feast Portland tickets help benefit the Partners for a Hunger-Free Oregon. This amazing organization helps expand school breakfast programs in schools across the state, which continues to be an effective tool in combating child hunger.
Feast Portland
In my next Feast Portland recap post, I'll be sharing some of the tasty food that I enjoyed throughout the weekend. You can also read more Feast Portland posts from my past four years attending on my Feast Portland page.
In the meantime, have you tried wines from any of the wineries featured here before? If so, which is your favorite? If not, which sounds/looks like one you'd like to try?
I received a blogger pass to Feast Portland and attended the events featured here as a guest. As always, all opinions and photos are my own.