If you're looking for one of the best Park City, Utah hikes, the Silver Lake Trail will not disappoint. It's an incredible summer experience for the whole family that offers a reward of stunning views at the top of Bald Mountain.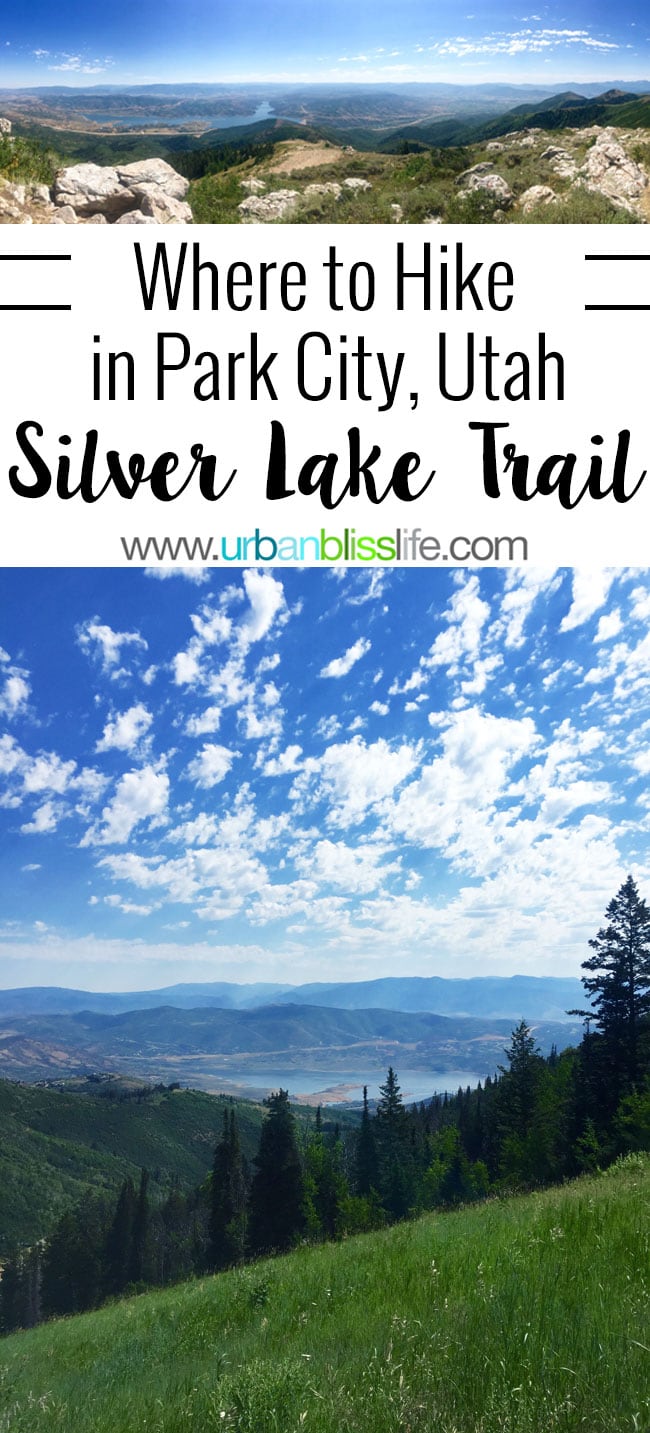 One of my favorite activities that my son and I did during our long weekend in Park City, Utah this summer was the guided hike from Deer Valley Resort.
On our first morning in Park City, after experiencing the rush of the Alpine Coaster at Park City Mountain and settling in for a good night's rest at The Chateaux, we walked across the street to Silver Lake Village at Deer Valley Resort. There, we met up with our guide, Leslie, and began our hike up the mountain.
It's important to note the difference in elevation of hikes in Park City, Utah compared to where you and I live. The city of Portland, Oregon is a mere 50 feet above sea level; I live on Bull Mountain, which has an elevation of 710 feet.
By comparison, Silver Lake Lodge is at the base altitude of 6,570 feet in Park City. The slope of Bald Mountain, the end of our hike, is approximately 9,200 feet above sea level, while the very top is a little more than 11,000 feet in elevation.
The start of the Silver Lake Trail hike is heavily forested, which made me feel right at home.
Part of what makes the Silver Lake Trail one of the best Park City, Utah hikes is that it's a foot-traffic-only trail, which is nice if you're visiting and want a calmer, leisurely hike uninterrupted by the throngs of mountain bikers in the area. You can choose to take the Sterling Express ski lift up the mountain, and then hike down, or you can do what we did and hike up the mountain and take the ski lift back down.
What's great about a guided hike while traveling, is that you get to hear a lot about the history and the people of the area from your guide. Our guide was very informed about the historic mining town of Park City and all of the recent advancements in the mountain resorts, and she was also very attune to our hiking abilities and allowed us to stop and take photos or water breaks whenever we needed them.
Depending on where you search for information, this Park City, Utah hike is listed as an easy beginner's hike to a moderate level hike. You should know that it is approximately a short 2.5 mile hike one way, but if you're hiking uphill, it can take an hour to two hours. It's a steep uphill hike the entire way, with a few rocky switchbacks and a few nice "breathing room" vistas in clearings that are more level. And remember: you'll need to adjust your expectations and hike to adjust to the higher altitude.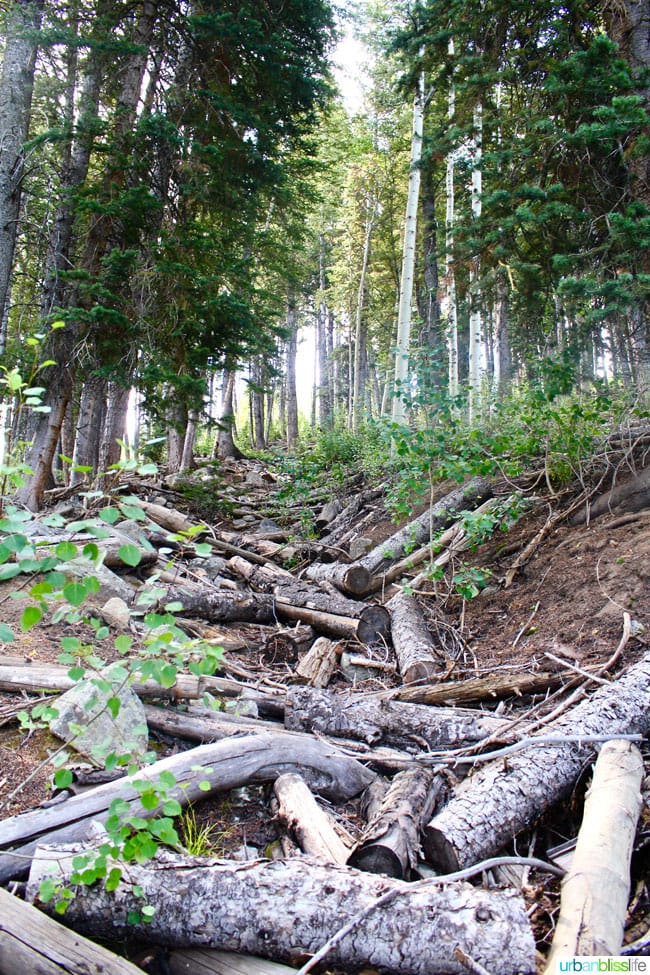 One of the things I loved most about this hike is that just when you're feeling tired and out of breath, there's a clearing, and each clearing offers you more stunning views than the clearing before it. The Jordanelle Reservoir slowly comes into view and, in the distance and as you go higher up the mountain, you begin to see the Uinta Mountains.
I'll let the photos speak for themselves. Here are a few photos from different vista points up the mountain.
Bald Mountain
After several tight switchbacks and some rockier terrain, we made it to the top.
The views at the top were an amazing reward for the hike we just did. Here, you could see all of the Jordanelle Reservoir, Park City, and the surrounding Uinta Mountains.
SO. BEAUTIFUL.
I was pretty darn proud of my son for completing the steep hike up without any complaints. Although he did mention several times after the hike how it's a good thing his sister wasn't on that hike, because she "would have been complaining the whole time."
I think this hike is great for adults and children who are probably 9 and older. It might be too dangerous for the little ones.
One of the coolest finds at the top of the mountain are these old, out of commission towers. The stark white structures are such a contrast against the bright blue skies and the rugged nature surrounding them.
At the top, it's easy to marvel at the surrounding mountains across the whole area. Our guide shared some fascinating old stories about some of the mountains passed down from generations. I'd share them here, but likely would get the details incorrect, so you'll have to go on a guided hike for yourself someday and hear the stories in person!
We could have marveled at these beautiful sights all day, but alas, there was more exploring to do in Park City during our 3-day stay. We hopped onto the Sterling Express ski lift and soaked up the views a final time while going down the mountain.
Tips for travelers
Being from Oregon and having years of casual hiking experience under my belt, I have to say that I was not fully prepared for the altitude shift that comes with hiking in Park City. Whether you are a novice hiker or an experienced one, here are some tips for hiking in Park City, Utah:
Wear comfortable hiking shoes or athletic shoes with a decent grip, since the terrain is steep, rocky in many places, and uneven.
Bring two water bottles with you.
Remember to take full deep breaths throughout your entire hike, especially if you are not used to hiking at a similar high elevation.
Stop as many times as you need to catch your breath, stretch your legs, and hydrate. The views are gorgeous anyway, so take advantage of the changing vistas as you climb in elevation!
Don't pack a heavy bag, but do wear a lightweight backpack or waist pack that has your ID, fully charged cell phone + portable charger and cord, whistle, granola bar/nuts, and compass (in case your phone dies and you can't use the compass app).
Lather up with sunscreen: even on overcast days, you'll need it. Remember you're at a higher elevation, and UV rays will still get you on overcast days.
Use one of the resort's complimentary hiking poles to help you navigate the steep hikes.
Hike the Silver Lake Trail
Start at Deer Valley Resort
2250 Deer Valley Drive South
Park City, UT 84060
800-424-3337
435-649-1000
DeerValley.com
More Park City travel ideas
Family Adventures at Park City Mountain
Where to Stay in Park City: The Chateaux
Many thanks to Deer Valley Resort and Visit Park City for the complimentary guided hike. As always, all opinions and photos are my own. I loved this hiking experience and think the photos speak for themselves as to the beauty of this hike!