Wondering where to stay in Park City, Utah? Consider The Chateaux, a luxury hotel just steps away from ski lifts and a short drive to Park City's Main Street.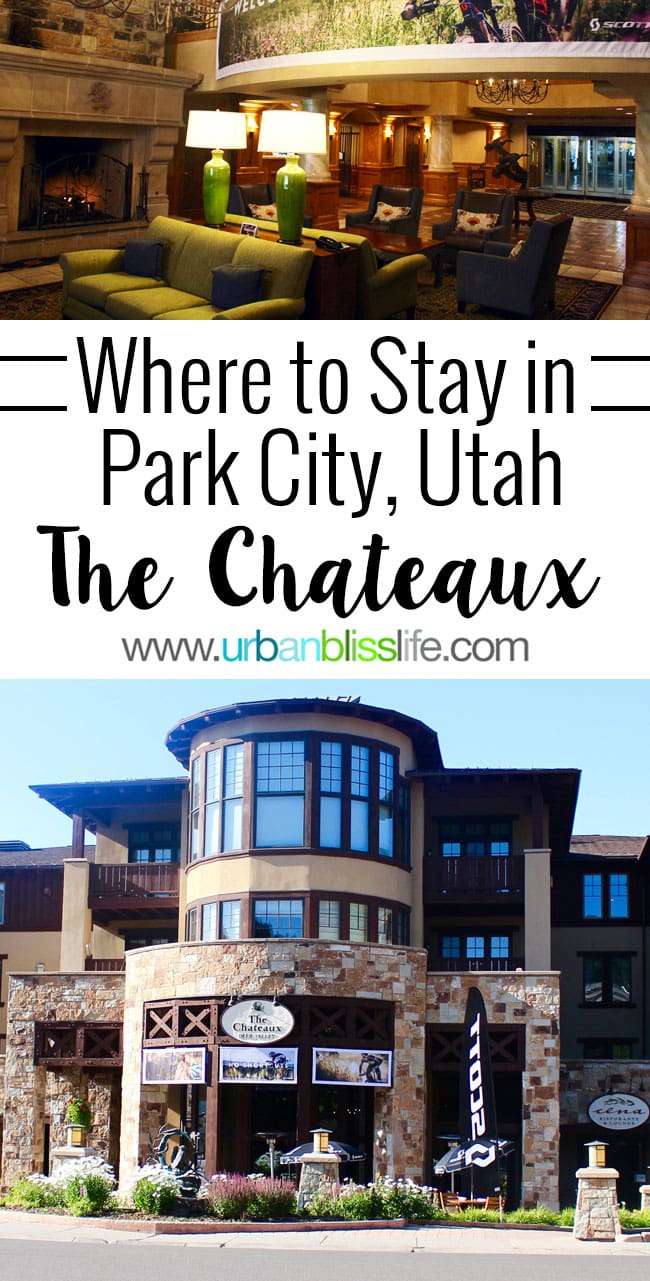 It may have some of the best skiing in the country, but Park City, Utah has so much more to offer travelers during the summertime than you might think!
This summer, my son and I had the opportunity to visit Park City for a long weekend. Over the next few months, I'll be sharing our adventures in my Travel Tuesday posts, including where to stay, where to eat, and where to play.
We begin with a look at our accommodations for the weekend: The Chateaux.
The Chateaux
This Forbes Four Star hotel captures the essence of Park City, Utah: it's upscale yet rugged, and has all of the modern amenities you want while on vacation or a business trip, mixed with cozy, down home furnishings. And, depending on your room, you also get gorgeous mountain views.
The lobby is warm and inviting, with high ceilings, a large fireplace, and comfortable couches and leather armchairs throughout the lobby. Note: there was a large mountain biking gear convention in town when we visited, hence the "Welcome to Scott Week" sign in the lobby. It is not normally there.
I highly recommend staying at The Chateaux if you're looking for a place to feel like you're away from it all...without being away from it all. You're just steps away from Deer Valley Resort and all of the shops, restaurants, hiking & biking trails, and ski lifts. You're also just a short 5-minute shuttle ride away from Park City's Main Street with lots of great shops, restaurants, bars, and galleries.
Accommodations
The Chateaux is an excellent place to stay for families, and especially for larger groups of friends and family. There are large multi-room suite options, which I kept thinking would be absolutely perfect for our next family reunion.
My son and I stayed in one of the smaller rooms, the 500 square foot Studio with Queen Murphy Bed, which was actually quite spacious.
There was a large gas fireplace with flat screen television, flanked by a cozy couch and two armchairs.
The murphy bed was actually quite comfortable although the walk space between the bed and other furniture was tight when the bed was down, and just for the sake of convenience, we kept it down the entire stay. But it was perfect for our long weekend and we had plenty of space.
I was very impressed with the full kitchen, which included a gorgeous full stove and oven plus a LARGE full-size refrigerator. The kitchen was stocked with everything you would need to make your stay there complete, including glasses, plates, silverware, cooking utensils, pots, pans, a tea kettle, toaster, and Keurig for your morning coffee on the balcony.
I almost wish we could have stayed longer just so we could make full use of this gorgeous kitchen!
I also loved the full dining area across from the kitchen. It's a nice place to settle down after a day of adventuring to enjoy a snack and plot out the next day.
There were beautiful little touches throughout our room that really made it feel more like a home, including books and board games that we could enjoy during our stay.
And each morning, after we enjoyed the complimentary breakfast at the hotel, my son and I would sit outside on our terrace and soak up the morning sunshine before heading out to take on the day's adventures.
Not a bad morning view to start the day, eh?
Amenities
The Chateaux offers guests a small fitness center, business center, complimentary breakfast in the hotel lobby each morning, Italian restaurant in the lobby, spa, sauna, and outdoor pool to enjoy.
The pool is outdoors and is also heated during the winter months. It has a gorgeous view of the mountains, with plenty of lounge chairs and tables for everyone. My kids always have to test out the hotel swimming pool when we travel, and this one got a thumbs up from my son – and from me!
Shuttle
The amenity that my son and I found to be the most convenient and the one we utilized the most was The Chateaux's complimentary hotel shuttle. The black suburbans will take you anywhere you want to go within Park City city limits, and they will pick you up - all free of charge. This service is absolutely invaluable when you are staying at Park City and don't have your own vehicle or you are not renting a car during your stay. We took the shuttle to Park City Mountain Resort and back, to Main Street and back, to various dinners and back. We got to know the drivers fairly well, and they were all friendly, helpful guys who knew a lot about Park City.
The Chateaux
The Chateaux is a charming luxury hotel that makes you feel like you are right at home in this gorgeous mountain setting. The staff are all very nice, and the lodge-like atmosphere definitely made you feel like you are at a world class ski resort without the wall-to-wall people. There are also infused water stations in the lobby, which are definitely needed since Park City is at a mugh higher elevation than most people are used to, and you're going to need that water before and after you head out to go skiing, hiking, shopping, biking for the day!
7815 Royal Street East, Park City, Utah 84060
(435) 658-9500
info@the-chateaux.com
Rates vary depending on the room size and season, but in general they start at around $200 per night for the small suite that we stayed in, and go up from there.
Park City series
Coming up over the next couple of months, I will be sharing more on what we did in Park City, Utah, as well as, of course, some recommendations for where to eat and drink while you are in this beautiful city!
Have you been to Park City, Utah before? Would you stay in this kind of hotel?
Our stay was part of a media trip and we paid a media rate for our hotel room. As always, all opinions and photos are my own. If I wouldn't recommend staying at a hotel, I wouldn't write about it. I think you'll really love The Chateaux at Deer Valley in Park City, Utah!