Tupelo restaurant is an expansive, modern restaurant in Park City, Utah offering elegant dishes based on the chef owner's travels and commitment to supporting small farms and food artisans.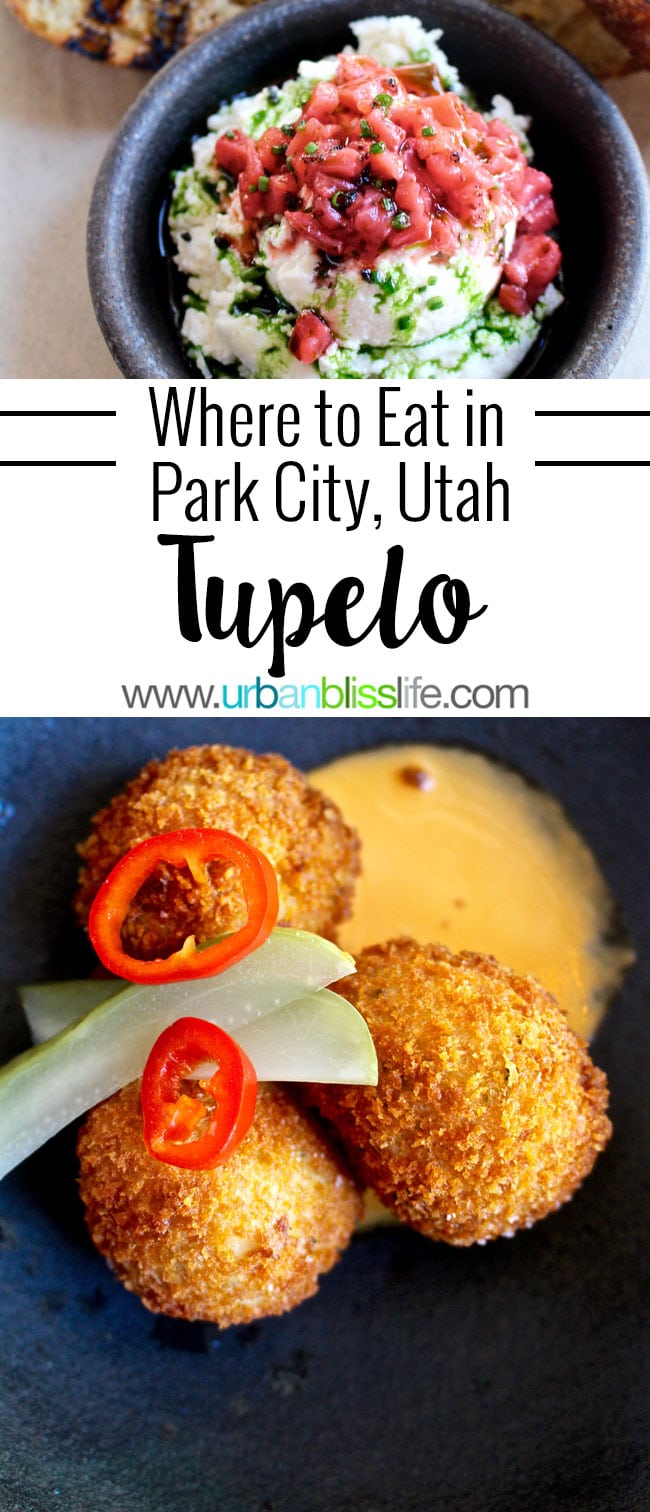 If you're visiting Park City, Utah, whether you are here for its famous ski season or during the summer for family travel adventures, the one place I highly recommend adding to your dining itinerary is Tupelo.
Located on Main Street in the heart of downtown Park City, Tupelo restaurant serves up elegant, artfully presented dishes inspired by chef/owner Matt Harris' travels. His approach to cuisine is to source artisanal ingredients from small farms and food artisans from around the country and then bring some local flair to helping those ingredients shine on the plate.
My 12-year-old son and I had the pleasure of dining at Tupelo and the Silver Star Cafe during our long weekend visit to Park City this past summer. After checking into The Chateaux, spending a day at Park City Mountain, and then hiking the Silver Lake Hiking Trail, we spent some time exploring Main Street before dining at Tupelo.
The food
I kicked off our meal with a glass of Cava to toast the end of a beautiful, active day on the mountain. Tupelo has a good cocktail list, along with a nice wine and beer list. My son kicked off the meal with his usual traveling standby: a tall glass of water. At higher elevations like Park City, especially, one can never have too much water when traveling.
We started with an order of the Housemade Ricotta ($12), which came highly recommended and was served with herbed olive oil and tomatoes, served with olive oil bread. I've made ricotta before, and it's not a difficult task, but this ricotta was the perfect texture and I loved the sweet and savory aspect of the herbed olive oil with finely diced tomatoes. Enjoyed on a slice of olive oil bread, this was a beautiful, delicious, elevated version of your classic bruschetta.
I've heard the Deviled Eggs ($10) starter, with creme fraiche and topped with fried country ham, is a fantastic appetizer here as well.
Next we tried the Main Crab Fritters ($16), which also came highly recommended by others. The fritters were small but surprisingly filling, with a heaping serving of fresh crab in each fritter (more crab, less filler = more delicious!), with hot sauce, pepper slices, and sweet and sour pickles. I loved these!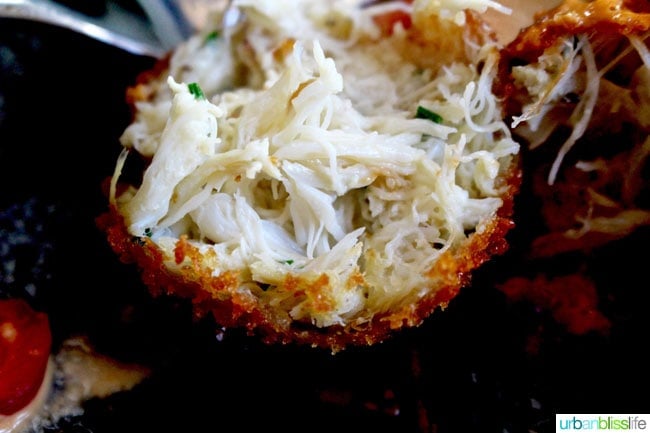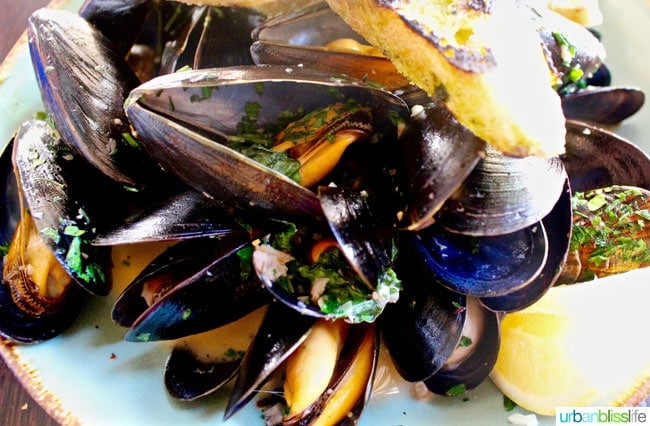 For my entrée, I was torn between ordering the Rocky Mountain Elk Bolognese ($24) and Sue's Maine Mussels ($18 half portion/$27 large). I wasn't too hungry, so I went with the half portion of the mussels, which turned out to be an enormous portion. I enjoyed the classic approach Chef Harris takes with these mussels - a simple bath of garlic herb butter and lemon - as they allow the freshness of the mussels to shine through.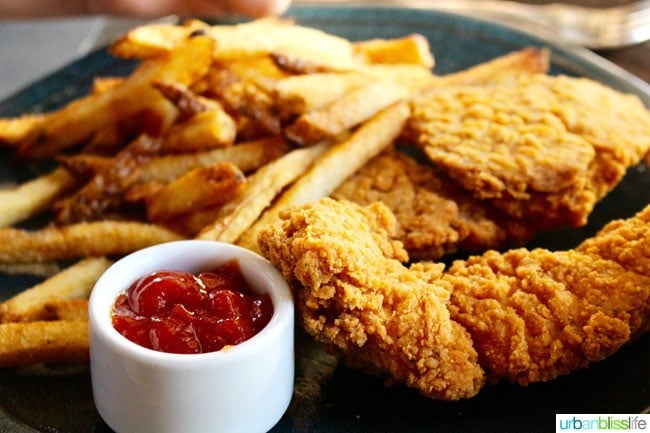 Tupelo restaurant does have a children's menu, and it is kid-friendly. In fact, there were at least three other families dining there that same night. My son ordered the chicken fingers and fries, which got a big thumbs up from him. The breading on the chicken was crispy and not peppery, which is just how chicken fingers should be, and the fries had just the right amount of crunch.
We were so full by the end of this meal that we didn't order dessert, although I have heard that Pastry Chef Shirley Butler's desserts were legendary. Sticky Toffee Pudding and Peanut Butter Chocolate Cheesecake sound amazing!
The atmosphere
Tupelo is the most beautiful restaurant I have dined in in Park City, with three floors that offer interestingly different dining atmospheres within the same restaurant. During the summer, there is a small outdoor patio with table seating as well.
The interior is surprisingly large compared to what you see from the street. Walking through the doors, there is seating to the left next to a wide flight of open stairs. Toward the back, there is more seating, including a large communal table, which would be great for large parties. We were seated by the front section, which is a great spot to enjoy your meal and also do some people watching on Main Street.
When you head upstairs, there is a secondary dining room.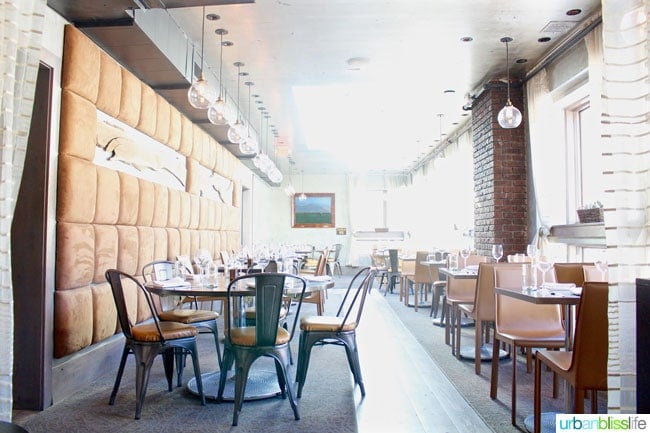 The upstairs dining room is even larger than the downstairs, with tons of gorgeous natural light shining through the windows.
Then, there is additional upstairs seating in the lounge are by the bar.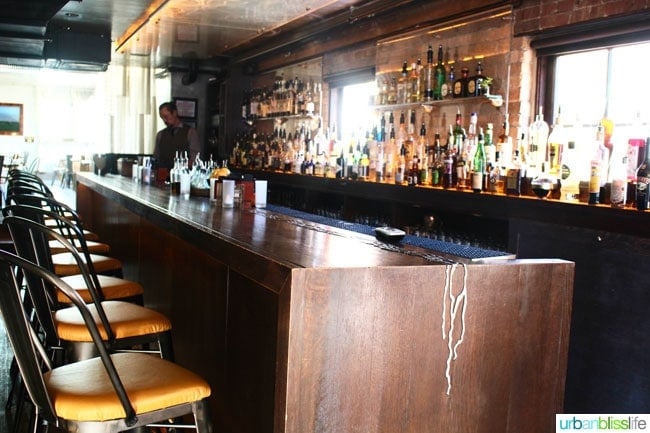 In addition to the main level and the upstairs, there is additional seating downstairs.
Downstairs you will find a decidedly more intimate space, which would be great for date nights and evenings when you want to meet up with friends for a quick bite.
Wrap up
My son and I really enjoyed dining at Tupelo. In addition to the beautiful modern design and delicious food, we found the service to be incredible. Our waitress was friendly and the timing of dishes was impeccable. I would love to go back and try their Brunch menu, as well as more of their signature cocktails and bar menu.
Visit
508 Main Street
Park City, UT 84060
435 615-7700
http://tupeloparkcity.com
HOURS:
Closed Mon/Tues until Ski Season
Sunday Brunch 11:00 am - 2:30 pm
Sunday Bar Menu 5:00 pm - close
Dinner 5:00 pm - close (Wed - Sat)
Many thanks to Tupelo and Visit Park City for the complimentary meal. As always, all opinions and photos are my own. For more Travel Bliss, visit my Travel Bliss: Utah page.