I can almost hear it. Do you?
SILENCE. Waiting, in the distance. The silence that can only come when children are back in school and I can finally power through work and focus again on building my multimedia empire (cue maniacal world domination laugh).
But mostly? The silence that affords me the luxury of drinking a cup of coffee in peace. Ahhhh....
Until, that is, 10 minutes after my kids get on the school bus and I miss them desperately. Can't win either way, can we?
I made up some Lunchbox Love Notes (tm) last year to help me --err, I mean, my kids, of course -- through the emotional roller coaster of the phenomenon known as Back to School.
Although my kids don't start school until next week, I know many of you already have kids that have started school, and really, it's never too late or too early to print up some Lunchbox Love Notes (tm) and tuck these sweet sayings into your child's lunchbox, coat pocket, or backpack.
Thanks to my Facebook friends for some of the suggested phrases you see on the final product!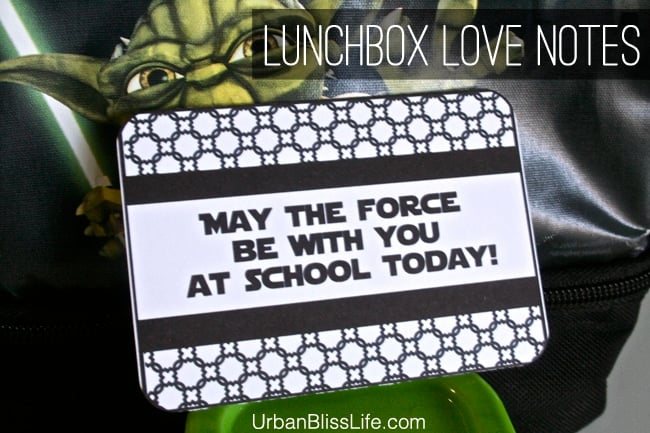 They are slightly larger than a standard business card, and perfect for slipping into lunches and backpacks.
I hope you can use these printables! If you do, please leave a comment as I would LOVE to hear from you! And please feel free to share on Pinterest, Twitter, Facebook with your friends & family who might like them! Thanks, and HAPPY BACK-TO-SCHOOL time!
DIRECTIONS: Download the Urban Bliss Lunch Love Notes Printable PDF file (you need Adobe Acrobat Reader, which you can download for free online). Print these out onto thick white cardstock, cut around the edges, write a personal note if you wish, and tuck away into your child's lunchbox or backpack. Then send them off with a huge hug and a little lunch love note for later.
[bra_boxed_text Title="Lunch Love Notes by Urban Bliss " Description="Click here to download your free printable"]
USAGE NOTE: Urban Bliss printables are for personal use only. I love when readers and Urban Bliss clients use my printables and share photos of them in use on their blogs or pin them onto Pinterest! Please be sure to link back to this exact web page and credit Urban Bliss. Commercial use or resale, in whole or in parts, and any alteration of these designs, is absolutely forbidden. ©Urban Bliss 2013.