Looking for Princess Birthday Party ideas? We've got princess birthday party food, invitations, decor, and party favor ideas!
Several months ago, my then-4-year-old daughter declared she'd like a Princess Party. We were only inviting girls, and the colors were to be bright pink, orange, and blue.
Easy peasy, right?
Then right before I was about to send out her invitations, she decided she wanted to invite the boys in her class (or, rather, she already verbally invited them at school), so we changed it to a Prince and Princess Party.
Here's a quick snapshot of some of the party elements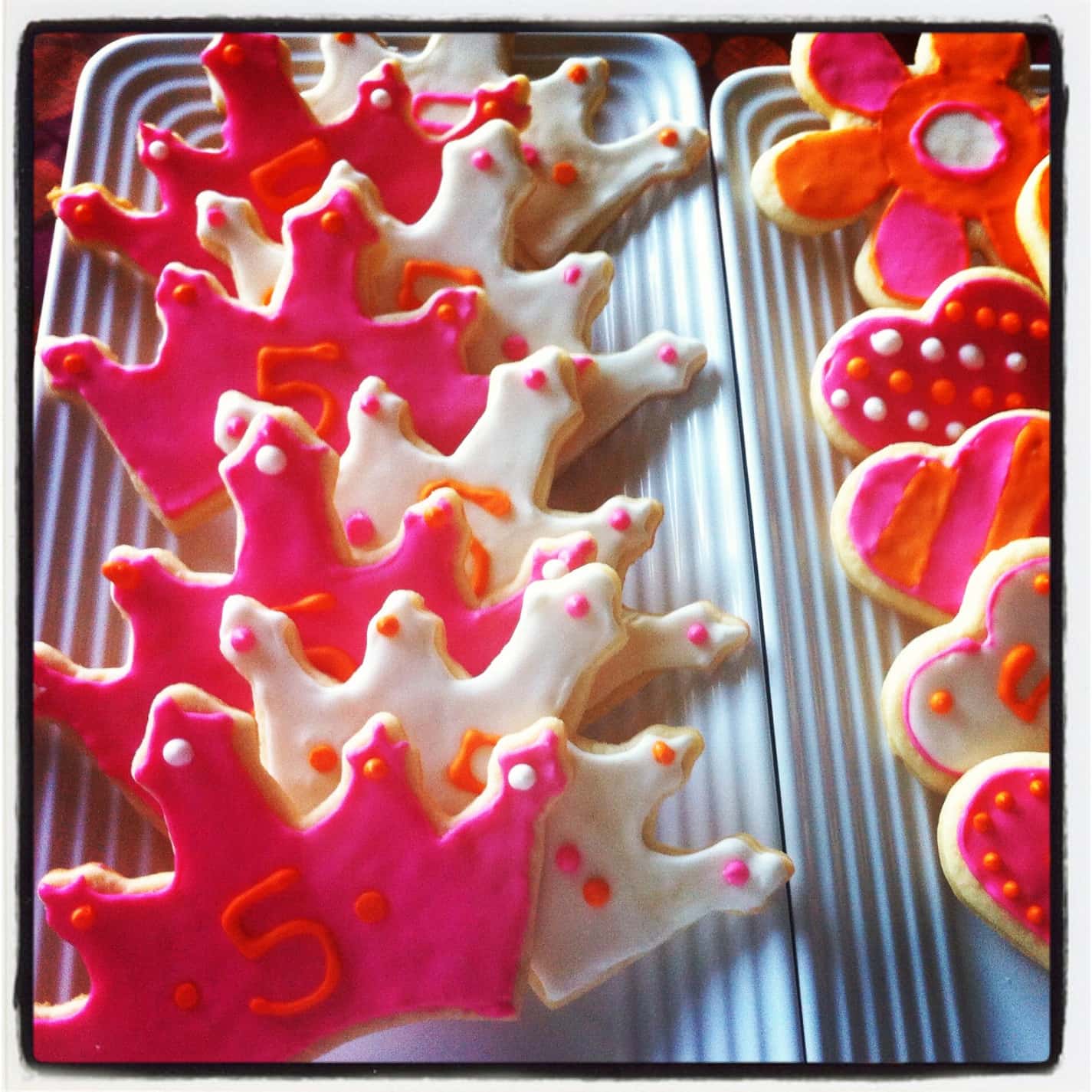 I designed the invitations (and also designed coordinating orange, pink & blue Prince invites for the boys) and matching thank you cards...
Then I made favor tags and thank you stickers to coordinate. The girls' favor bags had Disney princess cards, a pencil, and Disney Princess rings...

the boys' favor bags had a Prince Cape" (really, a superhero cape, but I made a coordinating wrap that said "Prince Cape" -- hey, it works!), a pencil, and a bouncy ball...
each child also got to choose a crown to take home and a magic wand...
I also made coordinating cupcake flags (alternative to the typical round cupcake toppers)...
and baked my fave sugar cookies with royal icing, using cookie cutters in crown, heart, and flower shapes...
plus chocolate chiffon cupcakes...
the surprise hit of the party were these last minute, super fast & easy marshmallow pops (hellooo, sugar rush!)...
It was a fun, LOUD party with about 15 kids (ages 1 - 7) and 20 adults. We played just one game, because really, kids just mostly run around when they get together in large groups. It's pretty fascinating.
My daughter had the best time, and I think she felt very special, which is what birthday girls (and boys) should always feel like. As much as I am not a Princess-loving kind of girl myself, my daughter is truly a princess in my eyes. A smart, confident, adventurous, strong, beautiful, sweet, and loving princess who is growing up so, so fast.
More Birthday Party Ideas
If you're looking for more creative kids' party ideas, check out my Lego Friends Party Ideas, Star Wars Birthday Party Ideas, and Butterfly Birthday Party Ideas.