Two things you should know:
1. As an Oregon girl, I have grown up with a massive foodie crush on Tillamook. Mostly the cheese, memories of touring the Tillamook Cheese Factory, and reveling in the fact that there was a high school with an even more, err, interesting mascot than ours (Go Cheesemakers!).
2. My family loves yogurt. My kids could eat it for breakfast, lunch, and dinner. I love to cook with it in addition to just enjoying it plain with honey and granola.
So I was stoked when I learned early last month that Tillamook recently released Tillamook Light Yogurt. It's the first light yogurt on the market naturally sweetened with Truvia®. At just 110 calories, it has no artificial sweeteners, no artificial flavors, artificial colors, no high fructose corn syrup and no artificial growth hormones.
I taste-tested several flavors, including Pomegranate Blackberry (sooo yummy!), Oregon Marionberry, Lemon Squeeze, and Northwest Berry Patch. The berry ones are our family faves. They are sweet but not too sweet, and unlike other "light" yogurts I have tried in the past, they do not have that odd filmy texture, so big thumbs up from us! The lemon squeeze is a flavor I probably wouldn't eat normally on its own so I incorporated it into a recipe (below) and it's fantastic.
My kids and I make smoothies together at least a couple of times a week, and created a sweet new Berry Berry Smoothie using one 8-ounce cup of Tillamook Light Yogurt Northwest Berry Patch, one banana, ½ cup water, ½ cup frozen or fresh strawberries, and ½ cup frozen or fresh blueberries. It's the perfect after-school snack!
I also made a batch of Lightened Lemon Buttercream Shortbread Sandwich Cookies.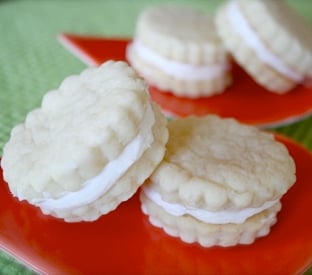 I was curious what would happen if I substituted some of the sugar and butter in shortbread cookies for yogurt. This is the FUN of cooking and baking, folks! You'll never know unless you try, and you should always cook with your gut!
I used my traditional shortbread cookie recipe and made the yogurt substitutions. It turned out okay, but not fabulous; I think the next time I would add about 1 teaspoon of freshly grated lemon peel.
Now, the cookies turned out just fine. We all liked them. But having a sweet tooth, I had to bliss these cookies out a little. After all, we did cut down on sugar and butter in the shortbread cookies, right? So I added a little Urban Bliss love and made some LEMON BUTTERCREAM to sandwich in between the lemon shortbread cookies.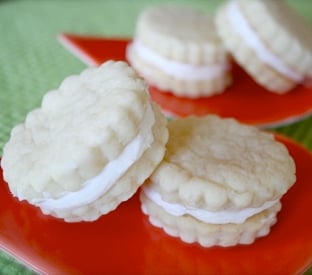 Ingredients
Lemon Buttercream Filling
8

tablespoons

(1 stick) butter, softened at room temperature

3

cups

plus 2 tablespoons confectioner's sugar, sifted

2

teaspoons

lemon juice

1

teaspoon

lemon zest
Instructions
Make the Lemon Shortbread Cookies
Whisk flour, baking powder, and salt in a medium bowl.

Beat butter and sugar in a standing mixer until well blended.

With the mixer on low, slowly add the dry ingredients until just blended.

Form a ball with the dough and roll it out onto a floured surface to desired cookie thickness.

Using the cookie cutter of your choice, cut out shapes and place on a baking sheet. Bake in a 350°F degree oven for 10-13 minutes, just until the edges start to become golden.
Make the Lemon Buttercream Filling
In a large bowl, beat 8 tablespoons butter, confectioners' sugar, lemon juice and zest with an electric mixer until fluffy, about 2 – 3 minutes.
Assemble the sandwich cookies
Spread the filling onto one of the cookies, then top with another cookie. Repeat until you've made all of the sandwich cookies
Notes
TIP: If you're ok with more sugar, roll out the dough onto powdered sugar instead of flour.
How to store: Store in an airtight container at room temperature for a day or two, refrigerate for up to 4 days, or freeze for up to 2 months.
Tried this recipe?
Please leave a star rating and comment! Then snap a pic of your dish and share it on social media. Tag @UrbanBlissLife and #UrbanBlissLife!
Nutrition information is a general estimate. Actual nutrition details may vary depending on the exact foods & brands you use to make this recipe. It does not take into account any substitutions, toppings, or optional ingredients.
PIN IT: