I love color. I am not afraid of bold, bright, brash; instead I find color soothing, happy, joyous.
You, too?
If you're looking to host a bold and bright girl's birthday party, boy's birthday party, adult birthday party, or I've got a new Bold Birthday Party Printable set!
Bold Rainbow Birthday Party Printables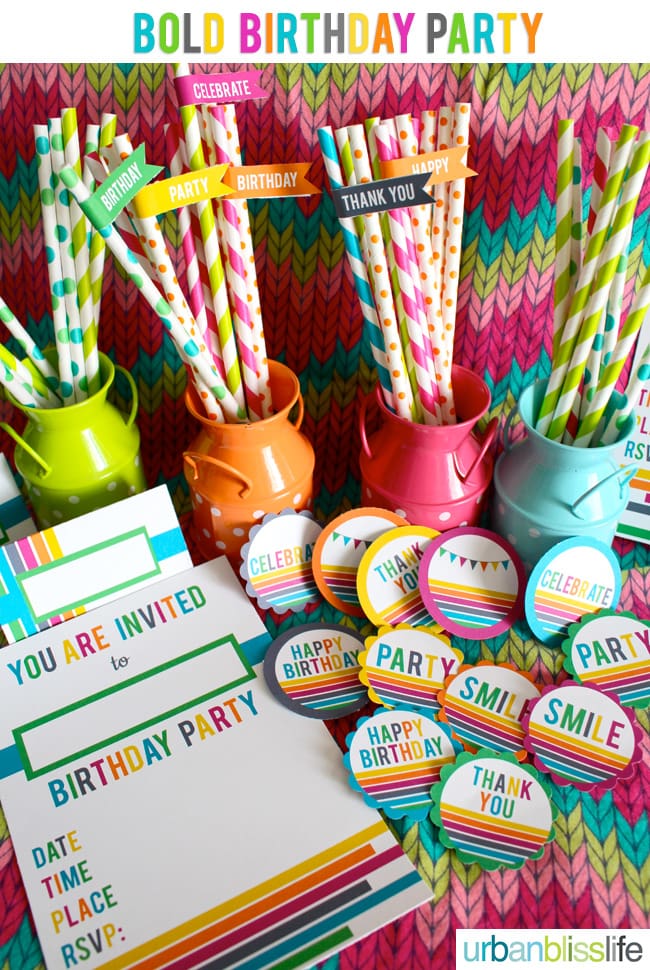 This set is normally $15.00, but for two weeks, you can get this whole set for just $1! One dollar! You can purchase this set in the Urban Bliss shop.
More on what's included in this set later. But first, since I haven't thrown a bold birthday party myself, I called upon my favorite design couple for some advice. . .
Robert & Cortney Novogratz
Robert and Cortney Novogratz are my favorite design couple. Their work is bold, creative, fun, and truly personal to each client. I honestly don't think I've ever seen work that they've done that I haven't absolutely been in love with. For more than 20 years, the couple has developed and designed countless unique properties all across the globe, but you may recognize Robert and Cortney Novogratz from their TV show, 9 by Design, which was a hit on the Bravo network, or on Home by Novogratz on HGTV. I loved both shows!
With seven children (Wolfgang, 17; Bellamy, 15; Tallulah, 15; Breaker, 12; Five, 8; Holleder, 8; Major, 4), they are no stranger to birthday celebrations :) Stylish, creative, designer couple with seven kids: who better to ask for birthday party advice, right?
They've collaborated with countless superstar celebrities, luxury brands, and consumer brands over the years. Their latest collab: a highly accessible new dinnerware collection with Macy's, featuring mugs, plates, bowls, and popcorn buckets.
This is the stuff I am stoked about, friends. Look at how lovely these pieces are! AND they are truly affordable, ranging from just $9.00 - $29.00.
They are absolutely PERFECT to go along with a Bold Birthday Party, don't you think?

Robert and Cortney are busy, busy people, so I was honored that I was able to ask them to share a few quick party planning tips.
Birthday Party Planning Tips from Robert & Cortney Novogratz
MJS: Can you share an example of how you've uniquely used bold colors in any of your own kids' birthday parties?
NOVOGRATZ: Balloons are always a staple. We like having them at the entrance of our door way. So festive!
MJS: As designers, what do you love the most about the creative possibilities with kids' birthday parties?
NOVOGRATZ: It's about being a little different and creative yet not spending a lot. We are not into over the top birthday parties for kids. Let the kids be creative, have art, color wheels, crafts, etc. It's really about keeping the kids happy and involved
MJS: How can parents use your new collection in their kids' parties? What makes your pieces perfect for use in kids' parties?
NOVOGRATZ: The kids def love the color. I would think the popcorn bowls are the best for kids and parties -- you can put pencils in them, crayons, and even popcorn (ha!). And, if you really want the kids to get wild, put Twizzlers or M and Ms in them!
Thanks to Robert and Cortney for sharing some quick birthday party planning tips, and congrats on the new collection! You can check out their gorgeous new collection at your nearest Macy's store, or online at Macys.com.
Bold Birthday Party Printables
Don't you think the new NOVOGRATZ collection at Macy's makes the perfect decor to complement this Bold Birthday Party Printable set?
This fill-in invitation sets the tone for a FUN party.
These Bold Birthday Party Circle Tags can be used for cupcake toppers, gift tags, made into stickers or labels, and so much more!
I love these rainbow party flags. I like to wrap these around straws for the kids to use with their drinks, or wrap around lollipop sticks or toothpicks to use as cupcake toppers or to adorn any other appetizers or dessert.
You can use these tent cards as food tent cards, to top favor bags, or cut them in half and turn into stickers or labels.
Finally, good manners don't end with the party . . . with this rainbow birthday party printable set, you also get bright coordinating thank you cards help you close out the festivities after the party with gratitude and in style.
Again, this full party printable set is normally $15, but you can download it now through March 15th for just $1.00! Visit the Bold Birthday Party Printables set in the Urban Bliss Shop to purchase.
I hope you've enjoyed Birthday Bliss Week! Thanks again so much to Cortney and Robert Novogratz for sharing their new collection as well as some fun party tips!
Don't forget to check out these fun party ideas: