Quality, delicious Oregon wines under $20? Pike Road shows why it's one of the best Carlton Wineries when it comes to value.
A Wine Wednesday confession: somewhere along the way, I've become an Oregon wine snob. Or rather, as of late, I've become a West Coast wine snob.
I can't drink the same old $6-10 bottles of wine that I used to consider my everyday wines anymore. My palate has changed, my expectations are higher, and while I in no way am a wine snob of the technical variety, I just want more from the wines I drink. Is that so wrong?
So when you tell me that an established Oregon winemaker has created a brand new company focused on producing high quality Oregon Pinot Noir under $20, I'm mighty skeptical. The best Pinot Noirs I've tasted in this great grape state o' mine are usually between $35 - 75. A fabulous $20 Oregon Pinot Noir? Go home, you're drunk, tall tale teller.
Ahh, but it does exist. It does indeed. And I do rather enjoy being proven wrong, especially by wines that taste so right.
The Campbell Family & Elk Cove Vineyards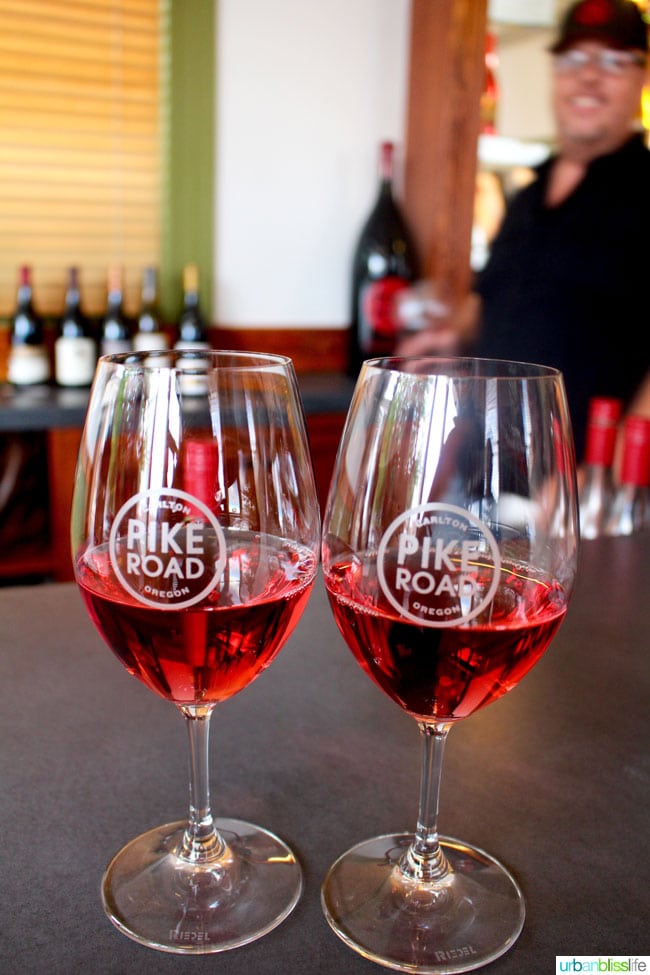 If you're familiar with Oregon wines, you've likely tried or at least heard of Elk Cove Vineyards. The Campbell Family has been growing grapes and producing highly acclaimed Oregon wines for several decades. To give you an idea of the quality of Elk Cove wines, I just picked a random wine from their website to give you an example: the Elk Cove Vineyards 2014 Mount Richmond Pinot Noir has received 93 points by Wine Spectator and 92 points by Wine Enthusiast; it currently retails for $60 per bottle.
The Campbell family clearly knows a thing or two about crafting fine wines. And, from personal experience, I can tell you that I have never had an Elk Cove wine that I didn't thoroughly enjoy. It's a label that is synonymous with the greatness of Oregon wine legacy, and is greatly respected.
So I was thrilled when I found out that they were the masterminds behind the new Pike Road Wines.
Pike Road Wines
The same family that has built a name for themselves producing award-winning, highly acclaimed wines has launched a project to bring the same quality to Oregon wines that are all under $20 per bottle. They started with 20,000 cases of 2014 Pinot Noir, which you can enjoy for just $19 a bottle.
The 2014 Pinot Noir has received 90 points from Wine Enthusiast and embodies all of the delicious qualities that I personally love most about Oregon Pinot Noirs: it's a beautiful ruby red wine that greets you with bright flavors of red berries and cola. Wonderful and affordable as an everyday wine, yet luscious enough to serve at special occasions.
Tasting room
My husband and I enjoyed attending the friends and family industry party launching the grand opening of the new Pike Roads Wines tasting room in Carlton, Oregon.
Located on the ground floor corner of the historic 1910 Carlton Bank Building, the new Pike Road Wines tasting room is open seven days a week from noon to 6 p.m. They also periodically host special events there, such as Friday Night Flights.
Pike Road Rosé
Our favorite wine here by far is their 2015 Pike Road Rosé. This Oregon rosé is IT, friends. We bought a half case home from the industry party (full disclosure: at industry pricing) and we already wish we had more. It's slightly richer than your average lighter hued rosé, with bold strawberry flavors and subtle floral notes. This wine is absolutely perfect for summer picnics, barbecues, and pairs beautifully with appetizers like prosciutto and melon, salmon crostini, or, unsurprisingly, strawberry mint ricotta crostini. And for under $20 per bottle!
Visit
If you are new to Carlton wineries and Oregon wines in general, the Pike Road wines are excellent introductory options at affordable prices; if you already know you love Oregon wines, then you will fall in love all over again...without emptying the contents of your entire wallet. Pike Road is distributed widely in the US, in about 20 states right now, and if your local wine shop or grocery store doesn't currently carry them, ask them to!
105 W Main Street
Carlton, Oregon
Hours: open 7 days a week, noon to 6pm
http://pikeroadwines.com/
Do you love Oregon Pinot Noir as much as I do? What's your favorite Oregon wine?