This restaurant is unfortunately now closed. If you are interested in more Portland restaurants, please visit our
Portland, Oregon Restaurant Guide.
Got a sweet tooth? Head over to 180 for authentic xurros (Catalonian version of Churros) and xocolata, as well as monthly creative local chef collaborations!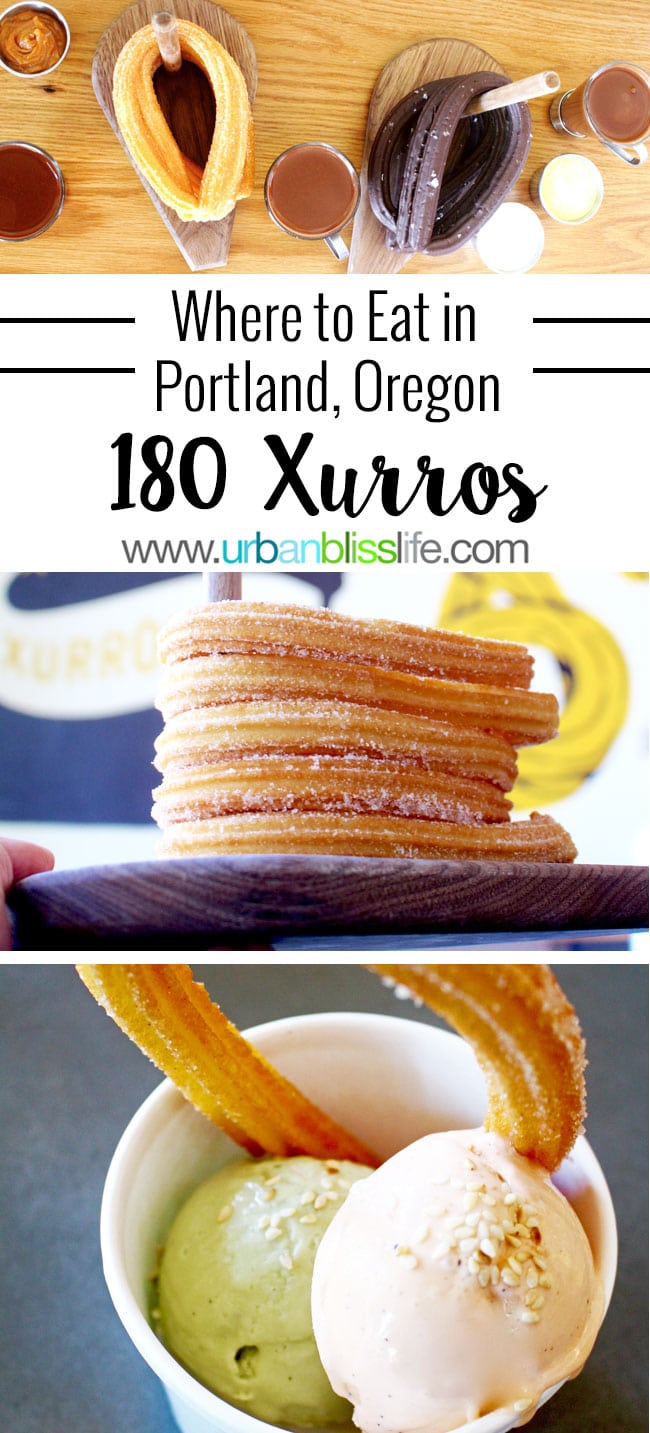 Portland may be the land of donuts and craft coffee, but earlier this year a new sweet tooth player came on the scene and has been stealing dessert-loving hearts ever since. It's time for some Churros Portland!
180 Xurros
The husband-and-wife team who brought forth Portland darlings Ataula and Chesa restaurants – Chef Jose Chesa and Cristina Báez – opened 180 xurros and xocolata on NE Broadway in Portland, Oregon earlier this year in partnership with longtime friend and chef David Martin.
180 is the first official xurreria in Portland, Oregon, and serves authentic Spanish xurros along with drinking xocolata.
Stepping into 180, you are greeted by a buzz of activity: the whirl of the espresso machines, the oh-so-sweet sizzle from the fryers perfectly crisping up some housemade xurros, and a bright, light-filled minimally modern space that's warmed up by the smiles and kindness of 180 staff. This is a comfortable, kid-friendly spot where you feel welcome to chill for a while and fully enjoy those amazing xurros.

These xurros are perfectly crisped on the outside, finished off at 180 degrees celsius in the fryer (hence, the xurreria's namesake). They are honestly the best xurros I have ever had, and I've tried a lot during my travels.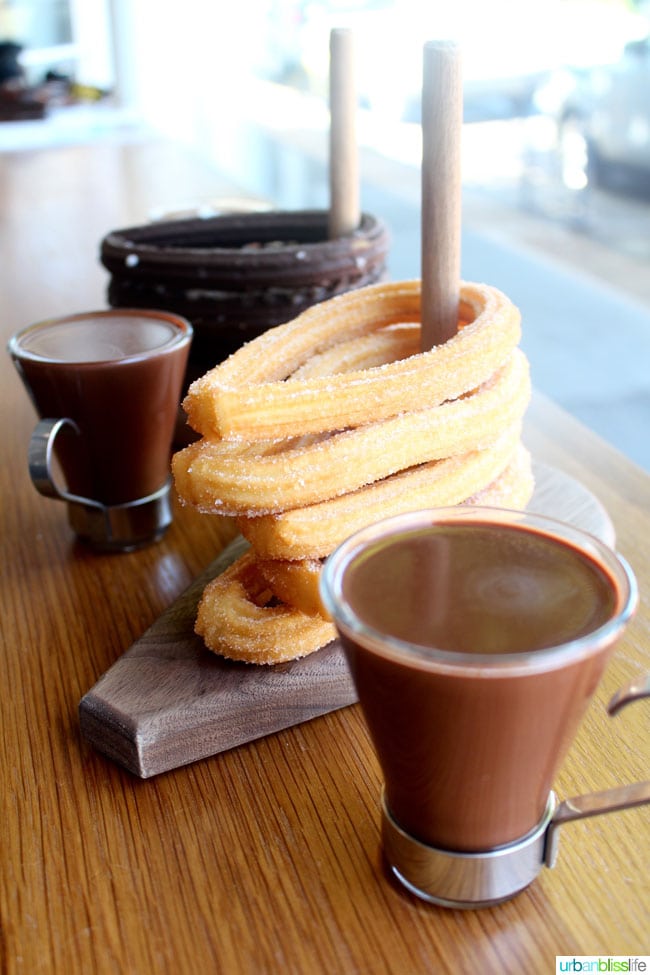 You can order classic cinnamon and sugar xurros in stacks of 3 ($3.75), 6 ($5.75), or 12 pieces ($10.75). I suggest ordering a cup of House Xocolate - housemade drinking and dipping chocolate made from Cocanú, for $4 each. This is a rich, decadent drinking chocolate and is absolutely perfect for dipping the classic xurros in!
The Bañados - chocolate covered xurros with Jacobsen Salt – are my personal favorites, and sell for just $1.75 each.
You can also order 2 pieces of Xurros Rellenos for $3. These are xurros stuffed with either xoco creme, crema catalana, or dulce de leche.
I've mentioned how kid-friendly 180 is, and I don't know any kid who wouldn't love stopping by 180 for a xurro or five. My own kids love the xurros here! They prefer the classic xurros, but they most definitely did not turn down the Bañados chocolate-covered xurros.
Portland chef collabs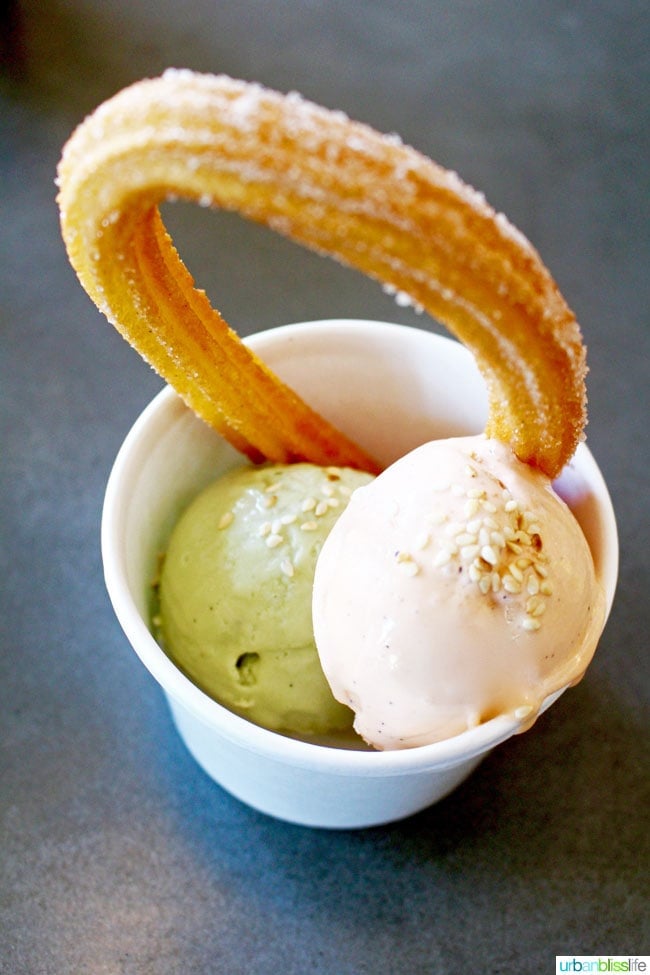 Each month, 180 partners with local chef friends for creative collaborations. These can be different types of xurros, or other food/beverage items paired with xurros.
In August, 180 partnered with chef Earl Nimsom (LangBang, Paadee, Hat Yai and Common Law) for out of this world ice cream pairings. You have until August 31st to try Nimsom's Coconut Thai Tea ice cream or Matcha ice cream at 180. Trust me: both flavors are amazing alone, but they are ridiculously fabulous when paired with a classic 180 xurro! All proceeds of this month's chef collaboration will benefit Girls & Boys Aid.
Visit
If you're out and about exploring Portland, Oregon, stop by 180 and try their xurros and xocolata. I honestly can't stop thinking about them, and my kids have asked when we're going to be heading over for more xurros.
2218 NE Broadway
Portland OR 97232
hola@180pdx.com
(503) 477-9163
http://180pdx.com
HOURS
Monday-Friday 12PM-8PM
Saturday-Sunday 10AM-8PM
Have you ever had authentic xurros?
I attended a media event at 180 and enjoyed the xurros pictured here free of charge. As always, all opinions and photos are my own. My kids and I love this place so much!