Traveling to Whistler BC in Canada? Add these Whistler restaurants to your itinerary for delicious dining experiences!
Nestled amidst the breathtaking Coast Mountains of British Columbia, is the charming alpine village of Whistler. This picturesque destination is a great place for world-class skiing, snowboarding, and outdoor activities.
While it's a year-round haven for adventure seekers and nature enthusiasts, Whistler also boasts a vibrant culinary scene that has been steadily gaining acclaim over the years.
I recently had the pleasure of adventuring and eating my way around this stunning resort town. And now I invite you to enjoy this delectable journey through Whistler's gastronomic landscape, as I share this list of the best restaurants I dined at. Here, the fusion of local ingredients, international influences, and innovative chefs combine to create a culinary experience like no other.
Whether you're a dedicated foodie searching for the finest dining experiences or simply looking to satisfy your cravings after a day on the slopes, Whistler has something to offer every palate.
From comfort food at cozy, fireside bistros to upscale fine dining establishments to celebrate special occasions, Whistler's diverse array of restaurants caters to all tastes and preferences.
So, fasten your seatbelts (or rather, loosen your belts!) as we embark on a culinary adventure through these top Whistler restaurants. This guide will provide you with a taste of what makes Whistler's dining scene a destination in itself.
Get ready to indulge your senses for a delicious alpine adventure!
Jump to:
Whistler Village
Most of Whistler's best restaurants can be found in the heart of Whistler Village.
Whistler Village is the vibrant center of the world-renowned Whistler Blackcomb resort. Located approximately 121 kilometers (75 miles) north of Vancouver, Whistler Village sits at an elevation of 670 meters (2,200 feet) and spans approximately 1.6 square kilometers (0.6 square miles).
More than just a ski town, during the summer months it's one of the best places to hike, mountain bike, or just relax and breathe in the fresh mountain air. It's the perfect place for outdoor enthusiasts and foodies alike!
Raven Room
The Raven Room, one of Whistler's locally-owned eateries and a local favorite, is located right in the Pan Pacific Whistler Village Centre. Known as Whistler's premier cocktail bar, it's the perfect spot to enjoy some impressive cocktails - but don't sleep on the food menu!
Here, the quality of the food is on par with the creative concoctions their mixologists are crafting at the bar. Focused on using the finest locally sourced ingredients like fresh seafood and vegetables from around the Pacific Northwest, each dish I tried here was beautiful, creative, and delicious.
Cocktails to try: Aphrodisia, Hot Girl Summer, and a Spicy Margarita. The last isn't on the menu, but ask for it if you love spicy margaritas. This is the best one that three of us in our group have had in our collective extensive cocktail drinking years.
Dishes to try: I loved the Whistler Grown Heirloom Tomatoes, BC Albacore Tuna Tataki, Squamish Grown Sautéed Mushrooms, Crispy Teriyaki Cauliflower, and the Spicy Thai Fried Chicken.
My dining companions who are not dairy-free all raved about Squamish Harvested Mushroom Risotto.
The Raven Room is located in the Pan Pacific Village Centre Hotel
4299 Blackcomb Way
Whistler BC
(604) 962 0311
Hours: Monday - Sunday, 3 PM - 1 AM
Reservations? Reservations are accepted for the main dining room. Outdoor patio seating and bar seating is for walk-ins and on a first-come, first-serve basis.
Kid-friendly? Yes, but no minors (under age 19) after 10 pm.
For reservations or for more information, please visit the Raven Room website.
Bar Oso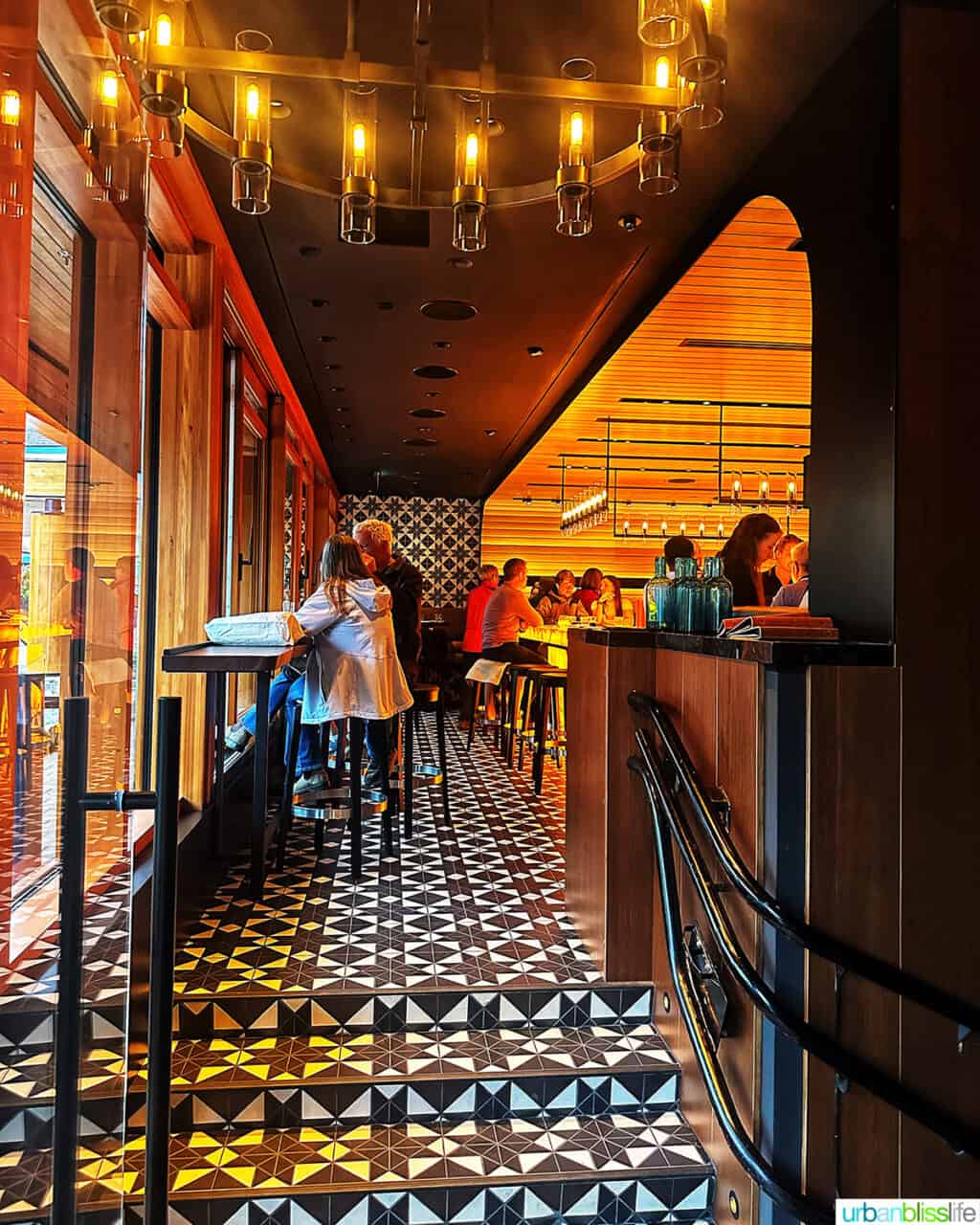 Stepping onto the tiled floor into the seductively lit dining room with commanding center bar, you feel as though you've been transported to a swanky Spanish neighborhood gem.
Bar Oso is recently renovated and re-opened for business - and it's definitely one of the hot spots of Whistler Village. This is a good place for an extraordinary dining experience, with impressive good food, tasty craft cocktails, and great service.
Here you'll find Spanish-influenced small plates, tapas, and house-made charcuterie. Lead by Chef Jorge Muñoz Santos, a native of Madrid, the kitchen turns out one impressive plate after another. I think we ate through almost the entire menu, and almost every dish was expertly executed.
Cocktails to try: Firecracker Margarita, Oso Sour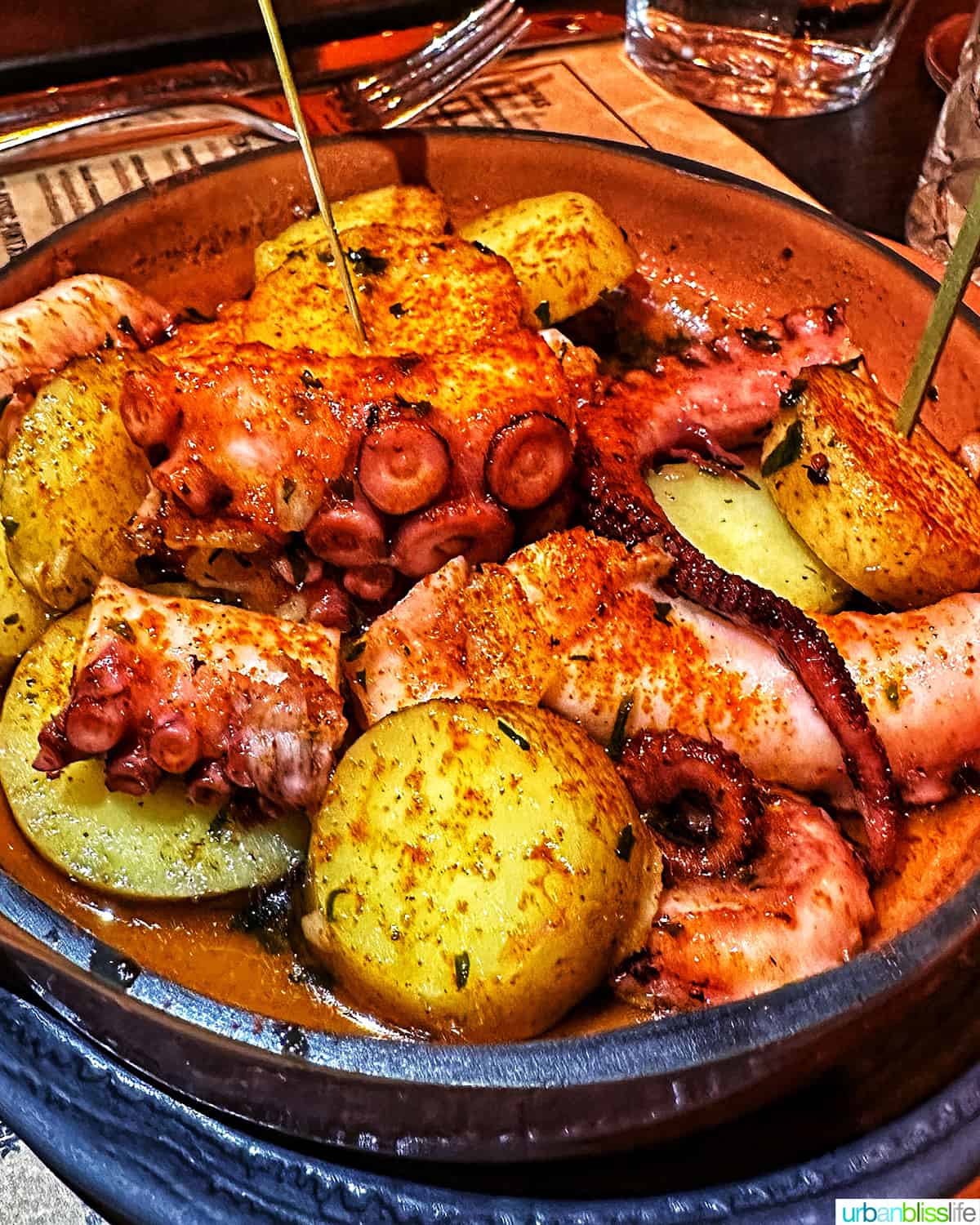 Dishes to try: of all of the many charcuterie board offerings, go for the Fresh Charcuterie Board. With housemade duck liver parfait, pheasant pate, rabbit rillette, smoked ham hock terrine, this is a foodie's paradise on a plate. I also suggest the Wagyu Beef Cheek (my favorite!), Beef Tartare, Octopus "Jorge" Style, Duck Liver Paté Montaditos, and the Local Roasted Beets.
Bar Oso is the sister restaurant to Italian fine dining establishment Araxi Restaurant & Oyster Bar, which also has rave reviews.
Bar Oso
#150 - 4222 Village Square
Whistler Village
Whistler, BC
HOURS: Open daily 4pm to late
Reservations? No. Bar Oso does not take reservations. Seating is on a first-come, first-serve basis.
Kid-friendly? The swanky date night vibe is best suited for an adults only night out. Older kids might enjoy the tapas menu for an early dinner, but definitely leave the babies, toddlers, and younger kids with a sitter.
For more information, please visit the Bar Oso website.
Dubh Linn Gate Irish Pub
Still smiling from my most recent trip to Ireland, the Dubh Linn Gate Irish Pub was a welcome stop in my Whistler journey. Located at the base of Whistler in the Pan Pacific Whistler Mountainside, this is a popular local hotspot that comes alive with live music twice daily (seasonal) and a legendary Happy Hour.
Dishes to try: when at an Irish pub, you have to try their fish and chips. It's pretty much the law. The Fish and Chips at Dubh Linn Gate Irish Pub reminded me of the fish & chips I enjoyed a few months ago in Dingle, Ireland. Huge filet of fish perfectly battered and fried. I upgraded my fries to the rosemary garlic fries with bacon chive mayo because of course I did. You should, too! It's freakin' amazing.
The Fish Tacos, Buffalo Cauliflower Wings, and BLT were enjoyed by my dining companions.
Dubh Linn Gate Irish Pub
at the Pan Pacific Whistler Mountainside
4320 Sundial Crescent, Whistler
British Columbia, Canada V0N 1B4
604.905.4047
HOURS: 10am - 10pm seven days per week.
Brunch: 10am - 1pm
Lunch/Dinner: 11AM - 10PM
Reservations? No. Seating is on a first come, first serve basis.
Kid-friendly? Yes! Minors (under age 19) are permitted until 9 pm. There is also a kids menu here.
For more information, visit the Dubh Linn Gate Irish Pub website.
Mekong Fine Thai Cuisine Restaurant
Shortly after being seated, I'm told by the GM of Mekong Fine Thai Cuisine that she and the chef traveled to Bangkok to do research for the menu. Already, I'm excited about the dinner that awaits.
I traveled to Thailand for the first time last fall. And while there are numerous Thai restaurants, many serve dishes with softened edges and tamed flavors to suit Western palates.
But at Mekong, each dish took me back to Thailand. Chef Angus An of famed Maenam restaurant in Vancouver created the menu. And the kitchen here adeptly sends out dishes with authentic flavors using fresh, local produce sourced from local farmers.
It was like my dream dinner in a modern, stunningly designed, vibrant and lively atmosphere.
Cocktails to try: Siam Sapphire. They also have a nice selection of BC wines to try.
Dishes to try: Chicken Pomelo Salad, Tom Kha Mussels, Gaeng Keow Wan Beef (Beef with Green Curry), Pad See Ew Beef, Ka Na Moo Krop (pork belly with Chinese broccoli), Pad Bu Sen Chan (crab pad Thai), and Pla Sam Rot Seabass.
Mekong Restaurant
204-2067 Lake Placid Rd
Whistler, BC, V8E 0B6
HOURS: Monday to Sunday 5:00 pm - 10:00 pm
Reservations? Highly recommended for this popular restaurant.
Kid-friendly? I'd have taken my own kids here for an early dinner, but the vibe is more date night, after-work celebrations, and a night out with your best girlfriends.
For reservations, visit the Mekong Restaurant website.
Black's Pub
One of several Gibbons restaurant group locations, Black's Pub is truly in the heart of Whistler Village. Located right at the base of Whistler and Blackcomb, it's a favorite of locals and visitors alike. There are two levels of patio seating, perfect for watching Whistler life in action while sipping on a refreshing bevvie and refueling after a day on the mountain.
Cocktail to try: When a restaurant has a spritz menu, I am ALL IN. At the recommendation of our kind server, I tried the Cucumber Limoncello Spritz. This is a super refreshing and colorful cocktail that has the freshness of cucumbers, the bright sweetness of limoncello, topped with sparkling soda, a hint of mint, and an Empress gin float.
Food to try: Black's Pub offers classic dishes in a small but mighty traditional pub menu. Their Calamari is one of the best I have eaten in a while. Perfectly battered and deep fried with fresh herbs. Also check out the Cauliflower Bites, Burgers, and Pepperoni Pizza.
Black's Pub
7-4340 Sundial Place, Whistler, B.C.
V8E 1G5, Canada
Hours: 11 am - 9:30 pm daily
Pizzas available from 12pm every day.
Reservations? You can reserve a table online.
Kid-friendly? Yes! They have an all-day menu with kid classics like pizza, burgers and fries, and wings.
For reservations or more information, please visit the Black's Pub website.
✨ Restaurant FAQs
What is the dress code for Whistler restaurants?
This is an outdoorsy resort town so most restaurants are fairly casual. Mekong and Bar Oso are a little more fine dining and dressy attire is welcome, but I also saw diners in jeans and sweatshirts there as well.
Which Whistler restaurants are kid-friendly?
Whistler is definitely a family town, so most restaurants are kid-friendly to a point. Most restaurants allow minors (under age 19) until 9pm or 10pm, but be sure to check individual restaurant websites for the latest. Of the top restaurants listed here, I'd suggest Mekong Restaurant for your older children or more adventurous eaters. Black's Pub, Dubh Linn Gate Pub, and Raven Room are great for families during the day and for earlier dinners.
Are reservations required?
Reservations are highly recommended at Mekong restaurant, as they book out well in advance. Reservations are also recommended and accepted at the Raven Room and Black's Pub. Both Bar Oso and Dubh Linn Gate Pub do not take reservations; walk-ins are welcome at these two restaurants and seating is on a first-come, first-serve basis.
Which Whistler restaurants have the best vegan options?
Of all of the restaurants I dined at, Mekong Fine Thai Cuisine had the most vegan-friendly menu. They actually have a separate vegetarian menu.
Is there outdoor seating?
Many restaurants, bars, and cafes in Whistler have outside patio seating. Mekong restaurant, Dubh Linn Gate Pub, Raven Room, and Black's Pub all have patio seating.
More Whistler restaurants
Here are more restaurants on Whistler Mountain that have come highly recommended. I did not have the opportunity to check them out yet -- but you should!
Rimrock Cafe
Wild Blue restaurant
Alta Bistro
Red Door Bistro
Nita Lake Lodge
Bearfoot Bistro
Roundhouse Lodge
More restaurants around the world
Where to stay nearby
Pan Pacific Whistler (full hotel review coming soon) - located right in Whistler Village, the hotel is just a quick village stroll away from great food, from coffee shops to high-end restaurants.
If you visit, please be sure to let them know that you read about it on Urban Bliss Life! And if you snap some pics, tag us @UrbanBlissLife and #UrbanBlissLife on Instagram, TikTok, Twitter, and Facebook.