Banff is a picturesque resort town in Alberta Canada. It's one of the most beautiful places to visit in the world, and ideal for most travelers. Here are some of the top Things to Do in Banff, whether you visit in the summer months or winter months.
Banff, Canada and the surrounding area in the Canadian Rocky Mountains is one of the most beautiful places I have ever visited in my life.
The majestic towering jagged mountains, aquamarine blue clear glacial rivers and lakes, stunning fall foliage... and of course, the jaw dropping glaciers that surprise you at random turns of the road.
Banff is a rustic, bustling resort town located in the province of Alberta, Canada. It's about an hour and a half drive north of Calgary, within the Banff National Park.
One of the best things about the town of Banff is how much there is to do here. With ski resorts, natural hot springs, some of the best hikes, sightings of the northern lights, horseback riding, and incredible dining options, there's something for everyone.
If Banff is not on your travel bucket list, it should be. Here are just a few reasons why it's the perfect place to add to your travel destinations in the coming year.
Jump to:
🏔 Reasons to love Banff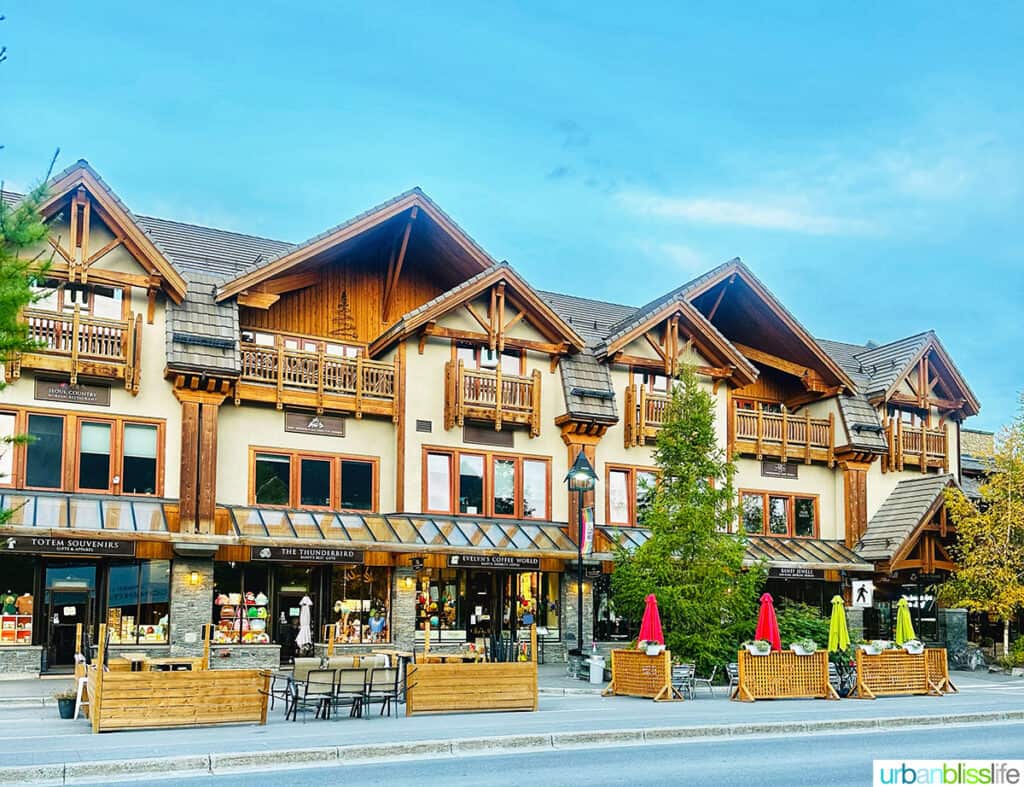 I fell in love with Banff, and am fairly certain if it's your first time visiting, you will fall in love, too! Just a few reasons to fall in love with Banff:
The scenery is unparalleled. I cannot emphasize this point enough: there is natural beauty to ooh and ahh over at nearly every turn in Banff.

The downtown area is walkable and bike friendly. The main street in Banff is only a few blocks long, and part of the road is closed off to cars, making it very bike-friendly.

It's got a casual, rustic vibe. This resort town is laidback and relaxed.

It attracts visitors from all over the world. One of my favorite things about traveling to larger cities is being surrounded by so many people from different cultures, hearing so many different languages, trying so many different foods. I was pleasantly surprised to find a diverse, cosmopolitan community of tourists in smaller, cozier Banff. And because it's a resort town, it attracts workers from all over the world as well.
🚠 1. Enjoy a scenic gondola ride
Drive up to Sulphur Mountain and take a gondola ride up to the top terminal, which is 7,486 feet up from sea level. There you'll find the best views overlooking the city of Banff and surrounding areas.
If you are visiting Banff in the winter, take the Banff gondola up to the mountain when Nightrise is happening. Nightrise is a spectacular multimedia event created in partnership with the Stoney Nakoda Nation. After the sun descends, you can experience four main art light installations at the top of Sulphur Mountain.
For a full outdoor adventure, you can also hike up Sulphur Mountain. The nearly 3.5 mile (5.5km) hike takes anywhere from one and a half to three hours, depending on trail conditions and your own pace. The trail starts in the parking lot of the Banff Upper Hot Springs, and includes some switchbacks along the way.
Be sure to check the website for the latest gondola opening and closure information, weather updates, and ticket prices.
In addition to information and education centers and a gift shop, you'll find several dining options on the mountain.
🍽 2. Dinner and a view
The panoramic view from Sky Bistro atop Sulphur Mountain is akin to the view of the Alps on Switzerland's Mt. Titlis. It's an unforgettable dining experience -- and not just for the incredible views!
With floor-to-ceiling windows and an open floor plan, dining at Sky Bistro is a treat for guests of all ages. It's a fantastic spot for special occasion celebrations as well as every day family outings. Open for lunch daily and for dinner Wednesday through Sunday, you'll find a compelling, thoughtful menu that celebrates the spirit and ingredients of the Canadian Rockies.
The menu changes periodically, but here's a look at the delectable dishes I enjoyed on my visit.
From left to right: a classic Canadian Caesar cocktail and a glass of Indigenous Wine Company Pinot Noir.
From left to right: Three Sisters Salad, Truffled Cauliflower Soup, Alberta Braised Short Rib, and Blueberry Panna Cotta.
Reservations are recommended, and are available up to 30 days in advance on the Sky Bistro website.
🏞 3. Bow River Trail
At the west end of Banff Avenue, you'll find entrances to the Bow River Trail. This mostly paved trail follows the crystal clear blue waters of the Bow River, with two pedestrian bridges on either side of Banff Avenue.
The newer, north pedestrian bridge is a short walk from downtown Banff, and connects to a cute park at the edge of town. If you're traveling with your dog, this is a great park to let your leashed dog stretch his/her legs! This is also a cute spot and one of the best places for a picnic.
The south pedestrian bridge was built in 1921, and takes you to a lovely trail with viewpoints at the Bow Falls. You also get a sweet surprise view of the famed Fairmont Banff hotel perched on the mountainside above the river.
Much of the hiking trail is accessible, however there are steps leading up to the viewpoint. These stairs can get quite icy and dangerous in inclement weather.
🌊 4. Bow Lake
The Icefields Parkway is one of the most scenic drives in the world. Just outside of Banff, about 30 minutes north of Lake Louise along this scenic drive, is Bow Lake. This picturesque gift of nature is a MUST visit stop if you are in the area!
There is a well-marked parking lot viewpoint where you can park and walk down to the lake's edge. It's a great place to stretch your legs for a leisurely stroll, take in the view, and of course, snap some memorable photographs.
Bow Lake is one of the largest lakes within Banff National Park. It's fed by meltwater from the Bow Glacier in the Wapta Icefield, and on a clear day the calm waters are crystal clear and the mountains are in full view.
🧊 5. Icefield Skywalk
About two and a half hours north of Banff and one hour south of Jasper, you'll find the Columbia Icefield Skywalk. This glass-floored observation platform dangles out from the cliff's edge, and hovers 918 feet above the rugged terrain below.
While you're there, take in a gorgeous symphony of sights. From the surrounding mountains above to the windy rivers below, and all the canyons in-between.
The Skywalk is a weather dependent attraction that is generally open from May through October. Be sure to check the Columbia Icefield Adventures website for the exact opening and closing dates, and latest pricing and weather info.
🛳 6. Take a Boat Cruise
Banff is home to some of the most beautiful lakes I have ever seen anywhere in the world. Surrounded by majestic towering jagged mountain peaks, icy glaciers, and lush forests, the aquamarine blue waters of these lakes need no filter. You'll take some of the most stunning scenic photos while enjoying a boat cruise in Banff.
I ventured on a boat cruise at Lake Minnewanka, just about 30 minutes north of downtown Banff. This glacial lake is the second longest lake in Banff National Park. The cruise is one hour long and the guides will entertain you with history of the land and point out key sites along the way.
You will find similar boar cruises on Moraine Lake and Lake Louise.
These cruises are weather dependent and generally open from May through October. You will pay around C$59 for adult tickets and $38 for child tickets. Children 5 and under are free when sharing a seat with an adult.
Prices do vary. Be sure to check the Lake Minnewanka website for exact dates and the latest weather and rate info.
🚐 7. Open Top Touring
Looking for a unique guided tour to take while in Banff? Hop onto one of the Open Top Touring experiences. It's a super fun way to experience Banff!
This seasonal tour is generally open May through October. Visitors get what they call "vintage tours with a modern twist." You'll ride in style inside a vintage-inspired vehicle with open top.
They have comfortable seats and blankets at the ready should you need one, and USB charging ports to ensure you never run out of juice from all the photos and videos you'll take along the way. Tours are lead by knowledgeable, entertaining guides dressed in period costume.
Our two-hour tour had two stops where we could stretch our legs and enjoy the view. One stop included a refreshing elderflower cocktail. Ticket prices are $42 per adult and $24 per child (ages 6 - 15). Be sure to check the Open Top Touring website for latest tour dates and ticket prices.
✈️ Banff FAQs
What airport do I fly into to get to Banff?
I suggest flying into the Calgary airport. From there, the best way to get to Banff is by taking one of many shuttle busses. Or, rent a car from the airport if you plan to drive around during your visit. The drive is approximately an hour and a half between the Calgary airport and Banff.
What's the best time to visit Banff?
Banff is beautiful year-round, but many prefer to visit either in the summer (June through August) or in the winter for winter sports (December through March). I visited in October and can tell you the weather was amazing! October is the tail end of the season for many outdoor attractions.
How much does it cost to enter Banff National Park?
Parks Canada requires all adult visitors to buy a permit for the duration of their stay to enter any of Canada's national parks. Day Passes or a yearly Discovery Pass are available to buy in-person at Parks Canada's park gates and information centers in Banff and Jasper. Children ages 17 and under are free.
Are there wild animals in Banff?
In Banff, it's not unusual to see wildlife roaming about. You need to be aware and respect that this is their natural habitat, and we're just visiting. On any given day, you may see black bears, grizzly bears, mountain goats, elk, bighorn sheep, and more.
What should I pack for travel to Banff?
Pack sunscreen, hiking shoes/boots, and lots of layers. Even in the summer, temperatures can drop at night. And remember that you are at a higher elevation, so the sun will be harsher even on overcast days, so sunscreen is a must year round. During the winter, be sure to pack gloves, a winter hat, a good winter coat, warm pants, socks, and boots with good traction.
🏨 Where to stay in Banff
I stayed at the Elk + Avenue hotel, located right on Banff Avenue just steps away from the start of downtown shops and restaurants. The location is absolutely ideal for a vacation in Banff! It's quiet, yet close enough to all Banff has to offer. The rooms are comfortable and there's a fantastic restaurant and coffee shop on the first floor.
🍽 Where to eat in Banff
Brazen - Expect the unexpected at Brazen restaurant! Located right on Banff Avenue within the Mont Royal Hotel, Brazen offers unique, creative cocktails and dishes that are as delicious as they are delightful. Learn more and make reservations to dine at the Brazen website.
SkyBistro - I wrote about this dining experience with a view above. You can make reservations up to 30 days in advance on the Sky Bistro website.
Good Earth Coffee - For coffee, pastries, and light lunch items, check out Good Earth Coffee, located right next to Elk + Avenue hotel.
Farm + Fire - Located on the first floor of the Elk + Avenue Hotel, Farm & Fire serves delicious Rocky Mountain fare. Check out the full menu and make reservations at the Farm & Fire website.
🇨🇦 More Canada travel guides
If you visit, please be sure to let them know that you read about it on Urban Bliss Life! And if you snap some pics, tag us @UrbanBlissLife and #UrbanBlissLife on Instagram, TikTok, Twitter, and Facebook.