Try this Gluten Free Breakfast Sandwich for a twist on a traditional favorite!
Ode to a Longtime Love, Now Gone
by a recovering breakfast sandwich addict
Oh beloved morning.
Dark still, but loud
with the Mooooom Moooom Mommmm battle cry of
little warriors and canines growling
to be free (to pee).
A whoosh, a drip drip, a klug klug glurgh, and a final BEEP!
releases the scent of enlightenment, of hope for a decent day,
of sweet, strong, sexy java juice.
Oh but the clincher, the memory scent that gets me moving,
is the promise of that longtime love,
that fatty, greasy, salty, gooey, cheesy oozy, buttery biscuity,
all-of-my-calories-in-one-day, voluptuous, well stacked
hunk of breakfast sandwich love.
It's been three weeks since nature ripped us
apart.
Did you cry too?
Alas, as the memories fade of what once was. . .
the guilt burns as I now yearn
for another.
(I'm sorry).
Oh, classic sausage, egg, and cheese biscuit.
I've traded you in
for a younger, leaner model.
Sausage, egg, and spinach stack
When I first went dairy-free almost two and a half months ago, I had no problem saying goodbye to the cheese in my favorite sausage, egg, and cheese breakfast sandwiches.
When I then had to also give up grains, that has turned out to be not necessarily as difficult, as it has been awkward.
"Can I get the sandwich, but without the bread?"
"Um, ma'am, that's no longer a sandwich. That's a salad. And, no."
Le sigh.
And so, even more than before, I've been cooking most of my meals at home. I've been trying to challenge myself to make different breakfasts and not get stuck in a rut. I can't just reach for a waffle anymore, or yogurt. Smoothies are off the table, too, for another month (they're high in sugar). It has been oh so fun for me trying new combinations of ingredients and coming up with new recipes. Most of the time. Not gonna lie: sometimes I just want a bagel with lox and cream cheese.
Mmmm. Bagels and lox....
So here's one of my favorite new breakfasts to enjoy: a gluten free breakfast sandwich that tastes better than any classic sausage, egg, and cheese sandwich you will get at a coffee shop or breakfast spot. Thanks to being packed with protein and lacking those oh-so-tiring carbs and dairy, you will FEEL so much better after eating this Gluten-Free Breakfast Sandwich. This "sandwich" stack gives me so much energy! So long gut bomb, hello six pack!
Well, okay, that last part is a slight exaggeration.
Try this recipe the next time you are craving a traditional breakfast sandwich. I think you'll like it!
Gluten free breakfast sandwich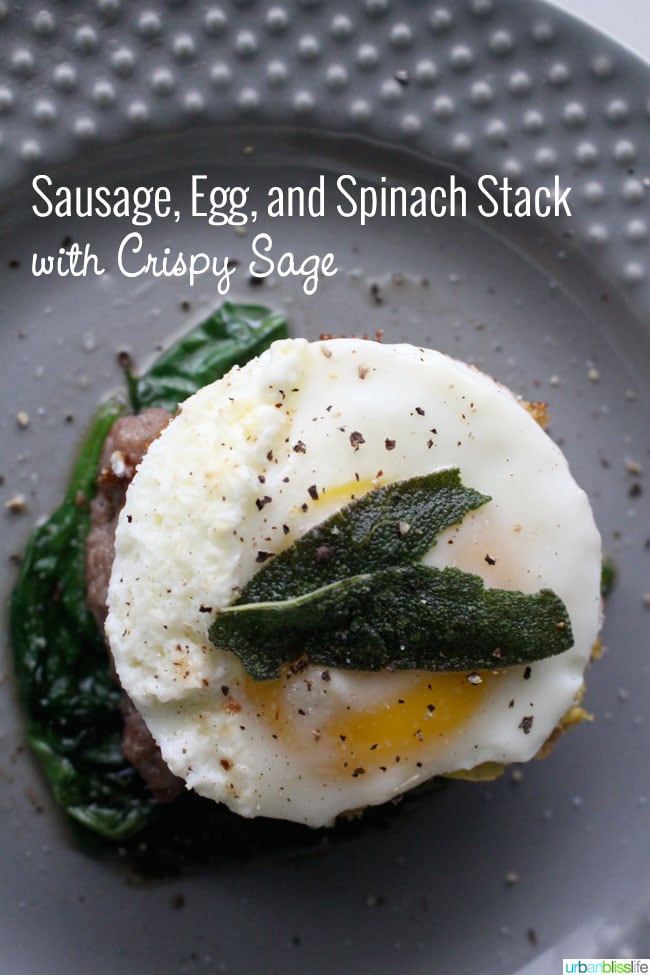 Ingredients
Instructions
Heat a saute pan over medium heat. Once hot, add the olive oil.

Form the lean ground pork sausage into a patty. Feel free to add more than ¼ cup of meat, but don't go too crazy here. Remember: you're trying to make a healthier breakfast dish.

Cook the patty in the pan for about 2-3 minutes on each side, just until you get a beautiful crispness to the outside of the patty all around.

Remove from heat when cooked thoroughly and set aside on a plate.

Using the same pan, add the spinach. Mix around until the leaves are all just barely shiny thanks to the oil, and then add your garlic. Swirl the garlic and spinach around a bit, for about one minute, and then add the sage leaves. Be sure to turn the sage leaves over so that both sides get all crisped up.

Once the spinach is cooked to your taste, remove from the pan and place on the plate either on top of or below the sausage patty. I like spinach to be just slightly wilted but not soggy. The sage leaves should be crispy, so leave them in for another minute if they are not done at the same time as the spinach. Remove and set them to the side of your plate.

In the same pan, crack that beautiful egg open and cook it to your preference. Remove and add to the top of the stack.

Top with sage leaves.

Salt and pepper to taste.

Devour and forget all about those missing carbs and cheese.
Tried this recipe?
Please leave a star rating and comment! Then snap a pic of your dish and share it on social media. Tag @UrbanBlissLife and #UrbanBlissLife!
Nutrition information is a general estimate. Actual nutrition details may vary depending on the exact foods & brands you use to make this recipe. It does not take into account any substitutions, toppings, or optional ingredients.
I love the taste of this spinach because it soaks up not only the garlic and sage, but also the flavors of the pork sausage left in the pan.
So long, fatty fat carb-loaded breakfast sandwiches. There's a new tall stack of hot yumminess in town, and I think I'm in love. Try this Grain-Free Gluten-Free Breakfast Sandwich today!
What is your favorite twist on a classic breakfast food?