If you're looking for the best Thai food in Portland, my money's on Farmhouse Kitchen Portland. Fun decor frames an amazing menu and fabulous customer service.
Portland, Oregon loves Thai food.
You'll find nearly 200 listings for Portland restaurants that fall under the Thai cuisine category on Yelp. We really don't NEED another Thai restaurant (what we need is more Chinese food, but that's for another post...). But, this abundance also means that you can find some pretty amazing Thai food in Portland.
And my current favorite Thai restaurant is Farmhouse Kitchen Portland.
Farmhouse Kitchen Portland
Chef Kasem Saengsawang and his wife Iing Chatt opened the first Farmhouse Kitchen in San Francisco in 2015. Two years later, they opened Farmhouse Kitchen Portland on Southeast Hawthorne.
The food here is described as "not your typical Thai food." Chef Saengsawang says many of the recipes have been passed down through his family over the generations.
The Farmhouse Kitchen San Francisco location received the Bib Gourmand nod from Michelin Guide for 2016-2017. So I was especially excited to try their food in Portland.
Farmhouse Kitchen Thai Cuisine: a Happy Place
The decor at Farmhouse Kitchen Portland can best be described as happy pop. Bursts of color pop out from everywhere -- the walls, the plates, the food, the cocktails, the lighting. There's a lot to look at, everywhere you look.
From the vibrant tuk tuk that greets you at the front door to the almost sapphire blue wall with faucet spouts sticking out, the visual feast inside the restaurant is a prelude to the visual feast headed to your table.
The menu at Farmhouse Kitchen Portland is just about the right size. It's not too overwhelming to be confusing, but also not too small enough to be lacking in diverse options. This is a menu that truly offers something for everyone in your dining party.
With Portland Dining Month 2020 coming up March 1 - 31, I thought I'd re-share the Dining Month meal we enjoyed at Farmhouse Kitchen during Portland Dining Month 2019. You can find all of these same items on the regular menu.
Note that portions and plating might be different when you visit.
Start with the Tom Kha Soup ($8/$14). This coconut milk-based soup is my favorite Thai soup. The Farmhouse Kitchen Portland version has mushroom, tomato, galangal, kaffir lime, lemongrass and long coriander. You can choose tofu or vegetables at the standard price, or add organic chicken for $1 or shrimp for an extra $4.
Note: the portion pictured above is a tiny surprise starter portion that we got during our visit for the last Portland Dining Month. Normal half size and full size portions are larger!
Thai food appetizers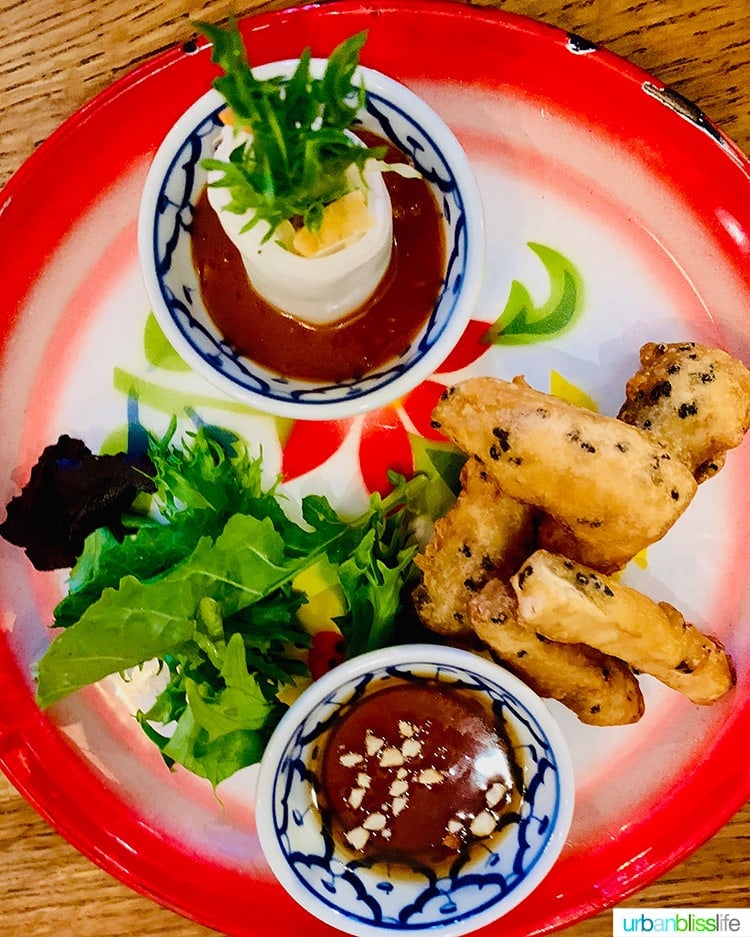 The Vegan Fresh Rolls ($9.95) are a delicious starter. This dish is easy to split between two people as an appetizer. Inside a fresh rice paper roll is Ota Tofu, mixed green, bean sprouts, mint, cilantro and Vermicelli noodle. It's served with a yummy chili peanut sauce.
The plate pictured above has two apps on it: Neua Num Tok Rolls ($13.95) and "Mieng Kum Kung" ($12.95).
Neua Num Tok rolls have beautifully grilled Snake River Farm Wagyu Beef wrapped with mint, cilantro, and cucumber. This is served with a cilantro lime vinaigrette.
My fave appetizer at Farmhouse Kitchen Portland is the Mieng Kum Kung. Crispy crusted prawns, leafy green wrapped with a zesty mixture of lime,
ginger, onion, roasted coconut & peanuts with Tamarind sauce.
Farmhouse Kitchen Thai Cuisine: Main Entrees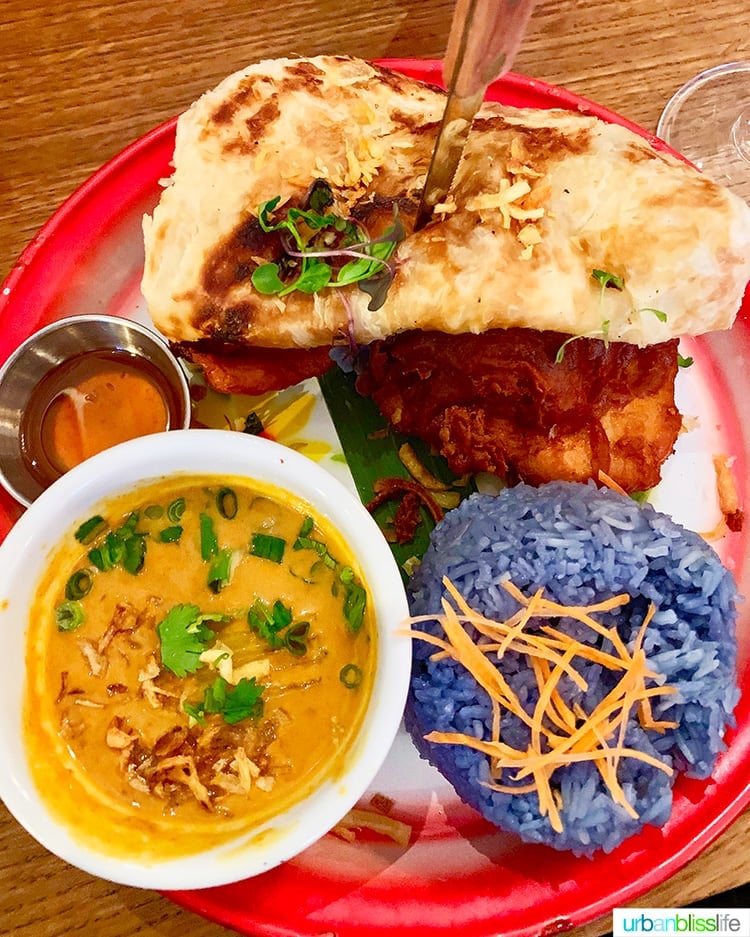 The signature main dish at Farmhouse Kitchen Portland is the Hat Yai Fried Chicken ($24). Hat Yai fried chicken is famous around Portland. And rightfully so: it's absolutely delicious.
This Southern-style fried chicken is made with Mary's Organic Chicken breast, turmeric & herbs, fried shallots, yellow curry for dipping, Roti Bread & Blue Rice. It's an incredible mix of crispy crunchy and velvety smooth.
The Pad Ka Pow ($13.50) is also a great option for your main course here. Thai basil, garlic, bell pepper, chili is beautifully topped with crispy pork belly and a fried egg. This dish is also served with blue rice, as well as a small cucumber salad.
Thai Dessert
Farmhouse Kitchen Portlan serves traditional Thai desserts you don't normally see on menus. The Khao tom mud and Takho Anchan are both vegan and gluten-free.
Khao Tom Mud is a banana leaf stuffed with sweet coconut sticky rice and steamed banana.
The Ta-kho Anchan is a blue coconut pudding. I like that it's not too sweet, and a nice palate cleanser to end the meal.
What wine to order with Thai food
The wine list at Farmhouse Kitchen Portland is nicely curated. You almost can't go wrong choosing one of any of the nine wines they offer. The outlier might be the Malbec, which I would suggest choosing only if you're ordering one of the beef dishes.
My preference is the Vermentino Aia Vecchia ($12 glass/$55 bottle). It pairs so beautifully with all of the dishes you see above, as well as most of the other Thai food dishes at Farmhouse Kitchen.
You'll also find a nice selection of beer that will pair well with most of the food at this Portland Thai restaurant.
Dine at Farmhouse Thai Portland
Does Farmhouse Kitchen Thai Cuisine take reservations? Yes! I highly recommend making reservations in advance, especially if there are more than two people in your party.
What should I wear to this Portland restaurant? Dress is casual here (it is Portland, after all). However, it's also a place you can feel comfortable dressing up a little, if your heart desires.
Is this a kid-friendly Portland restaurant? Yes. There are two items on a small kids' menu. It's also a casual, sometimes boisterous place, so kids can feel comfortable being kids here. That said, some seating can be a little tight, so if you have a kid that needs to move a lot, you might want to try going first right at opening time for lunch or dinner, when there's more room.
3354 SE Hawthorne Blvd
Portland, OR 97214
http://www.farmhousethai.com/portland/
HOURS:
Monday - Friday: 11 am to 2:30 pm, and 5 to 9 pm
Saturday 12 noon - 10pm
Sunday 12 noon - 9 pm
More Portland Restaurants
PIN IT: