If you're after some of the best tapas in Portland, Oregon, look no further than Bar Casa Vale. This cozy, Spanish tapas bar has mouthwatering dishes along with an impressive wine and cocktails menu.

Jump to:
Tapas in Portland - Bar Casa Vale
Looking for a low-key, hip night spot in Portland, Oregon that also serves tapas? Check out Bar Casa Vale.
Located in Southeast Portland near the curved intersection of SE 9th and Sandy Boulevard, this cozy bar is dark, intimate, and super chill. Grab a table by the bar, or snuggle up by the outdoor fire.
Bar Casa Vale is perfect for date nights or a late night after-dinner spot with friends.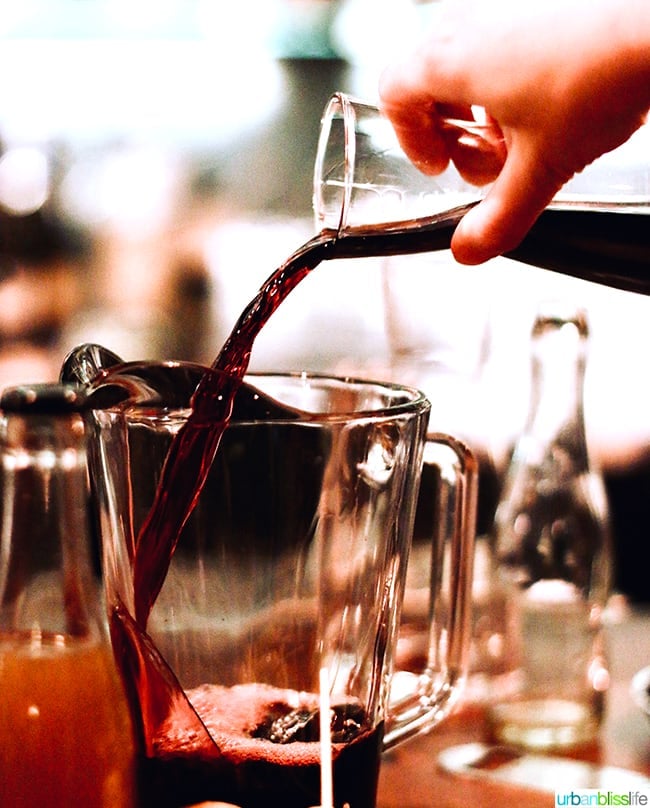 What drinks to order at Bar Casa Vale
The bar program focuses on an impressive list of 30+ Sherry and fortified wines.
You'll also find massive gin & tonic cocktails, more than a dozen Latin-influenced cocktails, and well-curated beers and ciders.
And that pitcher of sangria pictured above? You can get that too for $27/pitcher or $9/glass.
Tapas Snacks (Pintxos)
If you're stopping at Bar Casa Vale for drinks and a quick bite, order off of the top section of the menu. You'll find a dozen snacks that are hearty enough to satisfy your immediate hunger, but won't leave you feeling stuffed.
Here's a look at some of the Pintxos we enjoyed on this night.
Fried Olives ($6) with sobrasada and piri piri mayo are bite-sized starters that are perfect accompaniment to one of Bar Casa Vale's wines or cocktails. It's shown here with the larger plate of Turmeric Fried Chicken.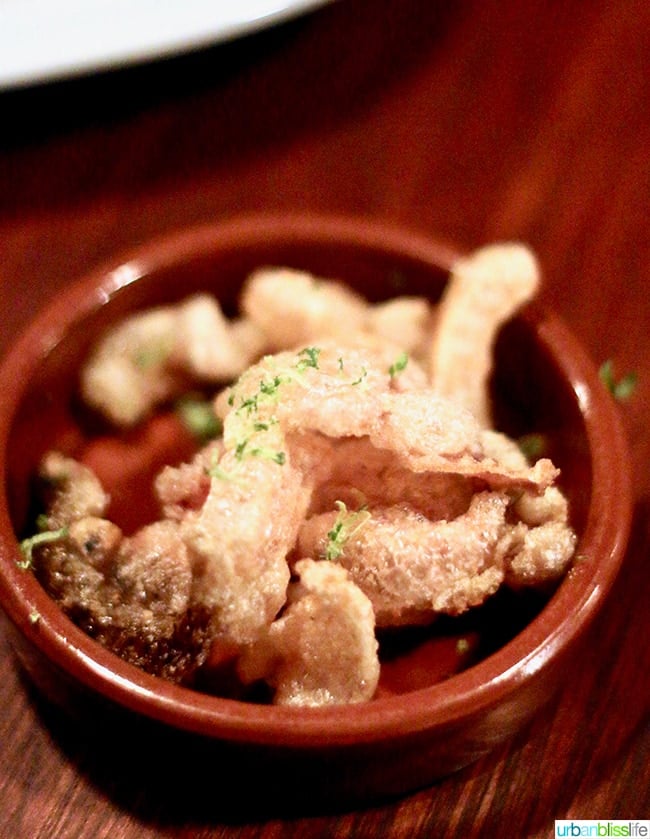 The Chicharrones ($6) at Bar Casa Vale are served with dried shrimp and lime. They're as crispy as you want them to be, and I love the bit of sweetness you get with the lime.
Anchovy Two Way Montadito ($5). If you don't think you like anchovies, but you haven't had them in a while, you need to try this dish. Anchovies are so delicious, and enjoying them with two different preparations and sauces really helps you see the potential in these little fishes that pack a flavor punch.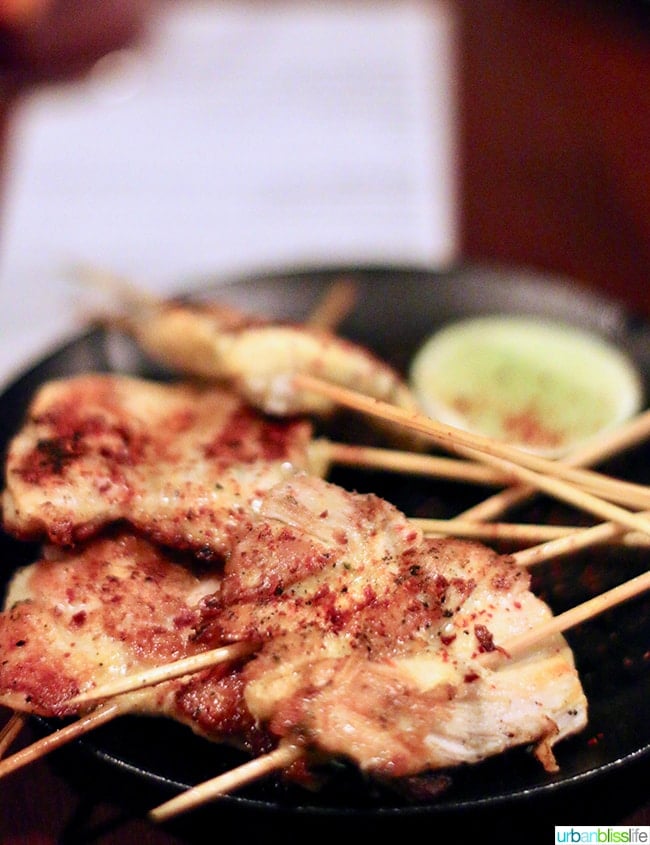 If you're looking for starters that are slightly more substantial, go for the Black Cod Skewers or the Chicken thigh skewers ($7) with turmeric. Both are grilled up nicely and have lots of spice in each bite.
Smaller Tapas Plates
If you're at Bar Casa Vale with a few friends and plan to stay a bit, I suggest ordering a few Pintxos, and then a few Tapas to share. These are medium-sized platings that are perfect to share between 2-4 people. This is some of the best tapas in Portland!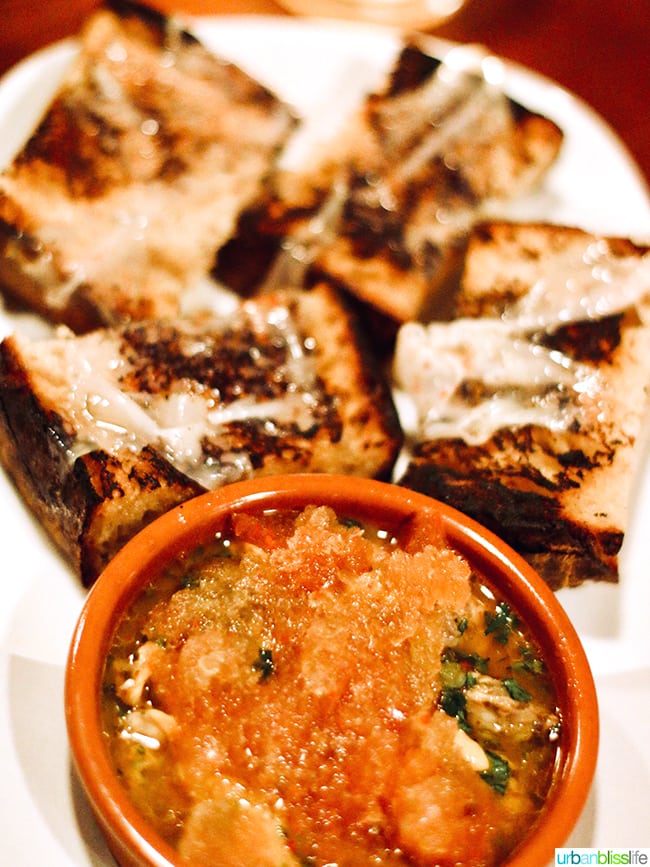 Grilled Flatbread ($9) - this one was served with clams conserva. So good!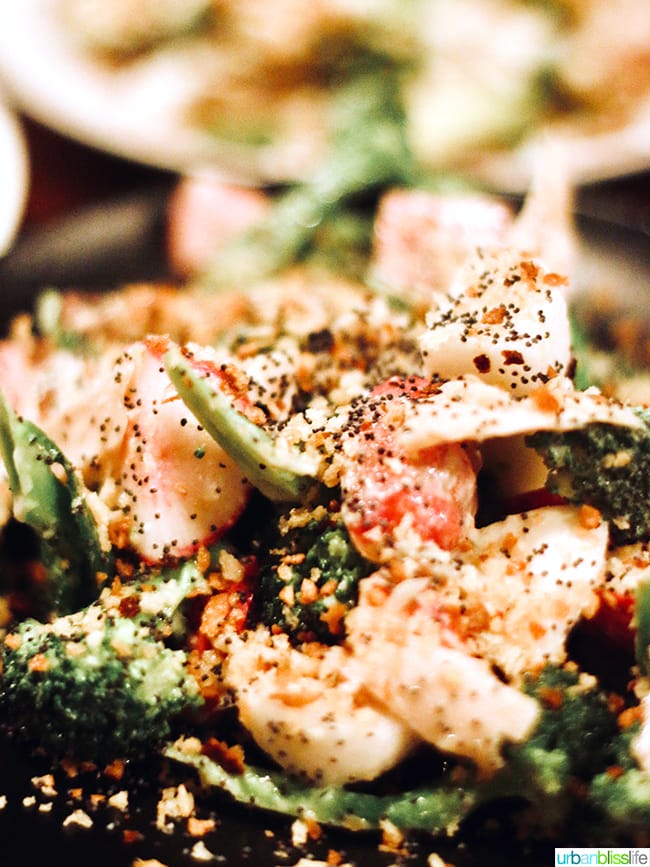 Broccoli Salad ($10) with tonnato, radish, turnip, lovage, poppyseeds. If you love salads with a hearty crunch to them, then you will love this one!
Frito Mixto ($12) delicata squash, sweet onion, garrotxa, black pepper. I really loved this veggie tempura spin. The breading was not overpowering and the flavors of the veggies really came out. The garrotxa (cheese) was generously sprinkled on top and added a lovely final touch to each bite.
Carrots en Vinagreta ($10) with sunflower, black garlic, feta, avocado and grapefruit. I have to admit: I wasn't sure about this one when it was set in front of us. But, I loved it. There's a nice balance of crunchy and soft textures, a little hit of spice with the black garlic and then some tang with the grapefruit.
Large Tapas Plates (Raciones)
While this is an excellent spot for late night drinks and tapas, you could enjoy a really nice, satisfying dinner at Bar Casa Vale, too.
If you're here for dinner, or have a larger appetite, Bar Casa Vale offers a selection of larger plates in the Raciones menu section. These would be great to share, or you can enjoy them as your main course.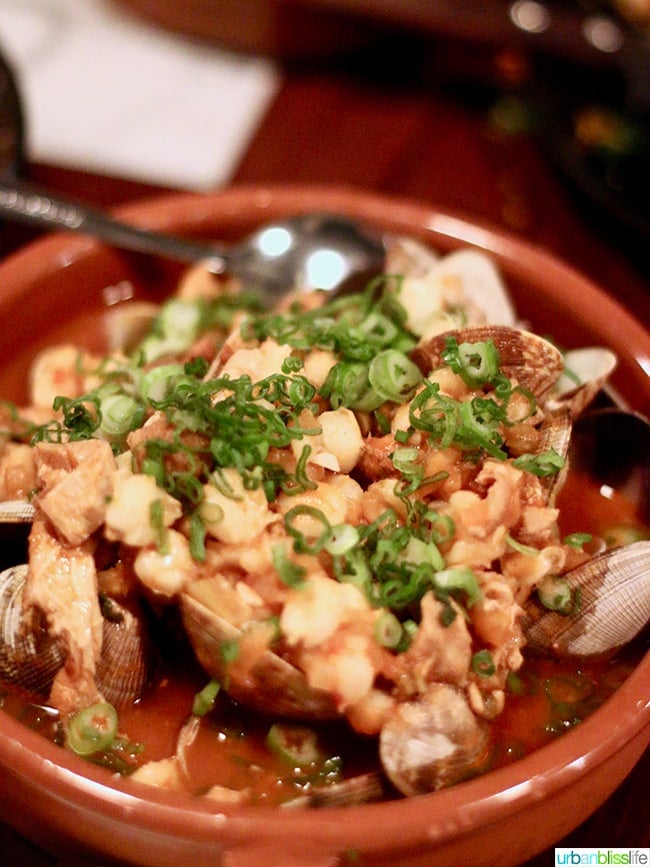 Steamed clams ($16) with spicy tomato braised tripe, chickpeas. I really loved this dish. The chickpeas added a nice depth and the tomato based broth gave it all such nice flavor.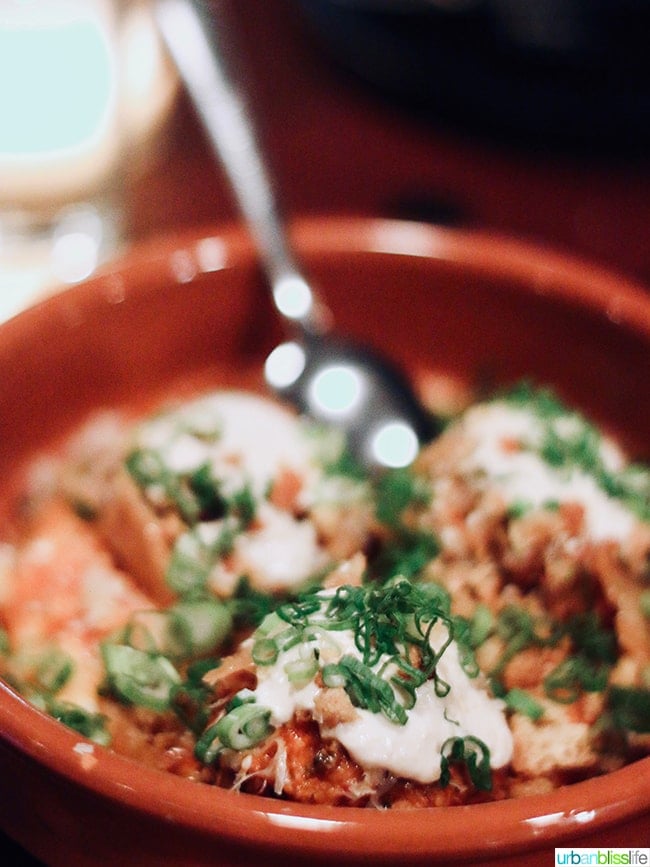 Albondigas ($14). These were chicken meatballs with flint corn, tahina, miti-crema, and - here's the crazy fun and delicious bonus round ingredient - crispy chicken skin.
This is definitely what I would order again with a group of friends! Or, I'll just be unapologetically selfish and eat a whole order by myself.
Grilled lamb neck ($35) is something I keep seeing pop up on Portland restaurant menus... and so far, I think I like it.
At Bar Casa Vale, they serve grilled lamb neck with green wheat harira and salsa verde. This is a dish you will want to share with a few friends - it's filling, but worth every bite.
Dine at Bar Casa Vale Restaurant
Bar Casa Vale has become my favorite place to enjoy tapas in Portland. It's such a fun, relaxed vibe. And the food continues to be amazing!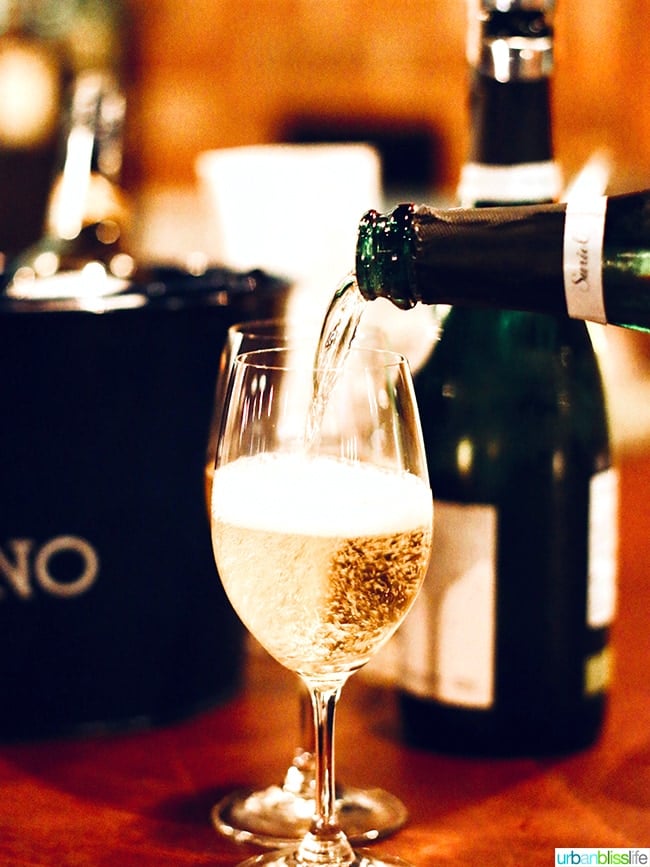 SE 9th & Pine
Portland, Oregon
503.477.9081
info@barcasavale.com
Get the Bar Casa Vale Menu here
HOURS:
4pm - 10pm
Dinner: 5pm - 10pm
Happy Hour: 4pm - 6pm (Mon - Sat)
Late Night Happy Hour: 10pm - 11pm (Mon - Sat)
Paella Sunday: 4pm - 10pm
For more info visit the Bar Casa Vale website.
Have you been to Bar Casa Vale? What did you think and what was your favorite dish and drink?
If you haven't been yet, what dish here intrigues you the most?
More Portland Restaurants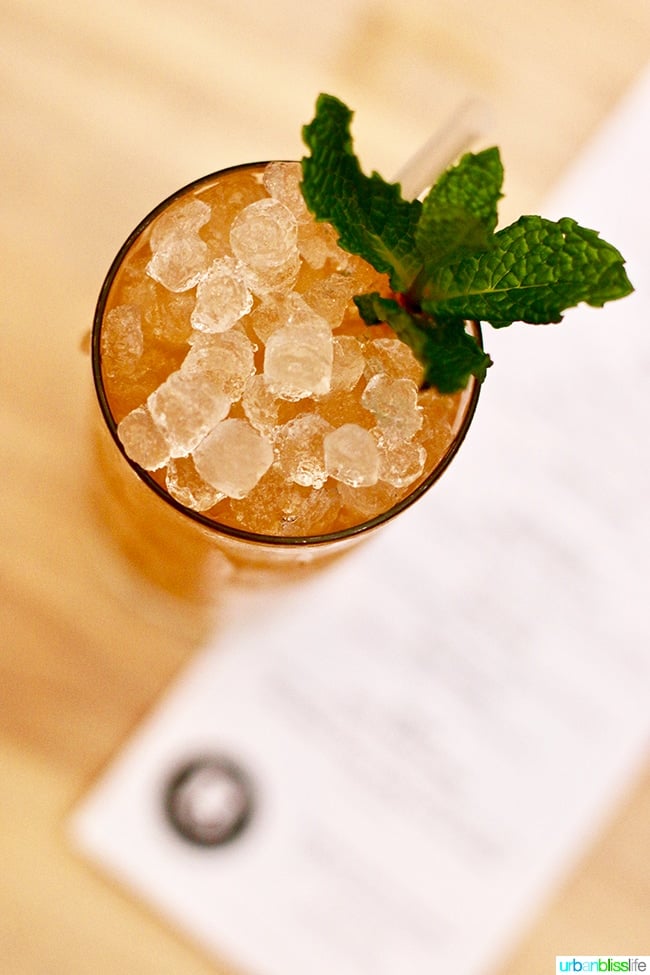 Radar restaurant - North Mississippi, Portland, Oregon
Raven and Rose - Downtown Portland, Oregon
Buckman Public House - Southeast Portland, Oregon
PIN IT: