UPDATE May 2022: Radar restaurant is now closed permanently.
If you find yourself on or near North Mississippi Avenue in Portland, Oregon, be sure to make your way to Radar restaurant. This sliver of a hot spot packs a beautiful, delicious punch in its cozy, compact space.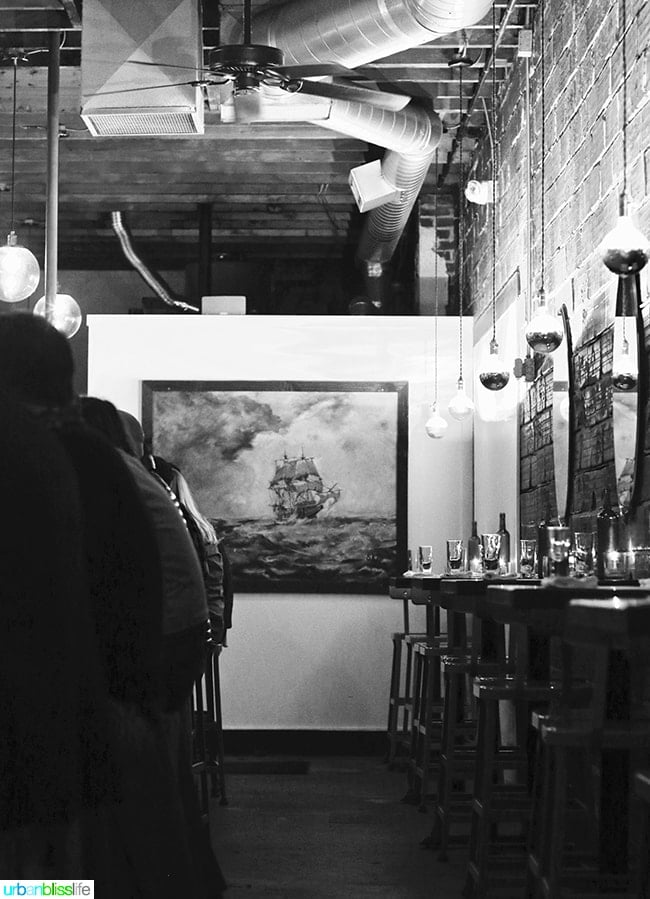 It was a dark and stormy night the first time I wandered into Portland's Radar restaurant on North Mississippi Avenue.
Literally: dark and stormy. The night sky was silky black and the relentless Portland rain blew sideways against my face (no umbrellas for this Portland native). The 6pm moon was smiling seductively through the clouds as if it were midnight, and I didn't trust it one bit.
Just when it felt like I was about to enter a bad B-movie horror flick, I stepped into Radar and the scene changed.
Looking for a place to eat and drink in Portland, Oregon? Be sure to read the full Urban Bliss Life Portland Restaurant Guide!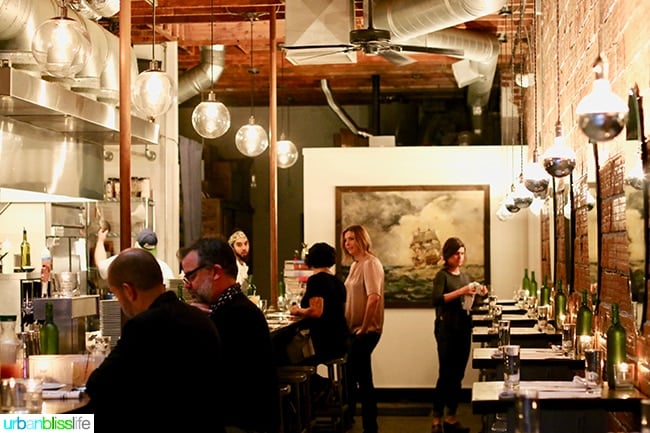 With the closing of the door behind me, I was met with the welcoming, warm glow of flickering candles like lanterns calling the ships to shore in the storm. The restaurant embraced me with exposed brick, intimate seating areas, and a peacefully buzzing open kitchen.
The storm was forgotten, and I happily cozied up inside the sweetest neighborhood bar I've seen in some time.
Radar: A Portland, Oregon restaurant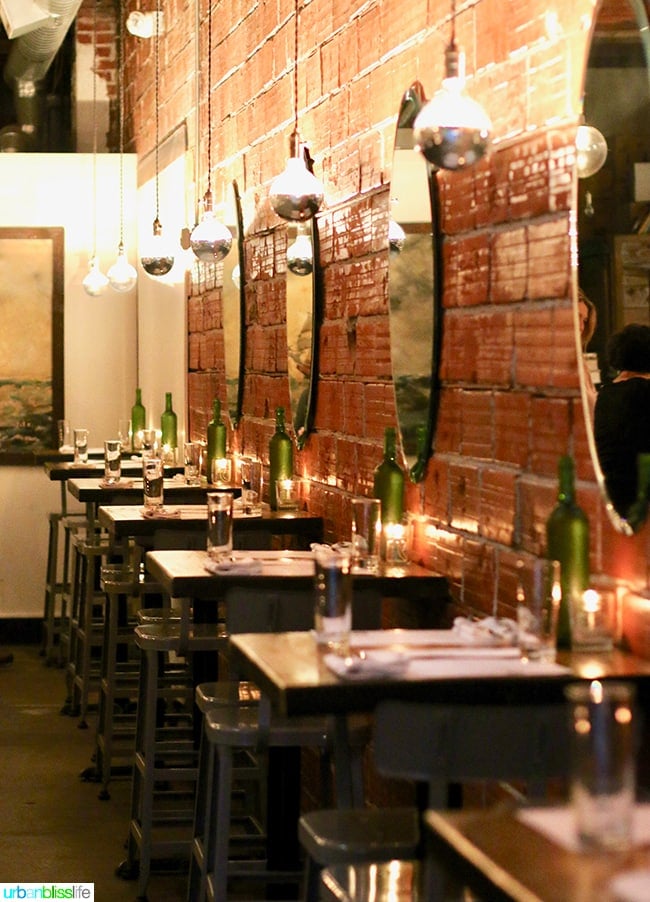 If you don't know where Radar is, you might miss it: it's a sliver of a restaurant wedged between other businesses on bustling North Mississippi Avenue. The name is etched above the thin door, but there's so much noise on this street now - literally and figuratively - that it quietly blends in.
It would be a mistake to miss this place. Radar is an inviting bar and restaurant that serves Northwest food with Scandanavian influences, plus inventive, mighty tasty cocktails.
Run by wife-husband team of Lily Tollefsen and Jonathan Berube, Radar is named after Tollefsen's father - Skip Radar Tollefson. A Long Island-based restaurateur and artist, he painted the large nautical painting hanging on the back wall of the restaurant.
Skip Radar - he was clearly cool long before names like Skip Radar were cool. His namesake restaurant lives up to that coolness.
PDX Cocktails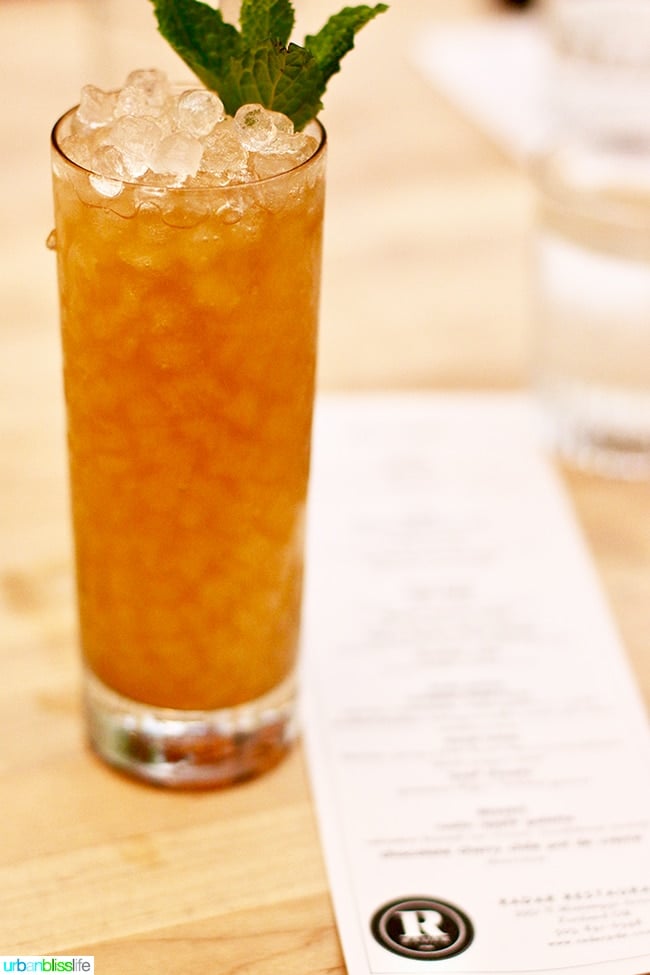 Radar's galley-like space is flanked on the left by a long bar. Behind that bar, Lilly Tollefsen serves up beer, cider, wine, and a half dozen or so expertly crafted cocktails.
During our visit, I tried the Fairgame cocktail ($11). This tall beauty has Appleton rum, sherry, lime, marmalade, and mint. A rum drink warmed me right up.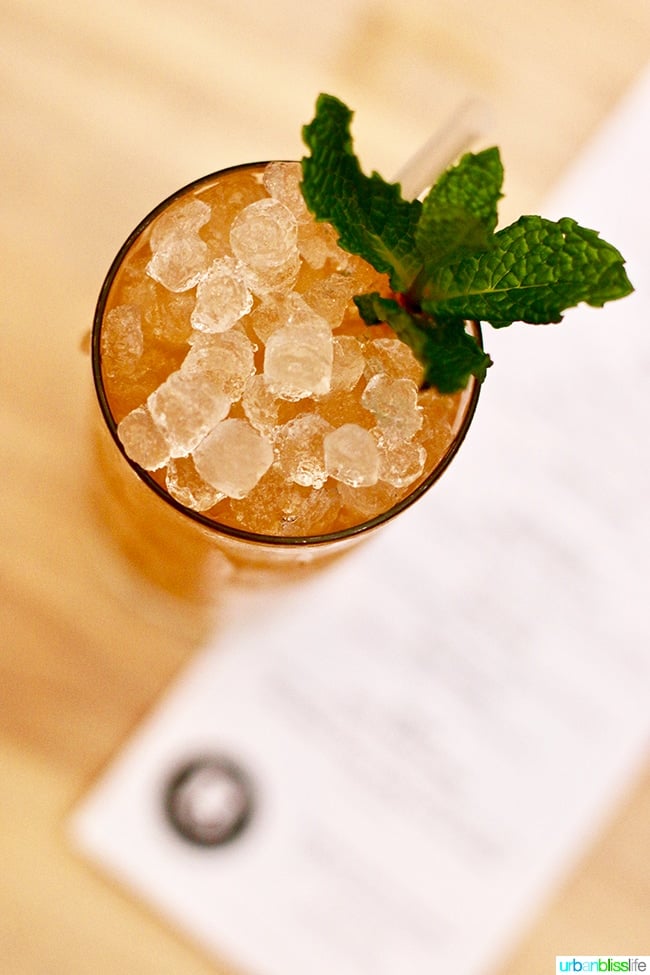 Salads
All of the plates at Radar are meant to be shared. I felt like the portions were enough for two people to share 2-4 plates and call it a meal.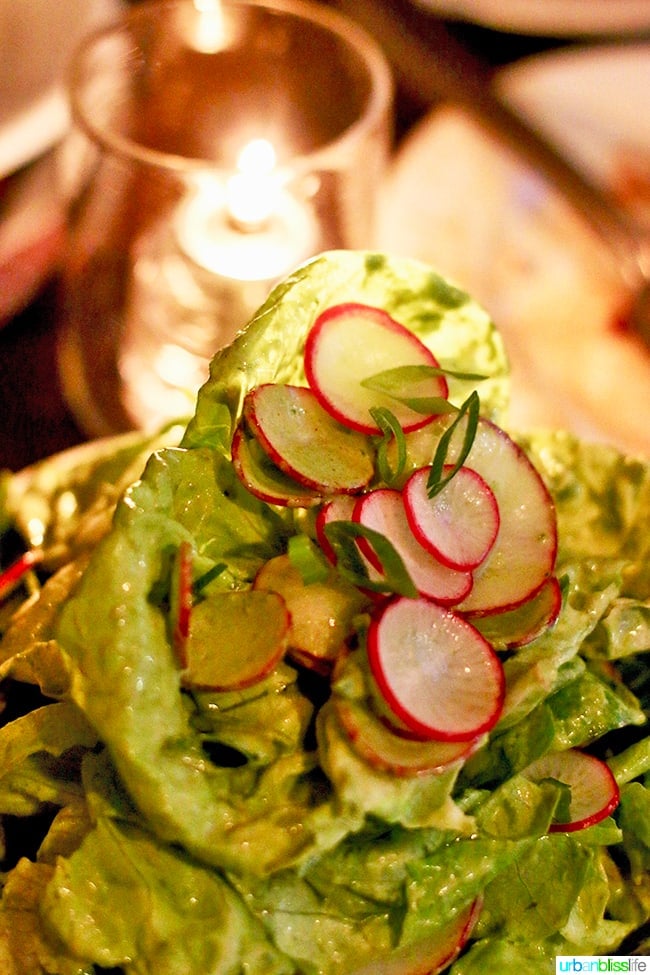 Unlike some other restaurants that offer salads as an after thought, I found the salads at Radar to be thoughtful and just as delicious and filling as the other dishes.
The Butter Lettuce Salad (pictured above; $11) with shaved radish, scallion, and green goddess dressing was just enough to satisfy immediate hunger cravings. Butter lettuce with radish is one of my favorite salad combos, so I loved this one.
Small Plates
Deviled eggs are definitely finding their way onto almost every restaurant menu again - and I love it.
Radar restaurant's Deviled Eggs Three Ways (pictured above; $6) are a nice offering of creamy eggs topped with bacon, piquillo, and trout roe.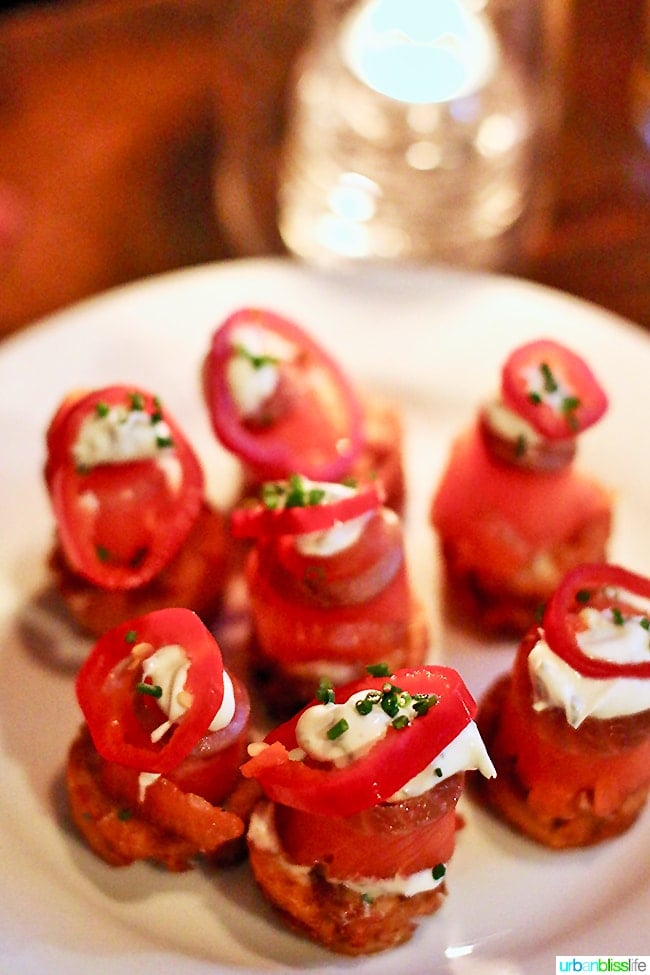 Try the House Gravlax, which is potato cakes with pickled fresno chile, and topped with herbed crème fraiche. I definitely recommend this dish!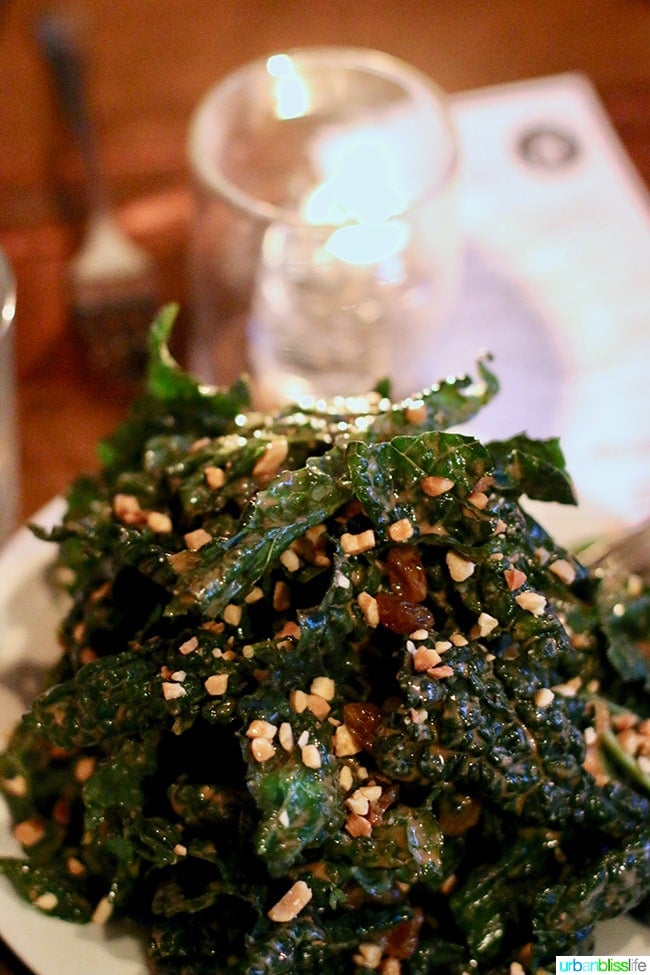 The Lacinato Kale Salad ($12) is made with sultanas, mint, and topped with an absolutely delicious peanut dressing.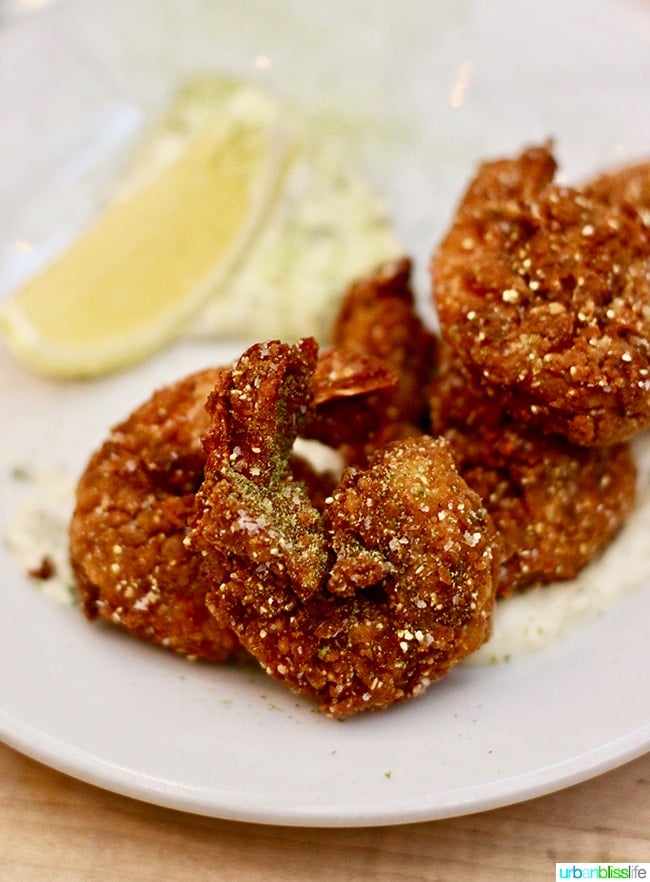 Ras El Hanout Fried Shrimp ($13) is served with preserved lemon aioli and shishito powder. The shrimp is coated with a nice thick crunchy coat.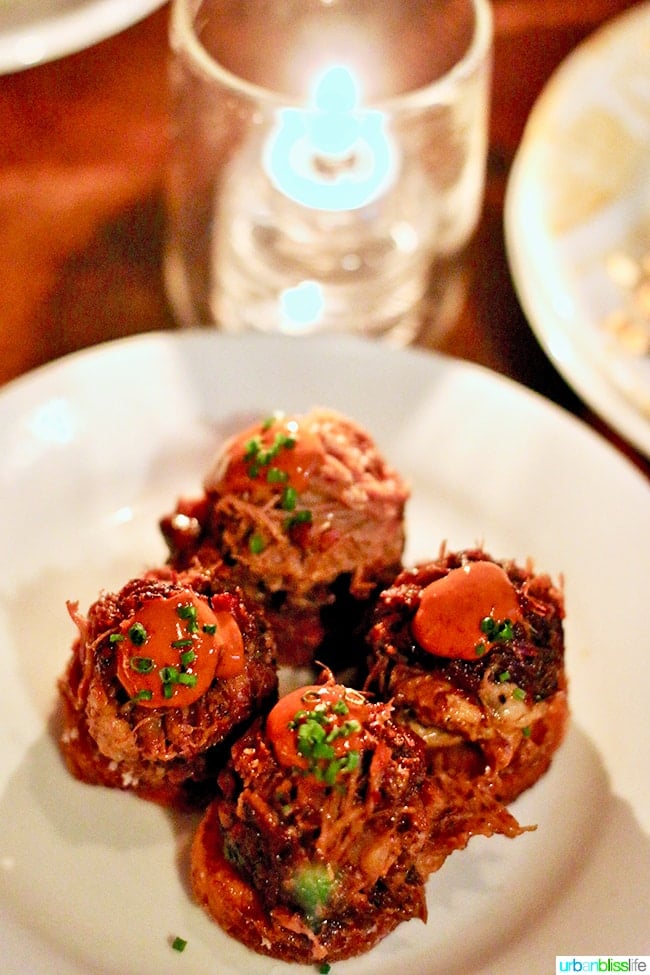 One of my faves of the night was the Smoked Pork Shoulder ($8). At Radar restaurant, it's served on grit cakes and topped with a chile purée.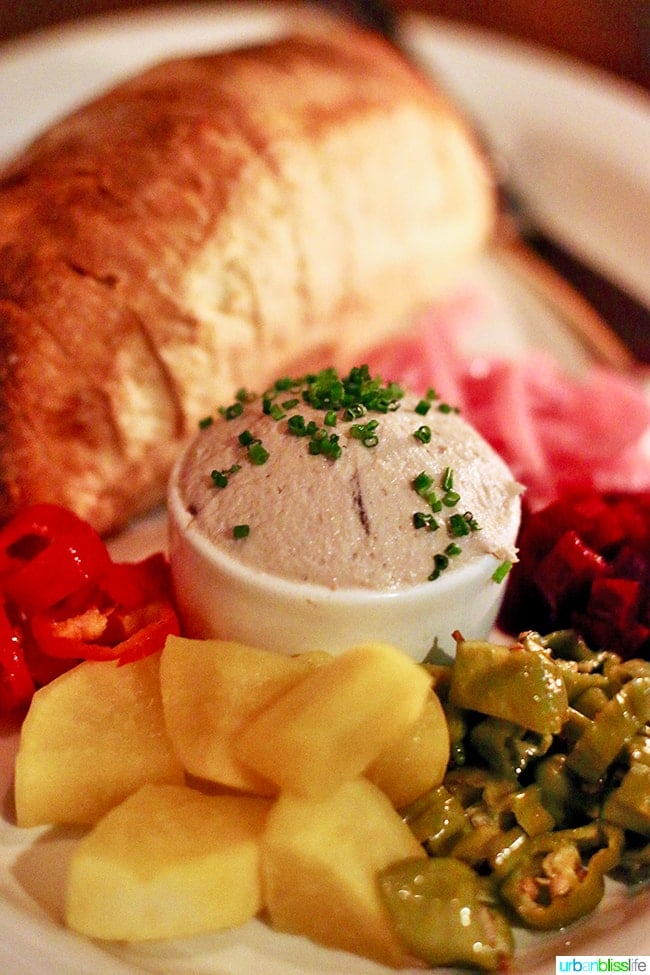 Try the Smoked Bluefish Patê ($15) with house pickled vegetables and house bread. It's a specialty here; they fly in smoked bluefish from the Northeast each week.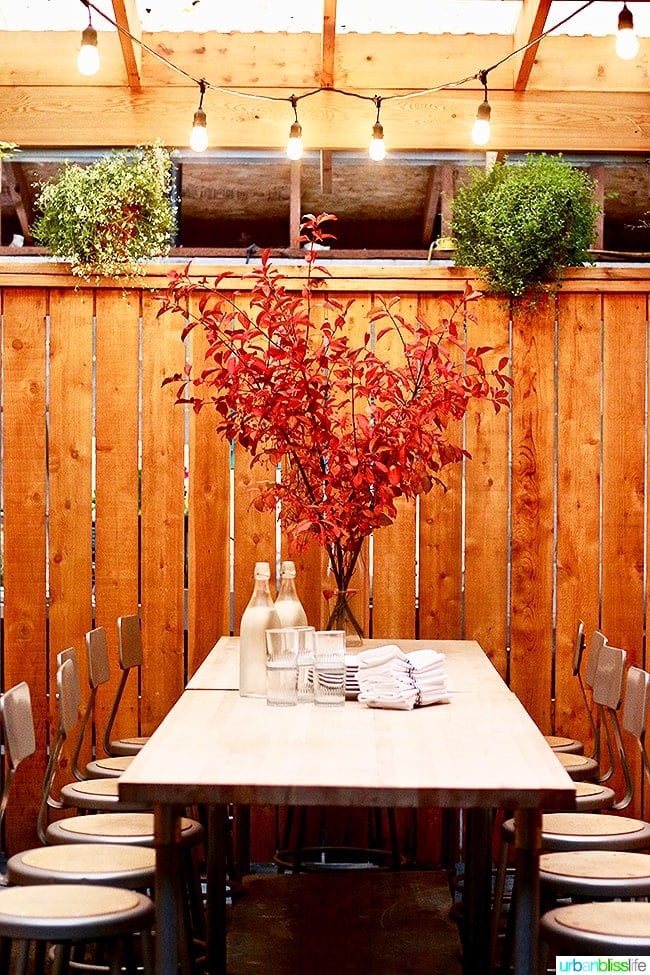 Radar also has a long table out back in a cute little covered area. Perfect for groups!
I have also heard that this is THE brunch spot to go to now. But, I have not yet had the pleasure of eating here for brunch yet. Soon! If their brunch is as delectable as their happy hour and dinner, I'm sure it's amazing.
Visit Radar restaurant
Now that I know Radar exists, I won't walk past it again. Tuck into this cozy space for a drink with your honey. Meet the girls for a couple of drinks and a boatload of yummy snacks and call it dinner.
Or, if you find yourself maneuvering the busy streets of North Mississippi Ave on a dark and stormy night, slid right up onto a bar stool solo and treat yourself to a soul-soothing solitary meal.
UPDATE: Radar restaurant is now closed.
More Portland restaurants
Looking for a place to eat and drink in Portland, Oregon? Be sure to read the full Urban Bliss Life Portland Restaurant Guide!