This restaurant is unfortunately now closed. If you are interested in more Portland restaurants, please visit our
Portland, Oregon Restaurant Guide.
Raven and Rose restaurant in the historic Ladd Carriage House in downtown Portland, Oregon serves upscale Northwest cuisine inspired by great gastropubs of the British Isles.
Living in Portland, Oregon is a blessing and a curse. I love living in such a foodie and wine-loving town – however, it's absolutely impossible to get to all of the awesome restaurants and wineries in this lifetime.
Raven and Rose is one of the many restaurants I've been meaning to visit since it first opened in 2011. Recently, I had the opportunity to dine here as part of a sponsored #OregonWineMonth campaign with Travel Oregon and the Oregon Wine Board. It was such an incredible experience, I knew I had to cover the restaurant in full, on its own, here on Urban Bliss Life.
Raven and Rose restaurant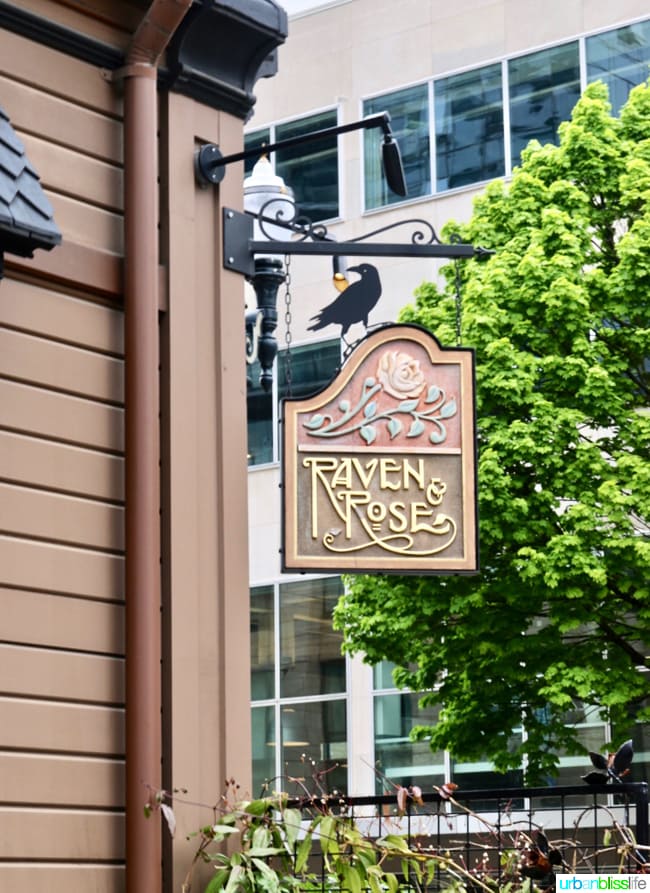 Raven and Rose Restaurant and the upstairs Rookery Bar are located in the historic Ladd Carriage House. In 2011, the Mygrant family purchased the building and began construction on the restaurant. The space and the menu are inspired by owner Lisa Mygrant's experience living and cooking in England and Ireland.
The gastropub feel permeates the large restaurant space, from the glossy weathered dark wood tables to the thick columns to the open kitchen and bar.
Starters
Our meal at Raven and Rose restaurant was amazing from start to finish.
We decided to start with the Beetroot Salad and the Farm Greens salad.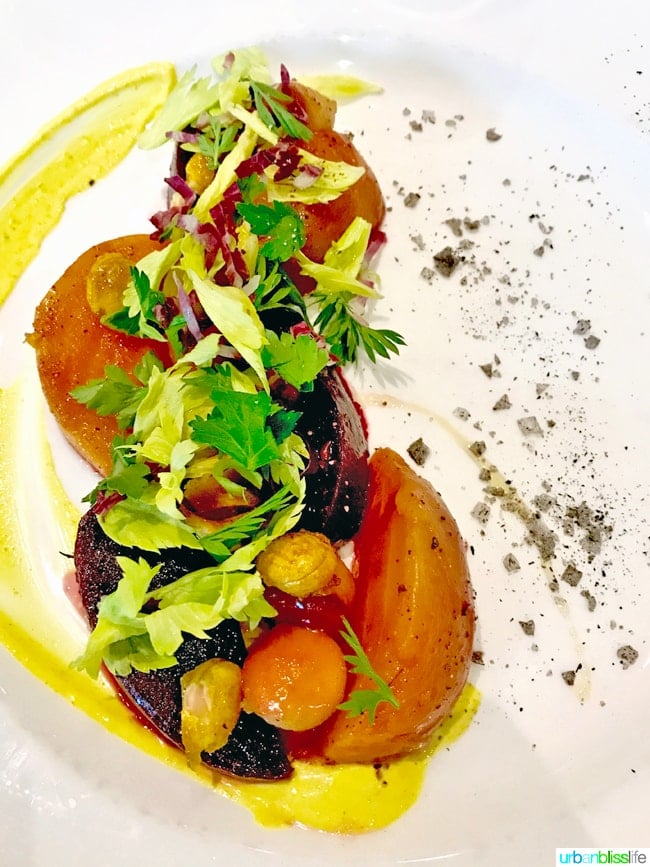 The Beetroot Salad ($13) had perfectly prepared, fresh roasted beets, apples, Marcona almonds, was drizzled with honey and served on a streak of curried yogurt cream. The blend of the tangy and the sweet flavors, along with the soft and crunchy textures, was just right.
If you're dining at Raven and Rose alone, or just here to meet a friend for drinks, I recommend ordering the beetroot salad. I loved this salad so much, I wanted to lick the plate (but restrained, this time...).
My husband enjoyed the Farm Greens ($11), which had a nice mixture of lettuce and spinach, with sliced radish, carrots, and mixed lightly with a zinfandel vinegar. It was topped with freshly grated cheese and some cobnuts.
The dish that surprised me the most, in a good way, was the Ballymaloe chicken liver pâté ($14). I was expecting a little pat of pâté with some bread. Yet what arrived was a beautiful feast: a mini mason jar full of buttery, rich, heavenly pâté adorned with greens and sliced strawberries. It was served with rustic bread and a paprika-sprinkled hard boiled egg.
I have had quite a few different pâtés in town, and so far: the pâté at Raven & Rose is my favorite.
Main course
Finally, my husband and I split the Fisherman's board (market price; ours was $38).
An artisan platter packed with beautiful, inventive, delicious seafood, the Fisherman's board items change frequently, based on what's in season and available. Our Fisherman's board at Raven and Rose included:
grilled octopus
pickled & grilled mackerel
BBQ prawns
trout roe
salmon tartare
cod brandade
oysters diablo
The salted cod brandade were like two fried cod poppers expertly seasoned. I could have eaten a whole plate of these alone.
The salmon tartare topped with trout roe was an elegant addition to the rustic board.
My favorite item on the Fisherman's board: the BBQ prawns. These were salty, tangy, sweet all at once, and made me long for summer days outside enjoying some beer and BBQ.
Alas, it was a rainy spring night, and during Oregon Wine Month, so we enjoyed this lovely feast with some of Oregon's finest wines.
The wine
Raven and Rose was recognized as being an A-List Restaurant by the Oregon Wine Board. This means their wine list has "a significant presence of Oregon wine, typically representing a variety of styles and producers, with the listing clearly designating the wine's Oregon origin."
During the month of May - Oregon Wine Month - Raven and Rose restaurant is offering a special Oregon white wine flight.
This flight includes one new style Chardonnay, one old wine style Chardonnay, and one wild & crazy, experimental fun Chardonnay:
2015 Goodfellow Family Cellars Chardonnay from the McMinnville AVA
2013 Bergström Wines Old Stones Chardonnay from the Willamette Valley AVA
2014 Smockshop Band Winery blend (98% Chardonnay, 2% Pinot Gris) from the Columbia Valley AVA.
I love how you can definitely taste the difference in style and personality in this flight. It's a great example of the variety you can expect from Oregon wines. Our favorite was the Bergstrom Chardonnay - elegant, smooth, sophisticated. I enjoyed the Smock Shop as well.
You can find some crowd favorites and lovely, hard-to-find Oregon wines on the Raven and Rose restaurant wine list. If you are dining here, I highly recommend enjoying a glass of Oregon wine with your meal.
Visit
We loved Raven and Rose restaurant, and I'm so glad we finally were able to dine here. It's a fabulous downtown Portland spot for date nights, special occasions, and work dinner meetings. The Rookery Bar located on the second floor is fun & casual, and the restaurant is beautiful and attire is dressier than most Portland restaurants. You can still wear jeans, but we saw mostly suits, dresses, and nice blouses. Like most restaurants, you can certainly bring kids; however, I wouldn't take busy & noisy toddlers or really active younger kids here (mine used to be busy & noisy, so I know!). Tweens and teenagers might enjoy it; in fact, there were a few prom night diners when we were here.
1331 SW Broadway
Portland, Oregon 97201
www.ravenandrosepdx.com
HOURS:
Dining Room
Lunch : Tues - Fri, 11:30 am - 2pm
Dinner: Tues - Sat, 5pm - 10pm
Sunday Brunch: 10am - 2pm
The Rookery Bar | 21+
Tues, Wed, Thurs, 4pm - 10pm /Friday, 4pm - 12am / Sat, 5pm - 12am
Happy Hour
Tues - Fri, 4pm - 6pm, In The Rookery Bar only
More Oregon Wine Month ideas
Wine Bliss: Angela Estate Winery
A Blissful Oregon Wine Month Experience
Wine Bliss: Domaine Divio
The meal my husband and I enjoyed here was complimentary as part of a separate sponsored campaign for #OregonWineMonth via Travel Oregon. As always, all opinions and photos are my own.