During Oregon Wine Month, enjoy special wine flights, pairings, and events throughout the state at participating wineries, restaurants, and event venues.
May is Oregon Wine Month - an entire month devoted to the celebration of my home state's incredibly talented, delicious, diverse wine industry!
If you follow me on Instagram, you may have seen some of my Oregon Wine Adventures last week. I also had the pleasure of doing a write-up for Travel Oregon.
It's impossible to include all of the amazing special tastings, tours, and events happening throughout the state this month, but the Oregon Wine Board has the full details. For a more intimate look at what you can expect, here's a review of how I spent the first week of Oregon Wine Month, as well as some wine tasting suggestions tips!
Collaborative tasting events
A time- and cost-effective way to sample several wines without bouncing all over town is to attend one of more than a dozen collaborative events happening during Oregon Wine Month. I love events because I get to revisit old favorites and also find new wineries to love!
Pour Oregon
The first annual Pour Oregon, presented by Cellar 503, helped kick off Oregon Wine Month while raising money for Make-A-Wish Oregon. The event showcased 40 boutique wineries from throughout the state, and the room was organized by wine regions, making it easy to visualize which part of the state each winery is in.
Revisited Old Faves: Fullerton Wines, Keeler Estate, Maysara Winery
New Discoveries: Analemma wines
Taste Dundee
At Taste Dundee, I sampled wines from 25 Willamette Valley wineries, enjoyed light bites, and live music.
I revisted an old fave which remains a fave: Angela Estate. Their Pinot Noir is always stunning (read more about Angela Estate). One new fave that I discovered at Taste Dundee: Methven Vineyards 2014 Pinot Noir. My friend and I purchased a half case to split and take home. Can't wait to share this new find with friends!

Taste Dundee had some of the best bites I've had so far at collaborative wine events this year. Food -and LOTS of it- are a necessity at wine events! Some fave bites included the mini roast beef from Red Hills Market and the pulled pork from Babica Hen.
More events are happening this month! Check out OregonWineMonth.org for a full listing of future events.
Restaurant wine flights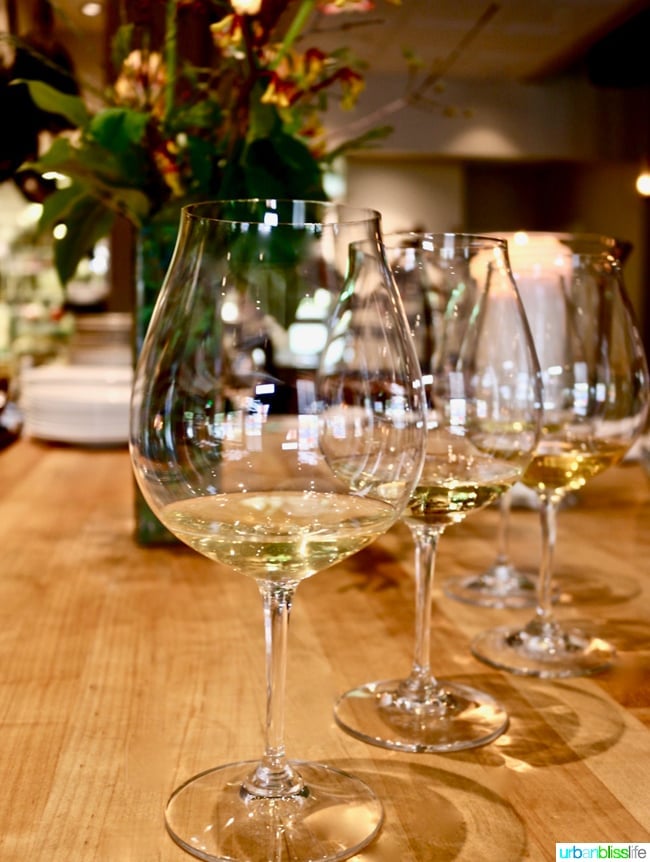 Because our state is so rich in amazing wines, it's no wonder that many Oregon restaurants have exceptional wine lists. During May, many A-List Restaurants - restaurants with top Oregon wine lists - are offering special wine flights.
One of the A-List Restaurants is Raven and Rose.
In May, they are offering a special white wine flight, consisting of:
2015 Goodfellow Family CellarsChardonnay from the McMinnville AVA
2013 Bergström Wines Old Stones Chardonnay from the Willamette Valley AVA
2014 Smockshop Band Winery blend (98% Chardonnay, 2% Pinot Gris) from the Columbia Valley AVA.
I'll have a full restaurant review of Raven and Rose coming up in the near future!
You can view a list of A-List Restaurants in Oregon with top wine lists.
Winery tastings & tours
And of course, May is an amazing month to get out to the wineries themselves for wine tastings and wine tours.
Most wineries throughout the state experienced bud break - when the new vintages break through with little buds that will become the vines - within the last month. So now you can see the beautiful buds starting to flower and vines grow. It's a gorgeous time to be in wine country!
Many Oregon wineries are offering Oregon Wine Month specials in their tasting rooms. In the south Willamette Valley/Eugene area, a fun and interactive way to explore this wine region is to play Pinot Bingo! Visit PinotBingo.org to find a list of participating wineries, grab a Pinot Bingo card, then get stamps toward rewards with each winery visit!
Grab a Passion for Ribbon Ridge passport and special RR AVA pinot noir logo glass for tastings at 11 participating wineries every weekday in May (excluding Memorial Day).
Mention Oregon Wine Month at participating Eugene Urban Wine Circuit wineries for a 2-for-1 wine tasting flight. And all month long, wineries are opening their doors for rare tastings and barrel openings.
My Oregon Wine Tasting Month so far
Here are some spots I have visited so far this month:
King Estate Winery
80854 Territorial Hwy
Eugene, Oregon
KingEstate.com
I've loved King Estate wines for a long time and visiting the winery at last was an amazing experience. I'll be doing a full write-up on King Estate Winery soon!
Hawks View Cellars
20210 SW Conzelmann Rd
Sherwood, Oregon
HawksViewCellars.com
I call this my "neighborhood" winery, since it's just about 3 miles away from home. Owner AJ, Tasting Room Manager Dan, and crew are just the best, and Hawks View has an amazing view with great indoor and outdoor areas.
I've written about Hawks View Cellars quite a bit; click that link to see a listing of past articles.
J. Scott Cellars
520 Commercial St Unit G
Eugene, Oregon
JScottCellars.com
One of Eugene's urban wineries, J.Scott Cellars is producing a large number of varietals, in small batches - and I love it. Their Tempranillo is popular for good reason, but they've also got an Albarino that is perfect for summer sipping. And, they've just released a Vermentino, which is a varietal I have never tried from an Oregon winery before. I'll have a full write-up on J. Scott Cellars soon, too!
Hazelfern Cellars
4008 NE Zimri Drive
Newberg, Oregon
HazelfernCellars.com
Hazelfern Cellars had a super fun Derby de Mayo party last weekend. It was a mashup of Cinco de Mayo and the Kentucky Derby! There were games, tacos from Tight Tacos, catering from Biscuit and Pickles, a photo booth, and Derby raffles with amazing wine prizes.
Read about Hazelfern Cellars here and about a past Hazelfern Cellars event here.

Tips
As someone who writes about wine, lives in wine country, and goes wine tasting and attends wine events several times each month, here are some tips that can help make your Oregon Wine Month adventures fun and successful:
Plan ahead. Check out winery and restaurant websites and their social media channels ahead of time. Watch for special tastings, tours, flights, and events. Some wineries may be closed for special events on certain days.
Arrange transportation ahead of time. Get a group of friends together and pool your funds to spring for a wine country bus, or car service. Or have a designated driver figured out ahead of time. Since my friends and I are often going to wineries, we try to switch up who the DD will be and rotate, so that no one person gets stuck being Wine Tour Mom or Dad every single time.
Stay hydrated and well fed. During wine country outings, I always pack a cooler with water bottles, crackers, nuts, jerky or salami, chocolates, and protein bars/cookies. When you're at a tasting, consider drinking a glass of water for each full glass of wine you drink.
Use the spit bucket. It took me a while to get used to spitting out wine, but it really is a good habit to get into. When you spit out wine between tastings, you're more likely to truly taste the essence of each wine. This will help you remember which wines you truly enjoyed, and also help you avoid the "these wines are all starting to taste the same" problem. Then you can buy bottles of those wines and enjoy them safely in the comfort of your own home.
Plan to purchase wine. The best tip you can give the tasting room staff when you are wine tasting is to purchase a bottle or two (or more!) of the wine(s) you enjoyed during the tasting. Some tasting rooms do have tip cups, and some do accept personal tips... but your best bet: buy a bottle before you leave.
Join the club. If you fall in love with a winery, their wines, and the people, then do consider joining their wine club. Wine club membership affords you a variety of rewards that vary from each winery, but usually they include a certain percentage off each purchase, invitations to special club only events, discounts off public events, and more.
Wrap up
Okay, friends. Are you ready to enjoy Oregon Wine Month? It's Day 10 so there are still 21 more days left!
Do you plan to partake in any Oregon Wine Month activities, and if so, which ones? If you live outside of Oregon, have you ever been to Oregon wine country or enjoyed any Oregon wines before?
This post is sponsored by Travel Oregon in conjunction with the Oregon Wine Board. As always, all opinions and photos are my own. Y'all know how much I love Oregon wines and Oregon wine country, so you know every word here is from my heart!