UPDATE: The Angela Estate Wine Tasting Room in Dundee, Oregon is now CLOSED. They have moved completely online. You can find all Angela Estate wines online.
---
In the heart of Oregon Wine Country is Angela Estate, a winery with a unique pedigree whose roots stem from South Africa, Kentucky, and Oregon.
When talking about Oregon Wine Country, there is no shortage of stories involving Oregon wine industry pioneers whose wineries are now run by their children, the second-generation winery owners. Nor is there a shortage of stories heralding new wineries sprung forth by innovative wine lovers who have left careers in engineering, dentistry, and other seemingly opposite industries in order to pursue their passion for Pinot.
As the state's winery numbers continue to rapidly increase, we're seeing more and more of a hybrid of these stories - and an influx of winery owners from outside of Oregon. Angela Estate is one such winery, with a fascinating history and cast of characters.
The Story of Angela Estate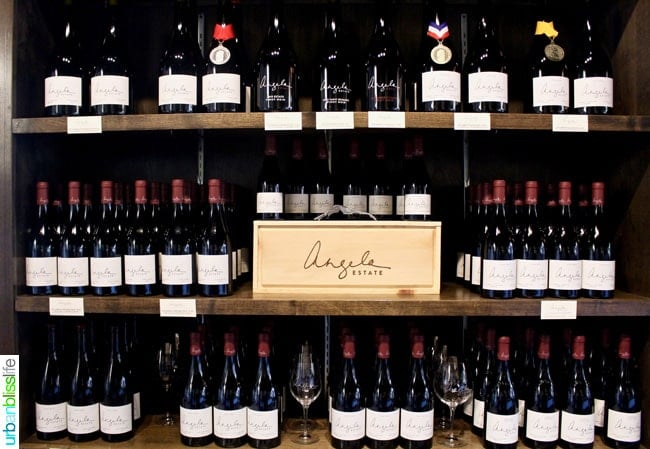 The story of Angela Estate holds roots in South Africa, Kentucky, and Oregon. Antony and Angela Beck, second-generation South African winery owners, co-own the winery. The Becks met Oregon wine pioneer Ken Wright during a charity event in Kentucky, where they currently reside and run one of the country's premiere thoroughbred horse breeding farms. From there, a friendship and the inklings of a new wine project were forged. In 2006, the Becks along with Wright planted the first vines of what is now known as Angela Estate.
The Becks' also own Graham Beck Winery, arguably one of South Africa's most recognizable wineries. Antony's father started Graham Beck winery in 1984.
Graham Beck's Brut Rosé is one of my current favorite brut rosés. It is an incredible sparkling wine consisting of 50% Pinot Noir and 50% Chardonnay. You can usually find this Brut Rosé for around or less than $25.
It's the perfect celebratory sparkling wine. Bright and bubbly, bursting with strawberry aromatics, you'll love the raspberry flavors of this wine that dance on the tongue.
It's dangerously delicious.
During a recent press tour with Angela Estate, we had the pleasure of meeting Graham Beck winemaker Pieter Ferreira (pictured above). Regarding the success of the Graham Beck portfolio of wines, he says "We have a secret ingredient: sunshine."
Angela Estate Wine
While the sun doesn't shine as much in Oregon as in South Africa, Oregon clearly has the climate and terroir to produce world class wines. Most notably: Oregon Pinot Noir. This is where Wright comes into the picture, and where the rest of the Angela Estate story unfolds.
Angela Estate currently is the only wine project for Wright outside of his own vineyard, Ken Wright Cellars. He makes a variety of stellar Pinot Noirs for Angela Estate: Angela Vineyard Pinot Noir, Abbot Claim Pinot Noir, and the Tappit Reserve Pinot Noir. The wines have received notable reviews, including a 92 from Wine Enthusiast for the 2014 Angela Vineyard Pinot Noir ($48). The 2013 Abbot Claim Pinot Noir ($60) also received 92 points from Wine Enthusiast.
They have also released a new limited series of single clone Pinot Noirs (Dijon 777, Dijon 115, Pommard, and Wadenswil clones - all $54 each) which are currently only available in the tasting room or to wine club members.
I tasted each of these during our press visit, and I have to be honest: I loved them all. It is still amazing to me how different Pinot Noirs can taste from one vineyard to another, from one vintage to another. If I had to choose a favorite, it would be the 2013 Abbot Claim Pinot Noir. I love a good rich, broody Pinot. The 2013 Abbot Claim is a medium bodied Pinot Noir with luscious dark fruit flavors and a full, lingering mouth feel - at least, more so than your typical Oregon Pinot Noir. I wanted to grab a bottle and cozy up to the fire with this one. Oh wait: I bought a bottle, and that's exactly what I did not too long ago! ;)
Tasting Room
Visiting the Willamette Valley for some wine tasting? I highly encourage you to stop by the Angela Estate Tasting Room. The tasting room is located right off Highway 99, next to other winery tasting rooms as well. If you are pressed for time and/or don't want to be driving all over the valley to and from various wineries, the closeness of these tasting rooms can't be beat.
If you're lucky, General Manager Jessica Endsworth will be in the tasting room. She is honestly one of the most knowledgeable, most charismatic people I've met in the wine industry. She makes wine tasting 100% fun, highly approachable and relatable, and incredibly informational.
Winemaking is, after all, a labor of love whose products are born from intriguing stories that change with each vintage, begging to be told. Endsworth's passionate descriptions of the wines here are well-matched for the depth and care given to the grapes that become the award-winning Angela Estate Pinot Noir wines.
UPDATE 2021: The Angela Estate Wine Tasting Room in Dundee, Oregon is now CLOSED. They have moved completely online. You can find all Angela Estate wines online.