Domaine Divio in Newberg, Oregon offers beautiful wine country views and delicious Burgundian style wines.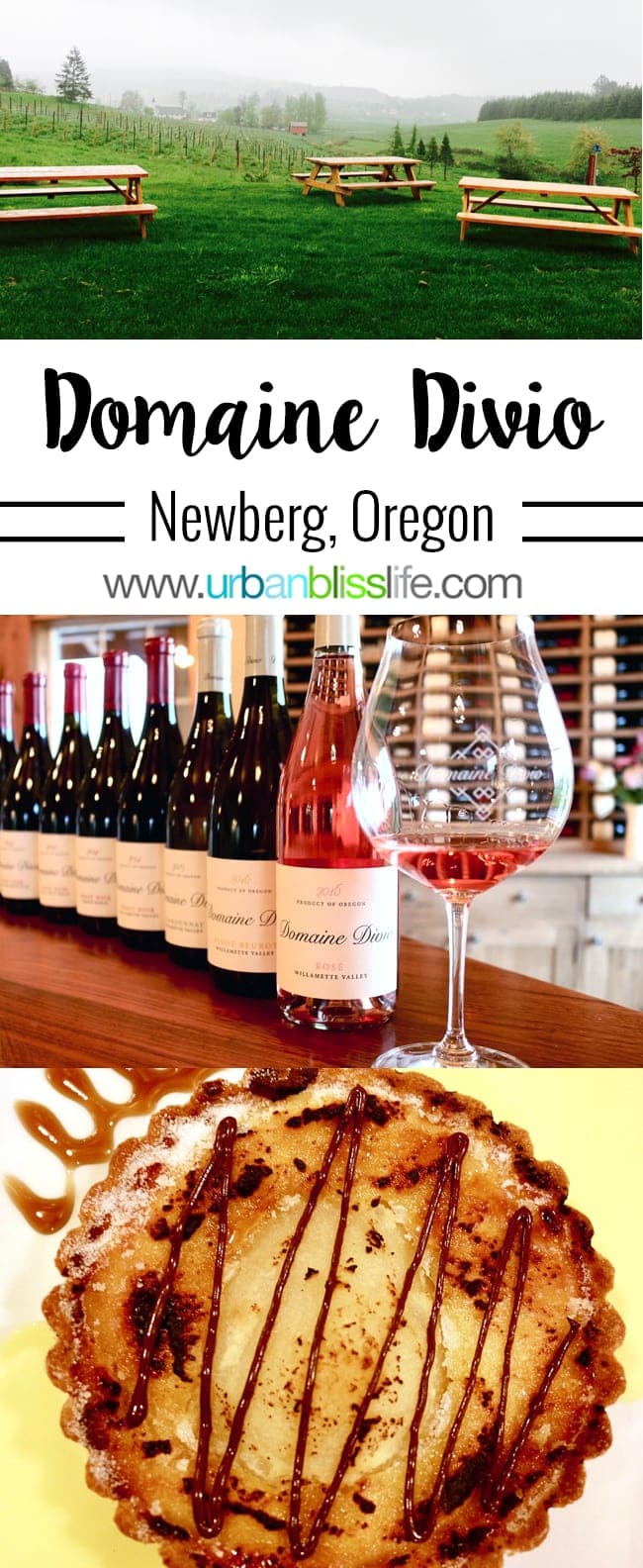 Oregon wine by essence, Burgundian wine by style.
That's the motto behind Oregon's Domaine Divio winery.
Located in Newberg, Oregon, Domaine Divio is part of the Ribbon Ridge AVA - the smallest AVA in Oregon. Nestled in the Chehalem Mountains and stretching from Newberg to Gaston, the Ribbon Ridge AVA is home to 20 vineyards and 12 wineries.
At the helm of Domaine Divio are co-owner and winemaker Bruno Corneaux (pictured above) and co-owner André Weil. Both are from Burgundy and the two met in Dijon nearly 30 years ago.
Bruno, a fourth generation grape grower from Burgundy, and his wife Isabel, fell in love with the Oregon landscape when Bruno first began working as a harvest intern with Domaine Drouhin in 1996. They were determined to make Oregon - which Bruno calls "the Pinot Promise Land" - their new home. In 2014, they discovered the 23-acre property on which Domaine Divio now stands, and began construction of their tasting room and their first vineyard plantings.
Domaine Divio
Current vintages of Domaine Divio wines are made with grapes from different vineyards throughout the Pacific Northwest. The Domaine Divio vineyard consists so far of approximately 11 acres of Pinot Noir and Chardonnay grapes. Bruno expects the first harvest to happen in 2018.
Bruno and his team are committed to being responsible stewards of the land. They focus on sustainable farming practices, and farm their vineyard without irrigation or artificial chemicals.
FUN FACT: Tahitian wines exist? They do! In 1999, Bruno moved to the South Pacific and successfully developed the first 10 acre-vineyard on the island of Tahiti. There, working off of the unique environment, he was able to produce award winning wines.
The winery
Domaine Divio sits on 23-acres, which includes a gorgeous tasting room front and center. Designed by Bruno, the tasting room is a barn-style building which opens up into one large main space made of beautiful wood and stone. The high ceilings and tall center stone fireplace make it an inviting, welcoming place to visit.
The tasting room bar is large enough that you don't feel squished and hurried during your tasting.
The side door opens up into gorgeous outdoor space overlooking the vineyard. Even on a foggy evening, this place seems magical. I can't wait to visit during the summertime so I can grab a bottle of their rosé and sit outside with friends.
The wines
Domaine Divio currently produces chardonnay, pinot noir, pinot beurot, and rosé wines.
The 2015 Domaine Divio Chardonnay is made with grapes from the Willamette Valley AVA, and was awarded 92 points from Wine Enthusiast. This is a buttery, oaky white wine with hints of lemon and toasted hazelnuts. It would be paired well with spring dishes like salmon, asparagus salad, and lemon & herb chicken.
The 2016 Domaine Divio rosé is also a Willamette Valley wine. Like most Oregon rosé of pinot noir wines, this is an ideal spring and summer sipper, full of raspberries and strawberries, and a nice balance of sweet and crisp. Since these were made in smaller production, I made sure to buy a couple to enjoy before they're all gone!
Domaine Divio currently offers four different Pinot Noirs:
2012 Eola-Amity Hills Pinot Noir ($48)
2014 Ribbon Ridge Pinot Noir ($48)
2014 Willamette Valley Pinot Noir ($28)
2014 Chelahem Mountains Pinot Noir ($55)
I love when wineries offer the same varietal from different vineyards. It gives you a good idea of just how much each vineyard has its own style, and how soil, weather, terrain, climate, all affect the grapes.
While I enjoyed all of the Domaine Divio pinot noirs, the Chehalem Mountains pinot noir is one I would definitely try if you get the chance. It received 95 points from James Suckling and 94 points from Wine Enthusiast. This is a bigger pinot compared to most Oregon pinots. It's lush, bold, smooth, and full of ripe cherry.
Events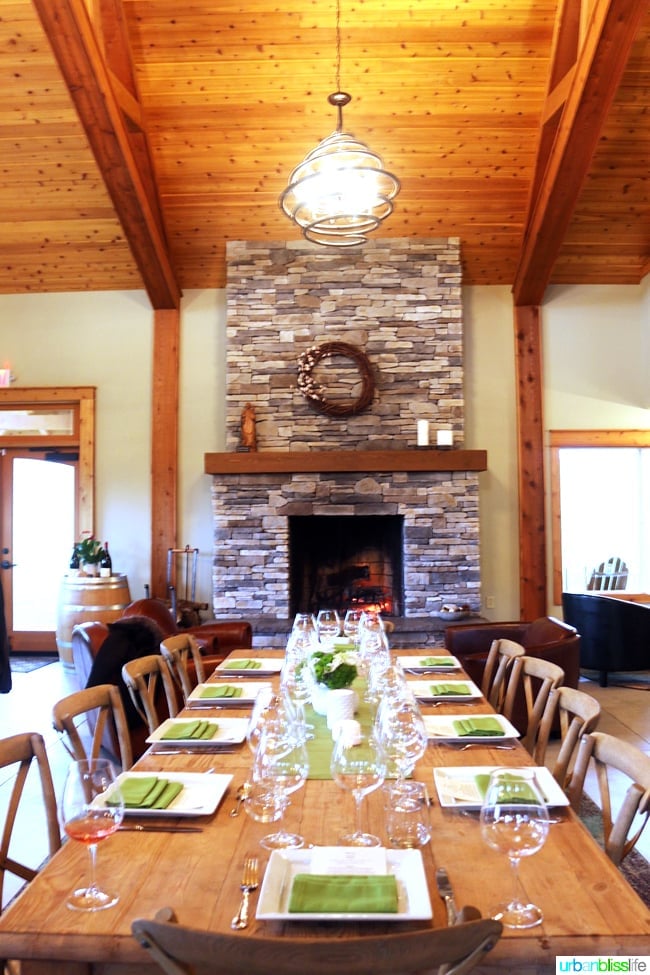 The Domaine Divio space is beautifully set up to host intimate gatherings and large events. All of the photos in this post are from a media winemaker's dinner last month. From Bastille Day celebrations to Labor Day celebrations, all events hosted by Domaine Divio are catered by Chef Christophe Vezinet.
Here's a look at the meal we enjoyed with our wine pairings at the media dinner.
We started with a gorgeous salmon mousse tower called Tian de saumon mariné bourguignon. With caramelized leeks, salmon spread, and avocado purée, this dish is marinated in a slightly tangy citrus and dill sauce. This was paired with the 2015 Domaine Divio Willamette Valley Chardonnay.
Our main course was a classic beef bourguignon. The beef was braised in red Burgundy wine and served with a side of fingerling potatoes and spring vegetables. With this dish, we enjoyed the 2014 Domaine Divio Pinot Noir Chehalem Mountain.
Finally, we ended the evening on a sweet note with pear pouched in Pinot Beurot tarte au gratin. This beautiful pear tart had a frangipane filling, and poached in Burgundy's version of the Pinot Gris grape - Pinot Bueurot.
Visit
16435 NE Lewis Rogers Lane
Newberg, Oregon 97132
503.334.0903
info@domainedivio.com
DomaineDivio.com
HOURS: Thursday through Monday, 10am - 5pm
Tasting Flight: $15, waived with a bottle purchase or wine club sign up
Thanks to Domaine Divio for the sponsored media winemakers dinner. As always, all opinions and photos are my own. I purchased three bottles of wine to take home from the dinner, and cannot wait to share them with my husband and our friends soon!