Buckman Public House in Portland, Oregon has a vibrant cocktail program, and serves artfully presented, creative lunch and dinner dishes in a former high school building.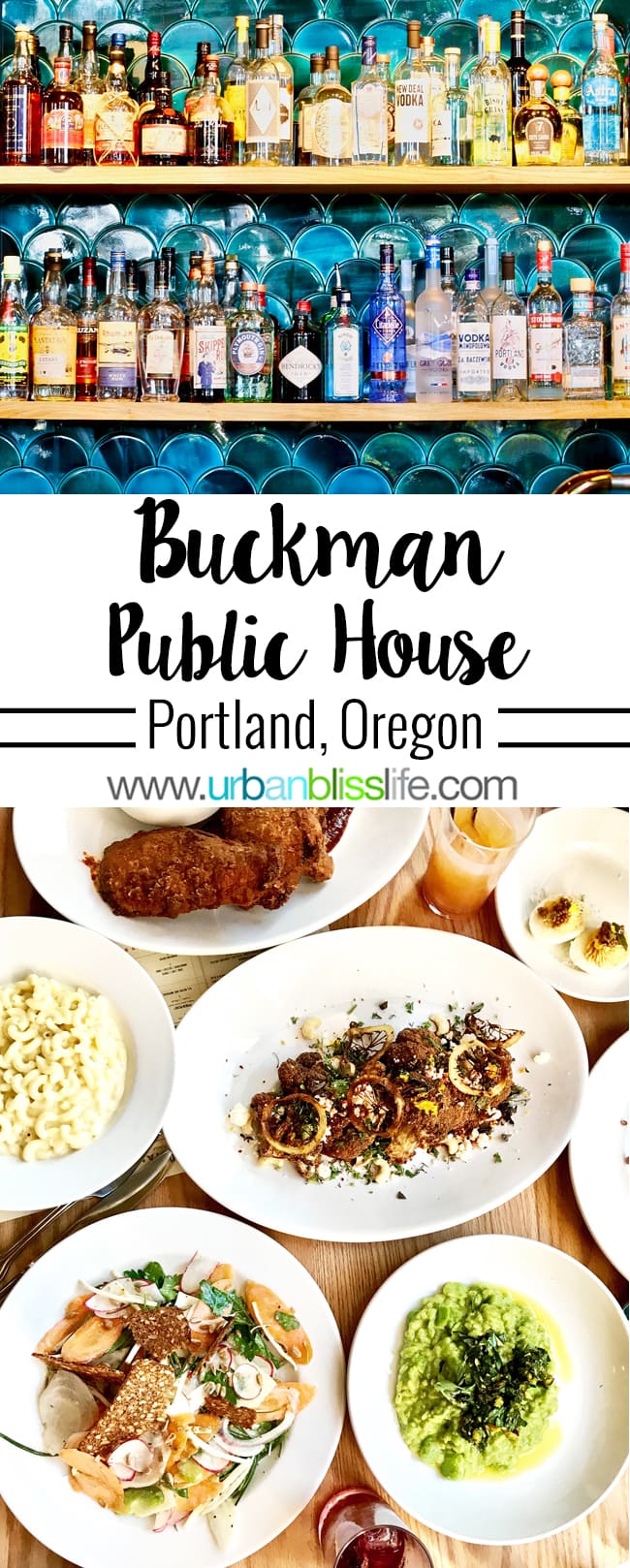 Portland, Oregon may be a young city but there are still so many untold stories and history within the walls of old structures in the midst of the city's massive growth. While many landmarks have been paved over and forgotten, some have been carefully and lovingly preserved in varying degrees.
One of those buildings is the old Washington High School.
I remember Washington High School. I was a kid at the also now-closed North Powellhurst Elementary School in Southeast Portland when it closed in 1981. To walk through the space that was formerly occupied by the school's science lab and boiler room made my heart happy.
Buckman Public House
The renovation project included preserving the historic exterior while updating the interior. I absolutely fell in love with the space itself.
The beautiful ocean blue mermaid tile backsplash in the bar welcomes you in.
In addition to outdoor seating during warmer weather, the L-shaped interior offers plenty of seating throughout the restaurant. Choose from booth seating and open table seating.
I love that there is SO much room between the tables. The higher ceilings also help create an airy open atmosphere, making you feel comfortable and relaxed during your time here.
Cocktails
The cocktail program at Buckman Public House is led by bar manager Pete Maben (Vintage Cocktail Lounge, Raven and Rose) .
You'll find a vibrant selection of cocktails here at Buckman Public House. Sure, you can order beer and wine, but let's face it: cocktails are prettier and sometimes just more fun!
Here's a look at some of the cocktails our group enjoyed during this last visit.
Watermelon Fields Forever ($8) - watermelon, rancio, damiana, lemon and lime. So light and refreshing!
Mr. Blue Sky ($10) - this is Buckman Public House's rendition of a mint julep. Rye and pisco with peach and mint, served over snow cone crushed ice (love!!) with a blue curacao finish.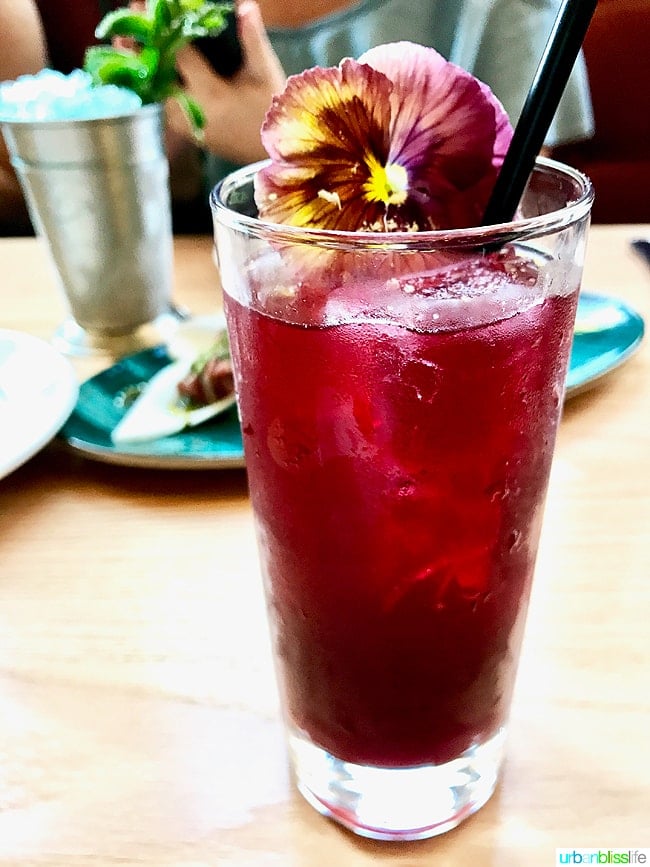 Islands in the Stream ($8) - I can't resist a cocktail with hibiscus in it. This has hibiscus-infused vodka, cocchi americano, lemon, cardamom sugar, raspberry liqueur and teapot bitters.
Food
The Buckman Public House kitchen is led by Executive Chef Jeff Emerson (Tucci, Cafe Castagna, Ava Gene's, Alba Osteria) and Chef de Cuisine Ian Wilson (ex-Chef/Owner of Fenrir).
You could, as I like to do, make a meal just from the starters alone.
They are beautifully presented, artful creations of classic and creative flavors and a happy blending of textures within each dish. Here's a look at the dishes we sampled during this visit.
Deviled Eggs ($5) - picked mustard seeds, chives, horseradish. I LOVE the deviled eggs. The pickled mustard seeds are a nice addition of textures that pop amid the creaminess of the deviled eggs.
Lamb Tartar ($16) - shaved shallots, fish sauce, picked mustard seeds, sauce vert, and endive.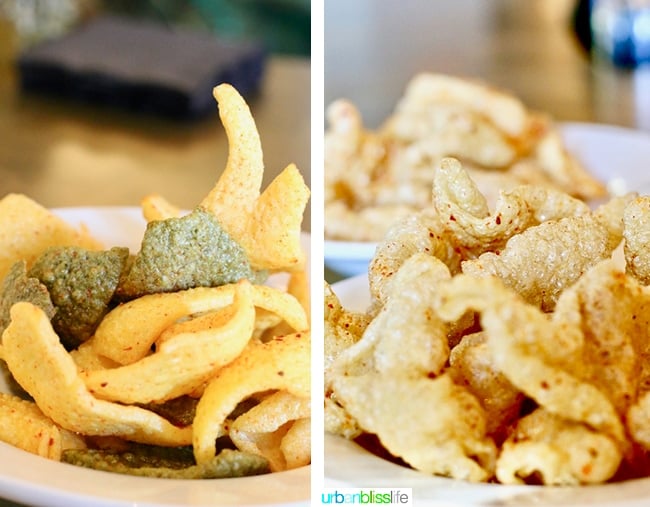 Chicharones - choose from either pork or veggie for $6 each or get a mix of both for $7.
Chop Salad ($11) - carrot, shallot, kohlrabi, fennel, herbs, rye chips, yogurt vinaigrette, sunflower seeds.
The main dishes are just as beautiful and yummy.
Cauliflower ($15) - this stunning dish is a delicious main course, or you can use it as a starter split between your group of four or more. Chili puree, fried lemon, orange zest, cashews, queso fresco, cilantro. This is perhaps the most creative use of the ever trendy cauliflower I've seen in town, and it totally works. LOVE this dish!
You can add pork belly for an additional $4, and I am not sure why we didn't do that... next time!
Green Risotto ($16) - fresh sheep cheese, herb puree, favas, scallion, pistachio pesto. A very green risotto indeed... and very tasty, too!
Griddled McFarland Trout ($22) - salad of fennel, arugula and mizuna, labneh, aleppo chili, and black barley. If you're in the mood for fish, definitely order this dish. It's an elegant main course that is packed with so much flavor.
Fried Half Chicken ($23) - you get your choice of 2 side dishes with this, and we ordered a side of Citrus Slaw and Mac and Cheese. The sides are normally $6 when ordered on their own.
Dessert
You can't leave Buckman Public House without ordering at least one of their delectable desserts!
BOOZY SOFT SERVE, people! Need I say more?
The Boozy Soft Serve ($5) looks like a childhood dream, adult-ified with some Tullamore Dew Vanilla or Black Amaro (or get a swirl!). Topped with confetti sprinkles. Oh my. These are dangerously good!
One more shot of the boozy soft serve, just because.
There are also various dessert specials so be sure to ask your server.
This hazelnut cake torte concoction was a hit with our group. Chocolatey nutty goodness at its finest!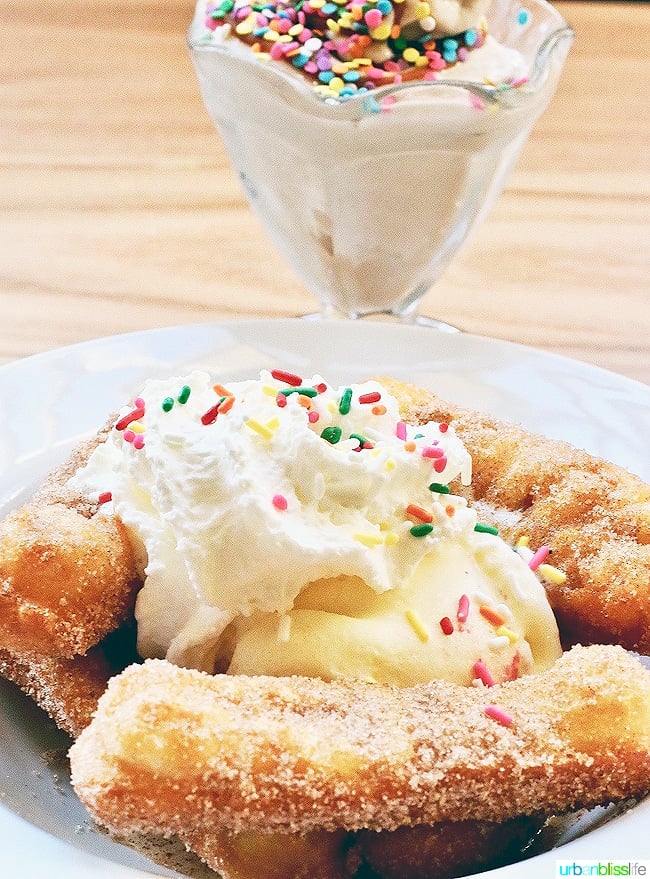 Finally, we devoured this churro ice cream creation. More sprinkles. You can never have too many sprinkles!
Visit
Whether you remember the old Washington High School or not, you're sure to enjoy the new Buckman Public House that now occupies the old space. Go for drinks and apps, or enjoy a full lunch or dinner here with friends. It's totally kid-friendly, too! It's a testament that New Portland progress can be a very good and tasty thing, indeed.
Buckman Public House
1310 SE Stark St.
Portland, OR 97214
503-206-5451
HOURS:
Sunday - Thursday 11am - 10pm
Friday - Saturday 11am - 12am
https://buckmanpublichouse.com/
Which food or drink looks most appealing to you? If you live outside of Portland, what's a renovated building in your area that you love?
More travel food ideas
Trinity (New Orleans, Louisiana)