If you're planning family travel, it can be challenging to sift through the thousands of options for a family vacation rental home. These five basic tips will help you get started on the right track to choosing the one that will suit your family!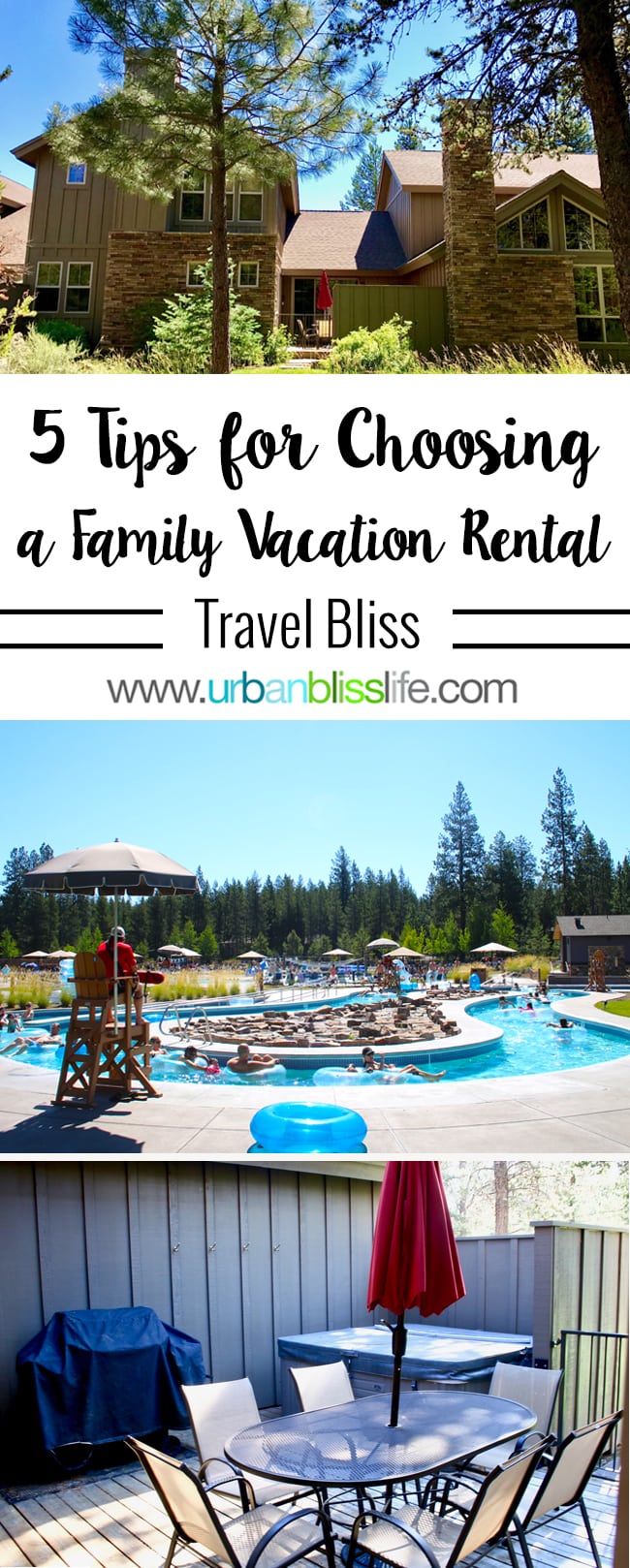 Travel plans in the works? With so many options out there, how do you know which family vacation rental home to choose?
I've been adventuring on road trips, flying around the world, and staying in rental homes my whole life. Now with my own two kids and a dog, I know how challenging it can be to find just the right family vacation rental home.
One of our annual vacations as a family is a road trip 3 hours east to central Oregon. We usually rent a vacation home or condo in Sunriver Resort. It's a gorgeous family-friendly destination full of SO much to do!
---
For more about Sunriver, read my posts about Sunriver Resort, Carson's American Kitchen, and Sisters Saloon.
---
This year, we had the pleasure of working with Cascara Vacation Rentals. They set us up with a BEAUTIFUL vacation home (all of the home photos in this post are from our recent stay!), which truly made me realize all of the things we need to consider when searching for a home away from home! Thought I would share some of the tips that have helped us along the way.
Jump to:
5 tips for choosing a family vacation rental home
Here are my top five tips for choosing a family vacation rental home. These are five things that have helped me personally select the right family vacation rental homes. I hope this helps you and your family on your next trip!
1. Pay close attention to the photos
I can't stress the importance of reviewing ALL of the photos for potential vacation homes enough. This is probably where I spend most of my research time.
When doing an online search, if there aren't several well-lit, clear, recent photos of the house, then I suggest you continue the search. In today's highly visual, online world, all reputable vacation home rental properties have a good selection of photos that showcase the property.
You should be able to see photos of the ENTIRE home: the outside, the street view, the beach/mountain nearby, the kitchen, the bathrooms, the bedrooms, the living space, patio, deck, garage - you name it.
Look at the date of the photos as well, since sometimes places have been renovated - for better or worse sometimes! - and you'll want to know that what you are looking at is truly what you will actually get when you visit.
Note things that might be of importance to you and your particular family:
are there enough beds and are the beds big enough?
does it look like adequate closet space?
do the carpets or hardwoods look clean?
does the bedding look clean and comfortable?
2. Know how much space you're getting
A lesson I've learned in my various vacation rental home stays: square footage never tells the whole story and not all space is created equal.
High ceilings can make a space seem larger and give you more breathing room, whereas low ceilings can make the same space feel confined.
We loved the high ceilings and open air living spaces of our recent vacation rental in Sunriver Resort. Breathing room and space is SO important for families traveling together - especially with a large dog!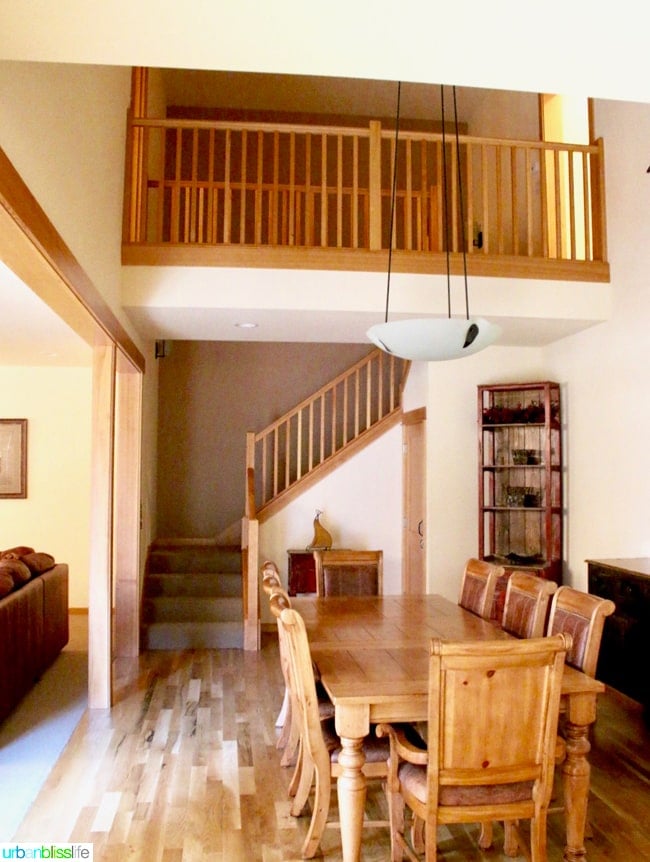 We also loved that the place wasn't crammed full of big furniture. It was designed with lots of traffic flow space between rooms and within rooms, with furniture that left lots of breathing room. Families need a lot of traffic flow space otherwise you'll feel like you're running into each other constantly, and that's no vacation!
You'll also want to note: is there outdoor space, and if so, is it private or shared? Is it completely fenced off (important for pet owners)? Does the patio come with chairs, dining space, a grill, hot tub?
3. Your family vacation rental home should be well stocked
When you travel, it's nice to not to have to pack up your whole house in order to go on vacation.
One of my favorite perks of renting a vacation home is that most come fully stocked with all of your household daily needs. That said, you'll want to check with your rental company to make sure you know exactly what will be waiting for you.
In addition to the basics, such as extra rolls of toilet paper, towels, extra pillows and sheets, we love when there's a fully stocked kitchen with plates, cups, utensils, serving trays. Also look for the kind of small appliances you use daily, like a coffee maker, toaster, and microwave.
Experienced vacation home renters will also stock the home with family-friendly activities such as board games, and a varied selection of books and magazines. Sometimes you'll even find a video game console (call ahead to find out which one, so your kids know to bring their games), foosball table, or yard games like corn hole.
4. Family-friendly activities nearby
It's also important to find a place that as a lot of fun activities you know your family will love within walking distance from your home.
At our rental home in Sunriver Resort, all we had to do was step outside the back patio and a few steps onto one of the many walking trails that leads directly to the main village. In the other direction, the walking trails lead to the SHARC (Sunriver Homeowners Aquatic Recreation Center). Both were just a short 5-minute walk from our rental home!
Our recent Cascara Vacation Rental home in Sunriver Resort came with eight (8!!) passes to SHARC. Perks like this in a vacation rental home cannot be beat!
Having nearby activities helps cut down on extra travel time and let you and your family truly enjoy your vacation to the fullest.
5. Customer service
Finally, look for a vacation rental company that exudes nothing but excellent customer service from the beginning. The level of customer service you receive before you even arrive at your vacation rental home speaks volumes. It's telling of the type of property you are renting and the type of vacation experience you can expect to enjoy.
Before arriving at our vacation in Sunriver, I received a super friendly, welcoming email from the folks at Cascara Vacation Rentals. They also happily responded to my questions about the space and the nearby restaurants with another helpful email. Then, on our way out to the resort, I received an email. It was notifying me of a potential leak issue that was just discovered in the home. They gave me several options, and responded promptly. During our stay, everyone at the rental office and on the phone was friendly, warm, honest, and helpful.
The right vacation rental property company and the right individual renters will help make your vacation all the more relaxing and enjoyable, as it should be.
Happy travels!
Those are just five of the top tips I have for finding the right family vacation rental home. If you have any further questions, I am happy to try to answer them in the comments below!
What about you? What helps you find the right vacation rental home when you travel?
More travel tips
A Travel Blogger's 5 Top Travel Products for 2017
Disclosure: Cascara Vacation Rentals comped our stay at the beautiful home featured here. I highly recommend working with them if you are traveling to Sunriver Resort! We LOVED our rental home and everything about our stay! As always, I was under no obligation to post anything, and all opinions and photos are my own.