Visiting Bend, Oregon? Check out Carson's American Kitchen. Located in Sunriver Resort, Carson's serves up elevated American cuisine with a Pacific Northwest twist in a family-friendly environment.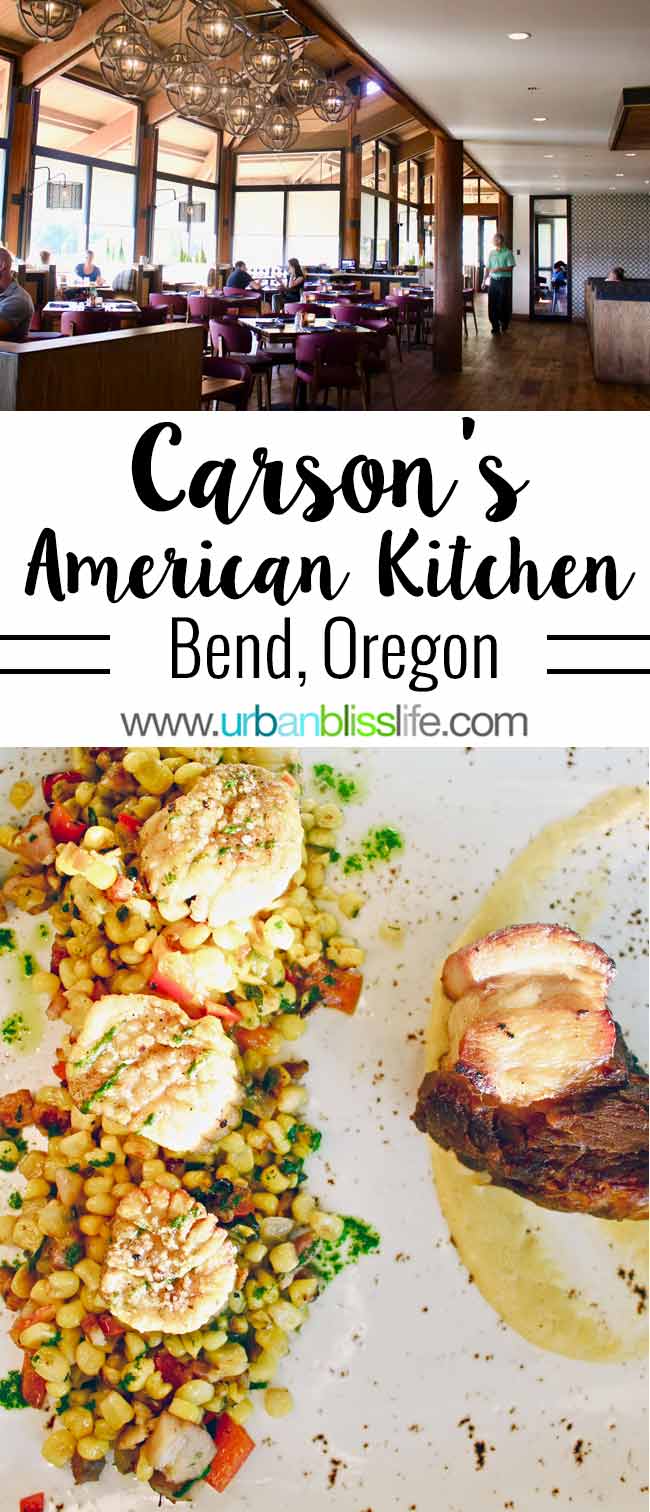 Nestled snuggly in the gorgeous, rugged-chic Sunriver Resort is Carson's American Kitchen. After my family made the quick 3.5-hour drive from Portland, Oregon with a quick stop in Sisters for lunch at the Sisters Saloon, we checked into our family suite at Sunriver Resort. Then, it was time for dinner. I'm so glad that we had reservations made in advance for Carson's American Kitchen!
Jump to:
Carson's American Kitchen
Carson's is a beautiful, open restaurant with a cozy Pacific Northwest feel and comfortable, modern furniture and decor.
If you can, grab a seat by the large window, which overlooks the golf course. Gorgeous views on a sunny day!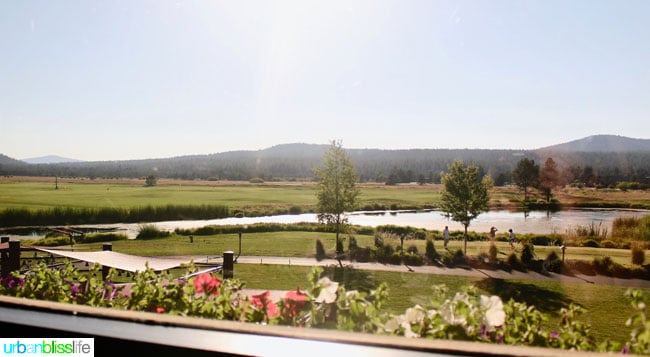 The menu changes seasonally, so the items you see here might not be available during your visit. However, they give you a good indication of what you can expect. The menu here is full of lighter sides and salads as well as hearty main courses.
Wines
Carson's has an impressive wine list compared to most hotel and resort restaurants. You can choose from more than 20 different wines by the glass. Their wine list is brimming with some of my personal absolute favorite Oregon wines - such as Penner Ash, Argyle, Stoller, King Estate, and Sokol Blosser - as well as other Pacific NW wines and a few wines from around the world.
Starters and salads
The absolute BEST dish I enjoyed at Carson's American Kitchen was the watermelo, arugula, and prosciutto salad. It was absolutely refreshing and the watermelon was prepared a la sous vide making it super moist and juicy. SO. GOOD. This was a summer salad, and I hope they bring it back next spring/summer!
Entrees
Entrees at Carson's American Kitchen range from $18 for a veggie goodness bowl to $41 for the pan-roasted rib eye steak.
My husband chose the ahi tuna main course, which was prepared medium-raw (I prefer ahi tuna raw) with a delicate wrapper and served with a beautiful veggie slaw.
I went with the "go big or go home" mentality and ordered the pork belly with scallops. This was served with a side of corn relish that was delicious! The pork belly was a little tough, but the scallops were well seasoned and tasty.
Kids menu
The kids menu consists of classics that all kids love. My kids opted for the grilled cheese with fries and the cheese pizza. The cheese pizza is SUPER cheesy! And, I love how they serve their pizza: as a rectangle cut into trianles. It was a beautiful presentation.
Dessert
You can't skip dessert here. They are gorgeous works of art - and mighty delicious. My daughter ordered the red velvet cupcake. How beautiful is that presentation? She gobbled that whole thing up and declared it a delicious masterpiece.
Meanwhile, at the end of a travel day, my husband and I winded down the meal with espressos. They know how to make a fine quality espresso here, folks. Plus, it's served with a full sugar crystal stirring stick! Brilliant!
Bonus features
Another thing that impressed me about Carson's American Kitchen is the availability of outlets. We had one right next to us on the ledge by the large window, and it's perfect for charging technology. After all, at Sunriver Resort, you've most likely spent a long day adventuring out and about, using up battery life taking beautiful photos and posting them on social media, and using maps to map out your hikes and ski runs!
Visit
Carson's American Kitchen is such a beautiful setting with attentive, friendly service and an amazing wine list. The menu is quite varied, and I'm sure everyone in your dining party will find something they like. The prices are a little steep but it is a resort restaurant, and you can also feel satisfied on a meal of their hearty salads alone. It's a nice restaurant where you could dress up if you wanted to, but since it's in a family-friendly resort, the atmosphere is very casual and completely kid-friendly. I'd bring the whole family here again and again if I could!
[Tweet "Carson's in @SunriverResort serves elevated American cuisine w/PNW twist in a family-friendly environment. "]
You do NOT need to be a Sunriver Resort guest to dine at Carson's American Kitchen, but I do recommend making reservations, especially on the weekend.
Carson's American Kitchen
Sunriver Resort
17600 Center Drive
Sunriver, OR 97707
Visit their website
541-593-3740
HOURS:
Daily Hours of Operation:
Breakfast | 7:00am-11:30am
Lunch | 11:30am-5:00pm
Dinner | 5:00pm-10:00pm
Sunday Brunch | 7:00am-1:00pm
What's the dish that you are most drawn to here? I'd also love to know: what's your favorite family-friendly resort restaurant, anywhere in the world?
Many thanks to Sunriver Resort and Carson's American Kitchen for hosting our family meal. As always, all opinions and photos are my own.