In the heart of the bustling, lively French Quarter, Trinity Restaurant New Orleans is a modern restaurant that reimagines classic Louisiana cuisine featuring season ingredients and artisan flare.
New Orleans is a beautiful, lively city where the food is as eclectic, vibrant, and and colorful as the cast of characters that fill the streets and the stories that seep from the centuries old buildings.
Yes, you should have the beignets at Cafe du Monde. You should eat alligator at Cochon. You should have the bananas foster at Brennan's - home of the original bananas foster.
But you should also indulge in at least one decadent dining experience that allows you to experience a modern, elevated take on Louisiana cuisine. For that, I highly recommend dining at Trinity.
Trinity Restaurant
Walking through the French Quarter on Decatur Street, it's easy to get lost in the hustle and bustle of tourists. But just a few steps inside Trinity restaurant, and the noise slowly simmers to a quiet buzz.
My daughter and I both took a deep breath once we were inside the restaurant. The change in tone and temper inside was like a warm welcome after dodging people, bikes, and bags outside.
Trinity is the kind of restaurant I personally love: white walls, sleek lines, a monochromatic modern eatery that allows the food to stand out and shine.
The service
I have to start by saying that the service we received at Trinity was above and beyond, especially the way they treated my then 9-year-old daughter. While most restaurant staff are either polite enough to children or they go overboard and talk to them like my tween & teen are five years old, the staff at Trinity treated my daughter like an adult - and she loved it.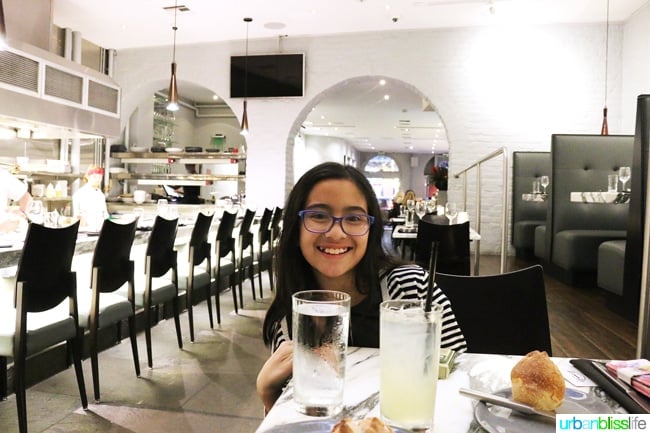 Kids have a lot of excellent questions and opinions about food, if you just give them a chance to participate in the conversation. At Trinity, they addressed her directly instead of always asking me what she would like - which is important. The waitress (who was amazing and I wish I could remember her name!) also listened intently to her, and spoke to her as if she was any other adult - also important.
Because of the kind service we received, my daughter walked away from Trinity with an amazingly positive experience. Did she love every bite of the food or sip she had to drink? No - she thought the lemonade was too sugary and sweet. But she will tell you she loves this restaurant and she will tell you to go here because she was treated with more respect than she usually receives at restaurants.
Okay, now I'll hop off my This is How to Treat Kids in Restaurants soapbox, and on to the food!
The food
The menu at Trinity Restaurant New Orleans is upscale, Louisiana cuisine prepared with fresh, local, seasonal ingredients. While seafood plays heavily here - I've heard the oysters are amazing, although we did not try them! - you can also find artistic salads, sous vide meat dishes, and a large number of starters and sides that could make a fine shareable meal.
If you follow my family's culinary travel posts, you know that my kids love French fries. They're on a mission to taste test every plate, bucket, and mug of fries in the galaxy. So of course, we had a side of Pomme Frites ($7) with butter aioli at Trinity. My daughter and I both give them a hearty thumbs up. They were perfectly crisped on the outside with slightly soft centers.
Since I hadn't had my crawfish fix yet during our New Orleans tip, I had to try the Crawfish and Fontina Beignets ($14) with tarragon aioli. They were amazing! Delicious fried dough puffs filled with cheesy crawfish. I do wish there were more crawfish in each one, but they were still tasty.
For her main entree, daughter ordered the Half-Chicken Three Ways ($28). The fried chicken lollipop was my favorite part, and my daughter's was the chicken thigh. She doesn't care for Brussels sprouts, so I gobbled those up - they were delicious.
I ordered the Seared Scallops ($31) entree, which was served with corn puree, tomato and pea pod salad, with pine nuts. The scallops were seared perfectly and really locked the flavor in.
Dessert
For dessert, we couldn't resist the dark chocolate truffle cake with blood oranges. It was topped with an artistic dome chocolate shell, which my children both immediately remarked that it looked like something from Star Wars.
My daughter and I ate every last bite of this. It was rich and chocolatey but balanced nicely by the spark of blood orange flavor. A fantastic ending to a truly lovely meal.
Visit
As you can likely tell, I loved Trinity restaurant New Orleans, and I'd go there again in a heartbeat. It's a more upscale environment, so I recommend dressing up a bit when you dine here. Definitely make reservations, as it's in a popular part of New Orleans, and a popular restaurant. If it's just you or you and your significant other, I suggest asking for a seat at the chef's table, by the large open kitchen. There are also more private booths toward the back of the restaurant as well as a nice bar area in the front of the restaurant.
My daughter loved it here, and I would take both of my kids here - but they're ages 10 and 13; I would not recommend bringing a baby or toddler here. It's a chic, intimate space, with a gourmet menu - perfect for a romantic night out with your significant other or a fun night out with friends.
1117 Decatur Street
New Orleans, Louisiana 70116
Trinity website
---
More New Orleans travel ideas
Top Travel Tips for New Orleans
Where to Eat in New Orleans: District Donuts
Where to Shop & Eat on Magazine Street in New Orleans
Family Fun Activities in New Orleans
What to Do in New Orleans: Visit the World War II Museum
Where to Eat in New Orleans: Johnny Sanchez
Caribbean meets Creole Cuisine at Compère Lapin in New Orleans, Louisiana
Disclosure: our meal at Trinity restaurant New Orleans was comped as part of our #FollowYourNola media visit with the New Orleans Convention & Visitors Bureau. As always, all opinions and photos are my own. We LOVED Trinity and think you will, too!