New Orleans, Louisiana is a beautiful city rich in history, culture, food, and style. Follow along over the next few articles as I share all there is to see and do in my New Orleans Travel Bliss Series, starting with my tips on getting around New Orleans!
New Orleans top travel tips
If you think New Orleans is just about Mardi Gras and Bourbon Street, think again. New Orleans is a gorgeous city steeped in history, culture, food, and style.
In fact, this will be the only reference to Mardi Gras and Bourbon Street you will find over the course of the following several travel articles I'm about to share on New Orleans. Because there is so much more to this city, and I am eager to share it all with you!
My daughter and I had the recent pleasure of adventuring out to New Orleans on a fun Mother/Daughter Weekend Getaway. We had such an amazing time exploring this beautiful city! There is so much for families to do and see in New Orleans. I have a TON to share over several blog posts, and I'll start with this brief overview of Getting Around New Orleans.
Getting Around New Orleans Neighborhoods
Navigating New Orleans' neighborhoods
First, let's start with a brief overview of the city. It's broken up into quadrants - neighborhoods that each have their own distinct characters.
During our trip, we visited three main neighborhoods: the French Quarter, Downtown/Central Business District (CBD), and the Garden District. Each of these three neighborhoods is worthy of a full day's visit, if you have the time.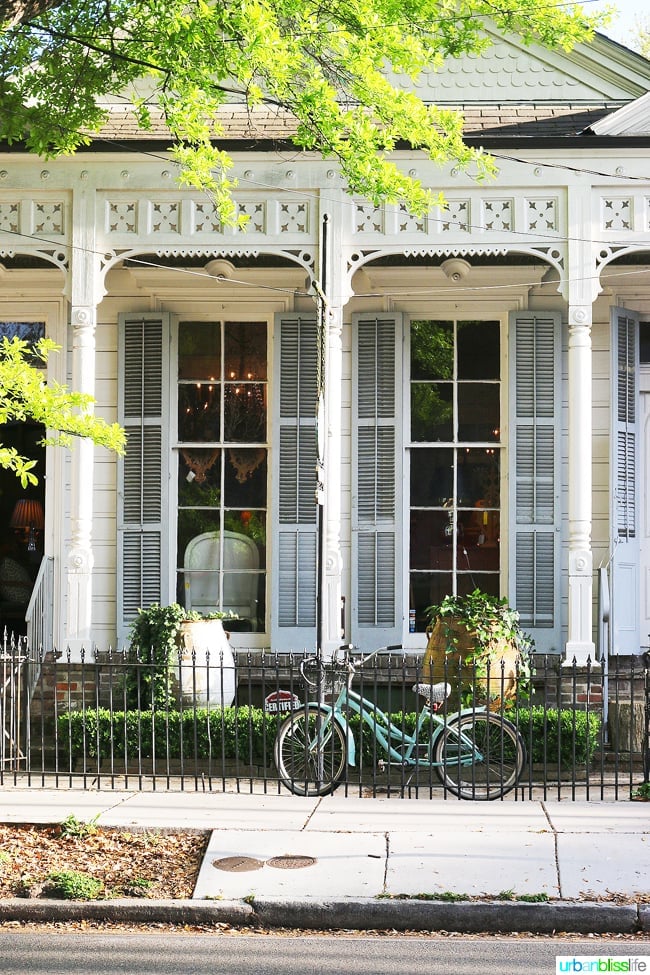 The French Quarter is the oldest neighborhood in New Orleans. In this district, you'll find the famed Bourbon Street, but the best restaurants and bars, in my opinion, are found in neighboring Royal and Decatur Streets. Jackson Square is in the French Quarter, with the oldest cathedral in the United States, the St. Louis Cathedral. You'll also find the famous Cafe Du Monde, and the French Market. I'll be writing more in-depth about each of these places in the coming weeks!
The Central Business District is New Orleans' downtown. Here, amidst the high rise hotels and businesses, you'll find Harrah's Casino, the World War II Museum (which is a MUST visit), several wonderful restaurants, the Insectarium, and the Aquarium. I'll be writing an entire post separately about the WWII Museum, as well as a post about the Audobon Insectarium and Aquarium soon!
My daughter and I got to the Garden District by following Magazine Street, which is deserving of its own post and you can read about Magazine Street soon. You can also arrive here by taking the St Charles streetcar.
This neighborhood is like a make-believe secret garden (ahem) full of fairytale old Southern mini mansions with well kept lawns and fences that mean business. Originally settled after the Louisiana Purchase by New American residents who didn't want to mingle with locals of European descent, the Garden District still holds its charm thanks to the beautiful architecture and stunning gardens throughout. This is the neighborhood many Hollywood types call home, including actors Nicholas Cage and Sandra Bullock.
Where to stay
New Orleans is a popular spot for large conventions, meetings, and events, thanks in part to the downtown locations of the Convention Center and SuperDome. While there are numerous large hotel chains from which to choose, there are also a growing number of unique Airbnbs and vacation rental homes.
My daughter and I stayed at the Sheraton New Orleans, which was an excellent location for our stay. We were able to walk to the streetcar, to the French Quarter, and to family fun visitor attractions such as the Audobon Insectarium and the Audobon Aquarium. I'll be sharing photos and our review of both the Insectarium and the Aquarium here on Urban Bliss Life very soon!
Where to eat
Long famous for its Cajun and Creole cuisine, New Orleans is growing into a hotbed for fusion cuisine.
With more and more new chefs moving to New Orleans, and younger generations taking the helm of their family establishments, there's a beautiful surge of innovation in local eateries. You'll find a pleasant variety of food during your trip to New Orleans: Cajun, Creole, Italian, Mexican, Vietnamese, Steakhouses, and good ol' American fare are represented well here, including a good number of dessert shops and cafes!
During our trip, we dined at Johnny Sanchez, Trinity, Compere Lapin, Cochon, Brennan's, District Donuts, and of course, Cafe Du Monde. Stay tuned for full independent reviews of each of those eateries on Urban Bliss Life very soon!
Best time to go
My daughter and I traveled to New Orleans in early March. This was an excellent time to visit New Orleans: it's after the craziness of Mardi Gras, but before the official start of Festival Season. Festival Season starts about the third week of March and goes through the fall. The worst time to travel to New Orleans: summer. Every single person I spoke with that lived in New Orleans told me that the heat and humidity in the city from about June through September is unbearable. That said, you can probably find some great travel deals during that time!
Getting around New Orleans
Because New Orleans attractions are spread out throughout the sprawling city, it's best to rent a car or budget for public transportation in order to get around.
Uber dominates over Lyft in this town at the moment, but more and more Lyft drivers are signing up as I type this.
There's a downtown streetcar that runs through Canal Street in the Central Business District and you can walk to the French Quarter from the streetcar line. There's also the historic St. Charles Streetcar which takes you from the French Quarter, through the Garden District, and down to the Audobon Zoo and Loyola Universities.
My daughter had never ridden in a pedicab before, so after a long morning of walking, we decided to hop into a pedicab from the riverfront back to our hotel.
It's totally a tourist thing, and costs vary depending on the pedicab and probably how much they want to charge you in particular, but it's fun!
Also touristy but most likely fun: a horse-drawn carriage ride.
Along the edge of Jackson Square, you'll find a row of horse-drawn carriages awaiting you and your tourist dollars. Everyone I saw riding in one of these around town looked like they were having the best time, so I say: go ahead and indulge!
More New Orleans travel ideas
With this overview, I am excited to kick off my New Orleans Travel Bliss Series! I'll be sharing where to stay, where to go, and where to eat over the next month. Stay tuned, and be sure to follow me on Facebook, Twitter, Pinterest, and Instagram for updates!
My recent trip to New Orleans was hosted by the New Orleans Convention & Visitors Bureau. As always, all opinions and photos are my own.