When it comes to New Orleans Mexican Restaurants, Johnny Sanchez stands alone. This modern eatery serves up fresh, vibrant dishes in the heart of downtown.
I'm so excited to take you along our recent visit to New Orleans, Louisiana, in the second blog post in my New Orleans Travel Bliss series!
If you missed the first blog post, you can read a brief overview of New Orleans Travel Tips.
Jump to:
Johnny Sanchez: New Orleans Mexican Restaurant
Our first meal in New Orleans was dinner at Johnny Sanchez restaurant.
Located in the downtown area of New Orleans, known as the CBD (Central Business District), Johnny Sanchez is the restaurant brainchild of celebrity chefs Aaron Sanchez and John Besh - hence, the restaurant name.
After a long flight to New Orleans from Portland, Oregon, walking into Johnny Sanchez restaurant was an absolute treat to wake up our senses.
As you enter the restaurant, to the left you are greeted with a large vibrant colorful mural with Mexican art, flanked by the bar with a backlit grid wall. It's very striking, and sets the scene for the colorful feast you are about to enjoy.
To the right, is a study in contrasts: the large main wall is adorned with tall decorations that look like they could be gates or doorways found in traditional New Orleans architecture.
The design and decor of Johnny Sanchez reflects the cuisine beautifully. Here, you'll enjoy classic Mexican cooking presented with a fun, modern approach and New Orleans charm and flare.
Cocktails at Johnny Sanchez restaurant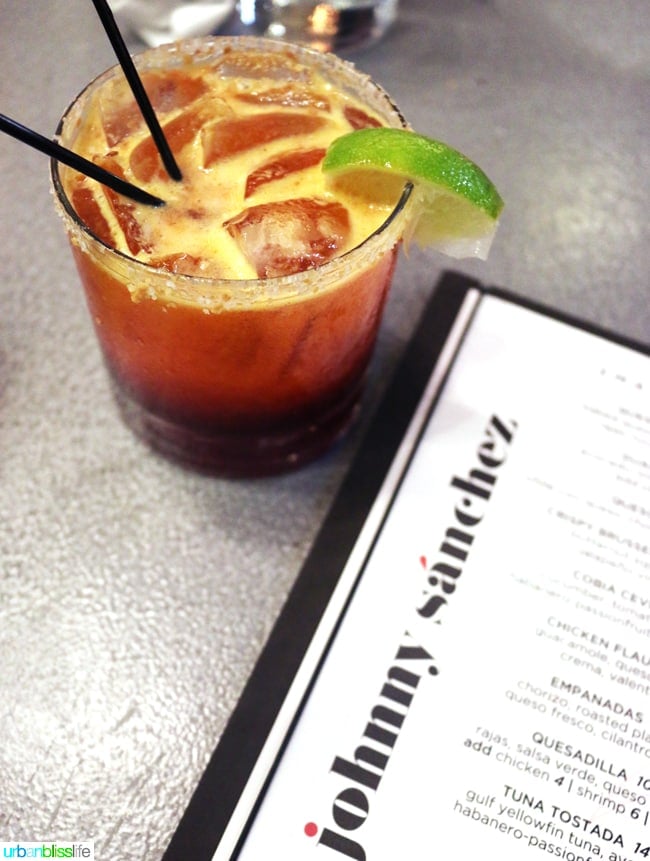 Also welcome after a long day and night of traveling: delicious, beautiful craft cocktails.
The Oaxacan Sunrise came highly recommended by our waitress, and it did not disappoint.
This is their twist on the classic tequila sunrise cocktail. At Johnny Sanchez, they use house-made hibiscus syrup and passion fruit, pair it with Agavales Blanco Tequila, and finish it off with a house margarita blend.
What to Order at Johnny Sanchez
We were able to try several different small plates, which is how I'd recommend dining here with your family or group of friends. We also enjoyed one main entree. My daughter was excited to try their quesadilla, and they made a vegetarian, cheese quesadilla for her, which she enjoyed.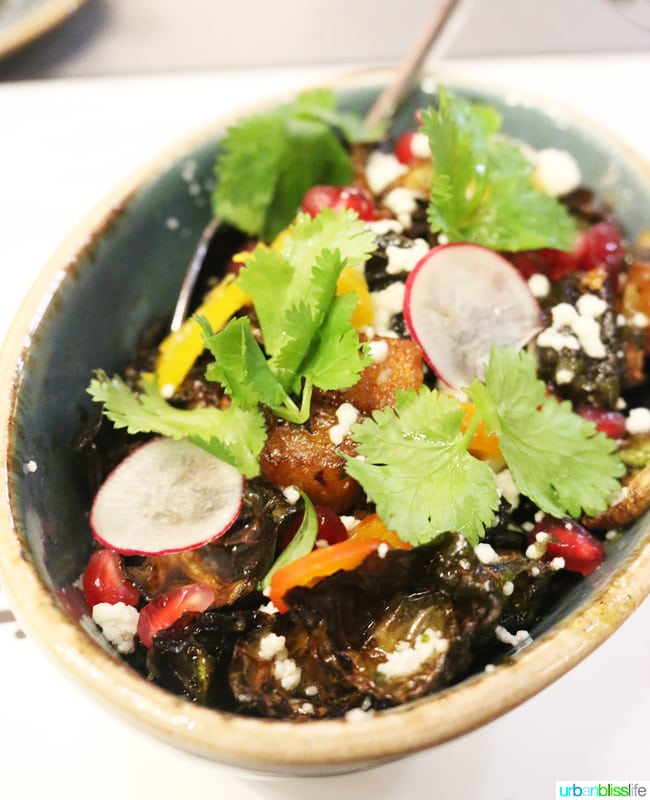 One standout small plate that we tried was the Crispy Brussels Sprouts ($12). I love Brussels Sprouts and the Johnny Sanchez bowl combines them with butternut squash, cotija cheese, radishes, a sprinkling of pomegranate seeds and tossed in a jalapeno vinaigrette. Delicious, and so beautiful with all of the vibrant colors in the bowl!
I love Mexican Street Corn, so I was super excited to try it at this unique New Orleans Mexican restaurant. For just $5, you get a bowl of fresh yellow corn with green onions, cojita cheese, and my favorite ingredient that makes this traditional street dish stand out: flash fried rice.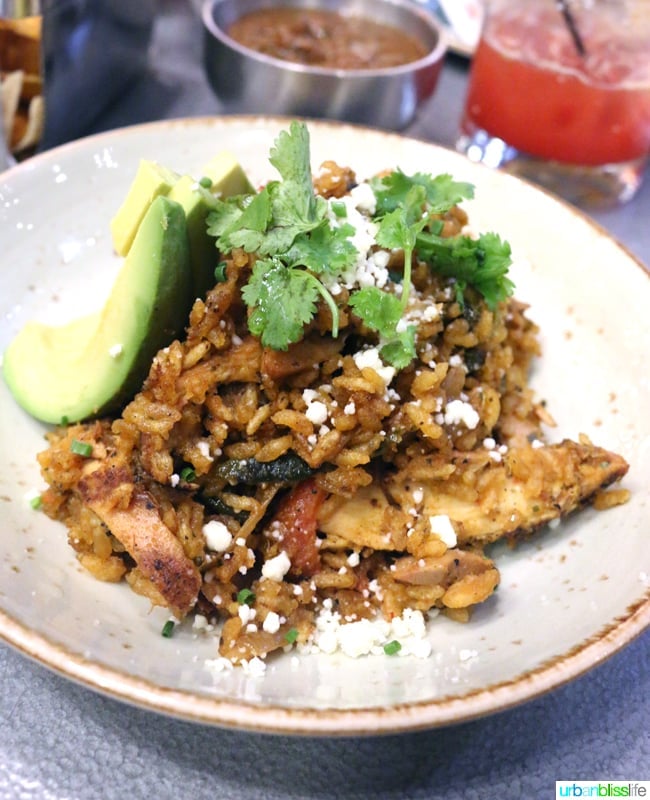 The Arroz Con Pollo ($18) is grilled chicken, crispy rice, cotija, avocado, serrano
We also enjoyed some Queso Dip ($10) made with chile con queso, chorizo, jalapeno, and cilantro. This was slightly spicy but nice and thick - perfect to dip the tortilla and plaintain chips into. This was actually the first time my daughter tried plaintain chips, and she really liked them!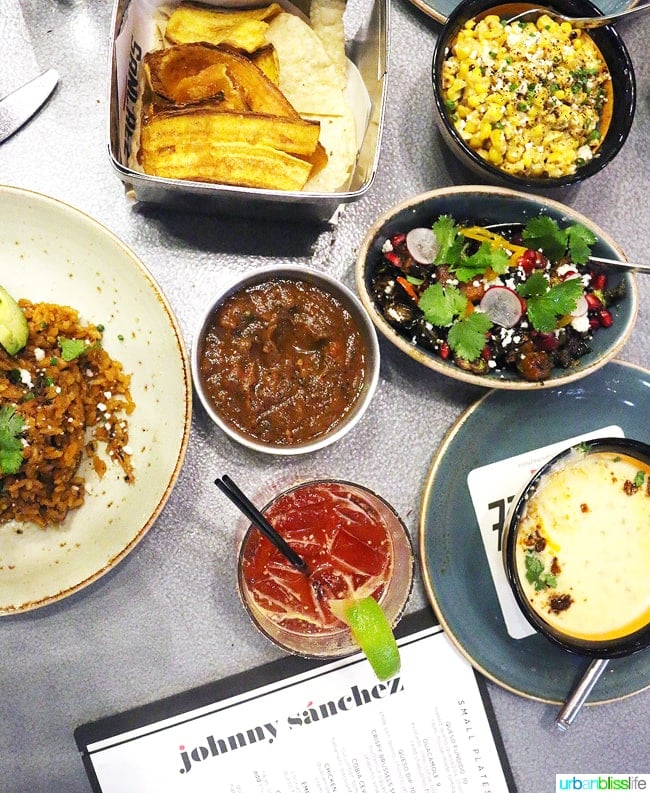 More delicious entrées to order
If you're looking for larger entrees, I spied on neighboring tables to see what looked good. The Louisiana Crawfish Enchiladas ($20) look amazing, and are made with roasted corn and have a tasty-looking tomatillo-avocado salsa.
The Fajita Platters can be made with either Crispy Lousiana Shrimp ($26) or NY Strip Steak ($28). Both are served with housemade corn tortillas.
And, of course, you can order a combination of tasty tacos to tide you over. Choose from Carne Asada Tacos ($6), Barbacoa Tacos ($6), Fish Tacos ($5), Carnitas Tacos ($5) or vegetarian Cauliflower Tacos ($5). The Oyster Tacos ($6) sound amazing.
Visit Johnny Sanchez New Orleans
Johnny Sanchez restaurant was a wonderful introduction to modern New Orleans cuisine. It's fresh, vibrant, with a dash of fun and slight twist on the traditional. The restaurant is large, and I saw several large parties dining here. It would be a great place for work dinners, family gatherings, or girls' night out. The bar is spacious, and the restaurant also is open to hosting private events.
ATMOSPHERE/ATTIRE: The vibe is modern and trendy while being kid-friendly. You can definitely wear jeans here, but it's also the kind of place where you'll find business suits and dresses. I wouldn't come here in athletic wear (but then, I wouldn't go to any restaurant in athletic wear...).
Is Johnny Sanchez family-friendly?
They don't have a separate kids' menu, but I think most kids would find something delicious that they would enjoy here. From the tortilla and plaintain chips to the Mexican street corn, there are plenty of small plates kids would love. As for entrees, kids will love the quesadillas and tacos.
It's not the kind of restaurant you'd want to hold a playdate with moms and their babies or toddlers. However, you can definitely bring your whole family here and have an enjoyable dining experience. I think kids older than 7 would especially enjoy it.
PRICES: The prices are moderate, in my opinion, and they also have a $15 Express Menu worth exploring Monday through Friday from 11am to 2pm.
930 Poydras Street
New Orleans, Louisiana 70112
504.304.6615
info@johnnysanchezrestaurant.com
HOURS:
Sunday - Thursday 11:00am-10:00pm
Friday - Saturday 11:00am-11:00pm
Johnny Sanchez restaurant website
PIN IT: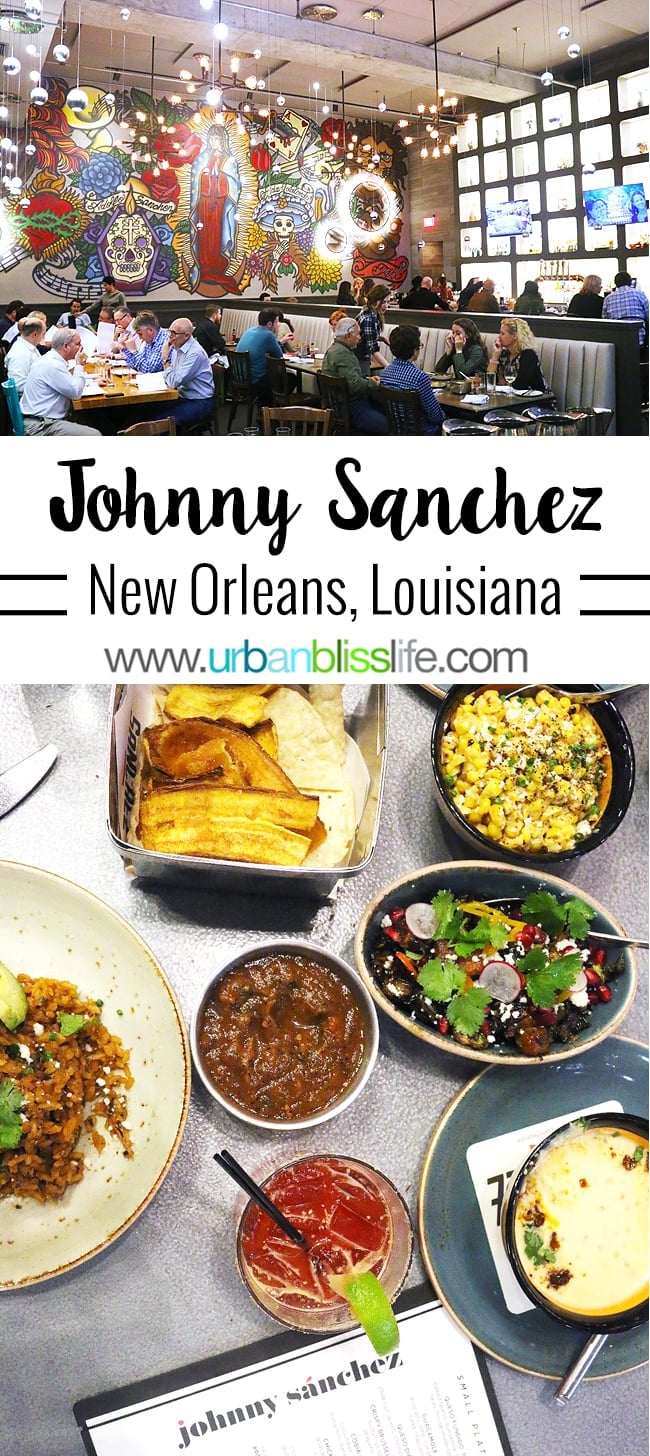 More travel ideas
Where to Eat & Drink in Amsterdam
Traveling to Zurich, Switzerland with Kids
---
Thanks so much to the New Orleans Convention & Visitors Bureau for hosting our media visit to New Orleans, and to Johnny Sanchez restaurant for hosting our meal. As always, all opinions and photos are my own. Seriously: eat here, guys. It's so good!
This post was originally published April 27, 2017. It was updated February 1, 2020 with new content.