Are you planning a family vacation to The Big Easy? Check out the Audubon Nature Institute's family of museums and parks, including the Butterfly Garden and Insectarium and the Aquarium! Great family fun activities in New Orleans!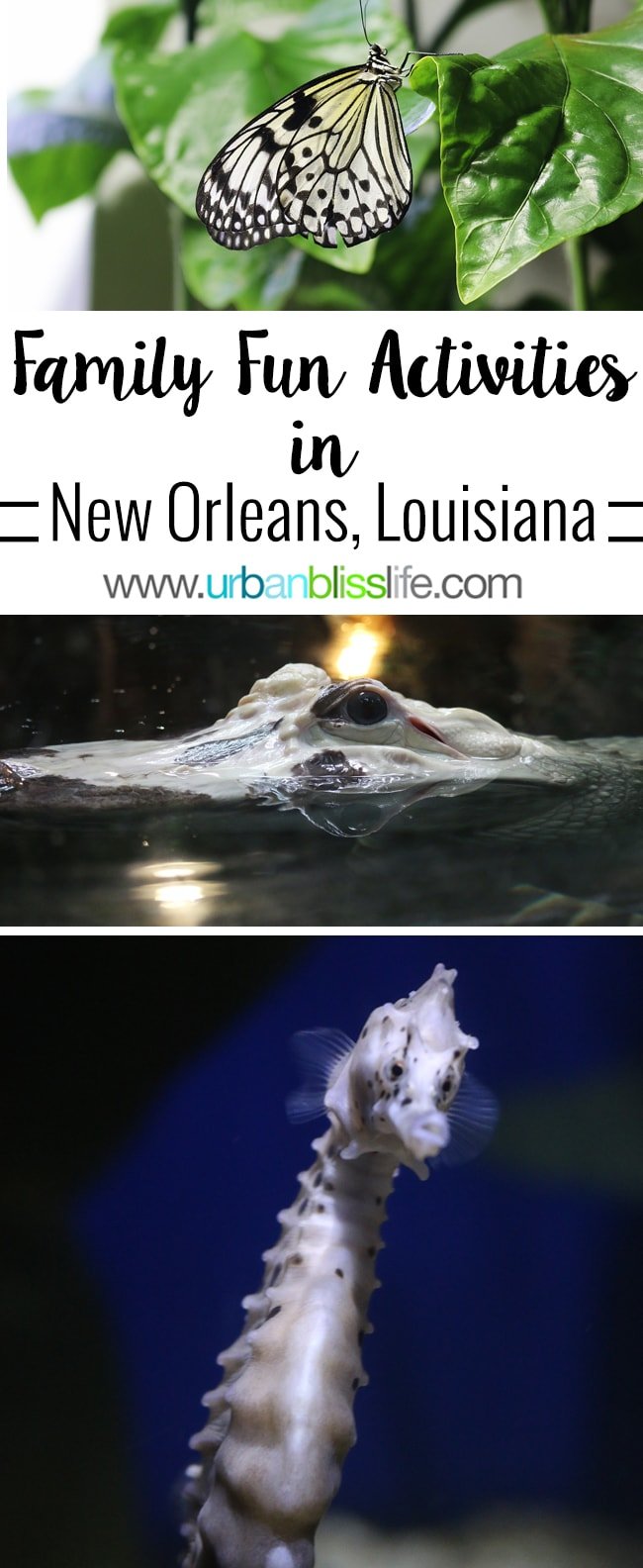 Fun family activities in New Orleans
As I've written about in recent posts about New Orleans, the Big Easy is so much more than Mardi Gras and Bourbon Street.
My mother-daughter trip to this historic city in the south was super family friendly, and I highly recommend it to families looking for a fun family vacation filled with good food, tons of history, and interesting sights to see.
Audubon Institute
The Audubon Nature Institute is a non-profit organization that runs 10 family-friendly museums and parks throughout New Orleans. This includes the Zoo, Aquarium, Insectarium, and several parks, golf areas, and nature centers.
You can either pay for admission to each separately, or, if you are planning to visit more than one of the locations, I suggest choosing the Audubon Experience pass. This pass allows you to visit the Audubon Zoo, Audubon Aquarium of the Americas and Audubon Butterfly Garden and Insectarium for one low price, and save up to $30.90 per person. It's a great deal!
Audubon Experience Pass Prices (2017):
$44.95 (plus sales tax): Adult
$34.95 (plus sales tax): Child (2-12)
$37.95 (plus sales tax): Senior (65+)
When visiting New Orleans for a long weekend, my daughter and I chose to visit the Audubon Aquarium and the Audubon Insectarium.
Audubon Aquarium
Located along the Mississippi River, at one end of Canal Street at the edge of the Central Business District (CBD) - New Orlean's downtown area - is the Audubon Aquarium.
This aquarium is housed within one large main indoor facility - there are no outdoor animal areas here. So no matter what the weather, you're sheltered from the elements during your visit.
The interactive displays feature more than 15,000 different animals. From sharks to stingrays, from penguins to seahorses, your family will love the many different exhibits throughout the aquarium.
Here are a few highlights that my daughter and I loved from our visit.
Krill! If you have kids, this will surely conjure up Finding Nemo memories.
The white crocodile was eerily still the entire time we were there...
Look at those scales!
...that eye. Just watching us. The. Entire. Time. Without the rest of his body moving.
My daughter and I discussed how grateful we were that we do not live anywhere where crocodiles reside outside of the aquarium, and then we moved on from this guy's watchful eye.
Beautiful huge tortoises!
Hello Mr. Shark!
We loved the seahorse exhibit. There were SO many of them, and they're such interesting creatures.
Then there's this guy in the fish area. Can't recall what kind he was. Anyone know?
And of course, there are penguins. They're adorable!
Visit
The New Orleans Audubon Aquarium is a fun place for families with younger kids. We were able to make it through the whole aquarium, with stopping to interact at different exhibits, in about an hour and a half. You could make it a half-day experience if you've got toddlers. It's an average size aquarium compared to others in the US and, like most other aquariums, it can get very, very busy. There is a cafe and a rather large gift shop within the building.
1 Canal Street
New Orleans, Louisiana 70130
HOURS:
Monday through Sunday, 10am - 5pm
TICKETS:
$29.95 (plus sales tax): Adult
$21.95 (plus sales tax): Child (2-12)
$24.95 (plus sales tax): Senior (65+)
Aquarium tickets include admission to Entergy Giant Screen Theater. Aquarium and Theater admission is complimentary for Audubon Members.
Audubon Insectarium
When we were looking at our itinerary, my daughter was most excited to visit the Audubon Butterfly Garden and Insectarium. She thought it sounded SO COOL, and I'm happy to say that it did not disappoint.
Also located in the CBD of New Orleans, the Audubon Butterfly Garden and Insectarium is easy to walk to from the Aquarium. It's also housed in one large building with all indoor exhibits - an excellent spot to escape the heat of Louisiana and have a lot of family fun during your trip here.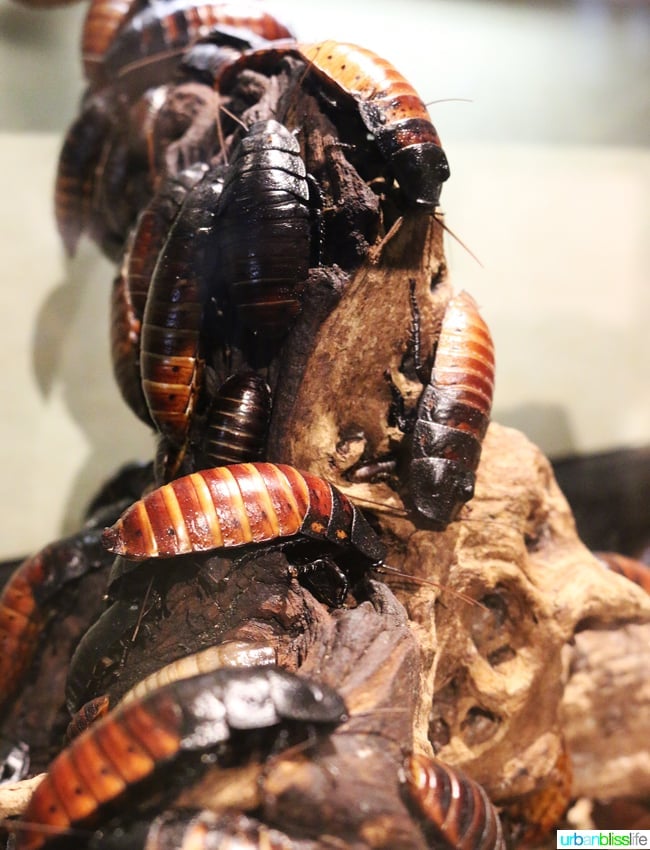 This is the largest museum devoted to insects and their relatives in the United States. Here, you'll walk through a history and overview of bugs from all over the US, from termites to beetles to spiders. The displays are large, colorful, beautifully presented, and packed with tons of interesting details that your kids will love!
We loved all of the interactive exhibits in the Insectarium. My daughter read almost every plaque of information and touched almost every bug and reptile that she was allowed to touch.
Related side note: the restroom is a convenient stop toward the end of this trip to wash hands and apply more hand sanitizer ;)
She especially loved the fun Build-a-Bug station, where kids can follow prompts on the monitors and create their own bugs.
In the Louisiana Swamp exhibit, we watched the staff feed this young alligator.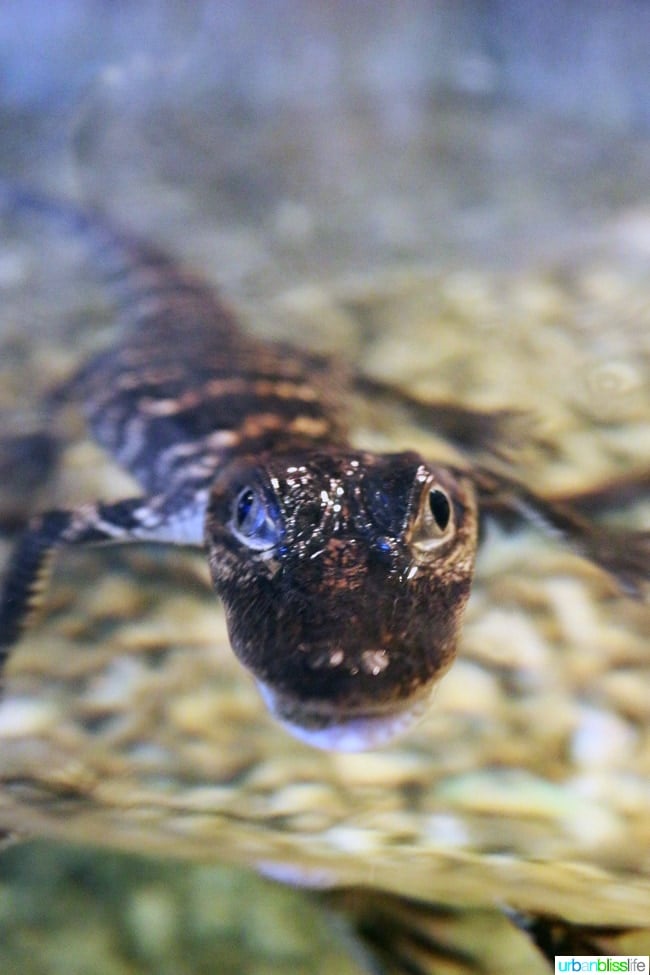 This bullfrog looked a little less intimidating.
The butterfly garden is small but a lot of fun to walk through.
Remember to tell your kids not to try to touch the butterflies. If they choose to land on you, that's okay, but make sure you move away and they fly off of you before you leave the garden. No hitchhikers allowed to leave with you! :)
And perhaps the thing that curious kids and adults will enjoy in the Audubon Insectarium: the cafe, where you can dine from the Bug Buffet.
Different bug treats are served up daily, including these cookies with crickets in them. Yum...??
Visit
If you have a curious kid who loves bugs and insects, this is the place to visit. True family fun activities in New Orleans. They will love it! My daughter and I honestly loved the Insectarium the best, more than the aquarium. It was so much fun and we both learned a lot!
$22.95 (plus sales tax): Adult
$17.95 (plus sales tax): Child (2 -12)
$19.95 (plus sales tax): Senior (65+)
Butterfly Garden and Insectarium admission is complimentary for Audubon Members. Audubon Butterfly Garden and Insectarium website
Which Audubon Nature Institute museum would you enjoy the most?
The family fun activities in New Orleans featured in this post were hosted by the New Orleans Convention & Visitors Bureau. As always, all opinions and photos are my own.