Travelers of all ages will marvel at the thoughtful exhibitions at the National World War 2 Museum in New Orleans, Louisiana.
If you are planning to travel to New Orleans, Louisiana, there is one place that I suggest you put on your travel itinerary as a priority, Must Visit place. While you're sure to indulge in the delicious beignets at Cafe du Monde and stroll through the French Quarter, you MUST also set aside a full morning or afternoon at the National World War 2 Museum.
Jump to:
WW2 Museum
The National World War 2 Museum is highly regarded as one of the top museums in the world. It has been touted as:
#1 Tourist Attraction in New Orleans (Trip Advisor)
#1 Best Place to Learn U.S. Military History (USA Today)
#4 Top Museum in the United States (Trip Advisor)
#11 Top Museum in the World (Trip Advisor)
America's official museum about World War II, as designated by the US Congress.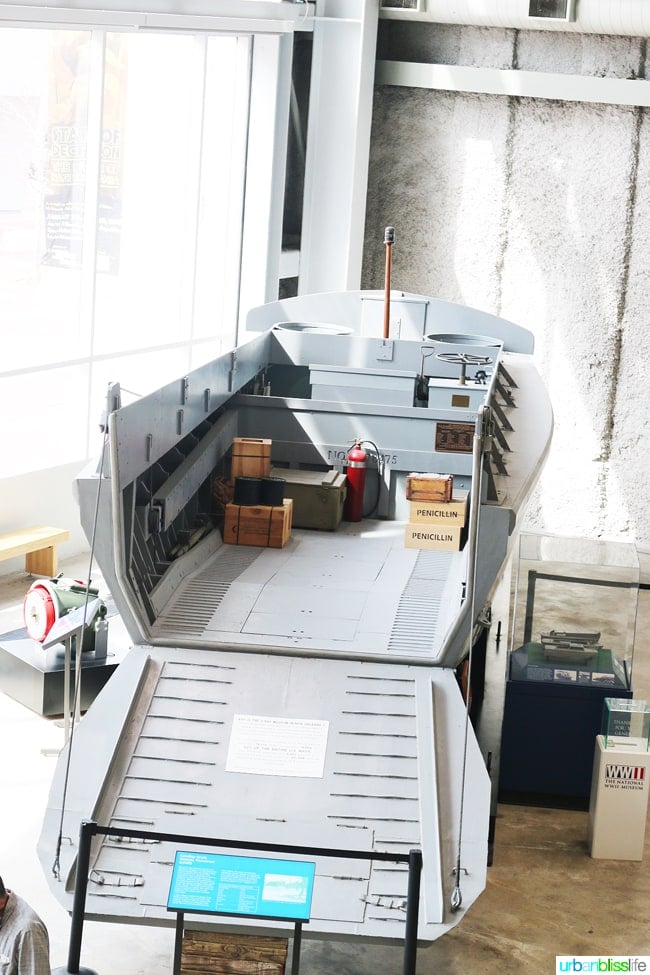 The Museum takes you through an intimate, personal journey from the years leading up to the war, through the war, and immediately after the war. Through thousands of artifacts, oral histories told through veterans from all branches and who served on all fronts, and memoirs of wartime experiences, you receive unique perspective on the details of World War II.
Where to begin
Begin your visit in the main Louisiana Memorial Pavillion, where you can purchase and/or pick up your tickets. Board the (stationary) Union Pacific Foundation Train Station.
Here, you'll watch a brief video introduction to the museum, which also gives you a brief introduction to the state of the world before the war began.
You'll also be able to register for the interactive Dog Tag Experience. This is a unique experience that allows you to use your dog tag throughout the museum to collect artifacts. You can also follow a specific man or woman's journey throughout the war. After you go home, you can follow up with your dog tag experience online.
Campaigns of Courage
Campaigns of Courage is the Museum's newest exhibit. Housed in more than 19,000 square feet of exhibit space, two extraordinary exhibitions - the Road to Berlin and the Road to Tokyo - bring visitors inside the epic story of the war in its most infamous settings.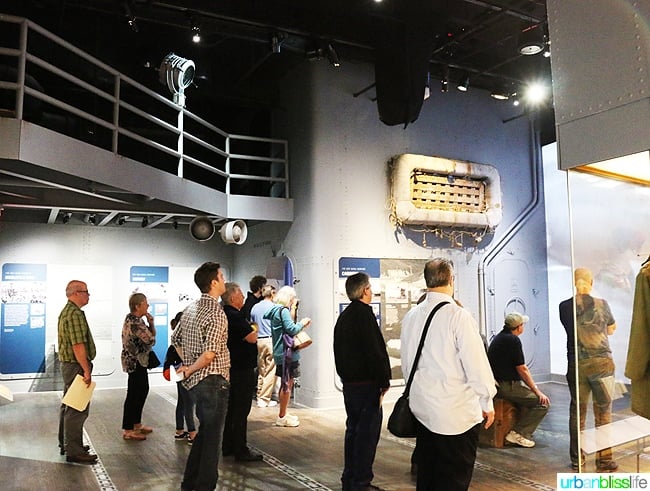 Campaigns of courage is a large scale exhibit that brings to life the jungles, beaches, mountains, and oceans that servicemen and women fought in, in 19 immersive galleries.
Following in the footsteps of the men and women who served, Campaigns of Courage offers visitors a view of the European and Pacific Theaters through the perspective of those who fought in them.
Interactive exhibits
Throughout the WW2 Museum in New Orleans, you have the opportunity to listen to audio recordings of experiences, and learn more about the details of the scenes found in each exhibit. My daughter and I both found it fascinating to hear the personal stories of the individuals involved with specific battles.
There are also lots of opportunity for curious little hands and growing minds to try out some of the tools and equipment soldiers may have used at the time.
Merchant marine gallery
Located at the end of the new American Spirit Bridge, on the second floor of the Solomon Victory Theater complex, is the Merchant Marine Gallery. This stand-alone 940-square-foot gallery honors the civilian merchant mariners who risked their lives transporting weapons, men, and material to US troops overseas.
Special exhibits
Currently, in the Special Exhibits Gallery, through June 18, 2017, you can view State of Deception: The Power of Nazi Propaganda. This is a powerful exhibition that explores how the Nazi propaganda machine used biased information to sway public opinion during World War II.
Let me just say: given the current state of our country, this special exhibit brought me to tears. Too many parallels between the words on those exhibit signs and the political climate today. This was a heavy exhibit, made even more personal by the weighted questions my 10-year-old daughter asked me as we walked through this exhibit.
Shows: Beyond All Boundaries
While you are at the Museum, I highly recommend making sure you have time to experience the Beyond All Boundaries show. Held in the Solomon Victory Theater, this is an absolutely incredible, awe-inspiring, unforgettable 4D experience narrated by Tom Hanks. You begin in one part of the theater for an intro, and then are taken to the larger, I-MAX-like theater for the seated interactive experience.
I honestly cannot describe the Beyond All Boundaries show in a way that will do it justice. It brought me - and several around me - to tears, at several points. I was moved beyond words, and the details and moments of the experience stay with me to this day... and perhaps, always. My daughter was impressed by the animation and the special effects; I know she saw the war in a completely different way, with a more comprehensive perspective. As a parent, I am forever grateful to have shared this experience with her.
Go see Beyond All Boundaries. I will note that there are a few points where there are stark flashes of light and pulsing loud noises, so if you or your child or you have an elderly family member who would be affected by this, you might inquire with the Museum before you go.
Showtimes for Beyond All Boundaries start on the hour, every hour.
Sunday–Thursday: 10:00 a.m. – 4:00 p.m.
Friday–Saturday: 10:00 a.m. – 5:00 p.m.
Visit
Hours: The National World War 2 Museum is open seven days a week, from 9am to 5pm. The showtimes for Beyond All Boundaries and Final Mission vary, so be sure to check the website for the latest.
Cost: Ticket prices vary, depending on whether you want to just visit the museum, or you want to also see one of the shows. The base museum only price starts at $16.50 for students and military (with ID); $22.50 for seniors 65+; and $26 for adults.
Photography/Video: Photography is allowed in most of the exhibit areas, just be sure you do NOT use flash photography. Also, during the shows, you are not allowed to take photos or video of any kind.
Children: If you have a baby or toddler, I'd recommend wearing your baby or using a collapsible, lightweight umbrella stroller. Definitely leave big bulky strollers in your hotel or car. While the aisles can be wide, there are also A LOT of people walking through, and bulky strollers can get cumbersome fast.
Attire: This is a casual museum, so shorts and t-shirts are acceptable here. You will want to bring a light sweater or jacket because some areas, especially the movie theater, can get chilly inside. There are places to sit throughout the museum, but you'll still want to be sure you're wearing comfortable walking shoes.
945 Magazine Street
New Orleans, LA 70130
MUSEUM EXHIBIT & STORE HOURS: 7 days a week, 9 am - 5 pm
National World War II Museum website
More New Orleans travel ideas
Top Travel Tips for New Orleans, Louisiana
Where to Eat in New Orleans: District Donuts
Where to Eat in New Orleans: Johnny Sanchez
Thanks to the New Orleans Convention & Visitors Bureau for the complimentary visit to the National World War II Museum, as part of our #FollowYourNola media trip. As always, all opinions and photos are my own.