UPDATE: Smallware is closed. Chef Johanna Ware has opened up a newer location, Wares.
Sometimes you wanna go where everybody knows your name (name that TV show!), where the food is predictable and safe and comfy. Sometimes, you want the unexpected - to be surprised, challenged, impressed.
I've been to Smallwares a few times now, and each time, I've gone in having no idea what to order, but walked out being completely blown away by the plates set in front of me. I leave full and happy.
Smallwares
Located on the corner of NE 46th and Fremont in the Beaumont neighborhood, Smallwares is billed as offering "inauthentic Asian" cuisine. Here, you're greeted by a decor that gives you a good idea of what you can expect on your plate: a playful mix of Chinese, Korean, Middle Eastern, and Northwest styles. Chef Johanna Ware, a Food & Wine magazine Best New Chef nominee two years in a row, is, in my humble opinion, one of the more quietly inventive, hardest working chefs in town. I've had the pleasure of tasting her food at several events throughout the past few years, in addition to dining at Smallwares and Barwares, and I'm always impressed not only by her food -- which is always, without fail, impeccably presented and incredibly flavorful-- but by her humble demeanor and clear passion for the food she serves.
Cocktails
Whether you are dining in the front restaurant section, known as Smallwares, or the back bar room, known as Barwares (see what they did there?), I definitely recommend starting with some cocktails.
During our dinner, my husband had his favorite - a Vesper Martini - as well as Hite, a smooth, clean Korean lager. Meanwhile I, unable to decide on a cocktail or a wine (they have a great wine list), ordered the Smallwares Mocktail (grenadine, ginger, lemon, soda) -- plus vodka. It was divine.
Shareable Small Plates
When dining at Smallwares, it's best if each person orders a dish or two (all menu items are prepared as small plates) to be shared by the table. This allows you to get a full overview of the wide range of styles and flavors. And, if you glance at the menu and aren't quite sure what certain ingredients are or whether you might like a certain dish or not, please do ask your server. They are so very helpful and can guide you toward dishes that would satisfy your tastes.
You can't go wrong by starting with the scallop sashimi ($11). Made with yuzu butter, vadouvan, bottarga, and shiso, the sashimi is expertly prepared and beautifully presented.
The fried kale ($10) was coated with a healthy dose of tempura and retained some nice salt and crunch from the candied bacon. The mint was subtle but added a nice refreshing taste. I could have eaten this all night.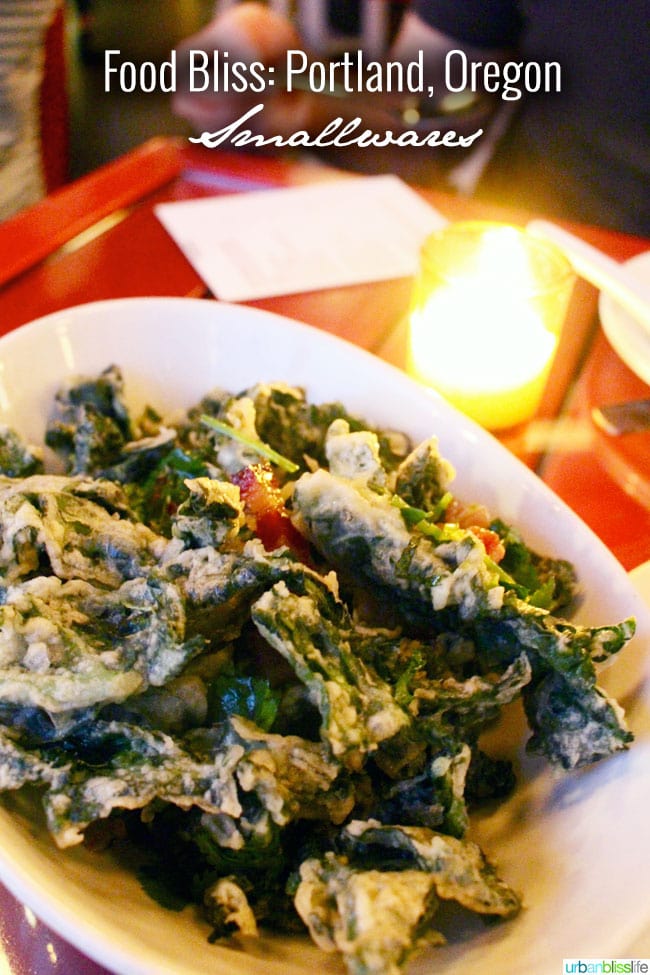 We also tried brussels sprouts ($8), which were prepared with XO sauce, almond brittle, and nigella seed. I also think ours might have been topped with shredded basil, perhaps? Like all dishes at Smallwares, this was a seemingly simple dish but once you dove in, you were introduced to more complex layers of flavor with each bite.
The Mapo Dofue dish ($10) was hands down my favorite dish of the night. This is an excellent example of something I likely would not have ordered just based on the menu description, but oh my word this was amazing!
You first get the top layer of mapo dofu, which is tofu in a bean sauce, then your spoon hits the egg custard, and when you start to scoop up you grab a scallion or two. . . then, when all of those layers hit your tongue, your tastebuds get this crazy delicious collision of fresh textures. It's Chinese Sichuan meets casual comfort food, and Smallwares does such a great job with this blend of Asian influences. I'm craving it as I write. I will most definitely be ordering this again the next time I visit.
Finally, we were treated to the hangar steak ($17), which is served with greens, ginger black vinegar, and boquerones (anchovies). The hangar steak was so tender, and the portion was the perfect size to be shared between two people.
Happy Hour
Smallwares hosts a happy hour from 5 - 7pm each night, as well as a late night happy hour. Our fellow diners to each side of us ordered items from the happy hour menu, and I can attest that they all looked delicious. They looked quite tempting! And, from my eavesdropping (not hard; tables are somewhat close to each other), I could hear only happy reviews.
Smallwares also offers a kids menu, and a unique family style ssam menu, which is a traditional Korean meal served family-style.
$1 Oysters
Smallwares is one of 30+ local restaurants participating in Portland Dining Month. Through March 31, you can enjoy a three-course meal for just $29. Such a great excuse to try out new restaurants, and if you haven't been to Smallwares yet, I think their Portland Dining Month menu is definitely a good one. Check out their Portland Dining Month menu on their website.
Finally, you MUST know that every Monday, Smallwares has $1 oysters while supplies last, so get there early if you plan to fill up on $1 oysters!
Smallwares Restaurant
Smallwares is a wonderful place to dine with a small group of friends, to do for date night, or even to enjoy a work lunch or after work drinks.
smallwares: 7 days a week 5pm-10pm Saturday & Sunday Brunch 11am-3pm
barwares: 7 days a week 5pm-1am
email: info@smallwarespdx.com
address: 4605 ne fremont street portland, or 97213
phone: 971.229.0995
Thanks to Smallwares restaurant for treating my husband and I to this complementary meal. As always, all opinions and photos are my own. I only write about places, events, and products I support and believe you will all love too!