As I've hinted at in the past four Travel Hawaii Island posts, Hawaiian cuisine is a beautiful, colorful, juicy exploration of the senses. There are so many amazing fruits, vegetables, and plants that grow on the Big Island.
In today's edition of my Travel Hawaii Island series, we take a look at some of the exotic fruits and plants I sampled; visit The CanoeHouse restaurant in Mauna Lani Resort; check out Sweet Potato Kitchen, an adorable vegan restaurant; and stop by a Noni Juice & Capsule Factory.
Jump to:
Popular Hawaiian Fruit
One of the things I love most about traveling is trying local food & beverages that I either have never had before, or do not have access to at home. During our zipline adventure, our hosts presented us with a variety of delicious exotic Hawaiian fruit to enjoy between zipline runs.
Rambutan is often known as the "hula berry." This is because once it is opened in half, it resembles a hula skirt. It has a brightly colored Hawaiian fruit that peels easily and is sweet and juicy. I could have eaten a few of these, but they were almost too beautiful to eat!
We were also treated with Hawaiian fruit such as starfruit, lilikoi, and apple bananas (photo below, left to right).
Carambola, known as starfruit because it is shaped like a start when you slice it, is something I'm familiar with, since it is often used in Filipino cooking. It is sweet and can be tart, and is rich in vitamin C.
The yellow passionfruit in the middle of the photo above, known as lilikoi, is usually even more tart than starfruit, but also very sweet. In fact, they are known for their high sugar content.
Apple bananas are absolutely adorable mini bananas. In one bite you will understand its name: its appearance and texture is like a banana, but also sweet and tangy like an apple. I'm totally in love with apple bananas.
The Canoe House restaurant
We enjoyed several memorable meals while on Hawaii Island, and one that stood out was at The CanoeHouse, located within the Mauna Lani resort.
The view may have had something to do with it. . .
Overlooking the Pacific Ocean and well groomed resort beaches, The CanoeHouse is a special place to experience sophisticated Hawaiian Cuisine. Take in breathtaking views with a glass of wine and a delicious, gourmet meal.
While the entrees are incredible, I want to highlight the appetizers my group shared. They are absolutely beautiful works of art and bursts of flavor. Chef de Cuisine Allen Hess is a skilled master of creating flavor combinations that are unique and that allow the main ingredient of each dish to shine.
The lobster on an ocean salad with singapore pepper drizzle, for example, is a beautiful masterpiece to begin a meal.
Prawns are one of my absolute favorite foods in the whole world, and The CanoeHouse does an amazing job cooking these to perfection and dressing them just lightly with a sprinkle topping of fresh herbs.
A gorgeous and delicious work of art was the CanoeHouse Sashimi: sliced hamachi paired with fresh spicy ahi, avocado salsa unagi glaze and kissed with truffle snow.
Each night at sunset, Mauna Lani staff light the torches that surround The CanoeHouse, which is a beautiful ceremony to witness. There is often live music as well, which helps add to the perfect dining atmosphere.
If you are on Kona side of Hawaii Island, The CanoeHouse is an excellent choice for a special Hawaiian cuisine dining experience. The CanoeHouse serves dinner Monday - Saturday 5:30 pm - 8:30 pm and cocktails 5:30 pm - 9:00 pm. For reservations call 808-881-7911, make reservations on-line, or email concierge@maunalani.com
Sweet Potato Kitchen
When you're traveling anywhere, but especially on Hawaii Island, definitely ask the locals for restaurant recommendations. When one spot comes up more than once, chances are that place is worth the visit.
That's how we found Sweet Potato Kitchen while searching for vegetarian-friendly Hawaiian Cuisine after our Kohala Ditch Adventure.
Located down a little alley off the main street (Akoni Pule Hwy) that goes through the town of Hawi, Sweet Potato Kitchen is a delightful take-out breakfast, lunch, and Sunday brunch spot that offers vegan, vegetarian, Non-GMO, gluten-free meals. There are a few tables, and we were lucky to snag one for our group, but it is billed mostly as a take-out restaurant.
Sweet Potato Kitchen owner, Susan, is just as bright, colorful, and full of joy as her restaurant.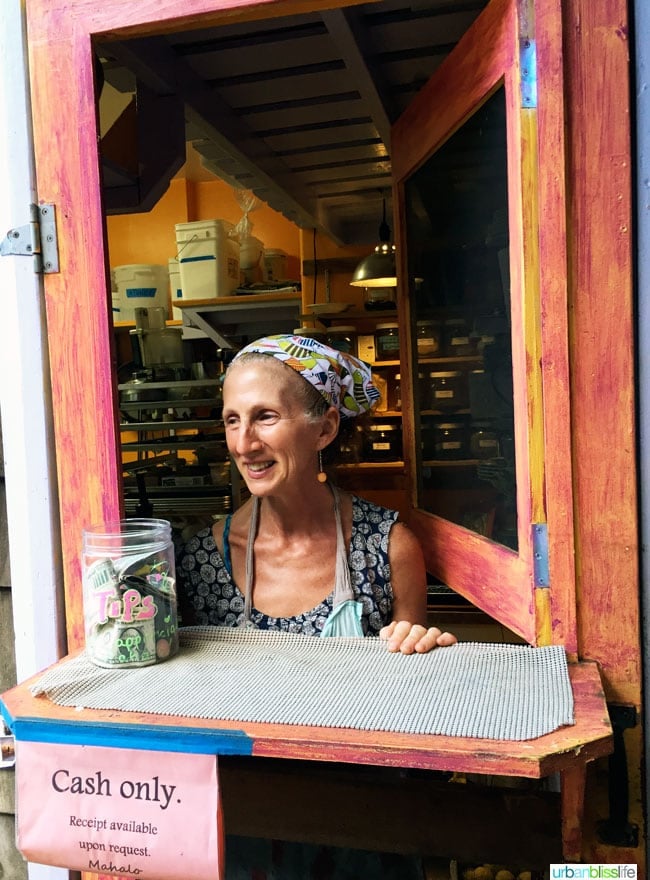 When I found out Susan was from Portland (she moved to Hawaii Island just last year), it was no surprise: the commitment to healthy fresh ingredients, the wide friendly smile and giving attitude - she exuded a graceful combination of Portland quirkiness and Hawaii island relaxed charm.
Susan and her staff serve up quite a large variety of items for such a tiny spot. I was impressed.
And, the food is quite delicious.
Vegan Hawaiian Cuisine
I ordered the Huevos Paniolos: tomato chili polenta, refried beans, avocado, salsa, kale, and two perfectly poached eggs. It was a FEAST for just $10.
We finished our lunch with some of Susan's famous coconut milk ice cream. Again, everything here is vegan and dairy-free. This was SO. GOOD. I am salivating remembering these desserts.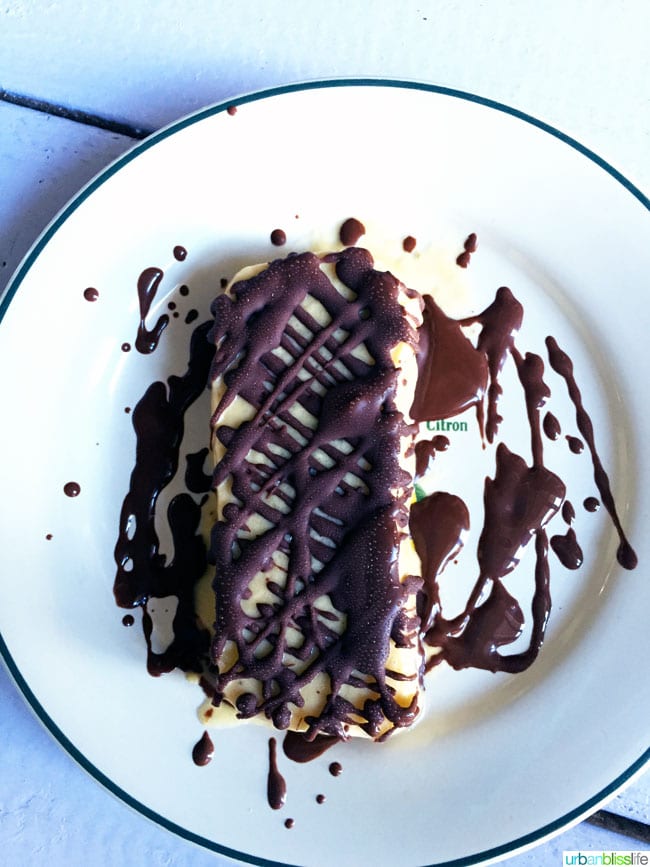 Of course, when you're here, you must wash it all down with an ice cool Kona coffee. In a mason jar. Have I mentioned Susan the owner is from Portland? I felt so at home here.
If you're traveling around the Kona side of Hawaii Island, I definitely recommending a stop at Sweet Potato Kitchen for breakfast or lunch. Say hi to Susan and her equally friendly staff, and enjoy some of the best vegan food you'll ever try -- and trust me: you can be an enthusiastic omnivore like me and really enjoy the food!
55-346 Akoni Pule HWY, Hawi, Hawaii
Hours: Tuesday - Saturday 9am -3:30pm
Sunday Brunch 10am - 2pm
CASH ONLY
http://www.sweetpotatokitchen.com/
Noni
There's one final stop I have to mention on this Hawaiian cuisine journey across Hawaii, the Big Island. Across the street from the Painted Church where we enjoyed a barbecue lunch on the Secret of Puna tour, was Big Island Noni, a Noni Juice & Capsules Factory.
Noni is a plant that grows throughout the Hawaiian and Polynesian Islands, and is known as a sort of miracle plant. Polynesian healers have used the Noni plant as a healing tool for thousands of years. Today, the factory makes, distributes, and sells Noni juice, capsules, and powder. The plant has been known to heal skin conditions, arthritis, canker sores, diabetes, and so much more.
If you have never had Noni, I suggest you try it in capsule form. The juice has a distinct smell and taste that is an acquired taste that I don't think I personally would be able to acquire :) Apparently people all over the world have a little Noni each day to help with various ailments. Who knew?
Travel Hawaii
You guys, I still have so many more food photos and sunset photos and palm tree photos and adventuring photos from my recent trip to Hawaii the Big Island. I wish I could share them all here, but I would break the server and it would take forever for my site to load while you are reading it on your cell phone with your morning cup o' joe (that's what you do, right? Every morning? ;) I am going to eventually upload the photos from this series and more to my Urban Bliss Flickr account, so please feel free to subscribe over there. I forget I even have that Flickr account sometimes. Do you use Flickr?
Thanks for coming along on this tropical journey. If you missed any of the previous posts, feel free to catch up here:
Hawaii, the Big Island: Taste of the Hawaiian Range
Kayaking & Snorkeling on the Kona Coast
Hawaii, the Big Island: Lodging, Ziplining, Black Sand Beaches
Travel Hawaii, the Big Island: Aikane Plantation Coffee Farm Tour
Travel Hawaii // Travel California // Travel Washington // Travel Oregon // Travel Europe // Travel Wine Country
The meals and experiences included in this post were all courtesy of the Big Island Visitors Bureau and part of the Hidden Hawaii press trip. All opinions and photos are, as always, my own. Many thanks to the Big Island Visitors Bureau for sponsoring this press trip, which allows me to continue to provide fresh, original content for my readers.