If you're planning a Hawaiian vacation to Maui, check out what to eat at the Fairmont Kea Lani Resort.
My family loved our vacation stay at the Fairmont Kea Lani in Wailea on the island of Maui.
Dining on Maui in general can be quite expensive, but this was a special trip for us, so we sort of just went with the flow. Trust me: your wallets may be crying when you get home, but your tastebuds will be thanking you for a long time after.
Here's a look at options for what to eat at the Fairmont Kea Lani Resort.
Breakfast options at Fairmont Kea Lani
Our package included breakfast for two each morning at the Kea Lani restaurant. This is hands down the best breakfast buffet I have ever enjoyed. The photo above only shows you half of the buffet room. YEAH. It's packed with breakfast and brunch goodness!
Because I'm a total foodie and I know some of you are as well, here's a detailed description of the setup:
Omelet bar. You can have your eggs any way you please, and add your choice of veggies, meats, herbs.
Fruit bar. In addition to the traditional strawberries, cantaloupe and honey dew, this bar included papaya and pineapple.
Meat options: the best bacon I have ever had, ham, sausage links, Portuguese sausage.
Salad bar.
Miso soup
Assortment of at least 8 different kinds of mini pastries - perfect for kids.
Bagel bar with assortment of fresh bagels, cream cheese, cheeses, meats, lox and capers.
Cereal bar - hot and cold options.
Speaking of kids, ours loved the kid breakfast bar with choice of smaller sized pancakes and waffles, fresh maple syrup, and choice of sprinkles and whipped cream toppings.
Lunch options at Fairmont Kea Lani
After mornings at the beach we usually meandered over to spend lunchtime at the pool. The Kea Lani has poolside lunch service as well as a swim-up bar at one of the pools and also the Polo Beach Bar & Grill eat-in restaurant by the pool area. From salads to sandwiches to light snacks, poolside lunch service was fantastic because it meant we didn't have to lose our pool chairs (although they do offer to place a reserved sign on your chairs if you are only going to be gone for a short period of time). There is usually a daily drink special, and whether it's on special or not, I highly recommend the Wailea Sunset.
Dinner options at Fairmont Kea Lani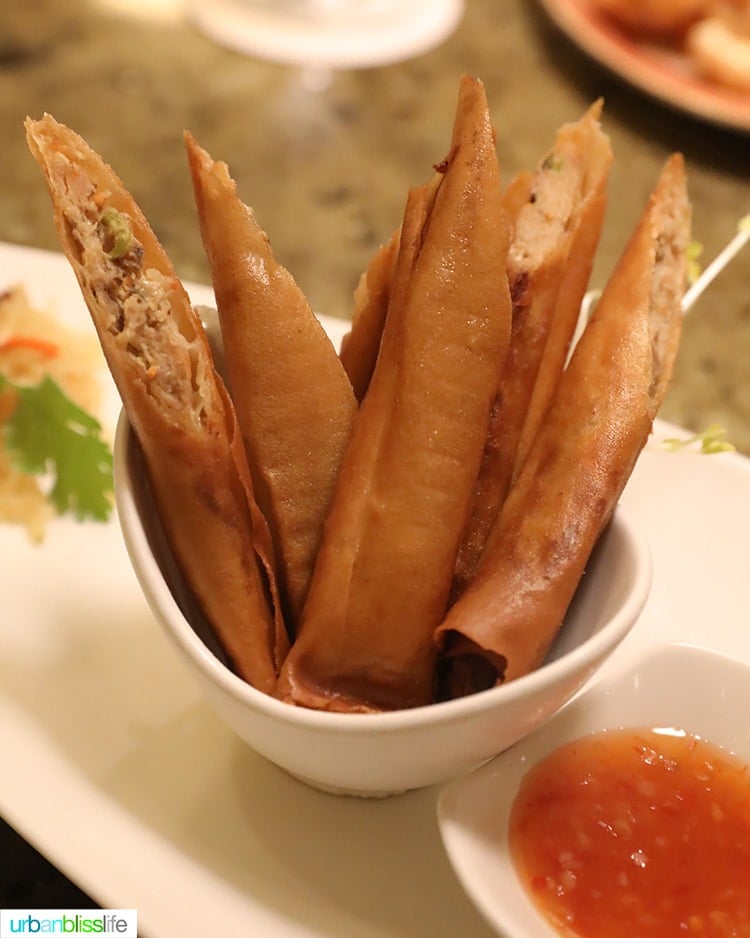 For dinner, you have many options right at the resort.
Once we ordered room service, a couple of times we got food from the onsite cafe, but our most memorable dinner was the night we spent devouring AMAZINGLY DELICIOUS Asian fusion food at Ko.
The menu was packed with a mix of Hawaiian dishes inspired by its Japanese, Chinese, Polynesian and Filipino settlers. Now, being a Filipino, you know I had to try out the Lumpia (Filipino egg rolls). And I had to try the Pancit (noodles with shrimp, pork, veggies). OH. MY. WORD.
I am still salivating over how incredible the lumpia was. My husband and I both chose the shrimp & pork lumpia and it was seriously one of the BEST lumpia I have ever eaten.
The pancit was just as authentic and delicious.
The kids' meals came in these gorgeous and fun bento box-type plates, that my son loved. We all enjoyed dessert as well. If you are anywhere on Maui, even if you are not staying at the Fairmont Kea Lani, do yourself a favor and make at least one night's reservation at Ko. You will absolutely be talking about that meal well after you've devoured the last bite of dessert.
Eat at Fairmont Kea Lani
Good service is always important, especially when traveling with kids. Our family was always treated with such hearty welcomes and kindness no matter where we decided to eat at Fairmont Kea Lani.
You will enjoy the diversity of offerings they have, the outstanding customer service, the beautifully presented meals, and the professionally prepared dishes. It says a lot when you get back from vacation and not only miss the sunshine and beaches, but also the meals!
PIN IT: