These pear appetizers with baked brie are the perfect size for party bites. The sweetness of the pears blends beautifully with the lovely brie for this bite-sized indulgence!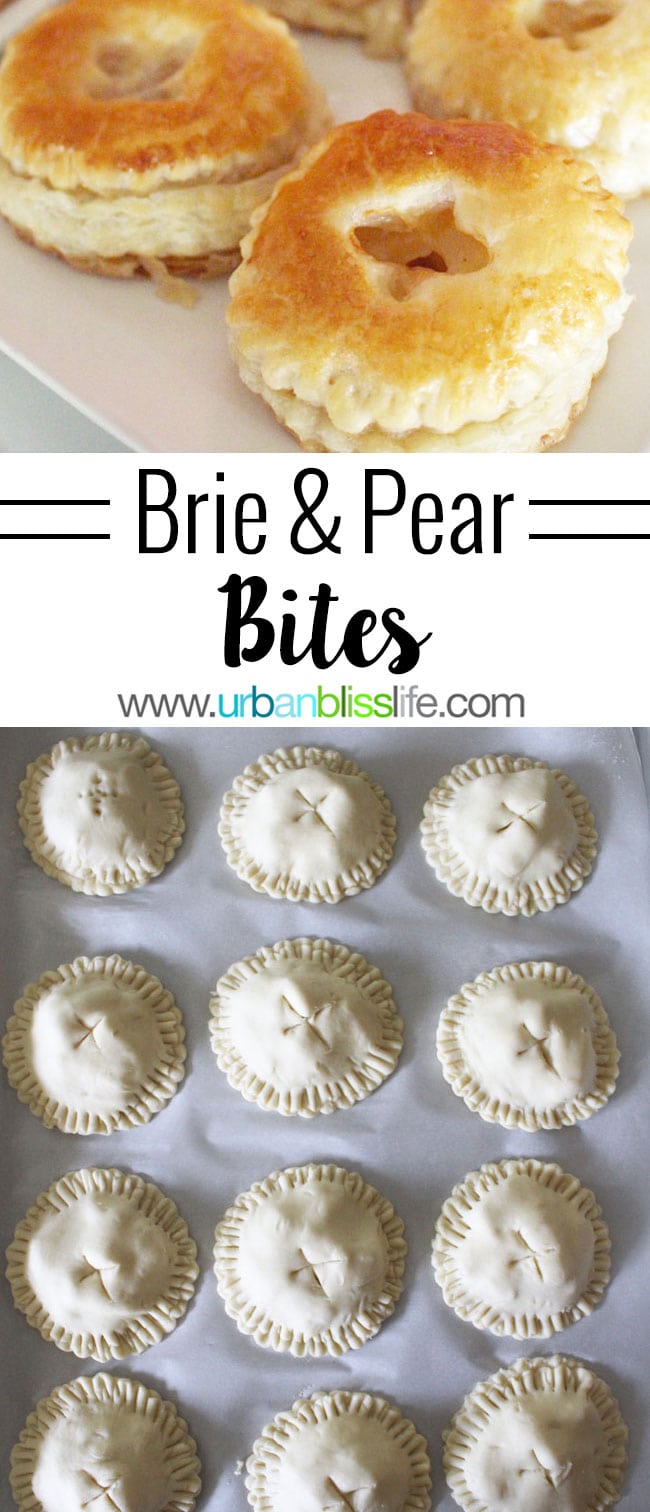 Oh, Puff Pastry. How I love thee. Let me count the ways...
ONE: Butternut Squash, Mushroom, and Sage Hand Pies
TWO: Crab and Mushroom Triangles
THREE: Apple Whiskey Hand Pies
As I wrote about recently, I had the honor of attending a U-Bake Puff Pastry party at Grand Central Bakery, and went home with my own package of fresh Grand Central Classic Puff Pastry to try at home. As soon as I got it, I knew what I wanted to make: Brie and Pear Appetizers!
Puff pastry is like magic. It's so easy to work with (much easier than that cray cray phyllo dough, in my opinion) and you can create so many fun shapes in all different sizes.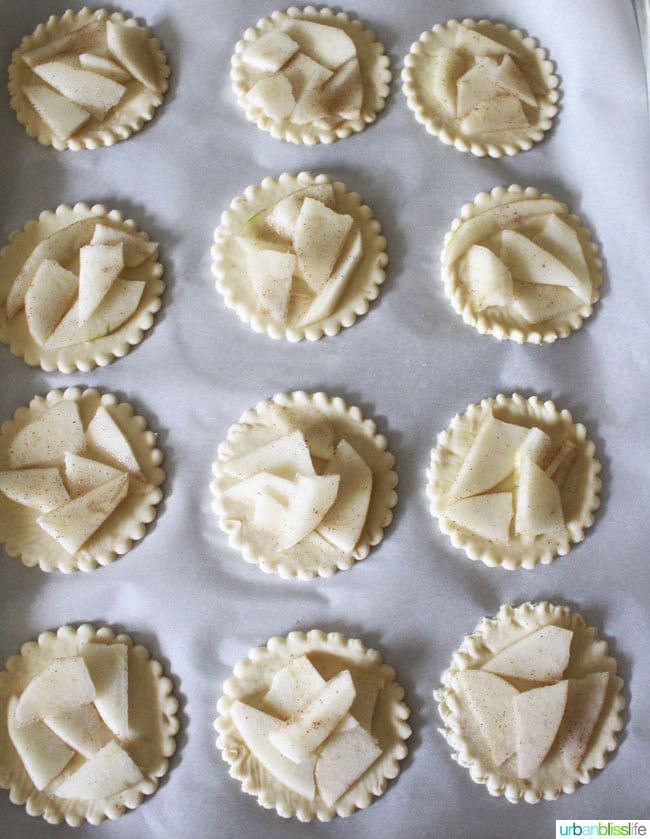 I use my scalloped circle pastry cutter. I love these pastry cutters (similar to these double edged biscuit pastry cutters). I use it for mini hand pies, cookies, to cut the cheese (hee hee!) into cute shapes... I've used these pastry cutters for so many things!
Even though I am mostly dairy-free now, I just can't quit brie. I make it when I'm entertaining, because there's just something comforting about serving a sweet, melty wedge of brie. And, brie baked in puff pastry is ALWAYS a good thing. Paired with slightly tart pears and a sprinkle of cinnamon sugar, topped with a drizzle of honey, it's absolutely delightful!
These brie and pear appetizers can be packed with as much or as little filling as you choose. The filling amount you see here in the photos is the amount I use to get a nice amount of filling without having it overflowing once it is fully baked.
But let's face it: some of the best food we eat is not necessary perfectly photo-friendly, am I right? So you go with your bad self and use as much brie & pear filling as you want. Go crazy! You know I won't stop you from following your overstuffed puff pastry food dreams, my friends.
I also love this shape because they're just so darn cute. It's easy to create a decorative edge that's also functional (it helps seal the tops and bottoms together) using the tines of a fork. I've made these a few times in my life, including our most recent Christmas dinner, and they always go quickly.
Food Bliss: Brie and Pear Appetizers
These brie and pear bites are the perfect size for party appetizers. The sweetness of the pears blends beautifully with the lovely brie for this bite-sized indulgence!
PRINT
PIN
RATE
🤍 SAVE
Saved!
Ingredients
Instructions
In a small bowl, mix cinnamon and sugar together until the cinnamon is blended nicely into the sugar. Set aside.

Pre-heat oven to 375 degrees.

Prepare a baking sheet with parchment paper and set aside.

Roll out the thawed puff pastry dough onto a lightly floured surface. Use a small pastry or cookie cutter in the shape of your choice. I used a 2" circle cookie cutter with scalloped edges in the photos here.

Place ½ of the puff pastry rounds onto the prepared baking sheet, on top of the parchment paper, about 2 inches apart. Set aside the remaining half to use as the tops.

Top each puff pastry round with 3-5 slices of pear, just enough to cover the surface while leaving a small amount of puff pastry empty around the edges.

Then top each puff pastry round with a few slices of brie.

Sprinkle cinnamon sugar mixture over each.

Top each round with one of the remaining cut pieces of puff pastry, gently pressing down around the edges to seal the brie and pear bites.

Using the edge of a fork, gently press along the edges of each puff pastry bite, to fully seal.

Using a knife, cut a small opening in the middle of the top of each puff pastry bite.

Drizzle a small amount of honey over each puff pastry bite. Be careful not to douse the bites with honey, as the honey will caramelize and burn if you use too much. Just a light drizzle over each bite is enough.

Bake at 375 degrees for about 18-21 minutes. My oven bakes these perfectly at 18 minutes, but it also tends to bake slightly faster than most. Know your oven, and keep a close eye on these as you get closer to the 18-minute mark.

Remove from oven and allow to cool for 5 minutes before serving.
Tried this recipe?
Please leave a star rating and comment! Then snap a pic of your dish and share it on social media. Tag @UrbanBlissLife and #UrbanBlissLife!
Nutrition information is a general estimate. Actual nutrition details may vary depending on the exact foods & brands you use to make this recipe. It does not take into account any substitutions, toppings, or optional ingredients.
I'd love to conduct an informal poll on puff pastry here. Please respond in your comments: do you make your own puff pastry from scratch, or do you use pre-made puff pastry? I think it's clear that I am a big fan of packaged puff pastry, but hats off to you who make your own puff pastry!