Puff pastry is the workhorse of prepared doughs, and it transforms butternut squash, mushrooms, and sage vegetarian hand pies into a delicious, hearty snack or main course!
Puff pastry is one of those things that I could make, and I have made, but I really don't like to make unless I have oodles and oodles of spare time on my hands. So in other words: never.
Much like phyllo dough, I prefer to leave the making of said pastry to the professionals and buy pre-made puff pastry so that I can concentrate on whipping up something fast and delicious for my peeps.
Recently, I had the pleasure of attending a U-Bake Puff Pastry Party at Grand Central Bakery.
U-Bake Puff Pastry Party
Grand Central Bakery is a family-owned Pacific Northwest institution. Gwen Bassetti opened the first one in Seattle in 1989, and then her son Ben Davis opened the first Portland location in 1993. Owner Piper Davis started the pastry program in 1995, and there are now 10 retail locations throughout Portland (7) and Seattle (3). The newest location in Cedar Mill (HOORAY for another awesome westside food spot!) just had its grand opening last month!
During the U-Bake Puff Pastry Party, we enjoyed some delicious Grand Central Bakery treats (and cocktails - yum!). If you've never had Grand Central Bakery bread or one of their delicious sandwiches and pastries, you really should. They're SO good!
Then we watched as Piper and her amazing team showed us different techniques for using their puff pastry. Then, it was time to try our own hand at making puff pastry treats!
Some fellow food bloggers made sweet pastries, while a few of us, yours truly included, decided to focus on savory.
Savory Vegetarian Hand Pies with Butternut Squash, Mushrooms, Sage
Grand Central Bakery had bowls of several savory options prepped and ready to go for us. This is something you could easily make at home using their U-Bake puff pastry dough and with honestly any combination of ingredients you find to be delicious.
Simply roll out the dough, then cut rounds, squares, triangles, or rectangles using a pastry cutter or cookie cutter. You could even use hearts for Valentine's Day! Set half aside to use as the tops.
Place the other half set of dough shapes onto a baking sheet topped with parchment paper, leaving at least an inch and a half or two inches between each dough piece. Then take a couple of spoonfuls of roasted butternut squash (you can use my fail-proof recipe for Roasted Butternut Squash) and sautéed mushrooms, and place in the middle of each dough shape. Then sprinkle freshly chopped sage over each one.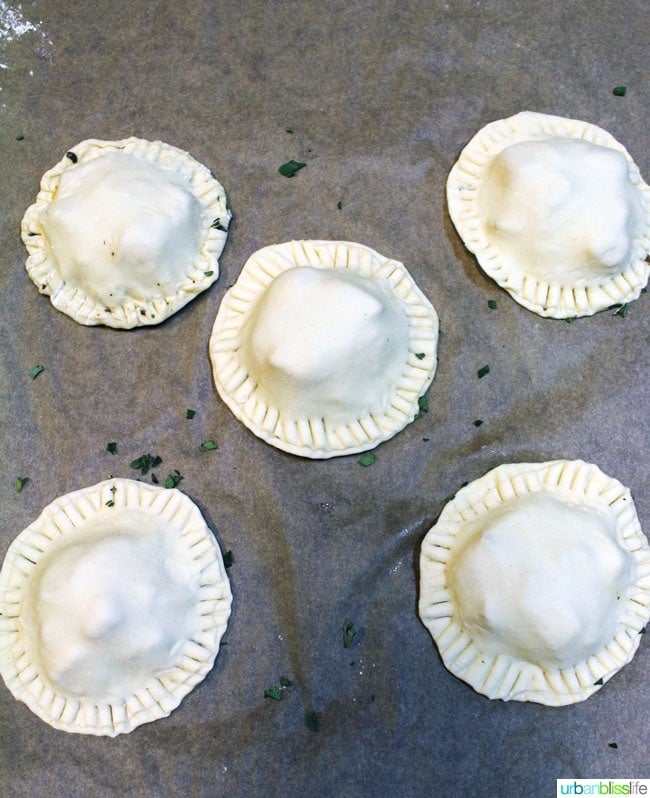 Top each filled dough piece with one of the dough pieces set aside. Using a fork, create a decorative seal by pressing the tines of the fork along the edges. Then give each hand pie some breathing space while baking by poking holes in the middle of the top dough piece with the fork, or cutting slits at the top with a knife.
Bake at 375 degrees for 25-30 minutes.
Aren't these Vegetarian Hand Pies cute? And they are SO tasty too!
We even got to box them up with Grand Central Bakery wax paper like real professional pastries and take them home. It was so much fun! And, these beauties were just as delicious the next day. YUM.
See how simple that was? I'm posting the "recipe" down below, but note that this is one of those no-measurement recipes, since I didn't make it at home from scratch - and since you really can put as little or as much as you like for each pie filling. As long as you have space around the edges so the tops & bottoms can seal together, go for it! Fill it with whatever combo sounds delicious to you! I also made some cranberry + brie.
In fact, I have a Brie + Pear Hand Pies recipe, also using the Grand Central Bakery's U-Bake Puff Pastry, that is equally easy and tasty!
Now YOU have the chance to win The Grand Central Baking Book! It's full of fantastic tips for baking with puff pastry as well as for making sweet and savory pastries and pies, breads, rolls, and more.
Giveaway time!
TO ENTER: simply fill out the Rafflecopter widget prompts below, starting with leaving a blog comment answering the question: what is YOUR favorite dish to make with puff pastry? There are also several other optional entry prompts which give you even more entries and a greater chance of winning! Deadline to enter is 11:59 pm Thursday January 14, 2016. Open to US residents only; must be at least 18 years old to enter to win. See full contest rules in the giveaway form below.
Good luck!
a Rafflecopter giveaway

Savory Vegetarian Hand Pies: Butternut Squash, Mushrooms, Sage
These savory hand pies are delicious as a quick lunch, and either as a main course for dinner paired with a hearty salad or as a great potluck dish to bring to parties!
PRINT
PIN
RATE
Ingredients
One package U-Bake Grand Central Bakery puff pastry dough

or your favorite puff pastry dough

Cubed roasted butternut squash

sauteed mushrooms

roughly chopped fresh sage
Instructions
Preheat oven to 375 degrees.

Roll out the dough, then cut out your preferred shape(s) using a pastry cutter or cookie cutter.

Place a filling of a spoonful of roasted butternut squash and a spoonful of sautéed mushrooms in the middle of each round.

Sprinkle some chopped sage on top. NOTE: You can put as much or as little filling as you want, as long as the top pastry shape fits over the filling and can touch the bottom pastry dough piece, and as long as you leave enough space around the edge of the bottom so that the top and bottom pieces can bake nicely together.

Place the remaining pastry shapes on top of the filled pastry shapes and press edges together to seal. Create a decorate final seal by pressing the tines of a fork along the edges of each hand pie.

You can create a breathing spot for each hand pie by either poking the top of each with a fork, or cutting small slits at the top with a knife.

Bake at 375 for 25-30 minutes, or until the tops and edges are nicely golden and slightly crisp.

Let cool for about 10 minutes.

Devour and enjoy!
Notes
This is a really general recipe outline that you can follow to make your own hand pies using your choice of filling, but I really love the combination of squash, mushrooms, and sage together.
Tried this recipe?
Please leave a star rating and comment! Then snap a pic of your dish and share it on social media. Tag @UrbanBlissLife and #UrbanBlissLife!
Nutrition information is a general estimate. Actual nutrition details may vary depending on the exact foods & brands you use to make this recipe. It does not take into account any substitutions, toppings, or optional ingredients.
Thanks so much to Grand Central Bakery for inviting me to participate in the U-Bake Puff Pastry Party, and for providing the cookbook and gift card for this giveaway! All photos and opinions are, as always, my own.
Looking for more puff pastry inspiration? Check out these tasty recipes: